An essential right of landowners in America is the right to utilize and enjoy one's property as one wishes. Seems simple enough. But not so if the land you own is downwind or downstream from a hog farm in Iowa. In a 4-3 decision last month, the Iowa Supreme Court overturned a 2004 precedent that had allowed landowners to sue neighboring farming operations that were a nuisance, as long as the plaintiff could meet certain criteria.
The new decision backtracks from what was an important protection for Iowa citizens. Landowners were at least afforded a sliver of protection from an industry that inherently harms not only animals and the environment, but also its own neighbors, and now that protection has been wiped out.
Iowa Supreme Court Sides With Factory Farm
The case was originally brought by Gordon Garrison, a small-scale farmer who purchased the property in 1972. He eventually settled on the land in 1999, over a decade before New Fashion Pork set up a concentrated feeding operation half a mile away in 2015. According to The Associated Press, Garrison argued that the pig factory farm, with capacity for 4000 to 8000 pigs, caused ambient odor "more than 100 days of the year, sometimes all day, and it caused him to experience nausea and dizziness that forced him to stop working outdoors." He also complained of water pollution caused by manure spread on nearby fields.
In siding with the factory farm, Justice Thomas J. Waterman opined that "protecting and promoting livestock production is a legitimate state interest, and granting partial immunity from nuisance suits is a proper means to that end." It's a move that further solidifies the legal protection and privilege often granted to animal agriculture in the state, that according to one legal expert "carves out a certain type of industry for special treatment under the law."
Hog Manure Has Made Iowa Water Unsafe
Factory farming is responsible for water pollution throughout Iowa, and the problem continues to get worse. The state went from 772 hog CAFOs in 2001 to 10,000 in 2017, according to a University of Iowa study. A February 2022 Water Research study found that cattle, pigs and chickens are responsible for 74–88 percent of the nitrogen and phosphorus as well as cryptosporidium pathogens found in rivers globally.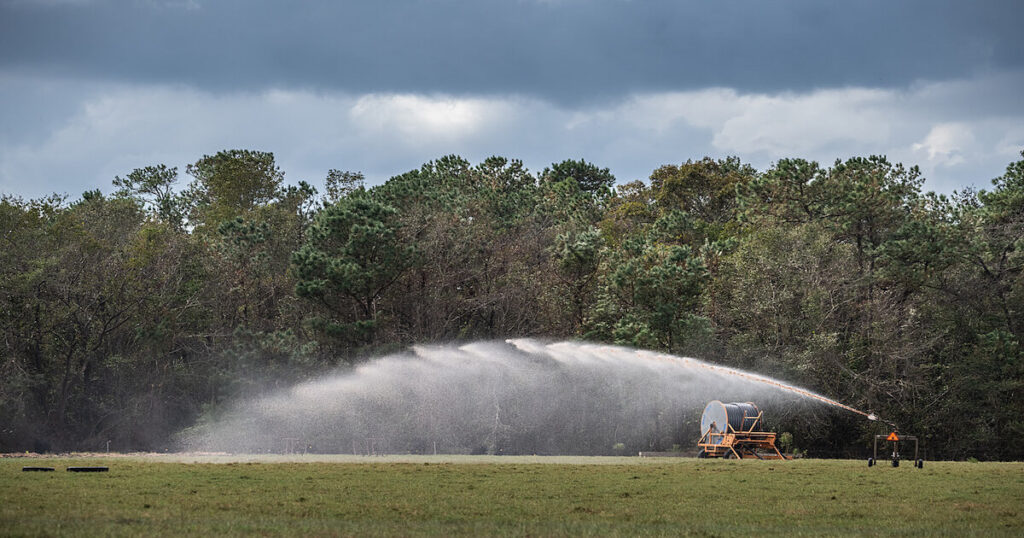 Chris Jones, a University of Iowa research engineer who studies water quality, explains: "Overapplication of hog manure beyond the crop nutrient needs results in nitrogen and phosphorus pollution and harmful algae blooms in rivers and lakes that receive runoff from the fields where the manure is applied." Nitrate nitrogen from that manure, he adds, "poses health risks to human beings." And algae blooms resulting from nutrient pollution "pose health risks to people who come into contact with that water." To make matters worse, "municipal drinking water drawn from sources with large amounts of algae may contain toxins harmful to human beings."
Noxious odors emitted by factory farms can also exacerbate symptoms for those with asthma and other respiratory conditions.
Iowa CAFOs Now Trump Even Previous Landowners
Every state has some sort of Right to Farm Law, in various forms, says Pamela Vesilind, an assistant professor of law at Vermont Law School, laws that provide immunity from nuisance suits to factory farms. "These 'right to farm' anti-nuisance laws favor and protect the financial interests of hog and poultry corporations over the interests of all other private property owners, even those whose homes have been in the family for generations."
Under the 2004 precedent however, Iowa landowners at least had an exception under which they could sue these factory farms as long as they met the requirements of a three-part test: if the landowner was there first, had experienced significant hardship and did not somehow benefit from the nuisance immunity granted to the farm.
Four of seven judges ruled, however, that the 2004 precedent was wrongly decided. According to reporting from the The Des Moines Register, the majority argued that Iowa had been an outlier, as all other states grant immunity to farmers from nuisance claims that cannot be challenged on constitutional grounds.
Vesilind disagrees. "So-called right-to-farm laws have been around for some 50 years, but the latest version of these laws, in Iowa, North Carolina, Arkansas and several other big animal-ag states are in the minority," she explains.
According to Vesilind, the Iowa Supreme Court's motivation is clear. "It's certainly political," she says, explaining that the move in Iowa essentially takes state Right to Farm law to a troubling new place.
Follow the Money
Iowa's Supreme Court judges are appointed by the governor. Republican Kim Reynolds has been governor of Iowa since 2017, when she ran with the biggest purse of all the candidates, thanks in-part to a $375,000 donation from members of the Hansen family, owners of massive pork producer Iowa Select Farms. Since her election, Reynolds has signed two ag-gag laws in an effort to thwart animal activists from exposing cruelties on Iowa farms. One has since been deemed unconstitutional, after another ag-gag law that was enacted in 2012 when Reynolds was Lt. Governor of Iowa, was also deemed unconstitutional.
Since the start of her term, Reynolds has also appointed four new Supreme Court judges, two of whom voted in favor of "protecting and promoting livestock" in this case. Currently, only one Democrat-appointed judge, Brent R. Appel, remains on the Iowa Supreme Court. Appel filed the dissenting opinion in favor of upholding the 2004 precedent.
"It's protectionism," says Visilind. "It's extraordinary because landowner rights, the rights to use your property and be in control of your property is so fundamental to the American aesthetic." The ruling is controversial, she says, but not unusual. "Sadly, this is an industry that is the most injurious, and enjoys so many protections." This latest decision in Iowa simply affirms the rampant power enjoyed by the factory farm industry in the U.S. Adds Visilind, "they are virtually unregulated."
This piece has been updated.
Jessica Scott-Reid
Jessica is a Canadian freelance journalist focused on animal rights & welfare and plant-based foods. She also co-hosts the animal law podcast, Paw & Order.