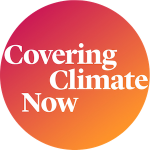 This story is a part of Covering Climate Now's week of coverage focused on Climate Solutions, to mark the 50th anniversary of Earth Day. Covering Climate Now is a global journalism collaboration committed to strengthening coverage of the climate story.
Amidst the outbreak of the zoonotic COVID19 virus, the practice of closely confining animals bound to be food has come under increased scrutiny. Holding large numbers of animals captive in wet markets, industrial-sized barns, transport ships, and other transport vehicles can increase the risk of spreading disease among animals, and to humans.
Criticism of animal confinement though is not new. Animal and climate activists have long been highlighting the many dilemmas associated with animal confinement—mainly ethical and environmental—pointing the finger at animal agriculture and deeming most, if not all animal farming as harmful to the planet.
But, what if there is a way to incorporate domesticated animals into farming that does not include mass confinement, does not include exploitation, not even slaughter, and is beneficial to the environment? They are called sanctuary farms, and a handful of them are showing us what a successful food system could look like during the era of COVID and climate change.
On a 1,300-acre regenerative farm in the Green Hills of western Vermont, a flock of 107 rescued ducks aid in the production of fruits, nuts, hemp, and perennial vegetables. Sho Farm and Sanctuary co-owner Melissa Hoffman describes the ducks—who are allowed to live out their entire lives on the property—as "farm partners," completely there as themselves, and not required to do anything other than how they naturally live.
"When it's warm enough outside, they go out and forage in the orchard," she says. The ducks eat insects and slugs that could be harmful to the crops, aerating the soil with their bills, trampling weeds, and fertilizing the land with their droppings.
Hoffman also composts the soiled hay from the ducks' barn, which attracts worms, "creating the most amazing compost for humic acid, and humus in the soil," she says. It's what she calls a "non-exploitative, animal-integrated food system."
Regarding biosecurity and the risk of spreading disease, says Hoffman: "If sanctuaries are prioritizing the health of the animals, they will tend to make decisions based on the animals themselves. So there are no other interests at play."
At Sho Farm and Sanctuary, she says they "always seek the most sanitary conditions for the ducks," noting that the ducks "are not in such confined quarters [like on industrialized farming operations where] it would cause a problem."
At another sanctuary farm in Ontario, Canada, former cattle rancher Mike Lanigan now grows and sells certified organic vegetables with the help of his herd, which he saved from slaughter five years ago after having a change of heart.
Tim Fors, a volunteer and board member at Farmhouse Garden Animal Home, explains that composted manure produced by the 29 cows who now call the farm their permanent home can be utilized in both ethical and eco-beneficial ways.
"It's not harming the cows in any way," he says, "and it has to be removed anyway."
Fors notes that the farm does not depend on manure being brought in from other sources, nor do they sell manure to other farmers.
"Being self-sufficient like that would reduce the possible spread of germs," he says.
He also points out that without the "obvious things regarding animals being transported, slaughtered, and consumed, naturally any bio-hazards associated with that whole ugly process are eliminated in our case."
Nate Salpeter, co-founder of Sweet Farm in the San Francisco Bay Area describes his farm sanctuary's 125 rescued animals—including pigs, cows, chickens, and one lama—as "ambassadors for their species."
He says that while the animals are not there to produce manure for the farm, "they just do," and if it wasn't used, it would have to be sent elsewhere, "which would be careless," he says. Shipping manure off the farm would increase the operation's carbon footprint. Instead, the manure is used to help maintain pastures and to grow flowers and important cover crops.
The animals at Sweet Farm do not actively graze the land where foods are grown, but Salpeter says one day they may swap where the animals are kept, with where food is grown to help replenish the soil, but only if necessary. Or, he says, "let's say there's a lot of amazing leftover volunteer root vegetables that the pigs can go out and root around, eat them, help clear the field, so that way we can go in with a clean slate."
Salpeter says that the risk of disease spread within a sanctuary farm system is reduced for a variety of reasons, but "first and foremost is the focus on being good stewards to both the animals and the land."
Adequate space on pastures and in barns, he says, "combined with individualized care, as opposed to blanket treatments with powerful antibiotics and antivirals, together reduce transmission vectors and resistance building opportunities."
He emphasizes that this high standard of individualized care is done "for the health of the animals and land, as well as out of consideration of humans."
"As we expand our understanding of food systems for the future, and as we expand and evolve our relationship with animals, the two are destined to meet," says Hoffman, at Sho Farm and Sanctuary.
But, she explains, how she sees that happening is not the same as the way we see it today. Rather, as she describes: "caring for the refugees from that movement, from that system [of modern animal agriculture], is a form of hospicing; it's a form of caring for the living creatures that come out of a dying industry, or potentially dying industry of the future."
And that is where sanctuary farms come in, presenting a picture of a potential future where plant food production, animal care, earth regeneration, and reduced zoonotic disease risk, can all exist together.
Jessica Scott-Reid
Jessica Scott-Reid is a journalist based in Canada covering animal, food and the environment for major media in Canada and beyond for nearly a decade. Her work appears regularly in The Globe and Mail, Toronto Star, Winnipeg Free Press, and Corporate Knights Magazine, and she has contributed to Sentient Media since 2019. She can be reached by email to [email protected].