Sentient Media is a nonprofit journalism organization that seeks to create transparency around the roles of animals in our daily lives—from food to companionship to laboratory test subjects. Made possible through a grant with VegFund, our Social Media Fellowship will train online advocates to get the facts about animal suffering in front of larger audiences.
We believe in delivering the facts, commentaries, and analyses that often get ignored by traditional media. The goal of the Social Media Fellowship is to provide training and build a supportive community for high-impact animal advocates to improve their understanding of the issues facing nonhuman animals and help them get animals' stories in front of mainstream audiences.
Together, we are advancing the conversation about animals through topics like factory farming, plant-based foods, social justice, and the environment while encouraging humans from all walks of life to consider their relationships with animals more deeply.
The Social Media Fellowship brings together social media experts, journalists, influencers, and leaders in the animal rights movement to educate and guide advocates through a 6-week course.
Each week, fellows will gain knowledge on animal suffering, media bias towards animals, the power of social media in advocacy, crafting journalistic content to reach larger audiences, creating targeted social media campaigns, and how to build and maintain an online community for animals.
Access to online courses designed to sharpen your social media and animal advocacy skills;
Access to experts within journalism, social media, and the animal protection movement;
Access to live events featuring panelists from around the world as they educate, motivate, and inspire you to take your social media presence even further for animals;
Fellows who take part in the 6-week course and recruit 10 volunteers will receive a monthly stipend of 100 USD;
Learn how to build your online impact and how to recruit your own team of volunteers;
Gain first hand experience and one-to-one mentorship with experts in social media and animal advocacy.
Become a Social Media Fellow:
Applications are closed for the January 2022 cohort.  
If you'd like to learn from the experts and take your online animal advocacy to the next level, apply to join the Social Media Fellowship today. Or apply to be a volunteer here. Applications are now closed for the 2022 cohort. The next cohort will begin in 2023.
Our goal is to reach animal advocates from across the globe, from all different backgrounds. The information in this 6-week course will apply to new and experienced animal advocates, no matter their location. Each of the selected high-impact Fellows will virtually recruit 10 volunteers and assist them through the 6-week training program. Together, Fellows and volunteers will create and implement targeted campaigns involving video creation, collaborations with outside organizations and/or influencers from around the world, graphics creation, content scheduling, and more.
Fellows and volunteers will have access to an online platform where they can communicate and collaborate throughout the course. They will also have access to recorded content and live events featuring experts in a variety of fields.
In 2021, Sentient Media launched the Social Media Fellowship program, sponsored by Vegfund. We selected ten international individuals from Bolivia, Bosnia and Herzegovina, Brazil, Canada, India, Mexico, Nepal, Peru, and Turkey to participate in a 6-week course that was carefully crafted to help advocates share their message effectively with new audiences. Upon completing the coursework, these individuals each recruited ten volunteers and helped them through the program. Overall, our Social Media Fellowship reached 12 countries.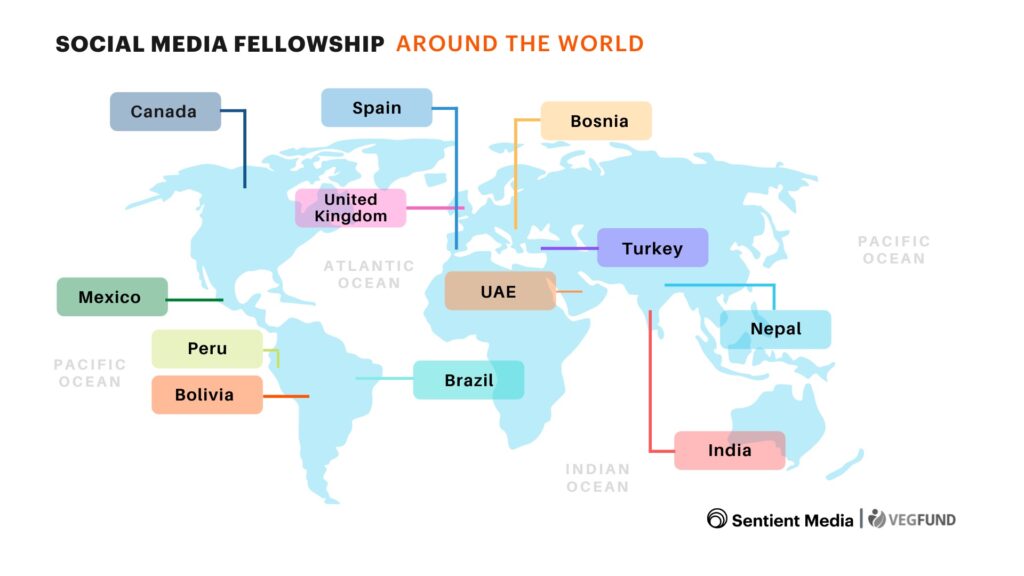 Members had access to live events throughout the program including discussions with Jackie Norman and Gareth Scurr of Vegan FTA, Jamie Woodhouse of Sentientism, Lu Shagay of the Institute of Animal Law of Asia, Jeremy Kocian of Million Dollar Vegan, Shannon Nickerson of Animal Justice, and many more.
At the end of the program, members split into teams and worked on targeted campaigns using their new skills and resources. Topics included the connection between forest fires and animal farming in the Amazon, egg production in Canada, the impacts of dairy industry waste in Bosnia, milk production in India, palm oil production in Asia, and more. This content was shared on social media and also in our 100 Voices newsletter.
Aside from social media, some of our program members have used their advocacy skills in their local communities in the form of plant-based food giveaways. With the help of Million Dollar Vegan and VegFund, our Social Media Fellowship members in Bolivia, Dubai, and Brazil have shared over 450 vegan meals with their communities and over 1,000 plant-based cookbooks.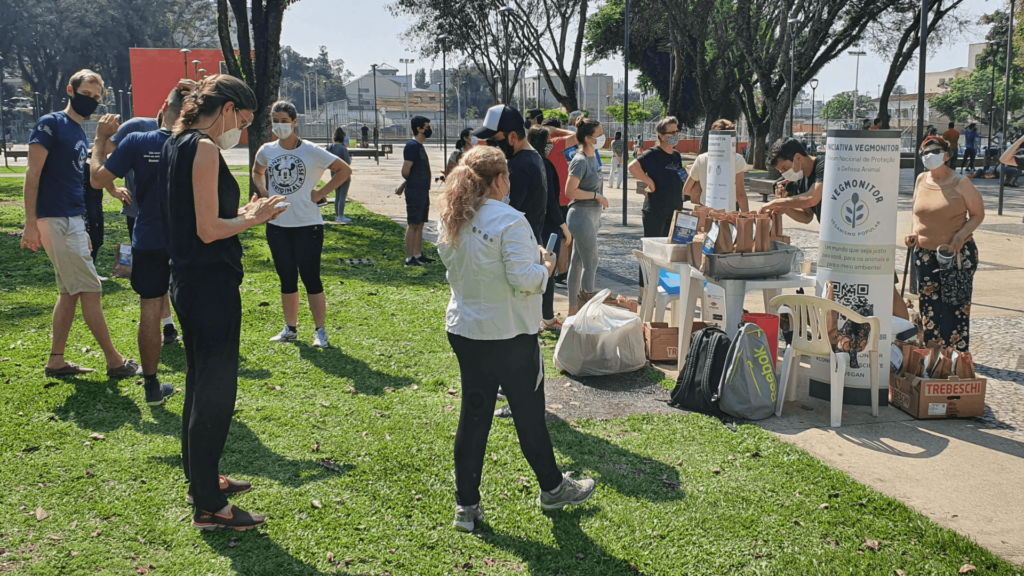 We're always looking for new perspectives, so if you are an expert in any of the following areas, please reach out:
We're looking for those with experience in:
Animal-based journalism
Industrialized animal agriculture
Animal suffering and/or sentience
Animal protection laws and politics
Social media tools, tips, and best practices
Building and maintaining an online community
If you would like to speak as a mentor for a course or live event, reach out to [email protected].