Our broken global food system requires a global solution. That's why Sentient Media's Social Media Fellowship program is uniting over 100 individuals from 12 countries around the world to educate, support, and inspire the next generation of animal and environmental advocates on social media.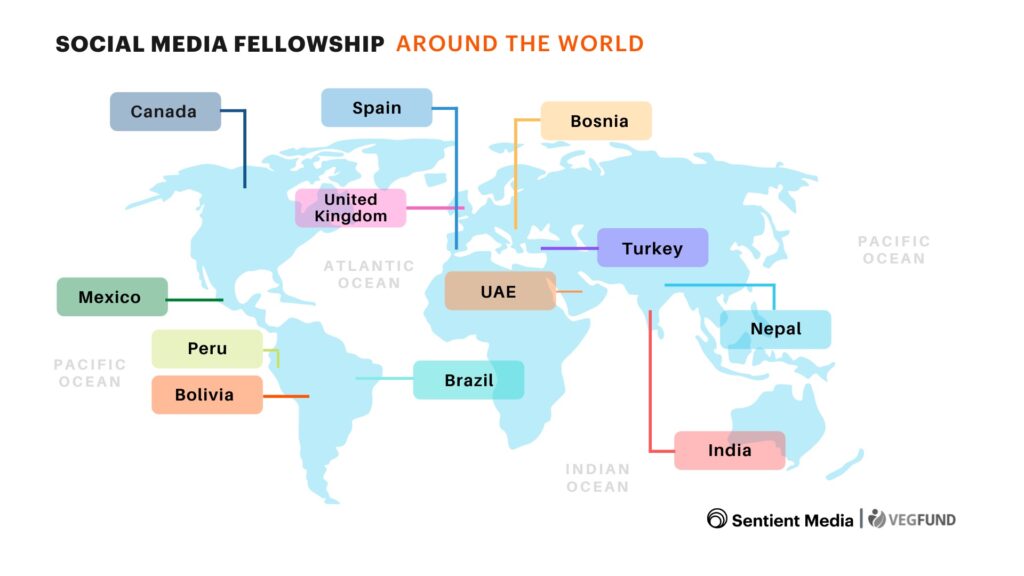 During the month of September, members of the Social Media Fellowship will run a 30-day social media campaign on their personal and/or professional social media platforms aimed at educating international audiences on the shortcomings of our current global food system. Members of the Social Media Fellowship have completed a 6-week training course on how to package and present underreported topics—like injustice in the food system—on social media and this campaign is helping them put their skills to the test. With a potential reach of over 200,000 international individuals, we are changing the conversation around our relationship with animals.
In addition to the social media campaigns, Sentient Media will host a corresponding 30-day newsletter titled 100 Voices. This special edition newsletter will provide subscribers with one new piece of information—statistics, graphs, facts, etc.—each day. By the end of the 30-day campaign, supporters should have a better understanding of the ethical, environmental, and health risks of current meat, milk, and seafood operations around the world.
Together, we are advancing the conversation about animals through topics like factory farming, plant-based foods, social justice, and the environment while encouraging humans from all walks of life to consider their relationships with animals more deeply. In order to create an even larger impact, Sentient Media's Social Media Fellowship has also joined Million Dollar Vegan to help members of the program organize and run a vegan food giveaway, wherever they are based. This collaboration has the potential to feed vegan meals to over 25,000 people around the world and hand out over 100,000 vegan cookbooks.
Through the power of research, design, social media, and community, we are changing the world for human and nonhuman animals. If you would like to support the Social Media Fellowship program, consider subscribing to our 30-day newsletter and follow us on social media to stay up-to-date on the educational social media campaign.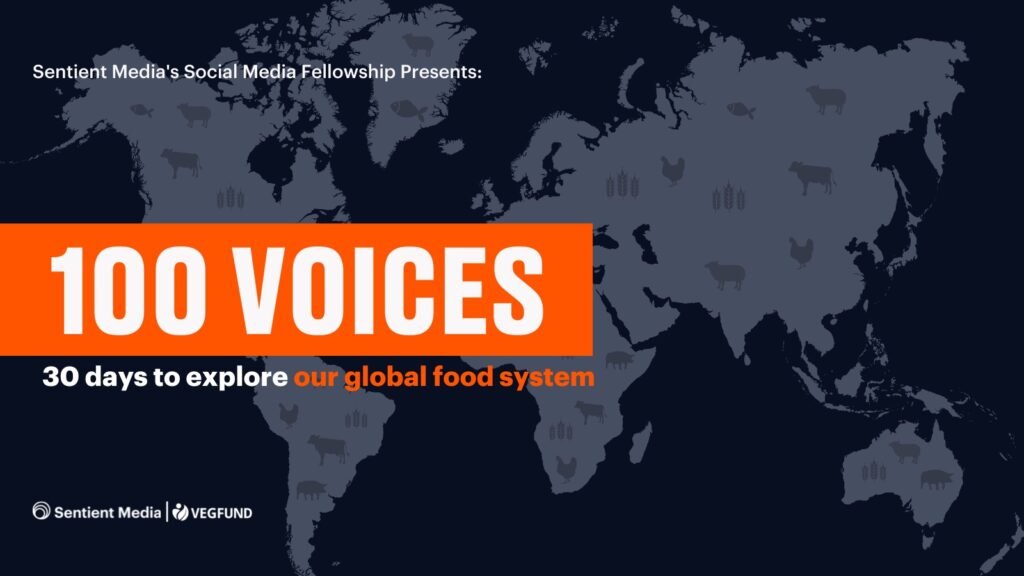 100 Voices: 30 Days to Uncover Fresh Perspectives on Our Global Food System
Hear from over 100 individuals in 12 countries in our 30-day campaign and learn about how different food systems impact humans, animals, and the planet. You'll receive one newsletter each day for 30 days from September 1, 2021. Sign up for this special edition newsletter here.
The Social Media Fellowship program wouldn't be possible without the support of VegFund. Learn more about them at vegfund.org
Taylor Meek
Taylor Meek is the community manager and a contributing author at Sentient Media. She oversees all social media content and strategy and manages the social media team and Social Media Fellowship program.