The COVID-19 pandemic has made a lot of people pause and think about the repercussions eating animals can have on their health. According to a recent study by Mercy For Animals researchers Rashmit Arora and Courtney Dillard on understanding consumer perception of animal agriculture during COVID-19, a majority of the Indian respondents (more than 75 percent) said they reduced their meat consumption during the 2020 lockdown.
Compared to countries like Brazil, China, Mexico, and the U.S., India ranked higher in reducing meat consumption since the COVID-19 outbreak.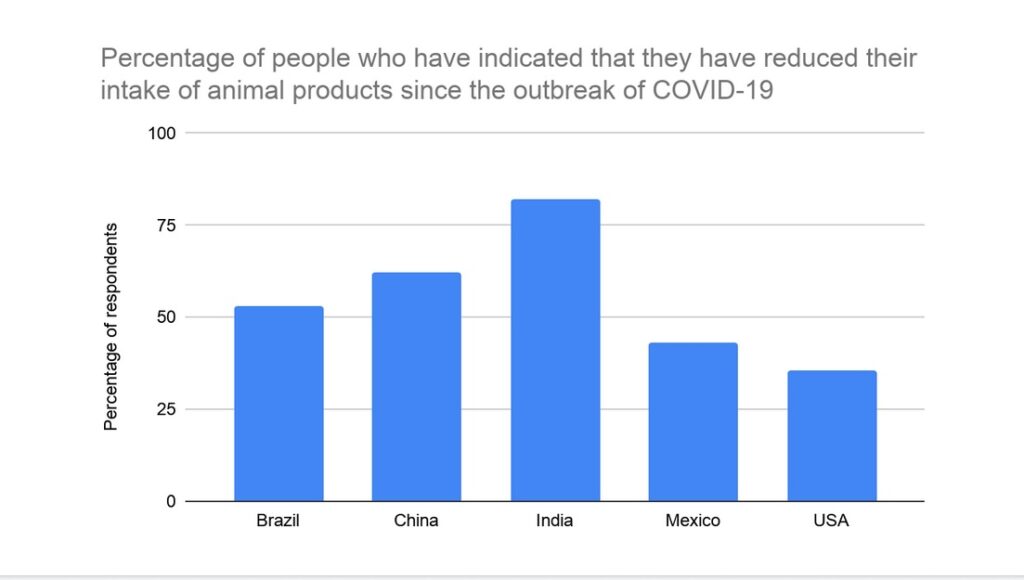 The main reasons a majority of Indian respondents listed for this shift were safety concerns, health, and product accessibility.
It is essential to highlight that over the last decade, favorable socio-economic factors and strong meat industry growth potential made India one of the fastest-growing poultry markets in the world. This, however, was observed to be disrupted temporarily in 2020 due to COVID-19.
The overall meat consumption in India was observed to have declined in the year 2020 with the first wave of COVID-19. Some possible reasons for this may be:
Safety Concerns: MFA's survey findings highlight that safety concerns are one of the main reasons Indian respondents chose to avoid meat during the lockdown followed by health and product accessibility issues.
Health Concerns: One hundred doctors who are a part of WHO's One Health initiative wrote to India's Union Health Minister Dr. Harsh Vardhan, demanding stricter meat industry regulations focusing on health concerns that wet markets across the country pose. For health-conscious individuals, this idea spread like wildfire (especially in metro cities), thereby impacting meat consumption.
Supply-Chain Constraints: A survey done in May 2020 on the impact of COVID-19 on Indians, consumers shifted to bigger retail chains and online shopping than the neighborhood Kirana stores. However, only 10 percent of online shoppers and 40 percent of retail buyers could get everything they needed. The supply chains were hit hard owing to multiple factors like closed manufacturing plants, improper shipment and delivery services, and panicked buying by consumers.
Price Surge: Nationwide, many consumers ended up paying a premium or prices over the MRP to procure essential goods and groceries. Nearly 72 percent of consumers paid more for food during lockdown. The issues with food affordability could also be a possible factor in reduced meat consumption as with a nominal income at hand, and surge pricing of all products including meat, essential goods get prioritized.
Shelf-Life Duration: To ensure they limit their exposure to the virus, consumers are now favoring the "stock up method" prominent in the West, which is giving rise to and promoting the packaged food and high shelf-life products in the food and grocery section. This conveniently raises the cost, and hence consumer preference changes from meat-based food to often more need-based veggies and fruits to boost their immunity. This is mostly true in the case of lower and middle-income groups.
Socio-Economic Conditions & Unemployment: With the unemployment rate rising a staggering 32.5 percent and nearly 6.1 million youths losing their job due to industries being hit by COVID-19, people will be looking at need-based and essential food as a go-to option instead of splurging or spending money on non-essentials. With meat prices still considered high in the country, this could be another reason the poultry and meat market in India is witnessing a downfall currently.
Fear: Social media posts showing the relation of meat with pandemics created a huge deal of fear among the public. This could also be another reason why people are choosing to stay away from meat during the lockdown.
Where Do Indians Get Their Meat?
Indians consume more chicken and fish than any other variety of meat as per a National Sample Survey conducted in 2012. According to a report by India Spends in the year 2018, about 37.4 percent of Indian women eat eggs and 36.6 percent of women eat fish, chicken, or meat weekly whereas, about 44.7 percent of Indian men eat eggs, and 43.3 percent of men eat fish, chicken or meat weekly.
The domestic poultry industry in India is broadly divided into two sectors: broiler meat and egg production, along with a marginal proportion of other poultry meat. Globally, India is the fourth-largest poultry producer in volumes although our per capita consumption is low. Blood, excrement, and other bodily fluids can easily spread from one person to another inside a poultry plant or wet market, and COVID-19 is the perfect example of that.
With close to 90 percent of broiler chicken sales done at traditional retail outlets, Indians predominantly rely on live bird markets to get their meat. Poultry meat, in general, is primarily sold through fresh or live markets in India owing to the consumer preference of buying live poultry or getting it dressed to their liking. India's wet market accounts for nearly all consumption of poultry in the country, and these birds are usually sold by small establishments. Illegal sales of wild animals across the nation is also a common phenomenon, evidenced by the sale of turtle meat in parts of West Bengal, Jharkhand, Bihar, and Uttar Pradesh. This poses another disease threat.
Warning: This video contains graphic content.
While India's poultry sector was hit hard by the first wave of COVID-19, it is important to note that experts in the industry feel the harm done was temporary. An article in April 2020 had quoted ICRA India's Vice President Ashish Modani stating, "ICRA expects domestic broiler meat demand to be affected in the short-term due to the COVID-19 pandemic leading to a marginal degrowth of 4-5 percent in poultry meat revenues and table egg demand to moderate by 1-2 percent in FY2021." In the first quarter of 2021, a report published by the IMARC Group expects the Indian poultry market to grow at a compound annual growth rate of 15.2 percent in the next five years.
By December 2020, there were several e-commerce meat delivery services that had observed a spike in demand. The surge in online and digital grocery stores specifically due to the COVID-19 lockdown in the country helped boost online meat delivery services, specifically in urban cities. Demand for online meat ordering was largely driven by the assurance of safety and hygiene, availability of a variety of products, special offers for new and first-time buyers, and door-to-door delivery service.
The Knowledge Gap
A survey done by Inmobi on the impact of COVID-19 on consumer behavior in India reveals that most Indians surveyed are not aware of the cause, symptoms, and measures that can prevent the spread of COVID-19. The results of the survey give rise to the question of whether or not the decline in meat consumption in India is due to consumers relating it to COVID-19 or other factors.
Although getting an accurate estimate of meat consumption in India is a struggle, some researchers note that Indians are particularly likely to underreport their consumption of meat due to cultural restrictions and taboos associated with eating it. The consumption patterns in India are driven by socio-economic conditions and religious beliefs. With COVID-19 coming into the picture, even if temporarily, Indians now have another reason to question their meat consumption.
Kritika Singh
Kritika is a marketing strategist and Podcaster at It's Kritikal! and a social media volunteer with Sentient Media.