Neuralink announced late last week that they have now earned FDA approval to test on human subjects.
Founded by Elon Musk, the company's mission is to develop a "brain-computer interface" — implanting a computer chip to enable humans to control technology with their minds. It's the latest milestone for the company with a controversial reputation for its testing on animals — reportedly responsible for at least 1500 animal deaths and still the subject of at least two federal probes.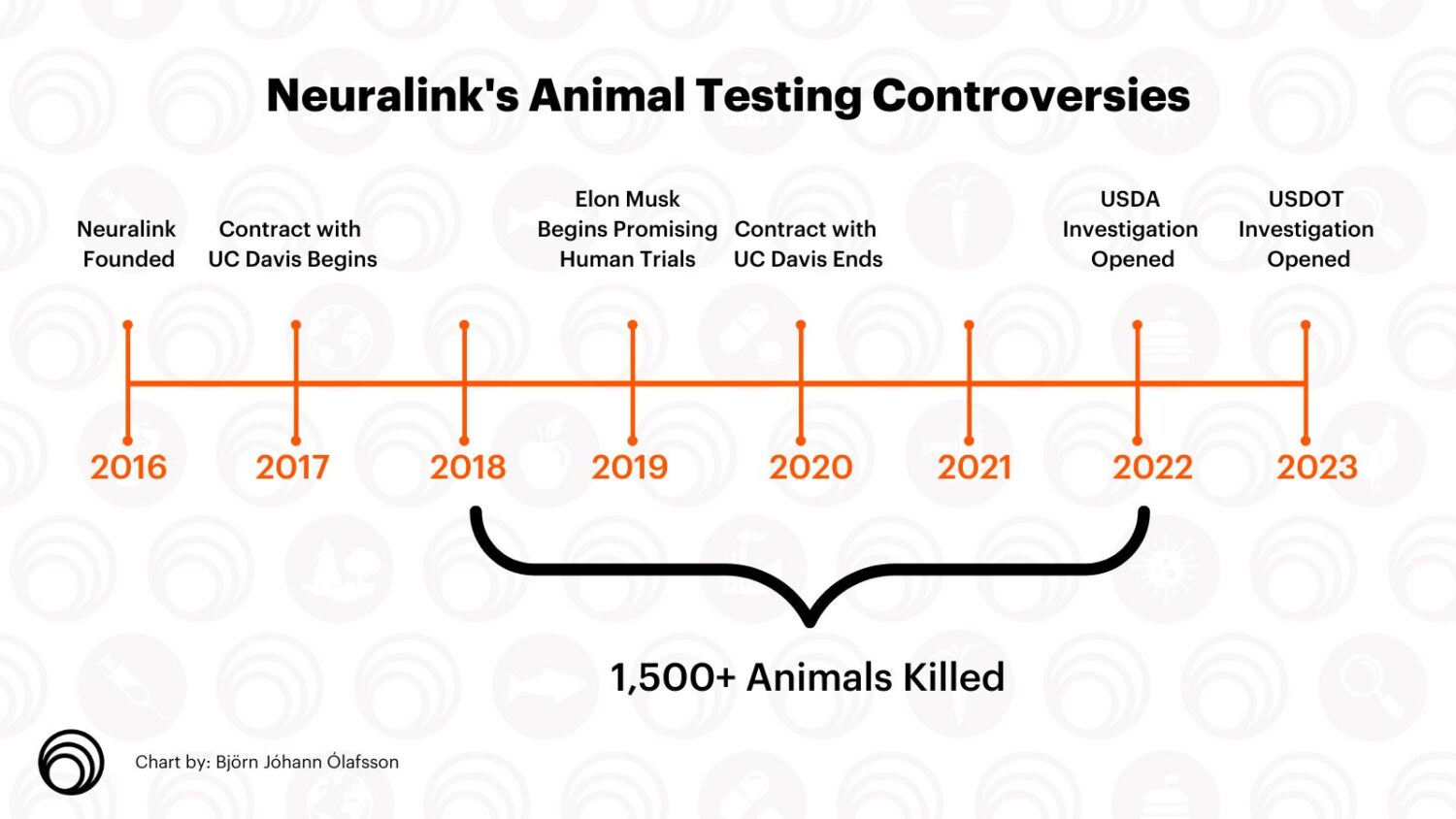 Neuralink has touted the benefits of its technology to someday help people with conditions like paralysis and blindness — and the company is now seeking volunteers with disabilities to sign up for their patient registry. This is not the first time Neuralink has applied for human clinical trials — the FDA had previously rejected an application due to "dozens" of safety issues, including the potential for wires to migrate in the brain and concerns about injuries during implant removal.
Musk has been hyping up human trials for years but only after myriad scandals and ethical missteps — primarily surrounding the company's long and sordid history of animal testing.
Neuralink's Animal Testing Controversies, Explained
In 2017, a year after the company's founding, Neuralink and University of California signed an agreement to test the company's brain chip at UC Davis's primate center in exchange for just under $800,000.
According to internal documents obtained by the Physician's Committee for Responsible Medicine (PCRM), an advocacy group that works to eliminate animal testing, researchers "pried" and "drilled" open the animals's skulls in order to implant the chips, as well as used unapproved adhesive called BioGlue to seal the holes in their skulls. After the surgical procedures, the monkeys displayed signs of severe stress and exhaustion and a host of physical ailments, including diarrhea, open sores, vomiting, vaginal discharges and brain hemorrhaging.
Neuralink ultimately ended its partnership with UC Davis in 2020 and moved its animal testing to internal departments. But between 2018 and 2022, the company experimented on and killed 1,500 animals, according to a report from Reuters.
In the report, Neuralink employees explained how experiments involving 86 pigs and two monkeys had to be repeated as a result of various human errors. Employees have blamed the company's fast pace and high pressure environment, as Musk was pushing his team to work faster and faster, both publicly and behind the scenes.
Though the company had passed USDA inspections, the agency ultimately opened a probe into Neuralink in December 2022. Lawmakers Adam Schiff and Earl Blumenaur urged the Department of Agriculture to exact heightened scrutiny on Musk's company after learning of the allegations raised by PCRM.
In February of this year, PCRM published emails showing improper handling of testing equipment, including transporting the remains of deceased monkeys without first disinfecting or sealing them. The equipment may have been contaminated with antibiotic-resistant pathogens that can be fatal for humans, and a grave threat to public health.
The U.S. Department of Transportation subsequently opened an investigation into Neuralink's improper handling of hazardous pathogens, the second independent federal investigation of the company since its founding.
How the U.S. Regulates Animal Testing
New medications were required by law to be tested on animals before they can be given to humans. In January of this year however, a new law was passed to eliminate this requirement, though in practice virtually all new drugs are still tested on animals.
The Animal Welfare Act regulates animals used for research but the law only covers certain species of animals, and notably doesn't apply to mice and rats, who constitute 95 percent percent of all animals tested.
Neuralink primarily tests on pigs and monkeys, highly intelligent animals that are covered under the Animal Welfare Act. Most companies and public institutions that use animals must have a committee to review and approve the use of animals for experimentation, called an Institutional Animal Care and Use Committee (IACUC).
Animal tests tend to be approved without questions or modifications. In one large-scale review of animal testing protocols, internal animal care and use committees approved 98 percent of procedures while the study found independent reviewers would only have approved only 61 percent of these same protocols.
As a result, some scientists argue that animal care and use committees should be more transparent about how they function. A USDA audit on animal research found that nearly half of all care and use committees were inadequate in both monitoring and approving experimentation.
Animal care and use committee members tend to be made up of people with a vested interest in maintaining the status quo — 67 percent are animal researchers and 15 percent are institutional veterinarians. There is no requirement that these committees include an animal ethicist despite the ethical issues that come before them, a policy choice criticized by some scientists.
Neuralink's Animal Testing Committee
Neuralink chose to form its own internal animal care and use committee. The Chair, Autumn Surrells, is a Neuralink executive with a financial stake in the success of the company. A Reuters investigation revealed that senior-level employees like Sorrells stand to gain millions from their Neuralink stock options.
While the USDA forbids people with conflicts of interest to take part on animal care and use committees, the agency does not define what a conflict of interest is. In practice, the USDA has never issued a penalty for a conflict of interest in the history of the Animal Welfare Act.
Neuralink does not disclose the names of individual members of its animal care and use committee. As of 2022, the committee had 22 members, but by May of 2023, a blog post reported 17 members. For now, all references to Neuralink's IACUC have been scrubbed from the site, citing "a new look and feel for the website."
Plagued by scandal and external investigations, Neuralink continues to reveal very little information about how it performs its animal testing. Perhaps the company's move to human trials will improve how the company tests its product and treats its test subjects.
Björn Ólafsson
Björn Jóhann Ólafsson is an Icelandic-American writer who examines the psychology of eating animals, the environmental footprint of the meat industry, and the plant-based meat industry. He lives in Spain with his two lovebirds.