Attendees have twice as many meat-based entrees as plant-based ones to choose from the menu at this year's United Nations Framework Convention on Climate Change (COP24) in Katowice, Poland, according to a food court analysis from the Center for Biological Diversity.
Eating less meat is the single best way to reduce your carbon footprint and slow down climate change. This fact was reported more than a month ago. Somehow, the organizers of a 30,000-person climate conference missed it.
The climate cost of COP24's menu is wildly irresponsible. That might be the understatement of the year. Meat offered at the conference generates 4x the amount of greenhouse gas emissions than the plant-based offerings. Friendly reminder: The conference is not happening in a vacuum. Meat always produces four times the amount of greenhouse gas as the plant-based alternative.
Assuming all 30,000 attendees choose meat over plant-based menu items, the two-week conference will burn the equivalent of 500,000 gallons of gasoline in greenhouse gases. Let's hope someone chooses plant-based.
The Center for Biological Diversity, Farm Forward, and Brighter Green estimate that a conference-wide shift from meat to plant-based patties would cut each burger's carbon footprint by 82%.
COP24 goes on for another 10 days—why wait.
The real cost of eating meat at a climate change conference
The conference responsible for discussing global frameworks for climate mitigation served beef with smoked bacon for lunch. Cabbage and mushroom dumplings, also on the menu, cost the climate a whopping 35x less carbon. Why they chose to serve beef and not plant-based burgers completely escapes anyone who was remotely paying attention when a consensus of 91 Intergovernmental Panel on Climate Change scientists from 40 countries said if we want to save the planet, we all need to eat less meat.
In a perfect world, none of this would be happening. The entire menu would have been plant-based, and we could all move on with our lives knowing that for 12 short days, a conference the size of a small nation decided to eat plants instead of meat.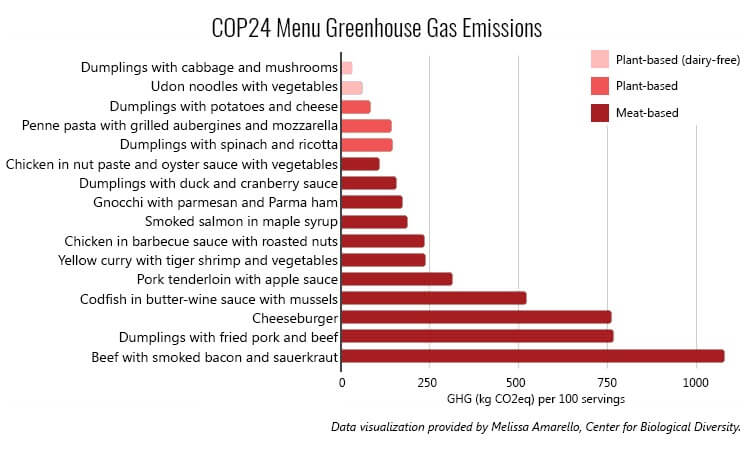 But the fact is, we can't. We are still trying to convince climate policymakers that talking about what we eat is as important as talking about climate-friendly ways to light our homes. We're stuck on a version of climate change that does not account for the real cost of what we eat—and that should scare you.
The popular narrative from COP24 is one of impending doom. "If we don't take action, the collapse of our civilizations and the extinction of much of the natural world is on the horizon," said naturalist-for-the-people and broadcaster David Attenborough in a speech that went viral earlier this week.
That much is true. Mass extinction is on the horizon—the thousand year horizon. Meanwhile, at lunch, COP24 is serving cheeseburgers. The global food system contributes nearly 30% of all greenhouse gas emission. Animal agriculture makes up about half of that. Despite the massive scale of the problem, doom and gloom only distract from the most immediate issue at hand. What's for lunch?
Last year's menu
In 2017, 60% of the food offering at the very same climate conference was vegetarian. COP23's Sustainability Task Force went as far as to ensure 20% of the food came from Bonn, German, the host city.
COP24 has not commented on why they moved away from a plant-based menu.
"What people eat at a conference may seem like small potatoes when it comes to curbing global emissions," said Claire Fitch, director of outreach at Farm Forward. "But if those at the forefront of global climate negotiations aren't going to 'walk the walk' at the highest-level climate conference, how can we expect the rest of the world to get on board?"
According to a new study on the climate impact of different sources of protein, beef tips the scales. Even the worst plant-based protein for the environment is better than the "best" animal protein. But let's be clear, by best, we mean the least harmful to the environment. No animal protein is always better than some. That goes for animals and the environment.
"The meat-laden menu of COP24 is an insult to the work of the conference," said Stephanie Feldstein, director of the Population and Sustainability program at the Center for Biological Diversity. "If the world leaders gathering in Poland hope to address the climate crisis, they need to tackle overconsumption of meat and dairy, starting with what's on their own plates."
In an effort to promote climate-friendly meal choices at COP23, the City of Frankfurt developed this CO2 calculator, which allows everyone to compare the carbon footprint of different ingredients before they sat down for a meal.
When will we learn that talking about animal agriculture and talking about climate change are the same thing
The global food system lacks transparency, and purposefully so. There is no financial incentive for food companies to disclose the carbon footprint of different food products—but there should be. Instead, they monetize misinformation about the environmental cost of food production.
It's frighteningly simple. Sustainably grown pork sells better than regular pork does. Expect pork production is not sustainable—at all. Animal agriculture is on track to occupy almost half the emissions cap as soon as 2030. But it says it right there on the label anyways: sustainably grown.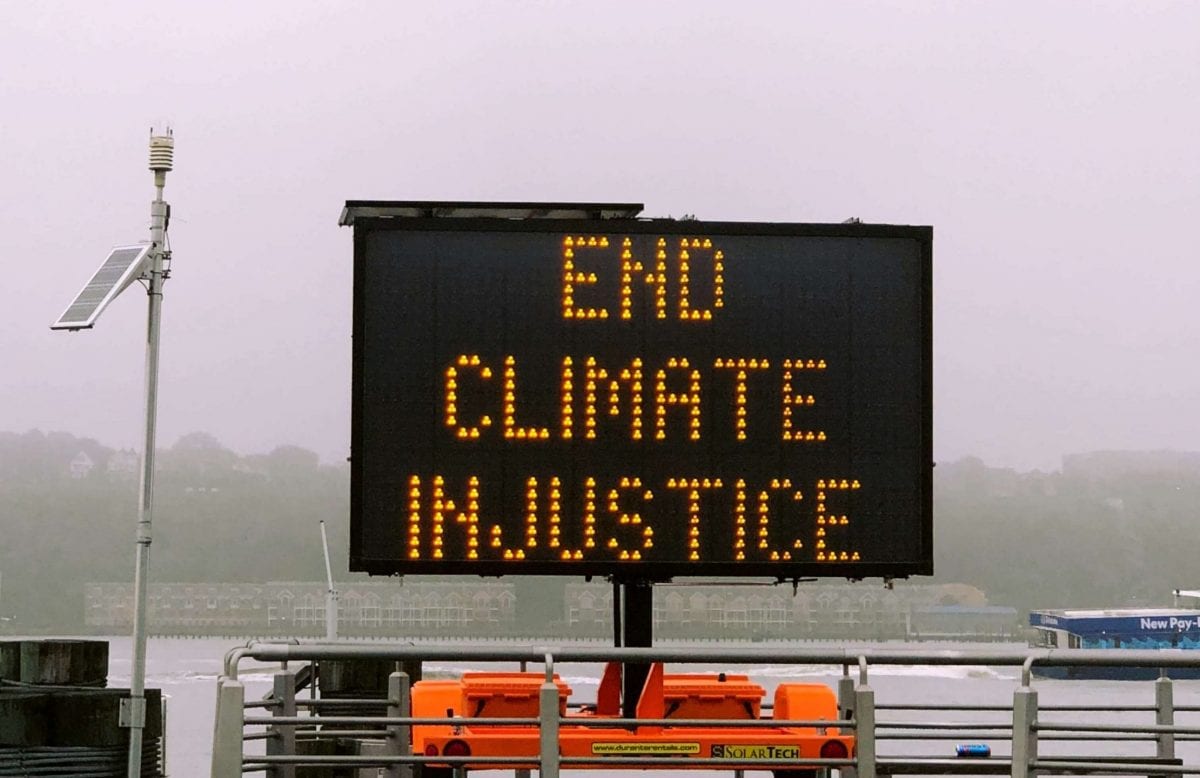 Food companies are lying to you. And they're lying with such clever irreverence that they caught the most prestigious gathering of climate policymakers on earth in their web of climate injustice.
If corporations aren't interested in saving the planet from the real cost of animal agriculture, which nearly all of them have already proven not to be, climate policymakers need to be. This can only happen if we are all willing to talk about animal agriculture like we talk about climate change. As Attenborough said, the future of the natural world depends on it.
Animal proteins ranked by highest climate cost
Researchers
studied 38,700 farms
and 1,600 processors, packaging types, and retailers. Here are the most climate costly animal proteins to produce.
Beef. Appears at least three times on the COP24 menu.
Lamb. Does not appear on the COP24 menu.
Shrimp. Appears once.
Cheese. Appears five times.
Fish. Appears twice.
Pork. Appears four times.
Chicken. Appears once.
Eggs. Does not appear.
"We know that we cannot meet the Paris Agreement goals, or the 1.5C target, with business as usual," said Caroline Wimberly, a Program Associate from Brighter Green attending COP24. "Food is not a matter only of personal choice, but an essential factor in solving the climate crisis."
Climate action organizations like Brighter Green are calling for demand side-policies to educate consumers about the climate cost of animal agriculture. But working towards a climate-friendly food system will require a lot more than policy. It requires shifting attitudes about what climate action really means.
Eating less meat
Eating less meat is the key to mitigating climate change. It is impossible to meet global climate targets without significantly reducing meat and dairy consumption. Our efforts to create a more equitable, resilient, and climate-friendly food system will fall short if we don't address the root cause.
Farming animals for food is a climate disaster—from unsustainable farming practices to live transport, slaughter, and distribution. Plant-based protein is more than enough.
Bottom line: Policymakers seem all but willing to condemn animal-based food producers, despite the injustice their business brings to animals and the environment. The majority of food policy proves policymakers are ill-suited to address the real cost of what we eat. The COP24 lunch menu is no different.
Matthew Zampa
Matt is an award-winning independent journalist. His reporting has been featured in USA Today, The Washington Post, HuffPost, Vox, PBS, and NPR, among others.