Jo-Anne McArthur/We Animals
Animal advocates are in the middle of a fight for better labeling on food. Because behind every big meat and dairy company, there is a desire to make more money, always at the expense of animal welfare.
Last week, the Animal Welfare Institute sued the United States Department of Agriculture for refusing to respond to a dire labeling request for animal products from the organization in 2014. Since meat and dairy companies began receiving more demand from consumers for more ethical treatment of animals raised for food, more "humane" labels have appeared on more food that is not humane in the slightest, and animals are suffering because of it.
The AWI wants the USDA to employ third-party auditors to substantiate claims like "humane" or "sustainable." Currently, companies write the USDA for label approval. A third party would remove the need for the USDA's outdated certification system. But the USDA has two big problems with the way that would change their relationship with the companies producing food from animals.
First, companies are financially incentivized to farm animals as efficiently as possible, almost always at the expense of animal welfare. Second, consumers want better welfare for animals raised for food. So companies are responding with more conscientious food labels. They read "Raised With Care" or "Animal Compassionate." But a regulatory body for these so-called compassionate labels does not exist outside the USDA.
Without adequate third-party oversight, big meat and dairy companies will continue to pull words like "compassion" and "care" out of thin air.  Animals will continue to suffer. And without labeling reform, companies will continue to label meat humane when it is not. That's as long as a humane label makes it easier to sell "humane" meat.
Without labeling reform, companies will continue to cover milk cartons with hearts. These labels signal the kind of compassion that consumers want from food producers. They also signal the kind of compassion that animals will never feel.
The fight for better labeling
In the four and a half years since the initial injunction, the USDA has done almost nothing to resolve the problem. Historically, the agency has not been considered the most transparent—by animal rights organizations or consumers. That's a gross understatement. When the USDA released a revised food labeling document in 2016, 99% of commenters opposed the new guidelines. Opposition stemmed from factual inaccuracies, misleading claims, and the lack of transparency, to name just a few of the agency's attempts at deferring increased urgency from the public to label food correctly.
According to a survey of 2,000 U.S. meat and dairy consumers conducted last month, 86% of consumer said that the government should not be able to label animal food products "humanely raised" without verification from a third party. Currently, the USDA requires an affidavit—and only an affidavit—from food producers to label their products humane. Consequently, no onsite inspection of production facilities, just a written statement that the company meets the USDA's humane or sustainability certification requirements.
Introducing a brand new certification, like "Raised with Compassion"? The process is frighteningly simple. Food producers tell the USDA what "Raised with Compassion" means, according to the industrial animal food producer's definition. The USDA then reviews the definition on paper and—baring any gross miscalculations of the word "compassion" that consumers might pick up on—the proposal is approved. That was true, at least, until now.
The AWI isn't the only one putting up a fight for better labeling in the big meat and dairy industry. Animal welfare organizations across the country are standing up for better food labels. Naturally, the fight is spilling over into the alternative meat and dairy industry.
Here's how the fight for better labeling breaks down by industry
Meat. The AWI is challenging the USDA's animal welfare and sustainability certifications for meat products. According to Dena Jones, Director of the AWI's Farm Animal Program, as a result, "The USDA's current policy surrounding the approval of animal raising claims on meat and poultry packages utterly fails consumers."
Dairy. Alternative dairy producers are challenging the Southern Dairy Compact's definition of milk. According to FDA Commissioner Scott Gottlieb, milk must come from an animal that lactates, which would require plant-based milk producers to rebrand almond milk products and the like for 12 southern states. As he infamously announced at the POLITICO Pro Summit in July, "An almond doesn't lactate."
Cell-based. Alternative meat producers are challenging the ever-evolving definition of meat from the USDA and FDA. The agencies just announced joint regulatory responsibilities of the cell-based meat space. Furthermore, according to U.S. Cattlemen's Beef Association President Kevin Kester, beef should be called beef and cell-based meat called cell-based meat—for now. "Unfortunately, the FDA has consistently shown that they are unwilling, or unable, to enforce public labeling standards," said Kester.
But because of inconsistent labeling policy, independent organizations like the Animal Welfare Institute, the Good Food Institute, the Animal Legal Defense Fund, animal advocates, and ethical vegetarians and vegans ready and willing to read the fine print on food labels are the only thing stopping private food companies' labeling from misleading consumers.
Unchecked, the USDA will continue their attack on conscientious consumers. In turn, animals will suffer to ensure meat products are labeled and sold—"humane" or not.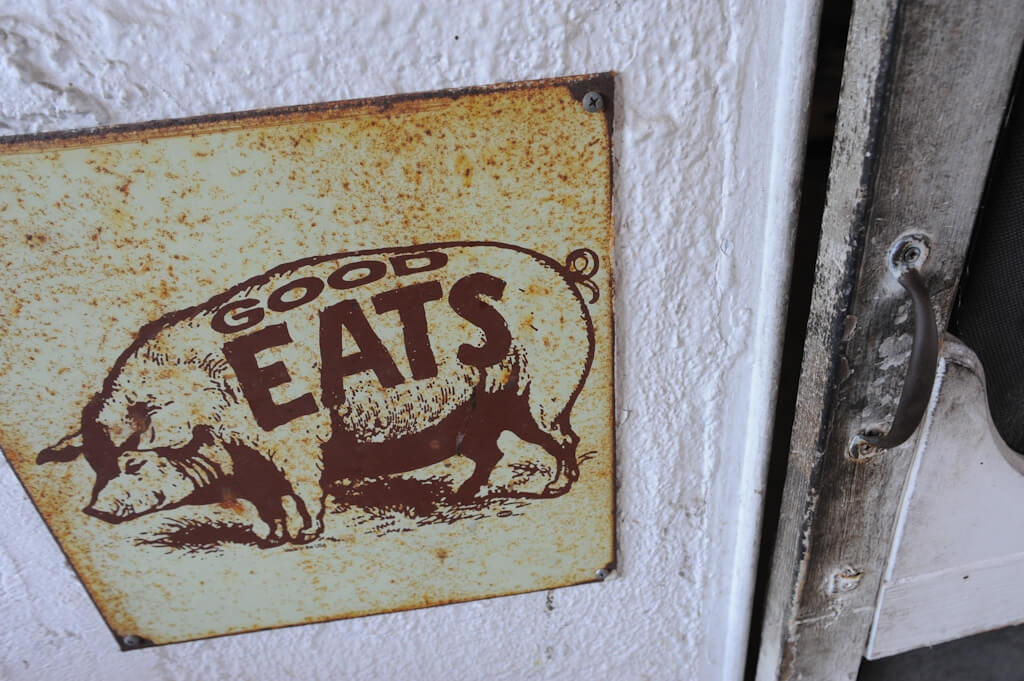 Jo-Anne McArthur/We Animals
In court: Animal Welfare Institute v. USDA
In mid-November, the AWI sued the USDA for an "unreasonable delay" in responding to a petition. By unreasonable delay, they mean four and a half years. The petition, filed in May 2014, raised questions about the legitimacy of specific animal welfare claims on food products:
Animal Compassionate
Animal Friendly
Humanely Raised
Other problematic animal welfare claims include Humanely Raised and Handled and Humanely Raised on Family Farms. Also, Humanely Treated and Raised in a Humane Environment are common variations. Raised in a Stress Free Environment and Raised with Care are often seen, too.
They also cited claims used by animal food producers that they believe mislead consumers with regard to the level of environmental stewardship achieved by companies, including:
Sustainable Agriculture Practices
Sustainable Farms
Sustainably Farmed
Other problematic sustainability claims include Sustainably Raised and Sustainably Raised on Family Farms.
What's the problem with labeling food humane that isn't?
Each label allegedly misbrands animal food products, in direct violation of the Federal Meat Inspection Act. According to Congress, misbranding in the meat industry happens when any part of the animal is given a label that does not accurately represent the product itself. In most cases, regulators speak in broad terms. (Beef is beef)
This makes it easier to say which products do not fall into these categories because the categories themselves are so loosely defined. Further, they point out that "unwholesome, adulterated, or misbranded meat or meat food products impair the effective regulation of meat and meat food products." They compete unfairly with properly labeled ones.
But the problem with mislabeling meat is more than a problem with nomenclature. Federal meat inspectors, employed by the USDA's Food Safety and Inspection Service, ensure the health and welfare of U.S. consumers, not U.S. animals. Their guidelines for humane meat are not humane, according to the AWI. What's worse? The AWI believe the agency was not fit to write the guidelines in the first place.
The USDA lacks the relevant, up-to-date animal welfare expertise to independently certify new animal welfare labels. Simply put, animal welfare standards are too complex for one unproven federal agency to govern. Third-party certifiers work across the industry, not internally, and it's time for the USDA to do the same.
Good Food Institute, Animal Legal Defense Fund, American Civil Liberties Union of Missouri, and Turtle Island Foods v. State of Missouri
As of April 2018, it is illegal to use the word "meat" to advertise anything that does not contain flesh from a slaughtered animal in the state of Missouri. The bill stalled in a senate committee. But legislators were determined to shut down cell-based meat product sales across the state. Tacked onto another bill, Gov. Eric Greitens signed the new meat definition into law. It aims to prevent "misrepresenting" meat products with penalties up to a year in jail and $1,000 fine.
The law effectively blocks the sale of, say, Impossible Food's 100% plant-based products. It also blocks all of Beyond Meat's offerings and any other plant-based products that call themselves meat, statewide. The ban exists solely because they have meat on the label. It does not exist because plant-based products are somehow more harmful to our health, the environment, and animals.
In late August, the Good Food Institute, Animal Legal Defense Fund, American Civil Liberties Union of Missouri, and Turtle Island Foods filed a civil lawsuit against the state of Missouri for the "content-based, overbroad, and vague" new law preventing plant-based and clean-meat companies from competing against animal agriculture.
While Missouri is the first state to address the meat labeling issue directly, the animal agriculture is stacking the deck against alternative meat producers. The U.S. Cattlemen's Association already asked the USDA to exclude cultured products from their definition of meat. That includes variants of the term like cell-based, lab-grown, slaughter-free, and clean meat.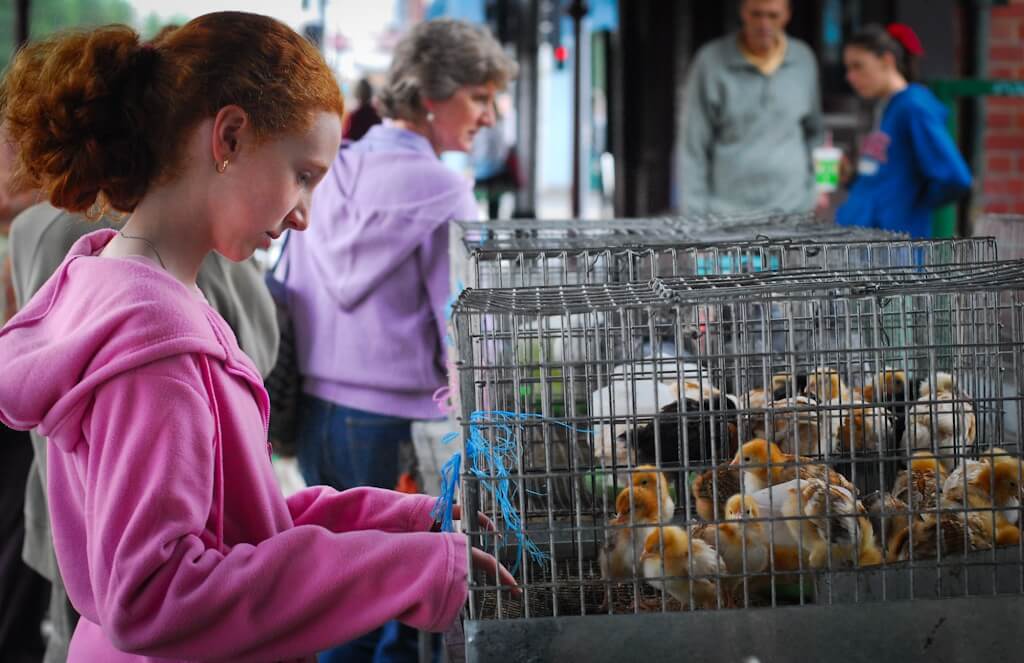 Jo-Anne McArthur/We Animals
Animal agriculture v. a slaughter-free future
Just two days after the AWI filed their lawsuit against the USDA, the USDA and FDA announced that they will be splitting regulatory responsibility of all cell-cultured food products. In the face of such harsh criticism earlier in the week, the agency did not even balk at the opportunity. They went even further, bringing an equally confused federal agency into the mix.
That's right. The same agency hearing petitions from a national cattlemen's organization to exclude the cell-cultured meat products from "real" meat consideration, a request driven by the fear of competition, not confusion, will be writing the labels for what is arguably the most animal-friendly food and only slaughter-free animal protein to date. The responsibility of labeling will fall into the hands of the department that still labels dead animal products "Animal Friendly."
Without industry expertise—and with hands in the pockets of the competition—the USDA and FDA cannot possibly inherit the responsibility of labeling and regulating cell-cultured food products.
Misleading labels aside, American consumers are certain of two things. They want to know more about where their meat comes from. And two-thirds are open to trying clean meat. The animal agriculture industry fears these changing attitudes towards animal welfare, largely because there's more profit to be made from less animal welfare.
Bottom line: Labeling meat "humane" that is not humane reflects America's lack of a comprehensive animal welfare policy. And so, the fight continues.
Matthew Zampa
Matt is an award-winning independent journalist. His reporting has been featured in USA Today, The Washington Post, HuffPost, Vox, PBS, and NPR, among others.