Molly and Sadie are part of the Kihlander family, Sadie for the last three years and Molly for less than one. They are both black-mouth cur mixes with outrageous personalities. Each dog was rescued from an animal shelter, and now live in a home with lots of love and toys.
Sadie ended up in the shelter for several months after her previous caregiver surrendered her. When we first interacted with her, it was clear that she was timid around people and also underweight. In the shelter, she was overlooked by younger and smaller puppies, as she was a full-grown dog, although she was only 1 year old and in desperate need of a loving home.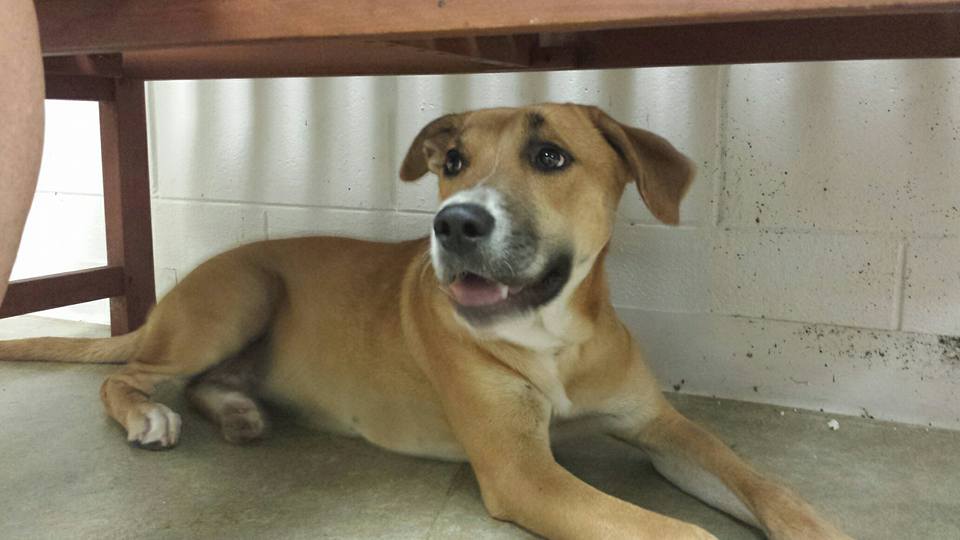 Sadie began to trust us very quickly after being brought home. The more comfortable she got, the more she began revealing her true personality. She is a loyal, sassy, and playful sweetheart who has endlessly shared her love with our family. Her thick, otter-like tail thumps if we look even the slightest bit in her direction, and thumps even more rapidly when we make our way over to her and spoil her with belly rubs.
I continuously find myself in awe of Sadie's human-like personality, especially when she acts as a protector to our family.
When she is curled up at the foot of the bed at night time, or barking ferociously at anyone who knocks on our door, it is clear that she feels incredibly protective of us. Sadie would never harm anyone intentionally, but I am confident that when it comes to anyone messing with her family, the ones she loves, she would do anything to protect us.
Sadie bonded with Stella, our other puppy, just days after joining the family. The two became inseparable. They would chase each other around the coffee table for what seemed like hours, snuggle up next to each other for nap time, and watch lizards through the window together.
All of our hearts, including Sadie's, were broken when Stella had to be put to sleep at a very young age. Sadie was noticeably distressed and less active. As much as we poured our hearts into giving her love and attention after the loss of her best friend, we knew it was not enough. She too needed a companion. Months went by as we mourned the loss of our beloved Stella.
Molly entered our lives when we needed her most, born on April 1 of this year. Her April Fools' Day birth is perfectly fitting for this daredevil of a puppy. Many traits that we saw in our Stella now shine through in Molly, such as the way she charges into the bed and pounces on us at the crack of dawn, or how she lugs tree branches that are far too big for her around the backyard.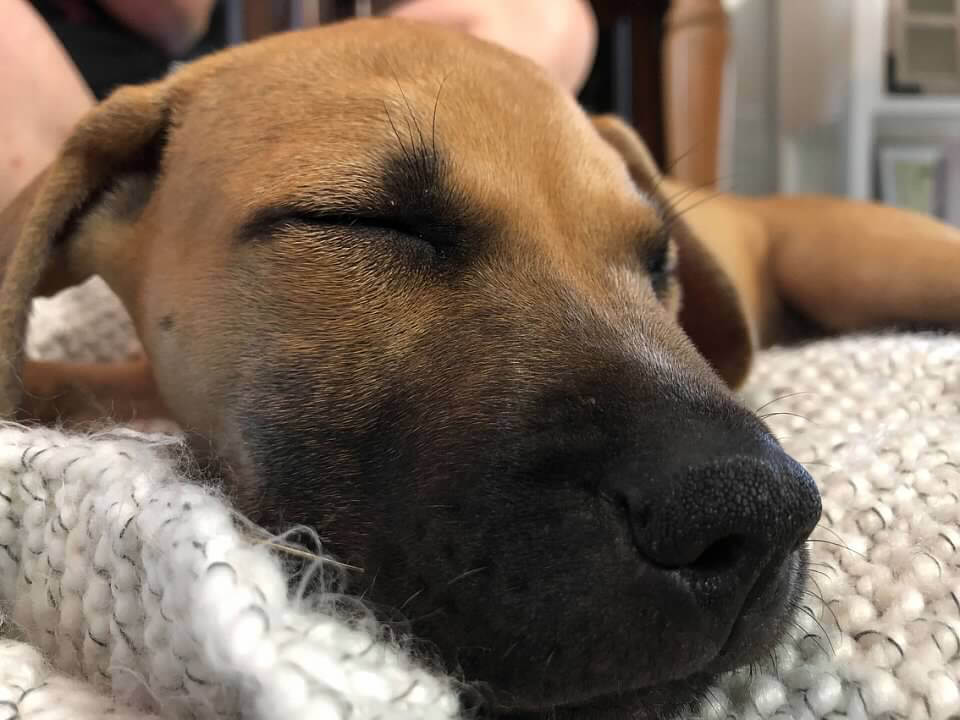 When we first went to meet Molly at the animal shelter, she was the naughty puppy chewing on visitors' pants, attempting to pull tablecloths to the floor, and dragging rugs around the room like toys. We knew from the beginning that we were in for quite the puppyhood with this wild one.
Six months later and Molly's attitude has grown right along with her weight. One of her favorite things to do is bite her big sister's collar as she begs her to play with her. And when Molly is tired of bugging her sister all day, she turns to her human friends to use as chew toys.
Sadie was not Molly's biggest fan at first. She gave us humans the cold shoulder for several weeks, almost as if to ask, "Why have you brought this tiny, annoying dog into my home?" But after an adjustment period, the two have become like sisters, and Sadie has shown incredible patience with Molly . . . for the most part.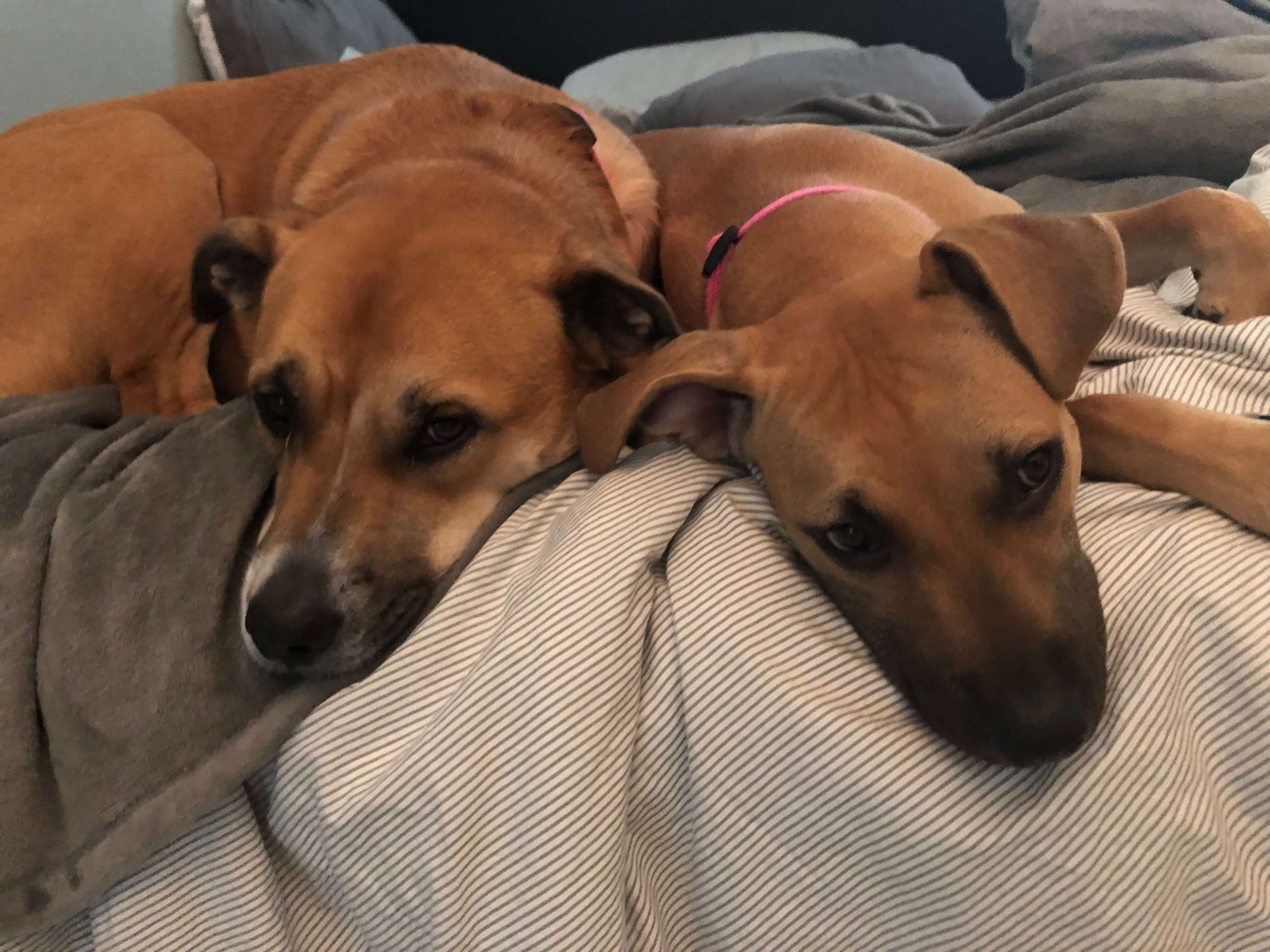 I am very fortunate to work from home. Not only does working from home allow me the chance to lay in bed on my laptop with a dog on either side of me, but also it allows me to keep the dogs active during the day. We go on beach walks in the morning, throw the frisbee in the backyard during my work breaks, and play numerous rounds of tug of war throughout the day.
I have never not had dogs in my life, and I am certain that their companionship brings so much love and laughter into our family. I can only hope that the love we pour into them through treats and fetch sessions show them how much we love them in return for all they share with us.
Our Companions is a series focusing on the companion animals that add life and love to Sentient Media's editorial team. As a remote team located all around the world, we're fortunate enough to spend as much time as we can with our pups, rabbits, kitties, and chickens, building a stronger bond with them each passing day. This series will give you a first-hand look at our companion animals and why they hold such special places in our hearts.