Thousands of slaughterhouse workers have already tested positive for COVID-19. Many have died. In many small counties, meat industry businesses are the largest hubs of the disease. To combine the fight for both the most neglected workers and the most neglected non-human beings in the meat industry, PETA has purchased shares in some of the major U.S. and Canadian slaughter companies—including Tyson, Hormel, and Smithfield—to take on the role of an activist shareholder. Owning stock in the companies gives PETA the ability to attend annual meetings, correspond with other shareholders according to the Securities and Exchange Commission rules, and directly urge CEOs to convert all slaughterhouses to eventually only produce plant-based proteins.
"This crisis has shown that raising and killing animals in filthy factory farm conditions and butchering them in ill-regulated slaughterhouses creates breeding grounds for infectious diseases," says Ingrid Newkirk, PETA President. "PETA is pushing major meat companies to shut down the slaughter lines and switch to plant-based meats that never cause a pandemic."
The novel coronavirus made the jump from non-human animals to humans in a market where live and dead animals are sold for human consumption. At least one strain of swine flu very possibly began on a U.S. factory farm. Other deadly influenza viruses have been traced to chickens and other poultry. The Centers for Disease Control and Prevention warns that approximately 75% of recently emerged infectious diseases affecting humans originated in non-human animals. Many public health authorities say that the next pandemic is inevitable if we don't wean ourselves from animal agriculture.
PETA has been active in highlighting the connection of the current pandemic with humanity's current treatment of non-human animals. The organization recently placed a full-page ad in The Washington Post urging Americans to move away from meat.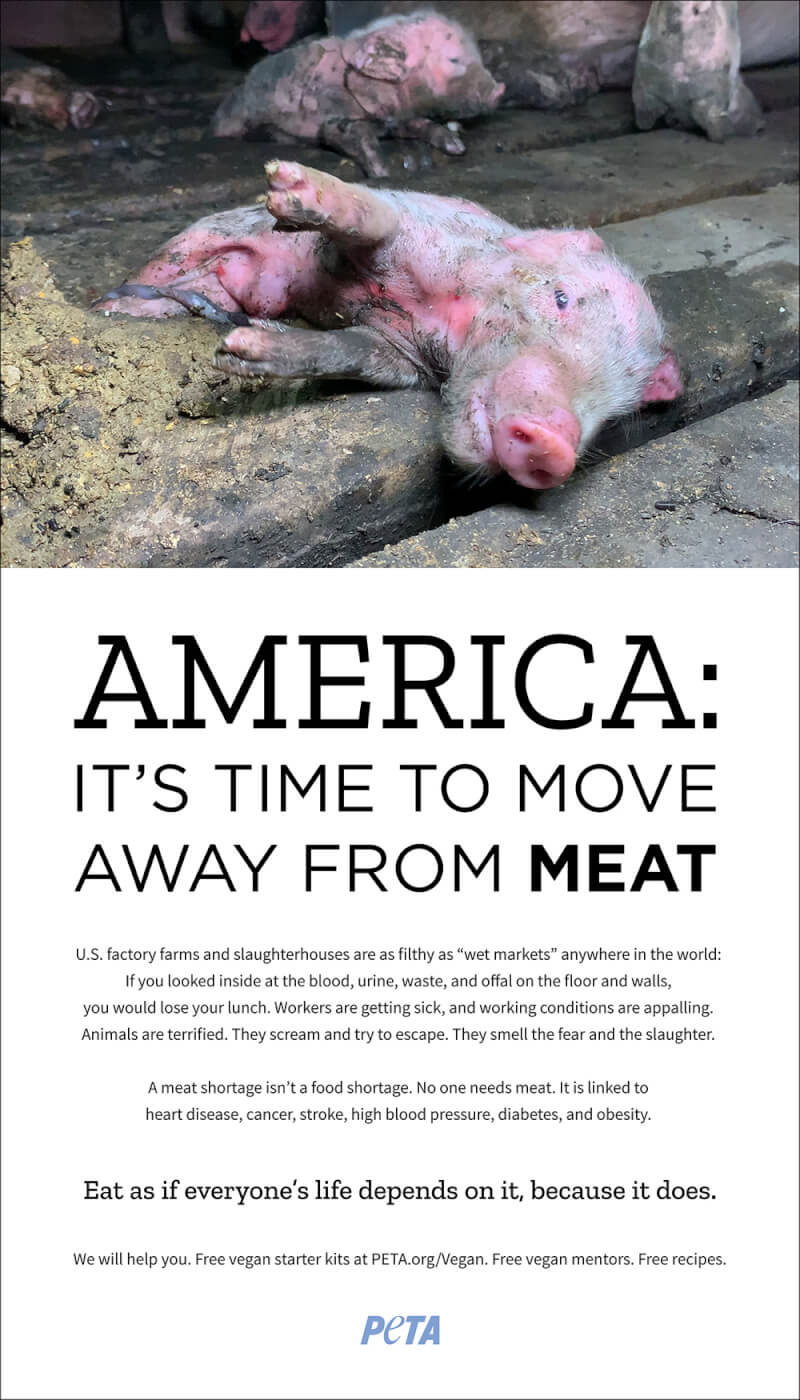 Meanwhile, grocery store sales of plant-based foods that directly replace animal-derived "products" have grown 29% in the past two years to $5 billion. Most meat companies already produce or invest in vegan meats, such as Tyson's Raised & Rooted plant-based nuggets and Smithfield's Pure Farmland range. Slaughterhouse owners targeted in PETA's stock purchase include Tyson, Hormel, Sanderson Farms, Maple Leaf Foods, Kraft Heinz (parent company of Oscar Mayer), and Chinese-owned WH Group (owner of Smithfield).
Jasmin Singer
Jasmin Singer is the author of The VegNews Guide to Being a Fabulous Vegan (Hachette, December 2020) and the memoir Always Too Much and Never Enough; the co-host of the Our Hen House podcast; and a longtime animal activist and public speaker.