Update: Iceland has allowed whaling to resume as the government's temporary ban expires. Environmental and animal advocates have described the news as "hugely disappointing," according to reporting in The Guardian.

Just one day before Iceland's whaling season was set to begin in June, the Minister of Food, Agriculture and Fisheries Svandís Svavarsdóttir announced that the nation's hunting of whales would be halted until August 31 due to concerns over animal welfare in the wake of an alarming report. The news leaves the future of whaling in Iceland in question. Iceland is one of just three nations in which commercial whaling continues legally, even as official statements suggest that 2023 could be the end of the practice. The move by the Icelandic government comes as a new report exposes the worst aspects of an industry that has already lost favor with many Icelanders.
Animal Suffering from Whaling Exposed
Published on May 8 by the country's food and agriculture agency, the report revealed that the hunting of large whales in 2022 — while not violating any Icelandic laws — does not align with the nation's animal welfare standards. "One whale with a shuttle in its back was chased for 5 hours without success," states the report, which examined how 58 whales in total were hunted.
Despite the use of explosive harpoons, the animals struggled for an average of 11.5 minutes before death, according to the report. An estimated 67 percent died or were rendered unconscious almost immediately, while 24 percent had to be shot more than once. Ultimately, the experts concluded the whale hunt was in violation of Iceland's animal welfare regulations.
Kristín Þorleifsdóttir, a resident of Stykkishólmur, isn't surprised by what the report found. "The methods they use are just simply horrific and disgusting," she says, adding that she, like many Icelanders, find the entire industry to be extremely unethical.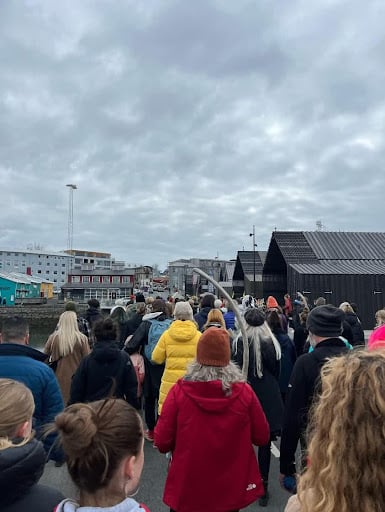 This report played a crucial role in the Icelandic government's decision to stop whaling for 2023.
"I have made the decision to temporarily stop whaling in light of the unequivocal opinion of the council of animal welfare specialists," said Svavarsdóttir on June 20. "The conditions of the Act on Animal Welfare are inescapable in my mind: if the government and license holders cannot guarantee welfare requirements, this activity does not have a future."
Despite the animal welfare problems and dwindling domestic support for whaling, the government's record on whaling suggests that in reality, only a true shift in the economics of the industry will ultimately persuade the Icelandic government to put an end to whaling.
Past Policies Allowed Whaling in Iceland to Persist
Iceland's minister began 2022 by signaling the Icelandic whaling industry might finally be winding down: "There are few justifications to authorize the whale hunt beyond 2024," Svavarsdóttir said at the time, and "little proof that there is any economic advantage" left for the industry.
At the time, several news headlines reported on the statement as a firm deadline but the season went on without interruption, and 148 fin whales were ultimately killed.
Today, whaling company Hvalur hf has given no indication that it plans to end its operations. A five-year quota has allowed the company to attempt to hunt 209 fin whales and 217 minke whales annually between 2019 and 2023, although only one minke was ultimately killed — as three other companies halted or permanently ended their operations.
Hvalur hf CEO Kristján Loftsson has not responded to a request for comment.
Driven by Tourists and Loathed by Icelanders
According to research published by the University of Iceland in 2019, whaling does benefit the nation's economy, but it may be international travelers keeping the industry afloat. A 2016 poll found that just 1.5 percent of Icelanders regularly eat whale meat. The majority of meat from minke whales ends up in restaurants that mostly serve tourists.
"In my mind, there's no history. There's no historic connection," says Þorleifsdóttir, arguing that most Icelanders don't have any cultural reasons to hold onto the whaling industry. "I never grew up with it."
Icelanders themselves are increasingly opposed to the practice of whaling, data shows. In June 2022, a survey conducted by the International Fund for Animal Welfare found that opposition to whaling in Iceland had doubled since 2013, reaching 35 percent of the population.
The latest figures indicate even more public consensus against whaling, as the majority of Icelanders — 51 percent — are opposed to the hunting of whales.
On June 3, animal advocates were led by Icelandic singer Björk in a demonstration held in the capital city of Reykjavík, to call for an end to whaling. The protest was backed by 18,000 petition signatures nationally and what is now approaching 382,000 from around the world. A participant of the protest tells Sentient Media that nearly 200 people attended — which is quite a large turnout for the small capital with a population of less than 140,000.
For now, it's unclear if the government will ultimately end whaling or not in Iceland. "This report, along with the expert council on animal welfare's findings, will serve as essential background material for making decisions about the future of whaling post 2023," said the fisheries minister in June of this year. Yet neither he or any other government official has provided a timetable for making a final decision.
Still, the release of the 2023 Welfare Report seems to signal momentum towards a permanent end to the practice. To the International Fund for Animal Welfare, Hvalur hf's operations represent a "dying industry," and the new report should be the last straw. "Whatever their views on whaling, both Icelanders and the international community will be horrified by these findings," said the Fund's Senior Director, Patrick Ramage in a statement. "This new evidence underscores how outdated this practice is. It has to end immediately — no one in Iceland is dependent on this meat."
Protestors in Reykjavík that day expressed hope that the government's decision would stick, especially given shifting public opinion. "I think more and more people are realizing how awful and shameful this is," says Kristín Þorleifsdóttir, a resident of Stykkishólmur, Iceland. "People around me don't don't eat whale."
Björn Ólafsson contributed reporting to this story.
Jennifer Mishler
Jennifer is a writer and editor based near Washington, DC. Her background is in communications in the animal protection movement. She is also a contributing writer with Sentient Media.