During Wyoming's first legal wolf hunting season in 50 years, it cost just $12 to tag a wolf. Today, the wolf roams wild and (not-so) free in Nate Blakeslee's American Wolf: A True Story of Survival and Obsession in the West (Broadway 2017).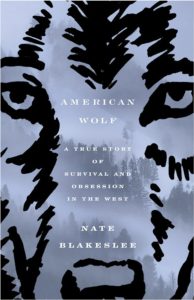 Wyoming knows one thing all too well, and that's big game hunting. Elk was nature's gift to Yellowstone National Park and the surrounding mountains. And when Yellowstone's elk suddenly disappeared, experts called it a drought. But local hunters knew better. It was the wolves.
Over the past 20 years, the wolves have taken over Yellowstone. They spilled over the park's borders into cattle land. Ranchers stopped at nothing to protect their livestock. Hunters wanted a shot at the elk again. Twelve weeks into wolf hunting season, seven wolves were dead.
Bottom line: The American wolf were nearly hunted to extinction. Explore its complicated history in American Wolf, a sobering homage to one of the American West's most contentious animals.
Matthew Zampa
Matt is an award-winning independent journalist. His reporting has been featured in USA Today, The Washington Post, HuffPost, Vox, PBS, and NPR, among others.