https://www.instagram.com/p/Br21oTCAfmT/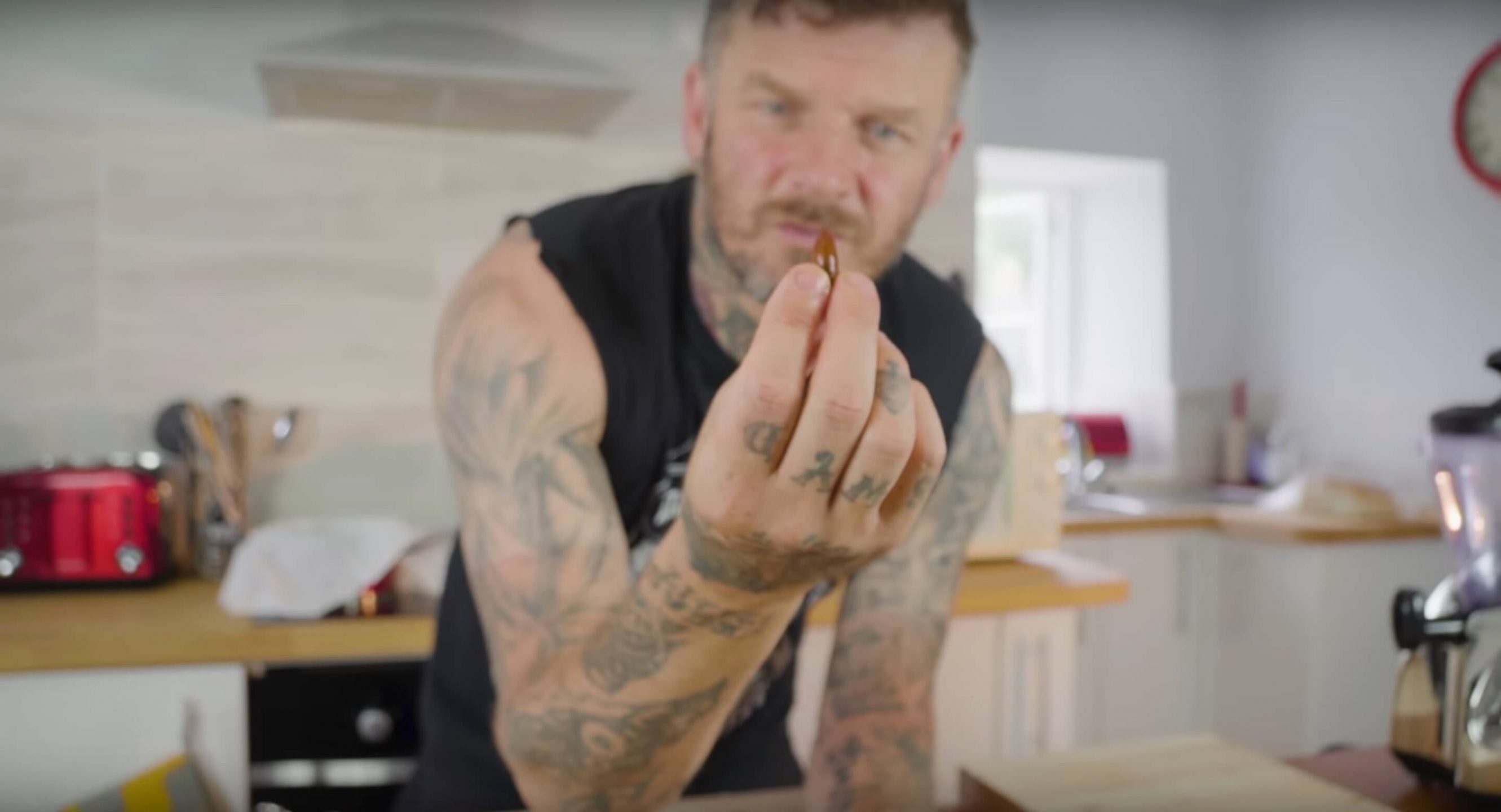 Matt Pritchard SWYD/YouTube
The latest addition to the vegan main stage is BBC host, skateboarder, author, and legendary prankster Mathew Pritchard. His new vegan cooking show Dirty Vegan launched on BBC last week! Pick up his cookbook by the same name Dirty Vegan (Mitchell Beazley 2018) for a lot more plant-based badassery.
The arrival of his new vegan cooking show Dirty Vegan is the first vegan cooking show to air on BBC—from a man with a no-frills approach to, well, everything. The first episode is out now. Want to peak at what's in store for the rest of the season? Check out his (mostly) plant-based YouTube channel, where he's been keeping it fresh with new recipes over the past year in a series called Pritchard's Proper Vegan Cooking.
On TV, Pritchard is known for big-time stunts and big-time laughs. Bad boy, loud, proper crazy man. All of this could be said of the personality he developed on MTV's Dirty Sanchez, like the British version of Jackass.
But his cookbook Dirty Vegan gives readers a look at Pritchard in kitchen, where he says he goes to chill out. "I find it hard to sit still," he writes. "Cooking gives me a way of slowing down a bit and focusing on something, without stopping completely."
Dirty Vegan style
Cooking requires focus, precision, intentionality. So does skateboarding. Each moment is active, whether you're a stuntman or a chef. Pritchard is both stuntman and chef. The practical (and practically insane) approach to he brings to life, TV, skateboarding, and vegan cooking shows in every dish he puts on the table. It's simpler than you'd think, he assures us, going from a stuntman to a chef.
The first and most important step is to fail. It's incredibly moving to hear from someone with as loud of a personality as Pritchard's say that his first job in a kitchen was his last. There's nothing easy about trying and failing, but there is always something to learn.
Call it dirty vegan style cooking. He got his hands dirty the first time and care back for more. And by "more," I mean he has his own flippin' cooking show on BBC!
But Pritchard didn't flip the vegan switch until skateboarding was long gone and the offers to be on TV stopped coming. Then, he knew he had to make a change. Naturally, he wanted to get back into shape, so he started running more and eating less. Today, Pritchard is a proud triathlete and vegan.
"I decided to go vegan," he writes, "it suddenly seemed the most natural choice."
Pritchard has been animal-free for three years now. Exploring replacements for things like eggs, milk, and cheese actually got him back into cooking. Like almost anything in life, take away one option and you'll be forced to figure out another way. In this case, a stuntman on a diet became a vegan chef without even realizing it.
Now, he's out to inspire a younger generation of do-no-gooders to cook, eat healthily, and do more good—tattoos and all.
The dirty vegan ingredient list
What does every dirty vegan chef needs in their pantry? The list goes on to include Pritchard's go-to kitchen gadgetry. I promise, there's nothing in here you haven't heard of before. It's focused, precise, intentional, like your vegan lifestyle!
Note: No good vegan cookbook is complete without a word to the weary. There are animal products lurking in the most innocuous places, like Jello—of all things. Apparently, orange juice can contain fish oil? I mean, come on. The point here is to be certain you know what you're putting in your body. If you're a practiced vegan, that usually means you're a pro label reader. And rightfully so!
Every dirty vegan needs…
Himalayan salt. It's full of minerals and works great to bring the acidity out of tomatoes.
Fruit. This one's no-brainer for any seriously trying to eat healthily, but here's a thought. Do it dirty vegan style and add a shot of coffee to your morning smoothie.
Oat milk. Look no further. It's the only plant-based milk that goes well with coffee or tea!
Beans. The most reliable vegan protein replacement. Buy organic if you can afford it. (None of that alien garbage, as Pritchard puts it.)
Garlic. Okay, Pritchard really likes garlic. He recommends at least four cloves per casserole. While I don't eat a lot of casseroles, that seems like a lot.
Tomatoes. Organic tomatoes taste different! Consider growing them in your garden so you can have lush tomatoes all summer long.
Paprika. Dried chilis deliver that smoky barbecue flavor that can be hard to find in many vegan dishes.
Coconut oil. The high smoke point makes it perfect for frying. It also adds a coconut finish to any fruit smooth. Essential for your dirty vegan kitchen.
Did you really think I was going to give away the entire list? Pick up your copy today for more useful tidbits!
Best of: Pritchard's Proper Vegan Cooking
For all of the ridiculousness MTV caught this dirty vegan doing, Pritchard's Proper Vegan Cooking is a brilliant look at what's in store for this season of Dirty Vegan on BBC.
He loses none of his charm (and most of his clothes all too often) in the YouTube version. But fun, games, and Scotch-soaked accents aside, this show rocks. I've never learned so much about almonds—and I've definitely never heard someone call their homemade almond milk BANGIN'.
The kicker is that he makes energy balls with the leftover almond pulp. What the what?! It doesn't get much better than that, folks. Totally vegan and almost zero waste. Pritchard's dirty vegan kitchen is clearer than he wants you to think. That might explain the cut-off.
Spoiler alert. There's no better way to present good food than with a great personality. Pritchard does just this with hearty British wit and a toothy grin in Dirty Vegan. His new show airs Wednesdays at 7:30 p.m. GMT on BBC. Stream the latest episode here.