Greenhouse gas emissions from animal agriculture are chronically underreported – estimated by the Food and Agriculture Organization of the United Nations to account for only 14.5% of total emissions.
This estimate leaves out key data points like carbon absorption foregone by land set aside for livestock and feed production.
Our best guess takes into account 94 different studies, papers, articles, and other academic resources and includes key data points like the carbon absorption foregone by land cleared for livestock and feed production that are left out of the FAO's estimate.
According to this research, animal agriculture is responsible for at least 37% of all greenhouse gas emissions.
The production of animal-based instead of plant-based foods has become a significant reason for climate change, yet fewer than 10 percent of United States college respondents associate eating animals as a significant contributor. Animal agriculture is responsible for a significant share of damage caused by land degradation, air pollution, water shortage, water pollution, and to the loss of biodiversity. The discrepancy in the communication on this industry's global environmental impact ranges widely.
Research on animal agriculture's share of anthropogenic global greenhouse gas (GHG) emissions varies from 14.5-51 percent.
There is a global need to find ways to reduce our ecological footprint, live sustainably, and live within our planetary boundaries. What is communicated on what contributes to the most global anthropogenic greenhouse gas (GHG) emissions should be dependent on the manufacturing methods of various products, but it seems to be communicated based upon various research methods used. The media's focus has been on industrial and transportation fossil fuel use as main culprits for this contribution. However, animal agriculture, which now includes over one trillion aquatic animals and over 82 billion land animals raised and slaughtered yearly for human consumption, is a significant burden ecologically and offers a major opportunity for immediate reductions in emissions.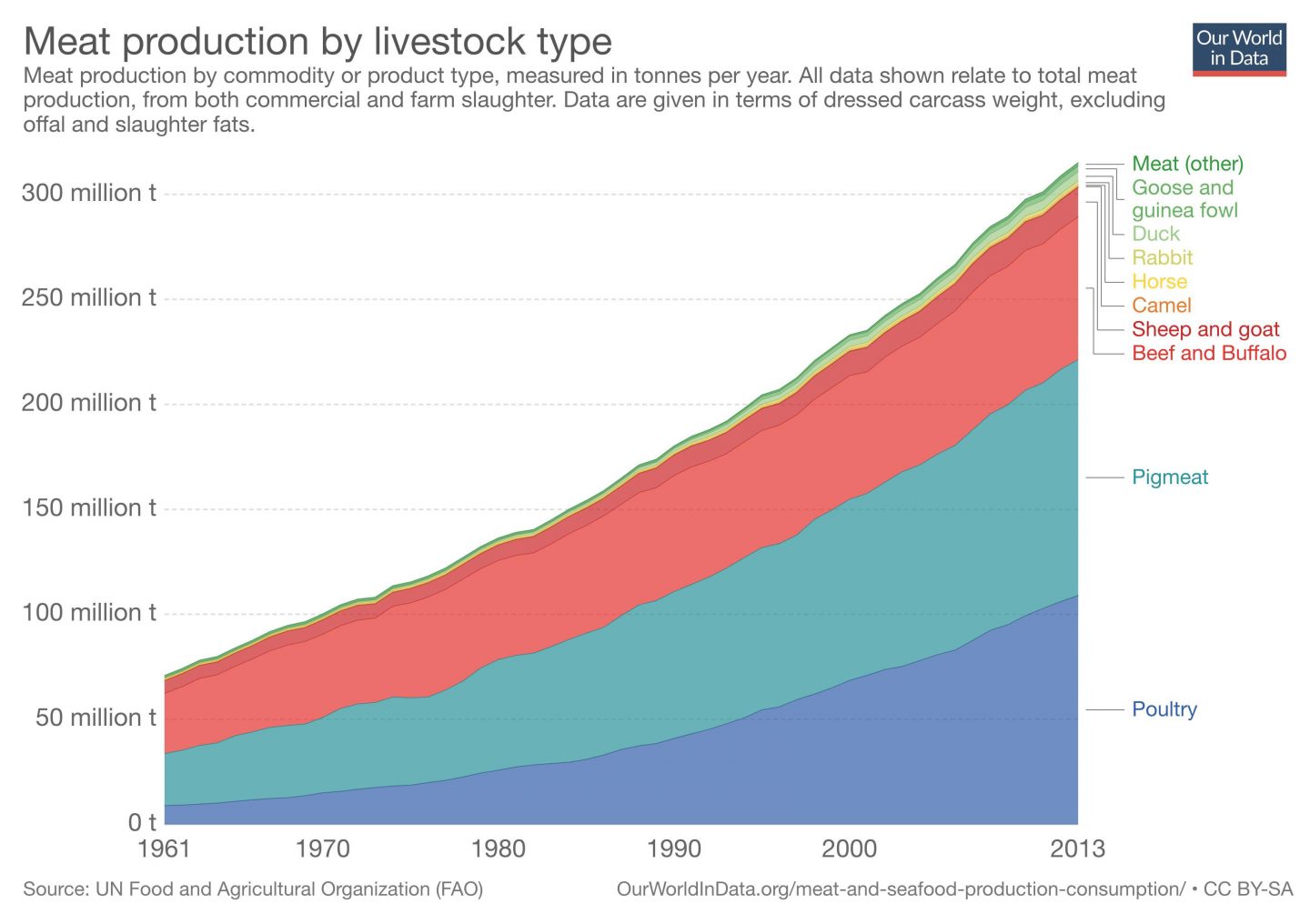 One scenario shows this burden will worsen as livestock inventories are predicted to double by 2050. Another scenario though shows it could be halved by 2030, enforced by the effects of climate change, awareness on the environmental impacts, and through instructed systemic change.
Animal Agriculture's Contribution to Climate Change
While many researchers in this field agree that animal agriculture is a contributor to climate change, there is disagreement on the global estimated percentage of and the strategies for reducing this environmental degradation.
In 2006, the FAO stated: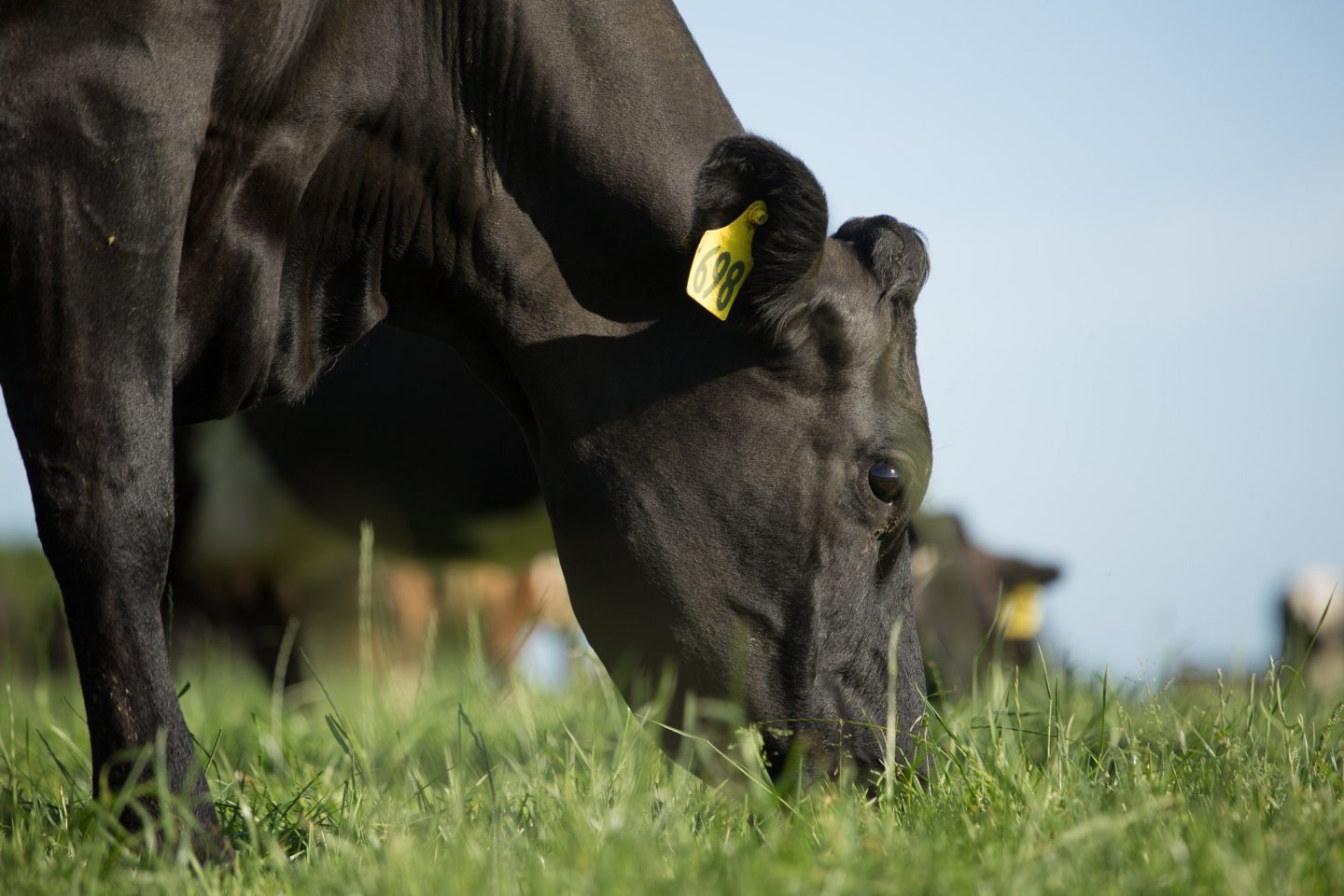 The Worldwatch Report
Alternatively, the 2009 Worldwatch report indicates animal agriculture accounts for at least 51 percent of total human-induced GHG emissions in CO2 equivalent (32,564 million tons). The major culprits for this increase from the UN FAO reports are that the Worldwatch report factors in livestock respiration (CO2), undercounted methane, and overlooked land use. The report reviews both direct and indirect sources of GHG emissions from animal agriculture using a full life cycle assessment.
Unlike the FAO reports, the Worldwatch report followed the GHG protocol and included what is considered Scope 3 emissions. Scope 3 includes the many parts of the supply chain not owned by producers. Some other factors they used to determine the 51 percent are underestimated figures, while others are overlooked or already counted for but assigned to different sectors (i.e., deforestation for feed crops). The FAO reports also used outdated models of the carbon cycle and allocated categories like deforestation to other sectors, according to Paul Hawken, author of the New York Times bestselling book Drawdown: The Most Comprehensive Plan Ever to Reverse Global Warming (Penguin Books 2017).
Overall, the Worldwatch report suggests that the UN reports failed to develop a true whole life cycle assessment (LCA) of anthropogenic GHG emissions attributed to livestock. It concludes that promoting plant-based options should be a major focus for addressing climate change and biodiversity issues.
The FAO Reports
The 2013 FAO report only included the change in land use and deforestation over time from animal agriculture, which is relatively small, compared to the Worldwatch report, which includes the huge amount of land already in use for livestock production. The Worldwatch report also includes the deforestation factor related to livestock and livestock feed. There's much debate on these points, which still require further comparison and research.
Additionally, the 2006 and 2013 FAO reports fail to include an entire category that is increasingly detrimental to the environment. They excluded all aquatic animals farmed for human consumption and livestock feed. Fish farms, for example, can generate significant coastal pollution in the form of excess feed and manure. Escaped fish and disease from these farms can completely deplete wild fisheries.
A 2008 Worldwatch Institute article found the following:
A fish farm with 200,000 salmon releases nutrients and fecal matter roughly equivalent to the raw sewage generated by 20,000-60,000 people. Scotland's salmon aquaculture industry is estimated to produce the same amount of nitrogen waste as the untreated sewage of 3.2 million people – just over half the country's population.
Land-based fish farming is not any better. This method has shown to produce significant ecological changes downstream, reducing biodiversity and killing pollution-sensitive species. Overall, fish farming is an inefficient way to feed the world. To raise one pound of salmon, you need over two pounds of wild fish to produce its feed. It is estimated that aquaculture and fish farming is already producing nearly half of humans' entire seafood consumption, yet there is a lack of standards for what is "good" fish farming and how it can be done sustainably. All this said, the damage caused by animal agriculture needs to include fishing.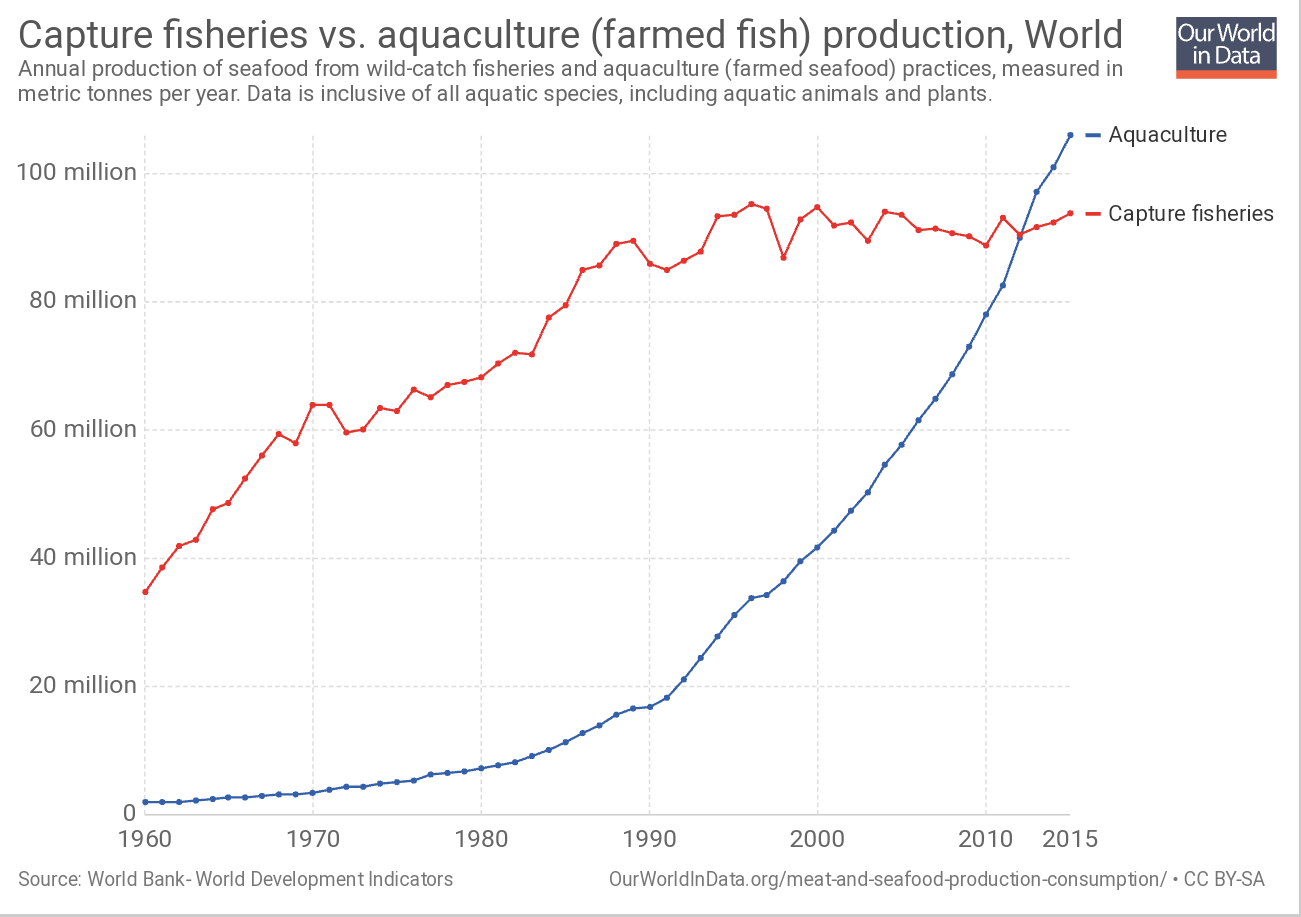 The FAO conclusions lack insight into groundbreaking innovations and alternatives to animal farming. The 2006 FAO report even stated, "the principal means of limiting livestock's impact on the environment must be… intensification."
New Percentage of GHG Emissions from Animal Agriculture

FAO's conclusion that animal agriculture's contribution to anthropogenic global GHG emissions of 14.5 percent is significantly too low. Even if one wants to use the outdated carbon cycle calculations of methane's GWP or exclude the vast amounts of land use for feed or grazing, that percentage is still too low. There needs to be more research on the respiration of animals and if it has caused a decline in the earth's photosynthetic capacity and is therefore no longer offset by previous carbon sequestration. More research like this that looks at various examples, instead of making generalizations, is also needed on the recent increases in volatilization in soil carbon based on common animal grazing methods.
A recent analysis published in Science showed that 83 percent of all farmland is used for animal agriculture.
The inclusion of carbon-storing benefits of land better purposed, for example, re-forested, would shift total anthropogenic GHG emissions attributed to animal agriculture well above the FAO's 14.5 percent. A 2018 report published in Science, "Reducing food's environmental impacts through producers and consumers," concluded that the personal contribution to this 14.5 percent would effectively be eliminated on a vegan diet.
Factoring in changes in land use for increased carbon storage on a vegan diet would reduce one's total personal GHG emissions by 30-50 percent.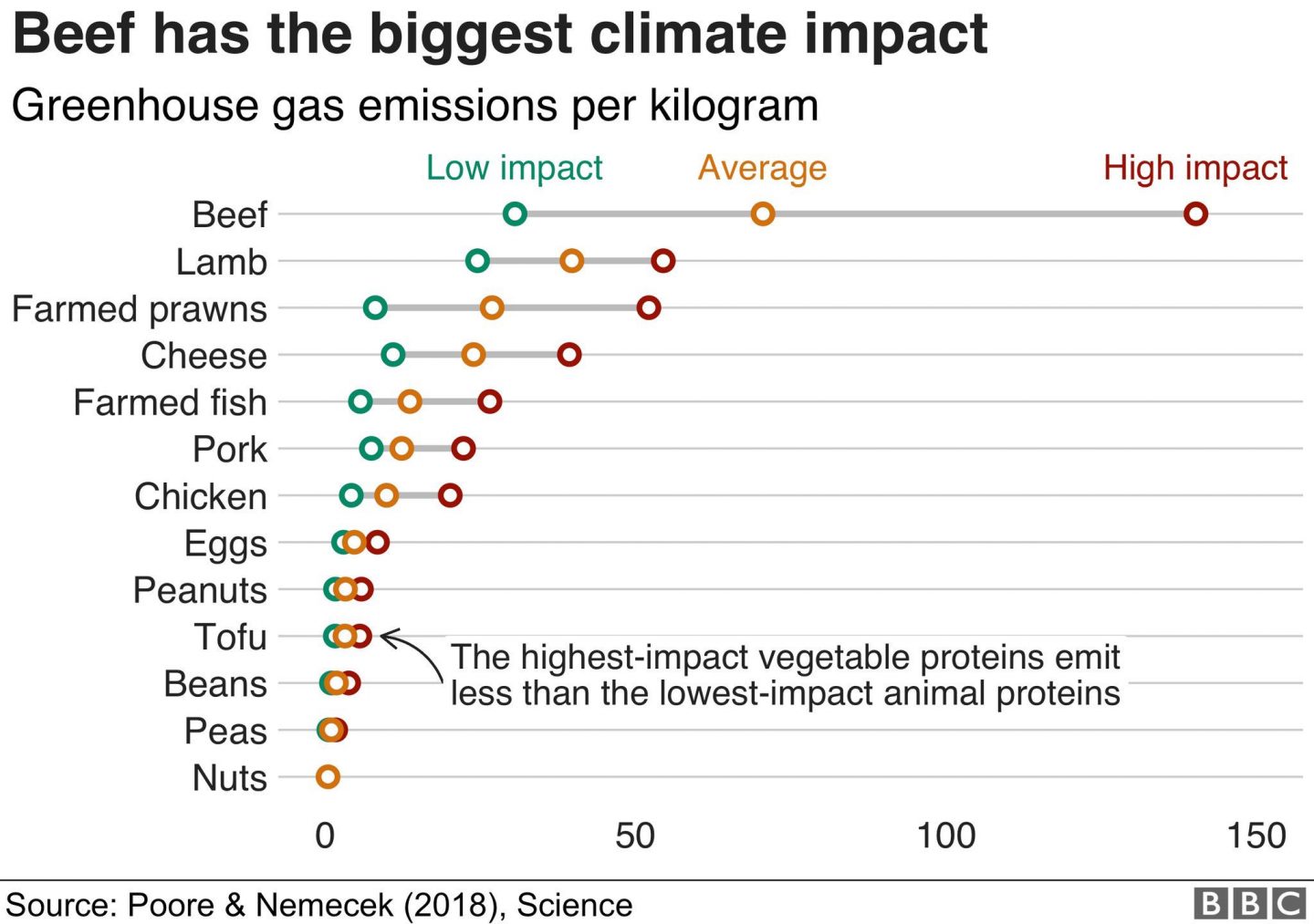 A critique of the Worldwatch report makes the point that transportation does not get a full life cycle analysis and so cannot be compared apples-to-apples with the livestock industry. However, as the authors of the Worldwatch report allude to in this response article, the reason why transportation and energy sectors lack full life cycle analyses can be explained.
The most widely-accepted protocol for counting GHG emissions, the Greenhouse Gas Protocol, mandates counting emissions from both direct and indirect sources (other industries), which can result in double-counting. However, the transportation and energy sectors were not done in this way because the guidance and standards set by the Greenhouse Gas Protocol outline that items should only be double-counted when something can be realistically done to reduce them.
Immediate overhaul of the livestock industry through production and consumption can have immediate benefits by looking at the direct and indirect emissions while the same cannot be said about the transportation industry's indirect emissions. As will be shown, immediate replacement of animal- to plant-based alternative foods can be done relatively quickly, and this is a unique solution for this industry. This transition can be done through a voluntary decision from the consumer to choose plant-based options, or if it becomes pressured from industry and government as a manner to address climate change.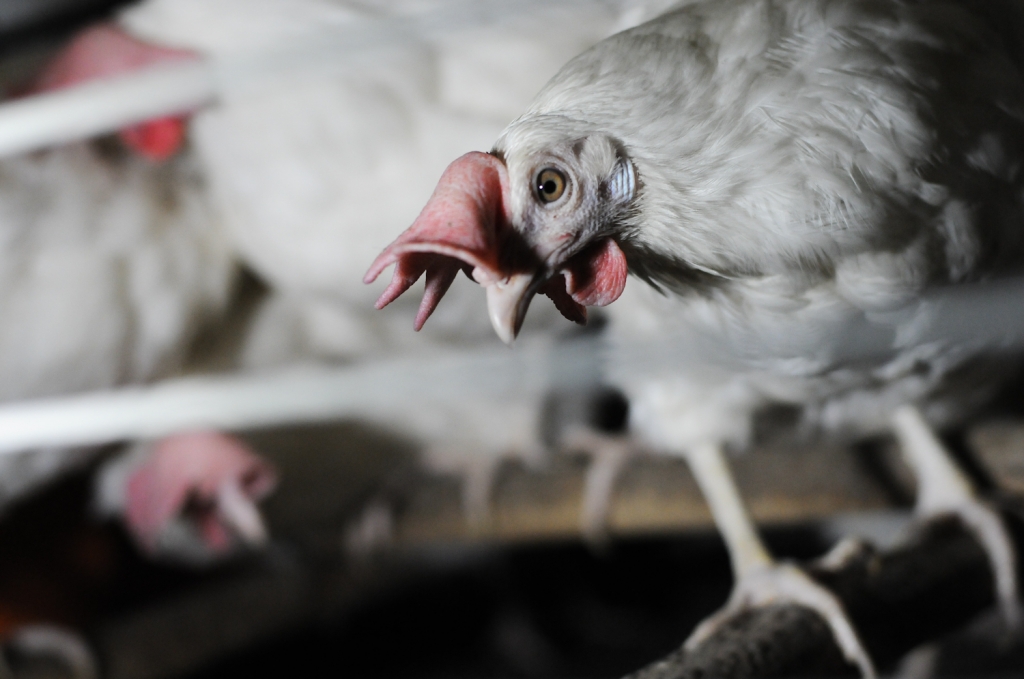 Beyond the land used for raising livestock, an essential extra consideration is the food crops that go into feeding livestock. The land use of livestock increases by 10 percent globally to 55 percent when feed crops are taken into account. Furthermore, 65-80 percent of previously forested land in the Amazon is occupied by pastures and feed crops.
In the United States alone, nearly 70 percent of overall grains, 70 percent of soy, and 60 percent of corn production is fed to livestock. As of 2003,
The US livestock population consumes more than seven times as much grain as is consumed directly by the entire American population.
The current global livestock population requires at least 80 percent of the world's soybean production and more than one-half of all corn. Basic laws of biophysics show that growing feed crops for animals, which people then kill and eat, will never be as resource-efficient, as simply growing the plants for us to eat directly.
When considering GHG emissions, as previously discussed, methane is a particularly important factor. The animal agriculture industry accounts for 35-40 percent of global anthropogenic emissions of methane. These emissions occur via enteric fermentation and manure, which together account for about 80 percent of the agricultural emissions.
A recent report by the GRAIN and the Institute for Agriculture and Trade Policy found that the five largest meat and dairy corporations combined are responsible for more annual emissions than the oil companies ExxonMobil, Shell, or BP. Yet, government policy and focus seem to be primarily on the transportation and energy sectors.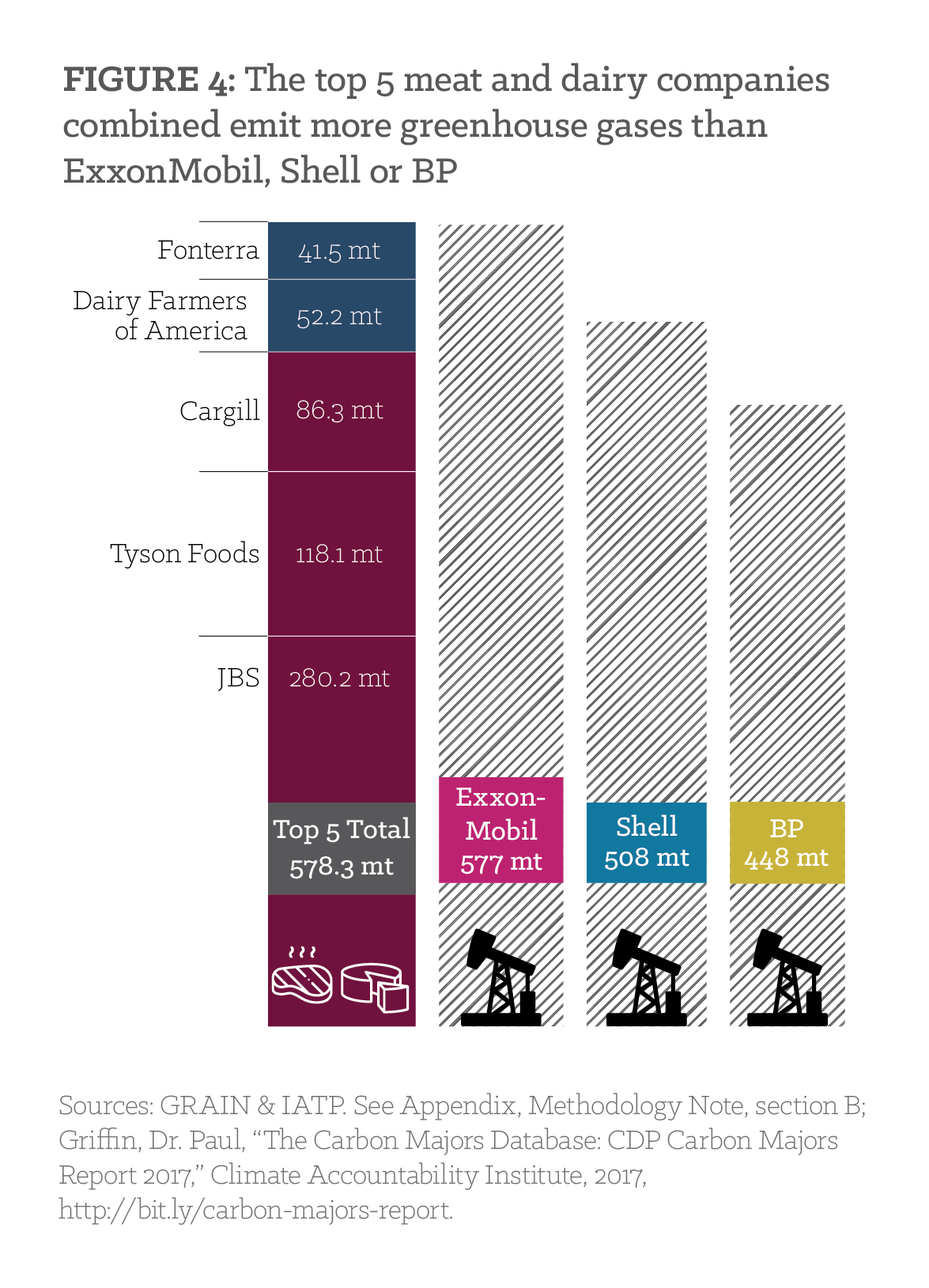 Concerning biodiversity, many ecosystems are threatened by the current rate of farming animals. Animal agriculture is the leading cause in the reduction of biodiversity, which is mostly from deforestation. Brazil's Cerrado area, the most biologically diverse savannah in the world, is deforested from the production of half of the country's soy crops. The wild species diversity in the area is threatened by the rapid increase in livestock feed production and the 40 million cattle per year that this region produces.
The contribution of animal agriculture to anthropogenic GHG emissions and overall environmental degradation is well documented, especially in recent years. In 2018, researchers from the University of Oxford and Swiss environmental monitoring program Agroscope created a massive dataset from 40,000 farms in 119 countries. Together, they analyzed 40 food products representing 90 percent of what is eaten worldwide. A full impact assessment on not just GHG emissions, but also land use, freshwater use, and water pollution, led to their conclusions that a vegan diet shows to be the best way to reduce an ecological footprint.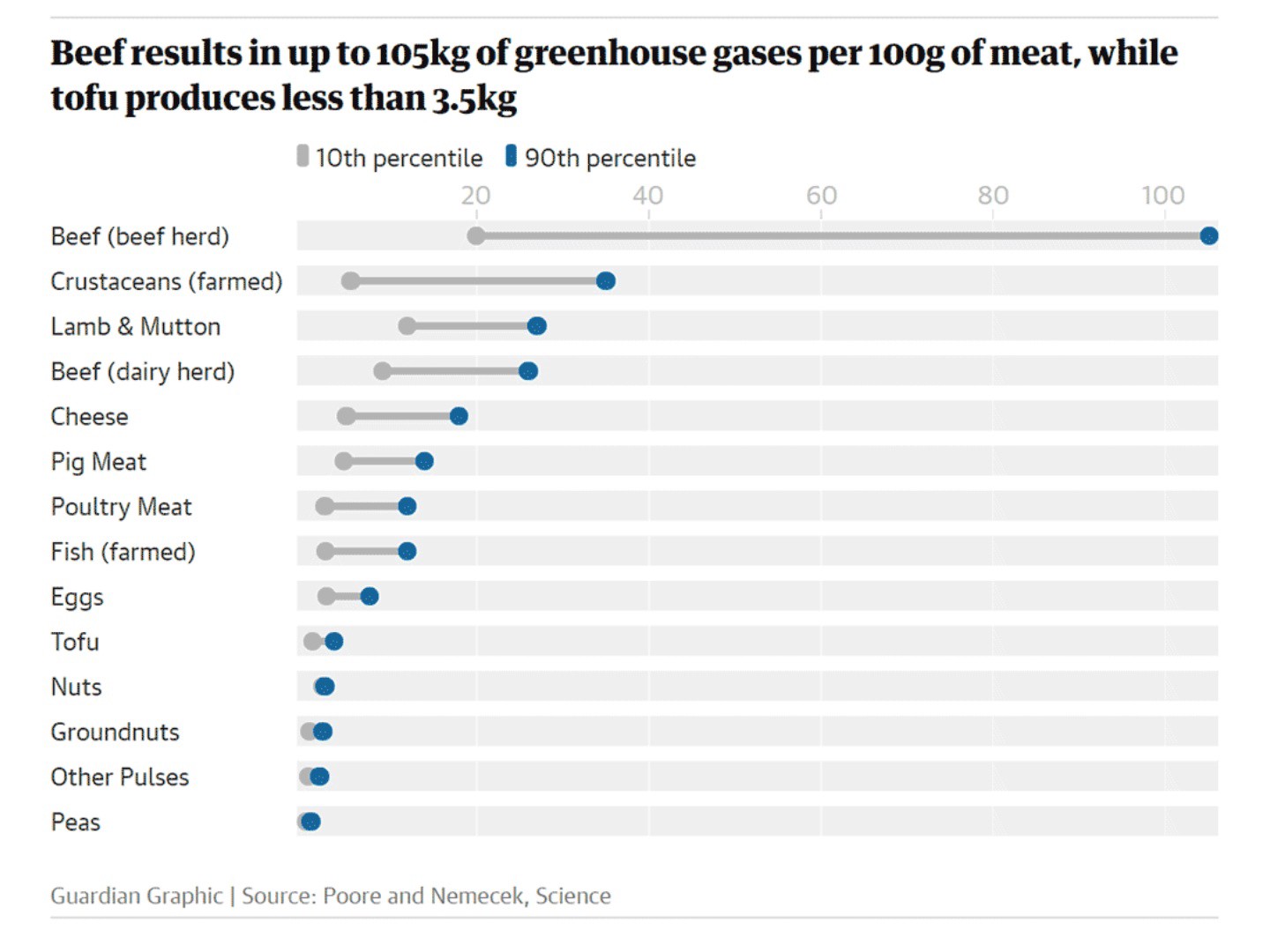 A report by The Economics of Ecosystems and Biodiversity (TEEB) included input from over 150 experts from 33 countries. They concluded that the entire "agri-food value chain" – which includes agriculture-related deforestation, farming, processing, packaging, transportation, and waste – contributes 43-57 percent of GHG emissions. There is an environmental imperative that needs to be addressed.
Increasingly, scientists are finding that the contribution of animal agriculture to climate change needs to be a more significant focus. For example, a record number of scientists co-signed a published journal article released in October 2017 from the Alliance of World Scientists. This group of more than 15,000 scientists from 184 different countries offered their concerns for the current damage to the environment. The group concluded that promoting plant-based options should be a major focus.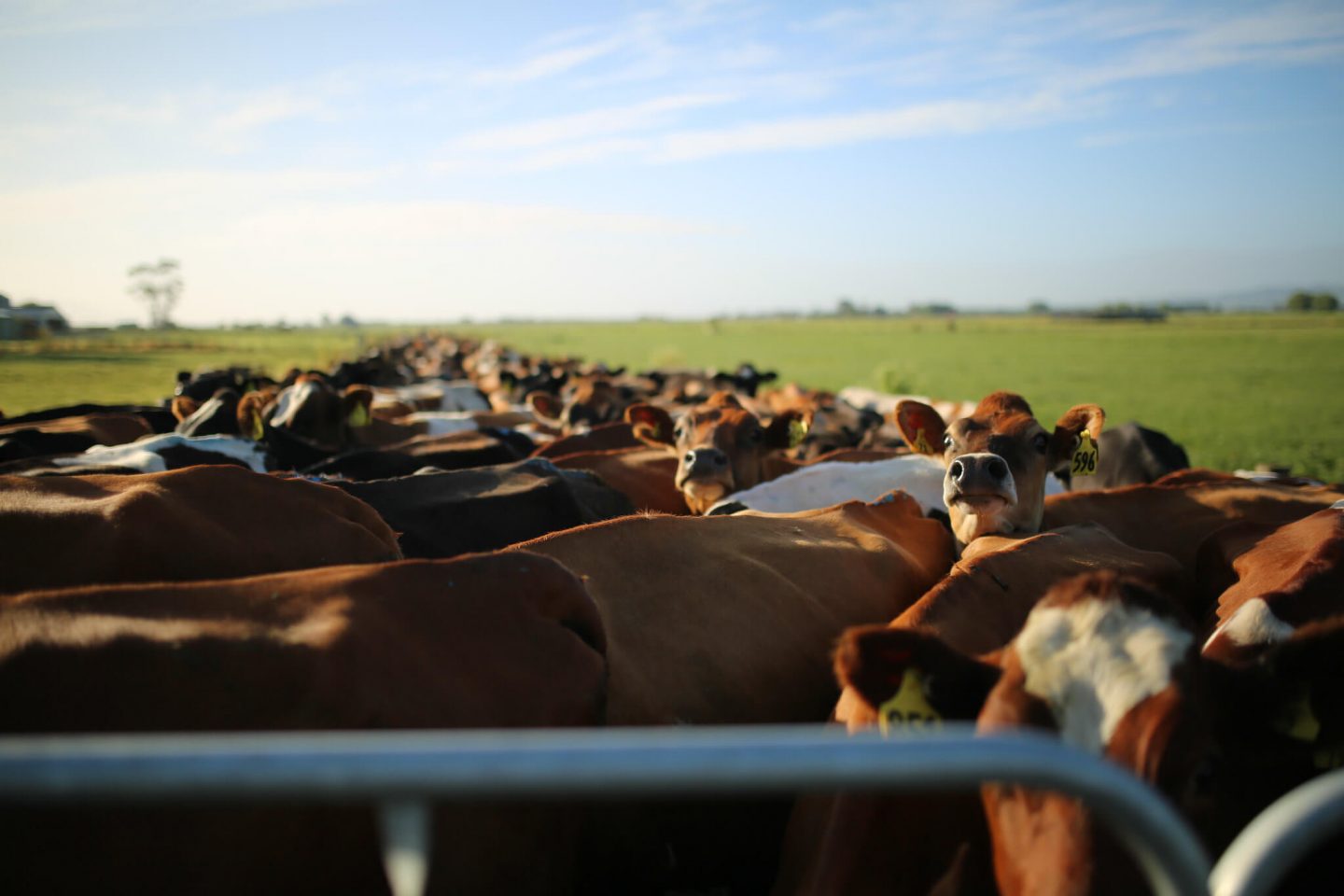 The Worldwatch report makes some great recommendations. However, it oversimplified the idea that reducing animal product consumption is an easier way to achieve climate change goals globally than implementing renewable energy technologies. This does not take into account the deep-seated cultural and psychological beliefs that eating animals is normal, natural, and necessary. However, changing our food system does require much more attention than it is currently being given within governmental strategies locally and globally.
Conclusions
Some people believe that there has always been an ethical need to consider non-human animals as sentient beings like humans. However, it has not been until the last few decades that the urgency to address climate change has grown. The contribution that animal agriculture has to climate change is now understood to be significant and can no longer be ignored by policymakers or consumers.
Efforts by consumers to reduce their animal product consumption as much as practically possible is a significant solution. Efforts by government and agencies to take leadership in promoting policy that creates accessibility to sustainable foods for people is another considerable solution.
There is a robust and sustainable business case for a shift of the entire food industry towards viable alternatives, and this can happen immediately without waiting for any new technological advancements. Replacing animal agriculture products with better plant-based alternatives creates opportunities beyond decreasing GHG emissions: land restoration, carbon sequestration, and the reduction of environmental degradation.
Additional analysis and full references found here.
Edited for clarity on October 12th, 2019.

Nicholas Carter
Environmental researcher and co-founder of PlantBasedData.org focused on the scientific links between agriculture and planetary health.