For nearly 30 years now, Viva! has been shining a light into the darkest corners of the UK's food production industry, uncovering inherent cruelty in animal agriculture and exposing systemic failings in assurance schemes supposedly synonymous with high welfare. The team thought they'd seen it all. Then they found Hogwood.
It all started back in 2017 when Viva! uploaded a video to Facebook of the squalid conditions filmed at a pig farm in Somerset. Someone left a comment saying that this dump was more "like Disneyland" compared to where they'd been working and were keen for a team of investigators to take a look.
On their first visit to Warwickshire, the now infamous Hogwood Farm was nothing like the Fort Knox it is today; with its imposing high steel perimeter fencing and heavy-duty padlocks hung from every door. In some ways it was unassuming, its industrial-sized units tucked behind a large farmhouse and gated entry point. But the smell, the fetid stench of ammonia and excrement, that was the giveaway.
A modern horror story
Under the cover of darkness, two lone investigators left the picturesque backdrop of rural England and found themselves face-to-face with some of the most sickening scenes ever uncovered on a UK pig farm. More than 30 dead pigs were recorded, rotting and covered in flies; hundreds of sows were found confined to barbaric farrowing crates, one heavily pregnant and struggling to make herself comfortable on the barren floor of her pen; and thousands of young pigs in the fattening sheds all crammed together, looking for some form of entertainment as they trampled through piles of their own waste. It was overwhelmingly claustrophobic and the boredom had led to grotesque cannibalism—an exceptionally rare and entirely unnatural behavior for pigs.
Watching the footage back, Viva!'s founder and director, Juliet Gellatley, was deeply unsettled. As one of the largest pig farms in the country, she knew these animals were destined for a major supermarket chain, but which one? In order to find out, she needed the plight of Hogwood pigs to hit the national press, so she decided to return to the farm herself and film the conditions inside.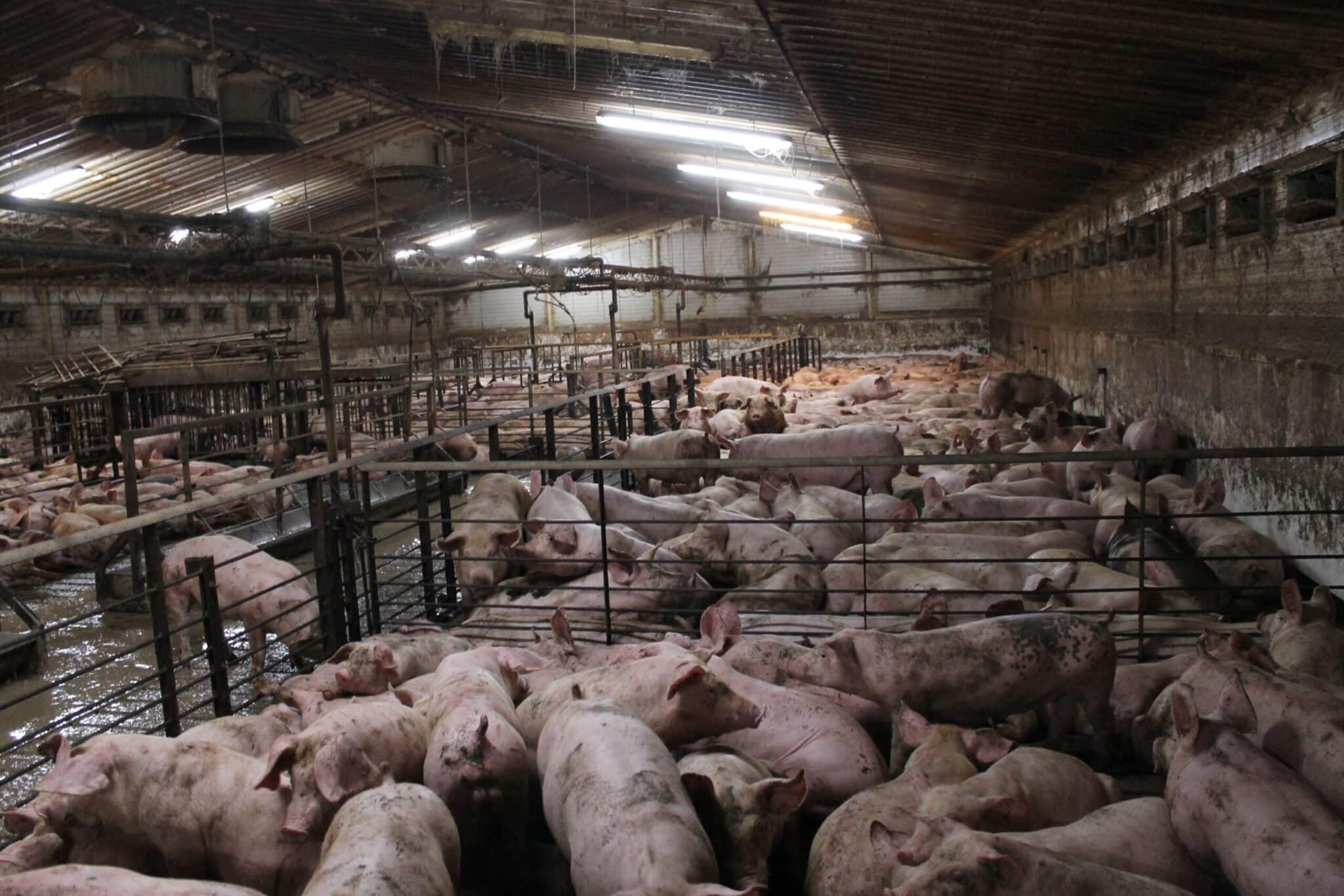 In her own words: "The first shed I entered was colossal, with more tightly packed pigs than it is possible to imagine. I tried to step carefully through them but they swarmed towards me, keen to investigate my unfamiliar presence. They nibbled at the shoe coverings I wore for biosecurity purposes and tugged for my attention. They were inquisitive adolescents, about three months old and wide awake, despite the early hour.
In other sheds I found sick animals left abandoned in gangways; pig skulls, a jaw, and a hacked off lower leg, all left to rot in what looked like years' worth of filth; a dead, blackened, and bloated body of a pig being pushed and prodded by his cellmates, all covered in excreta; and mothers giving birth onto cold, unforgiving concrete, locked inside farrowing crates with little room to move forwards or backward, let alone turn around. In a skip outside, dead piglets were piled high and riddled with maggots."
Negligence, greed, and inaction
Soon after, images exposing Britain's pig farming industry were splashed across the Daily Mirror, kicking off a relentless pursuit for justice. In the midst of the media storm, a tip-off let the team know Hogwood Farm was supplying Tesco—the UK's third most popular supermarket according to YouGov—and certified by the Red Tractor assurance scheme. Quite unbelievably, the most recognizable food standards organization in the country was approving this hellhole.
Following multiple complaints to every stakeholder, including the Animal and Plant Health Agency, action was promised. Yet reassurances from big business, the industry, and government alike meant nothing, as follow-up investigations in 2018 and 2019 went on to prove. It seemed that powerful players in the food production system were more intent on hiding the truth than cleaning up their act.
More footage of pigs cannibalizing other sick and dying animals left the nation aghast in 2018. Still, Tesco wouldn't act. So, in 2019, against all odds, Viva! investigators returned for the fourth and final time. Installing hidden cameras in five separate areas, they were hoping to capture something they hadn't managed before—human interaction. They wanted to see how the workers handled the pigs, whether care was taken to move them around, how frequently welfare checks were being carried out, and if conditions were truly "better than most nursing homes"—as the farm owner boldly claimed in an episode of Channel 4 Dispatches called "The Truth About Vegans."
The truth about Hogwood
Two years after the team first infiltrated Hogwood Farm, animals were filmed screeching in terror as workers ruthlessly kicked them and beat them with metal hand tools. Although minor changes around the site were apparent, the vast majority of pigs remained enclosed in filthy overcrowded pens with little to no environmental enrichment, resulting in vices such as ear, tail, and flank biting.
One of the most distressing findings was a young pig, bitten and bullied by the others in her pen. Covered in lacerations, she endured nearly 48 hours of brutal attacks before the farmer moved her to the gangway, swollen and sore. Government standards insist sick and injured animals must be isolated in a hospital ward with soft bedding. But not at Hogwood. She was abandoned in the walkway, her wounds left untreated.
Finally, Tesco acted. Red Tractor terminated Hogwood's membership to their assurance scheme with immediate effect and Cranswick plc, one of Britain's leading food producers, ceased supply indefinitely. Tesco was left with no choice but to drop them and admit such acts of violence were, quite rightly, unacceptable.
Yet, Hogwood Farm isn't just one bad apple. It's a product of the intensification of animal farming, which leads to the creation of ideal breeding grounds for diseases to jump from animals to humans, with the potential to devastate our lives. In fact, it's somewhat ironic that the outbreak of COVID-19 led to the cancellation of Viva!'s plans to premiere, the now multiple-award-winning documentary, Hogwood: a modern horror story, at an exclusive event in London. The world shut down. They weren't ready for the Hogwood story—maybe now they are.
Currently streaming on Amazon Prime, Google Play, Apple TV and Netflix UK.
This piece has been updated.
Lex Rigby
Lex is Head of Investigations at Europe's leading vegan campaigning charity, Viva!. She is responsible for coordinating hard-hitting investigations that expose the grim reality of animal agriculture in the UK, to support Viva!'s high-impact campaigns against animal exploitation. Her work has achieved major press coverage and features in the award-winning documentary, Hogwood: a modern horror story.