The UK meat industry is not what consumers think. The country has a reputation for its animal welfare standards being among the best in the world. This leads people to assume that if meat is British, then it must be ethical.
If you ask a meat-eater where bacon comes from, they will likely picture an idyllic farm where the pigs run around and play happily together in the mud.
But campaigners know that this is far from reality. As is all too common in Big Ag, the pork industry has a culture of abuse.
Animal Equality, an international animal protection organization, has gone undercover at ten UK pig farms over the past five years. During each one, it has exposed horrific conditions and extreme suffering.
Warning: This video contains graphic content.
Its most recent investigation, released last week, filmed conditions at P&G Sleigh Pig Unit in Aberdeenshire, Scotland—a "high welfare" farm in the supermarket supply chain.
The footage shows a worker hammering piglets to death, claiming that their method was "as good as any bullet." The worker even stood on one pig's neck whilst doing so.
Multiple blows to the head failed to knock the pigs out, and they were seen gasping and wriggling in distress. In one case, a pig was still conscious for more than four minutes after the first strike. Others were killed by being repeatedly slammed onto the concrete floor.
These methods were used to dispose of any animals considered too small or too weak to go to slaughter—a result of the pigs having been bred for unnaturally large litters.
As is common practice, piglets on the farm had their tails docked, and teeth removed with pliers. This was done without anesthetic, and several went on to develop serious infections. Pigs were also seen suffering from seizures as a result of meningitis.
At the breeding site, females were filmed being artificially inseminated, a cruel process that they endure multiple times a year in order to maximize the number of piglets produced for meat. These numerous forced impregnations had caused some females to suffer from torn vulvas, and some even had internal organs protruding outside of their bodies. A female pig struggling with a severe uterine prolapse was forced to walk to her slaughter for more than one and a half minutes.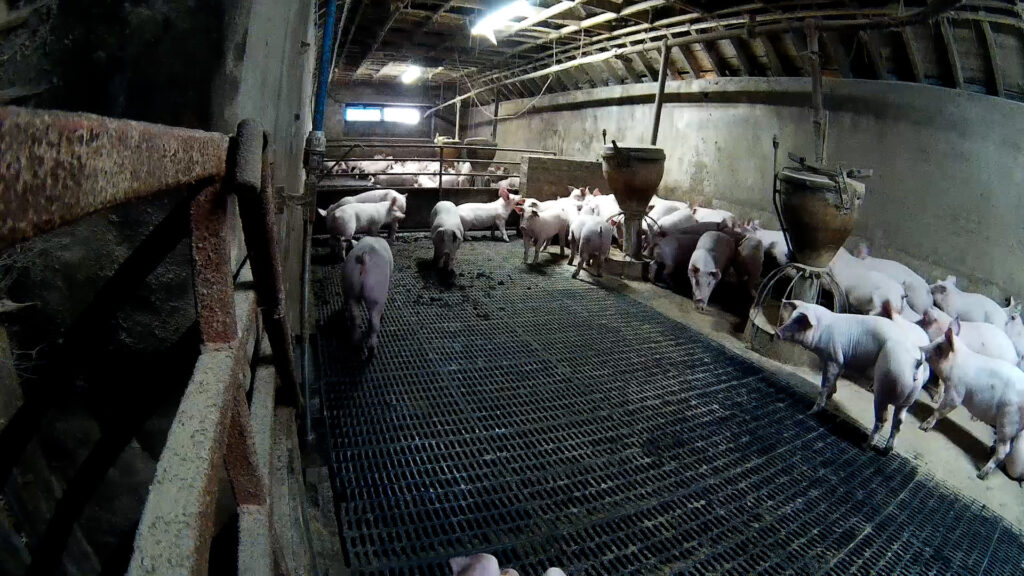 Professor Andrew Knight, Veterinary Professor of Animal Welfare and Ethics at the University of Winchester, described it as "some of the most disturbing footage" he had ever seen.
"The suffering of these ill and injured pigs would have been very considerable, yet no signs of appropriate veterinary care were visible," he said.
The pigs' living conditions were filthy, flooded with feces and standing water, and without dry bedding. Natural light was limited, with one room dubbed by workers as the "Black Hole."
Professor Knight said, "Conditions in some pens were filthy and barren, with manure contamination and significant standing water," leaving the wounded animals "vulnerable to infection in filthy conditions."
Following the investigation, P&G Sleigh Pig Unit has been removed from the Quality Meat Scotland (QMS) Assurance Scheme.
The owner of the farm, Philip Sleigh, a senior figure within the pig industry, was a board member of the initiative. As chair of its Pig Standards Setting Committee, he was involved in drafting the very welfare standards that his own farm has allegedly breached. He is no longer in either of these roles.
The pigs were due to be butchered at Quality Pork Limited, Scotland's largest slaughterhouse. The site, which received a £2.7 million Government grant in 2014, has the capacity to kill as many as 400,000 pigs each year. The slaughterhouse faced controversy in January when a COVID-19 outbreak infected more than 40 staff members.
Quality Pork Limited is contracted by Pilgrim's Pride, a U.S.-based company that supplies around 25 percent of pork consumed within the UK. The food producer sells to leading supermarkets such as Tesco, Lidl, and Marks & Spencer, as well as other food retailers.
Seventy-nine percent of shares in Pilgrim's Pride are reportedly owned by JBS, the world's biggest meat company. The Brazilian agricultural giant has a reputation amongst environmental groups for its connections to deforestation, particularly in the Amazon.
Following Animal Equality's Investigation, Pilgrim's Pride has suspended its trade with the pig farm. Tesco and Lidl are among major retailers to have done the same, describing the footage as "unacceptable."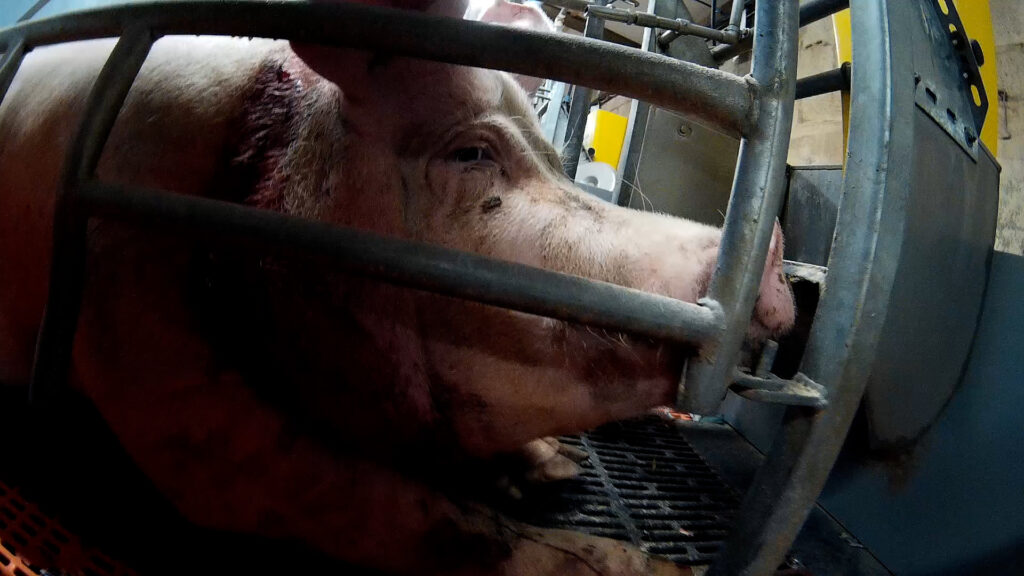 Animal Equality believes that it has uncovered serious legal violations, and a criminal investigation is currently underway. The organization has also written to the Scottish Government, Department for Environment, Food & Rural Affairs' Animal Plant and Health Agency, the SSPCA, and Red Tractor outlining relevant breaches.
Horrific scenes, such as those exposed in this latest investigation, are sadly not uncommon. Experienced swine veterinarian, Dr. Alice Brough, said that the cruelty uncovered by Animal Equality is "typical of the industry as a whole," noting that "these are not isolated incidents."
Abigail Penny, Executive Director of Animal Equality UK said, "This isn't just one bad farm, it's an industry that is rotten to the core. The ever-growing body of evidence we are building is a damning indictment of this cruel industry. This is what British bacon looks like."
The organization is campaigning for current animal welfare laws to be better enforced, and increased legal protections to be put in place.
For more information and to sign the petition, visit animalequality.org.uk/act/protect-pigs
Hannah McKay
Hannah is a freelance journalist based in Scotland. She writes to raise awareness of animal cruelty and exploitation.