JBS USA is a leading beef and pork processor in America, and a wholly-owned subsidiary of Brazilian company JBS S.A., the largest beef and pork producer in the world by sales. Its size comes at a cost to the environment, the animals, and human health.
The conglomerate doesn't stop at just beef and pork production. JBS produces poultry, lamb, processed consumer-ready meats, hides, and leather. JBS USA also makes "variety meats and rendered products," meaning products like feeds, oleochemicals, biodiesel, and pet foods created from the leftover intestines and organs of animals slaughtered for human use.
In the first half of 2019, JBS made just under $50 billion in sales. The company's explosive growth can presumably be attributed to its continuous acquisition of other meat processing companies all revolving around its business of slaughtering, processing, and selling billions of animals per day. On page 4 of JBS's annual report, they state, "Acquisitions ensure an increase in slaughtering capacity."
JBS's position at the top of its industry requires hundreds of facilities, thousands of workers, and millions of animals. This combination may have been a recipe for commercial success thus far, but whenever animals are being used for profit, animal cruelty, environmental damage, and public health concerns also tend to be present.
What Does JBS Stand For?
The name JBS stems from the initials of its founder, cattle rancher José Batista Sobrinho. José is still an active member of the company's operations and serves as the CEO and Vice President of the Board of Directors. JBS was founded in 1953 Sobrinho. His first small butcher shop, Casa de Carnes, had the capacity to slaughter five animals per day.
History of JBS
JBS acquired its first meatpacking plant in 1968 located in Planaltina, Federal District in Brazil. Two years later, JBS acquired its second plant allowing up to 500 animals to be slaughtered each day.
From 1970 to 2005, JBS continued growing in Brazil and eventually Argentina with the purchase of Swift-Armour, Argentina's largest beef producer and exporter. This acquisition increased JBS's slaughtering capacity to nearly 20,000 animals per day.
Two years following the Swift-Armour acquisition, The National Bank for Economic and Social Development invested around $580 million into JBS as part of their "national champions" policy, which allowed JBS to expand to America. As a result, Swift & Company was created which opened doors to the US and Australian beef, pork, and lamb markets.
In 2009, The National Bank invested an additional $2 billion to JBS which led to the acquisition of leading chicken brand, Pilgrim's Pride.
The company also purchased Smithfield Beef Group, Inc. in 2008, which was the beef subsidiary of one of the largest meat producers in the world. JBS even purchased the Mexican and Brazilian poultry sectors of their closest competitor, Tyson Foods, in 2014.
JBS Locations
JBS has over 240,000 employees worldwide in over 300 production units. The company has locations in more than 150 countries.
This interactive map illustrates the various production facilities and brands under JBS USA's control.
JBS Brands
JBS S.A. and JBS USA have maintained their spots at the top of the meat production ladder by frequently acquiring other brands.
JBS became a majority shareholder of Pilgrim's Pride Corp., one of the largest poultry companies in the United States – following Tyson Foods, for $800 million in 2009. The company has even acquired a subsidiary of Tyson Foods' poultry operations (read more about this below). JBS's website proudly states that "1 in every 5 chickens in the U.S. comes from Pilgrim's."
With the acquisition of Seara Foods in Brazil, JBS became the world's largest chicken producer in 2013 with the capacity to slaughter 2.6 million chickens, 21,000 turkeys, and 16,100 pigs per day in Brazil alone.
JBS USA acquired Cargill's pork business in 2015 making JBS number 5 on the list of US "Pork Powerhouses" in the United States.

In 2017, Pilgrim's acquired GNP Company which produces Just Bare Chicken, along with Moy Park, a leading poultry and prepared foods supplier in Europe. These acquisitions helped Pilgrim's gain a top spot in global chicken production. In the same year, JBS USA purchased Plumrose USA's bacon, ham, and deli meat operations.

Other brands in JBS's portfolio include Swift, Blue Ribbon, 5 Star, Showcase, and 1855 Black Angus.
As a relevant part of the meat production supply chain, JBS owned Five Rivers Cattle Feeding – the largest cattle feeder in the world – until 2018. Five Rivers is still under contract to supply feed to JBS facilities. In 2013, the company also acquired Zenda, the largest leather producer in the world. JBS has its own tannery location in Cactus, TX that cures over 27,000 hides per day.
Does JBS Own Tyson?
Tyson Foods is one of the world's largest processors of chicken, beef, and pork, and owns popular brands like Hillshire Farm.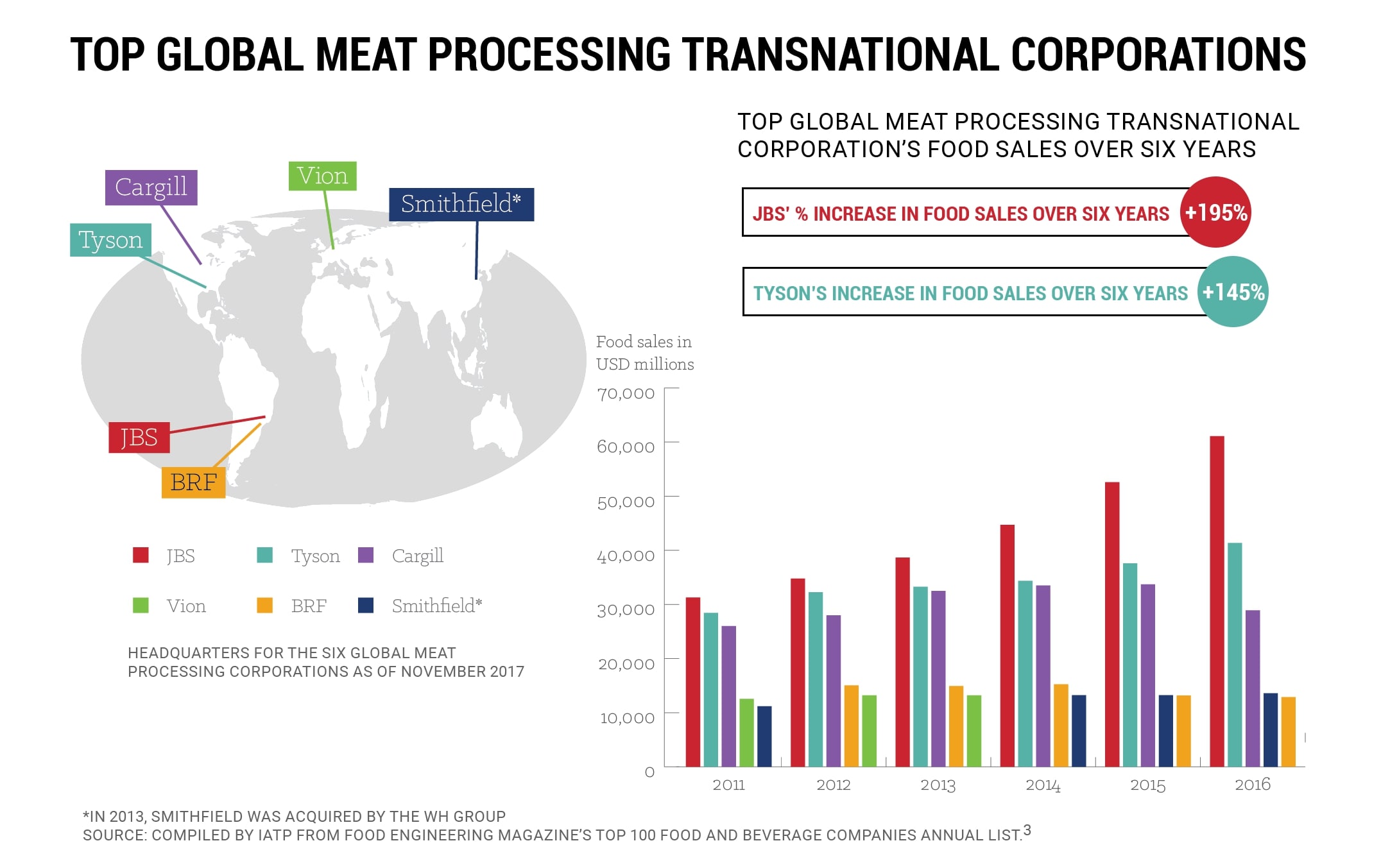 In 2014, Tyson announced plans to sell its Mexican poultry operations to Pilgrim's Pride of JBS USA, and its Brazillian poultry operations to JBS Foods, a subsidiary of JBS S.A for $575 million.
JBS acquired Tyson Brazil's three fully integrated poultry production plants in 2014. In the following year, JBS's subsidiary brand, Pilgrim's Pride, acquired Tyson De Mexico with locations in Citra, Povenir, and Popular.
Does JBS Own Smithfield?
In 2008, JBS S.A. acquired Smithfield Beef Group, Inc. for $565 million. This agreement transferred Smithfield Beef's cattle and Five Rivers Cattle Feeding operations to JBS.
During this acquisitional period, JBS attempted to purchase National Beef Packing Company LLC., but was denied by the Department of Justice to protect consumers from the expensive effects of a potential meat monopoly, since JBS already had such a large handle on meat production in the US.
JBS sold Five Rivers Cattle Feeding in 2018, but the company still supplies JBS's cattle via a long-term supply agreement.
JBS Health and Environmental Concerns
JBS and its subsidiaries are seasoned veterans in the realm of recalls and scandals. This company has been involved in multiple raw beef recalls, purchased another company with one of the largest product recalls in US history, and the co-owner even had a sanitary scandal of his own. When production speeds are fast and animals are bred by the billions, health concerns are inevitable.
Listeria Outbreak (2002)
In October of 2002, Listeria broke out throughout the northern US carried by turkey deli meat. Cases of the bacteria were reported in Pennsylvania, New York, New Jersey, Delaware, Maryland, Connecticut, Massachusetts, and Michigan.
Eight people lost their lives, three pregnant women experienced stillbirths and miscarriages, and nearly sixty others were ill, most of them hospitalized.
During an investigation with the CDC, two ready-to-eat turkey products and 25 environmental samples from a Pilgrim's Pride location in Franconia, Pennsylvania, tested positive for Listeria.
The ready-to-eat products contained a strain different than that involved in the outbreak, but two environmental samples were "indistinguishable" from the outbreak strain.
Pilgrim's recalled over 27 million pounds of turkey products, making this one of the largest recalls in US history.
Though the plant is no longer in business today, JBS still purchased a company with a history of spreading bacteria that led to illness, death, and unnecessary animal slaughter. Profit takes precedence over prudence in the business of factory farming.
Meat Inspection Scandal (2017)
In early 2017, co-owner of JBS Foods, Joesley Batista, turned himself in to authorities after a warrant was issued for his arrest in Brazil. Batista was involved in an ongoing meat inspection scandal where he paid auditors to produce fraudulent sanitary permits.
Two-year investigation, "Operation Weak Flesh," uncovered the processing, packaging, and sale of rotten meat in Brazil. Federal inspectors were accepting bribes from companies, including JBS, to conceal and accept the adulteration or expiration of meat and falsified sanitary permits.

After the investigation, 10 out of 36 JBS-owned beef packing plants temporarily shut down, causing countries outside of Brazil to pause imports.
In an attempt to keep this scandal from affecting sales in the US, JBS created an independent board responsible for governance, regulation, risk management, and marketing. This division did not shield US operations from scandal, though.
Illegal Deforestation and Bribery Scandal (2017)
On March 22, 2017, JBS was fined over $7 million by IBAMA, the Brazilan government's environmental agency, for purchasing cattle from suppliers who used illegal deforestation tactics.

The findings from "Operation Cold Meat" were released just one week after Joesley Batista's meat inspection scandal. JBS denied the claims, but Greenpeace suspended its affiliation with the company after a breach of the Cattle Agreement, signed in 2009, which required meatpackers to closely monitor their suppliers and company-owned farms for environmental and labor issues.

Again in 2018, an investigation by the Guardian, Repórter Brasil, and the Bureau of Investigative Journalism found that AgroSB, another cattle supplier of JBS, had been using environmentally protected land known as Lagoa do Triunfo in the Amazon.

AgroSB was fined over $18 million for illegal deforestation, and though JBS once again denied their affiliation, the 2018 investigation reported that cattle from AgroSB-owned farms were still being sold to JBS.

Shortly after two major scandals broke open, JBS had one more up its sleeve. On May 17th of 2017, also known as "Joesley Day" to Brazilian traders – named after co-owner Joesley Batista, J&F Investments, the holding company behind JBS SA, was fined $3.2 billion for a political corruption scandal involving the bribery of over 1,000 politicians.

JBS had spent almost $250 million in bribes to 1,829 political candidates. The following day, the Brazilian stock market plummeted almost 9% – the worst collapse in nine years.
Salmonella Outbreak (2018)
On October 4, 2018, the USDA issued a recall on 6,937,195 pounds of raw beef products from a JBS location in Tolleson, Arizona due to potential salmonella contamination.
Two months later on December 4, 2018, the USDA issued an expansion of recalled items bringing the new total to ‭12,093,271‬ pounds of contaminated animal flesh.
Consumers with potentially contaminated meat products were advised to discard or return the items back to the place of purchase.
Ground Beef Recall (2019)
In April of 2019, the USDA and JBS recalled over 43,000 pounds of ground beef due to plastic contamination. The hard green plastic impurities were processed and distributed through JBS Plainwell, Inc. in Plainwell, Michigan.
The recall was categorized as a "Class II" by the Food Safety and Inspection Service department, meaning it posed a potential health hazard if the product was consumed.
The contaminated products were distributed throughout Michigan and Wisconsin, and consumers were once again advised to dispose of the potentially contaminated meat or return it to the place of purchase.
JBS Undercover Cruelty Investigations
Whenever animals are used for corporate profit, cruel practices are sadly likely to occur. Even acts that are considered "standard practice" tend to be shocking and inflict unnecessary pain to innocent animals.
JBS and its subsidiaries, specifically Pilgrim's Pride, have been involved in numerous undercover cruelty investigations uncovering immense suffering within its supply chains. Slews of sick and injured birds, aggressive handling practices, and disturbing genetic abnormalities are unfortunately the norm at JBS suppliers.
Animal Outlook (2014)
An undercover investigation produced by Animal Outlook, formerly Compassion Over Killing, unveiled immense suffering inside Prince Poultry, a North Carolina supplier of Pilgrim's Pride chicken.
Investigators witnessed live birds being dumped into outdoor pits where they were left to suffocate under the weight of deceased birds or starve to death, whichever happened first. When asked about this cruel practice, the farmer explained,
"No, we're going to drop them in the pit just like they are. You dump them in there and then Mother Nature takes care of the rest. You go in there in the summertime, and it smells real nice over there. If you look down in there, it's like a gravy that's simmering [chuckles] and squirming."
Many birds were so overweight they could hardly move due to their large size and leg deformities, and injured birds were thrown around as if they were inanimate objects.
After the investigative footage made national headlines, Pilgrim's terminated its contract with Prince Poultry. The owners, Tim and Lisa Prince, stated they did not realize leaving half-alive, defenseless birds in pits for wild animals to rip apart was inhumane.
Compassion in World Farming (2016)
Two farmers contracted by Pilgrim's Pride documented the daily operations of their farms. The footage uncovered health issues like the epidemic of gangrenous dermatitis, a bacterial infection that eats chickens from the inside out. Many of the infected birds were still being slaughtered and sold for meat, which concerned these farmers.
Other issues included overweight and deformed birds that were unable to move properly. The unsustainable growth of these birds often resulted in immense suffering and premature death.
Contracted farmers have almost no control over the health or genetics of the birds they raise, as every breeding and welfare decision is made by Pilgrim's Pride.
The Humane Society of the United States (2017)
Two undercover cruelty investigations of Pilgrim's Pride suppliers were conducted by HSUS in May and June of 2017. The first was at a slaughtering facility in Mt. Pleasant, Texas, a producer of Pilgrim's, Country Pride, Gold Kist, and Pierce Chicken brands. The second investigation was at Plainview Chicken Farm in Hull, Georgia. This facility houses around 126,000 chickens at a given time.
The findings at the Mt. Pleasant location were startling both in regard to cruelty and lack of employee training. The undercover investigator was given no animal welfare training during their week-long orientation process, and animal welfare concerns were never once mentioned.
Workers handled birds in aggressive ways; punching innocent birds, slamming them into shackles, throwing them from far distances, and some workers even removed birds from shackles only to slam them in again as an unnecessary form of torment.
The cruelty uncovered at Plainview Farms was even more gruesome than the findings just a month prior.
Birds were bludgeoned with metal rods to slow them enough for workers to grab them at a faster pace. Sick and injured birds had their necks broken by hand. Engorged chickens were unable to walk, reach food or water, or move around due to their large size and overcrowding.
Birds were captured and slammed into cages to be transported to slaughterhouses.
The handling of these birds was extremely aggressive and several of the actions were criminal-level offenses. Pilgrim's Pride eventually discontinued its contract with Plainview Farms after the footage was released, but the contract with the Mt. Pleasant, TX location is still active.
Mercy For Animals (2018)
A 2018 Mercy For Animals investigation of Tosh Farms, a Kentucky pig farm that supplies JBS, uncovered unsettling animal abuse and neglect.
Workers kicked and punched animals, slammed baby pigs against the ground in an attempt to kill them (which often took more than one try), and conducted "standard practice" testicle removal, teeth grinding, and tail docking without any sedation or pain relief.
Investigators witnessed mother pigs immobilized inside gestation crates as their sick and injured young suffered nearby without proper veterinary attention.
The most disturbing part is that Tosh Farms uploaded a "welcome" video to YouTube just months before the MFA footage was released—the video has since been made private.
The video highlighted workers petting pigs as they hobbled by, holding baby pigs as they squealed, discussing how much they cared about those they slaughter, and overall trying to trick the public into believing Tosh Farms' pork products are a humane and ethical choice.
After reviewing the disturbing footage, the Louisville-based Swift location (owned by JBS) has halted its contract with Tosh Farms until further notice.
Conclusion
JBS is a name you might not recognize, but have likely come across unknowingly in the grocery store. This company has ties with the largest meat producers in the world including Smithfield, Tyson, and Cargill.
High demand for cheap meat products often results in more pressure on suppliers to increase production speeds. Faster production speeds result in the suffering of defenseless animals who are forced into existence, abused, and slaughtered for profit.
Aside from inexcusable cruelty, JBS has been involved in multiple product recalls and a serious sanitation scandal. JBS and its subsidiaries try to convince the public that the company cares about its customers and the animals it exploits, but a long list of evidence makes that claim difficult to believe.
Taylor Meek
Taylor Meek is the community manager and a contributing author at Sentient Media. She oversees all social media content and strategy and manages the social media team and Social Media Fellowship program.