Animal Equality has been at the center of high-stakes, high-impact animal investigations for years. Founded in 2006 by Javier Moreno, Jose Valle, and Sharon Núñez, the renowned animal protection organization is boldly committed to exposing animal cruelty wherever it persists.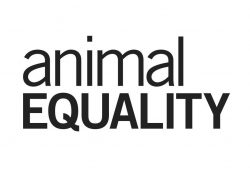 Animal Equality's work, currently focused on documenting animal exploitation operations in eight different countries—the U.S., Mexico, Brazil, Spain, Italy, U.K., Germany, and India—has an impressive reach. In 2019, the group's advocacy work has reached an estimated 1.3 billion people through a combination of corporate outreach programs, media campaigns, and good old-fashioned grassroots organizing. The organization continues to make its name leading volunteers to the front lines of the animal rights movements, raising awareness of animal exploitation through factory farming investigations and open rescues, and pioneering the movement's first venture into virtual reality storytelling, iAnimal, which is shown at farmers' markets and veg fests around the world.
Cruelty, exposed
Animal Equality's investigations, led by Sean Thomas, a veteran in the field with more than 15 years of experience exposing cruelty on factory farms, have been presented in seven countries. Since the organization was founded, Animal Equality has conducted investigations inside 700 factory farms and slaughterhouses across 13 countries, many of which were the first of their kind.
In 2008, the group was the first to film inside slaughterhouses in Spain. Later, in Mexico and Brazil, Animal Equality conducted the first-ever investigations into the egg industry. The group also partnered with celebrities like Kat Von D, Evanna Lynch, and Moby, to name a few, who have helped draw attention to Animal Equality's incredibly salient work.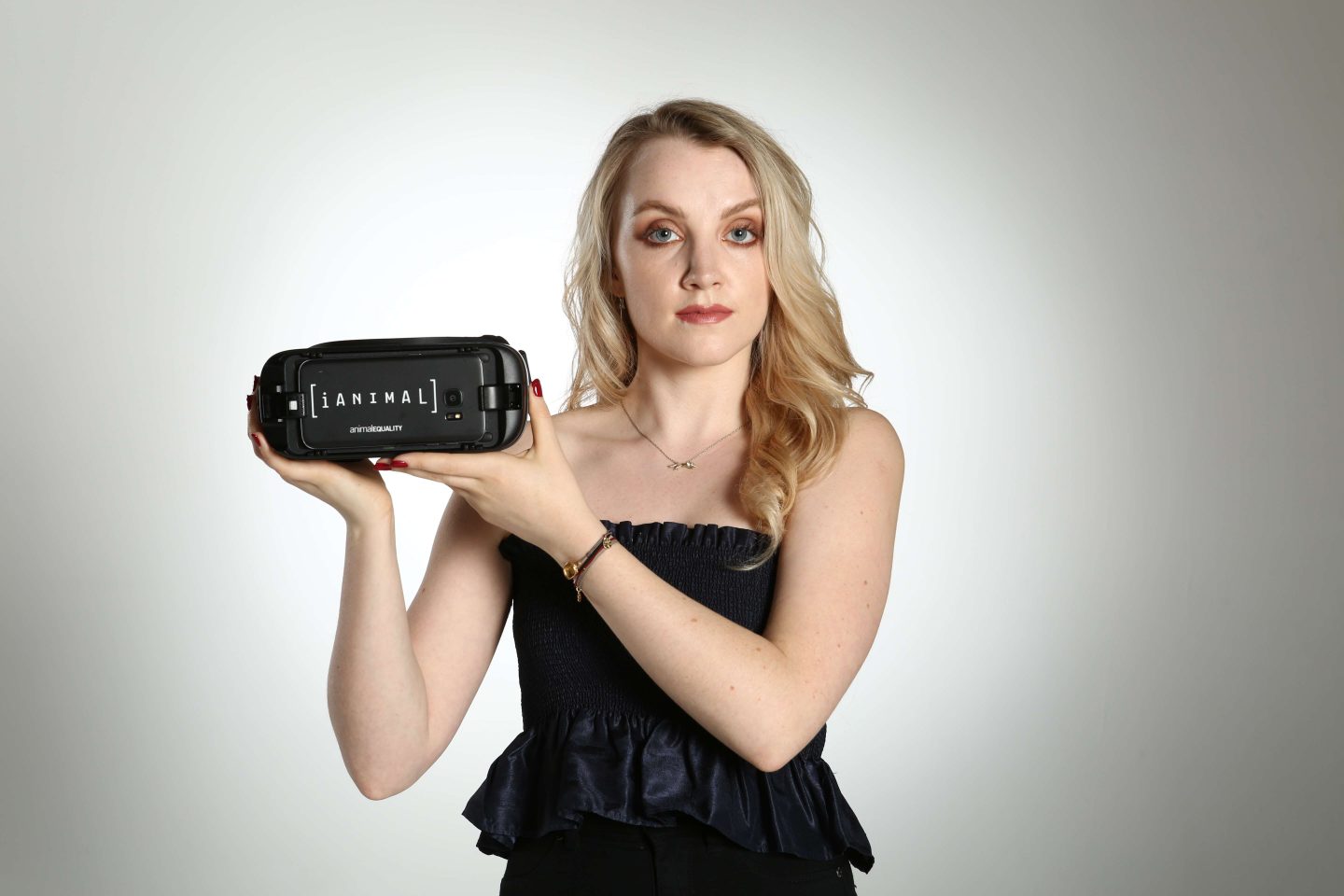 Actor Rooney Mara joined Animal Equality's latest investigation of factory farming in the U.S. The investigations took place at two farms: one raising broiler chickens and another raising pigs for their meat. What investigators witnessed inside was frighteningly normal. Chickens struggled to walk. Mother pigs laid there, unable to move while their piglets cried in pain. This is the industry standard, and it happens to more animals than almost anyone is willing to believe. According to the Department of Agriculture, 9 billion chickens and 121 million pigs raised for meat suffer and die every year, with roughly 99 percent of those animals coming from factory farms.
"I wanted to see it for myself," said Mara, "and hopefully, make something that could impact people to want to change their minds as well."
The video footage, narrated by Mara reveals thousands of pigs and chickens languishing in abhorrent conditions. The investigation, called "With My Own Eyes," encourages viewers to examine the harsh and painful reality for billions of animals and the many reasons the global community must break its dependence on animal products.
Núñez, who led Animal Equality's groundbreaking look inside five Spanish slaughterhouses, accompanied Mara on the investigation. She said one of the hardest parts of factory farming investigations is still the immensity of the suffering.
"There is an individual for each one of these thousands and thousands of animals," said Núñez. "There's someone who has interests, who has desires, who probably has bonds with other animals. These are individuals with unique personalities who are seriously affected, just like you would be in similar situations, and trying to convey that is so challenging."
"Nothing prepares you for looking into the eyes of a mother pig whose life is to be impregnated and left in a cage until she's slaughtered," said Mara. "I kept thinking about my sister who just had a baby, and how beautiful that instant desire to nurture and protect your child is. I can't imagine how awful it must be to be literally trapped and crushing your own babies and not be able to do anything about it."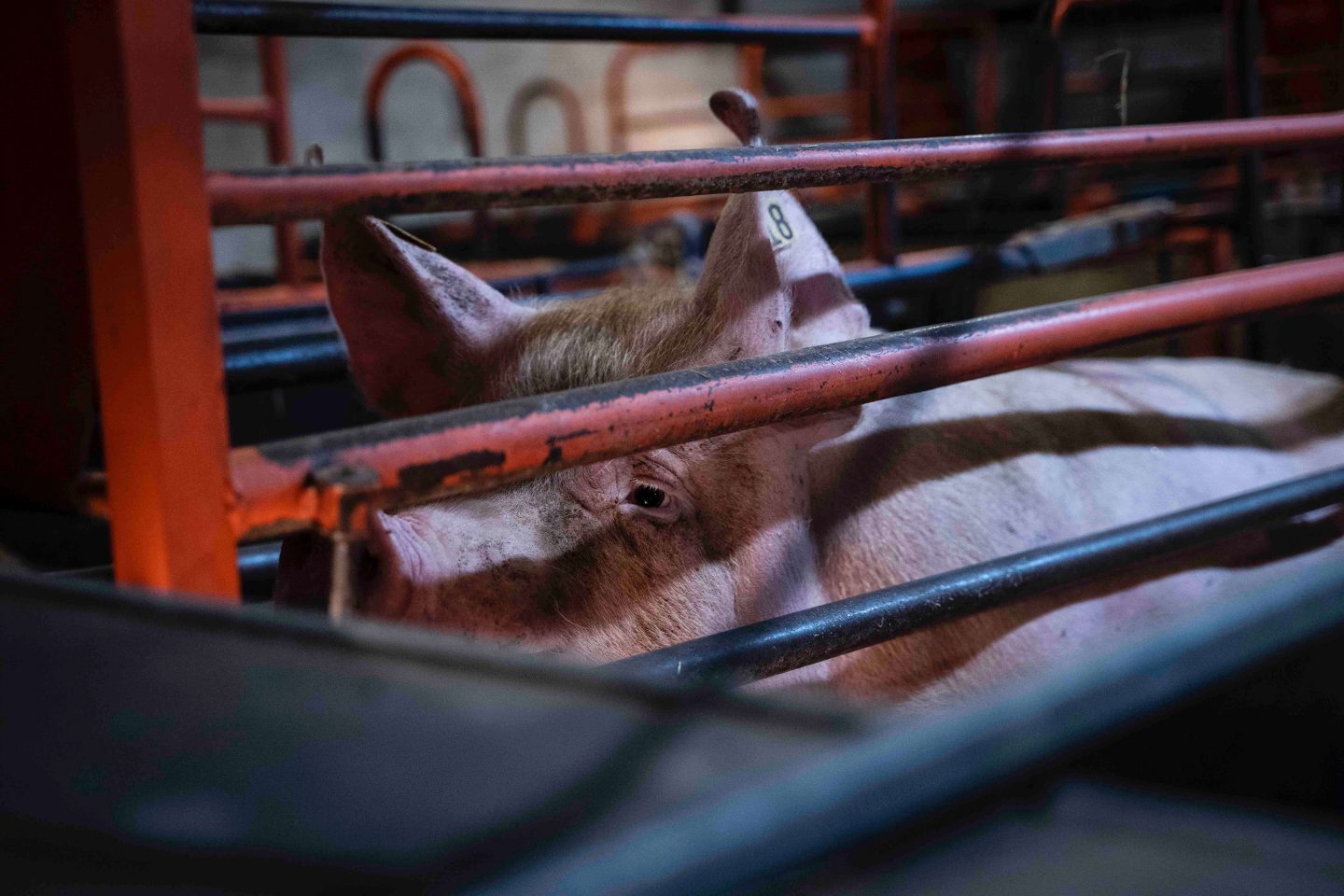 Together, they captured scenes inside one farm of over 3,000 confined pigs and another farm of over 50,000 crammed chickens, with all animals found to be experiencing extreme distress. According to the chicken farm's records, 1,936 birds died within the first seven weeks of their life, averaging 42 dead birds per day.
The film is hard to watch, which brings up an important point, one Núñez says is key to understanding what the animal protection movement is all about. "If you can't watch [the footage]," she said, "just imagine what it must be to experience it."
Dairy's dark secrets
Animal abuse isn't hard to come by in the dairy industry. Even when no laws are technically being violated, cruelty and suffering are inherent in the dairy industry. It's a bleak outlook, to say the least, but there's a reason why Animal Equality focuses on exposing animal cruelty, and it's surprisingly simple.
"We're bringing attention to these problems because we think that things can change," said Núñez. "Most people care for animals and they're really compassionate. It's just a matter of people seeing the truth."
In early December, Animal Equality launched a campaign to run hard-hitting billboards in ten U.K. cities in response to "Februdairy"—the dairy industry's campaign to promote its products. The billboards will reach millions of people in the U.K. and expose dairy's dark secrets in the process.
Februdairy encourages milk producers to promote the consumption of dairy products. This comes at a time when plant-based milk is growing in popularity. Research from Mintel, released in July 2019, found that 23 percent of the U.K. population are now opting for alternatives, such as oat, coconut, or rice. It is widely understood that this shift is driven by increasing concerns around health, ethics, and the environment.
"Februdairy is a PR stunt gone wrong," said Animal Equality UK's Acting Executive Director, Abigail Penny. "It shows a dairy industry in a state of crisis."
For years, the dairy industry has promoted the narrative that dairy farming is responsible, ethical and, in general, "good" business. But the latest research shows the devastating impacts of dairy farming on the environment. At scale, dairy production is unsustainable. Cows produce high concentrations of methane, require about 150 gallons of water per day, and need large amounts of feed, not to mention the horrible cruelty they endure.
"The public deserves to know about dairy's dirty secrets," said Penny. "If the industry won't tell the truth, we will. We're led to believe that cows spend their days roaming around in the grass with their young, yet the dairy industry fails to point out that cows are forcibly impregnated every year, calves are separated from their mothers, and males are usually killed at just a few days old because they cannot produce milk. Whether it's local, organic, free-range or otherwise, these realities are an inescapable part of commercial farming."
Animal Equality's ads will run in February 2020. Learn more about the campaign here.
The road ahead: Animal Equality in 2020
Today, Animal Equality is catalyzing real change for animals across the fast-food industry. To date, the organization has championed 37 corporate outreach policies, affecting about 23 million animals every year. Lately, the organization has been focused on encouraging McDonald's to adopt more meaningful animal welfare standards for the millions of chickens raised every year for the fast-food chain's menu items.
Watch: This Is How the Fast Food Industry Treats Chickens
"Nearly 90 companies—including many of McDonald's competitors such as Burger King, Subway, and Jack in the Box—have already committed to making meaningful changes that will improve the lives of these smart and social animals," said a spokesperson for Animal Equality. "Meanwhile, McDonald's continues to drag its feet."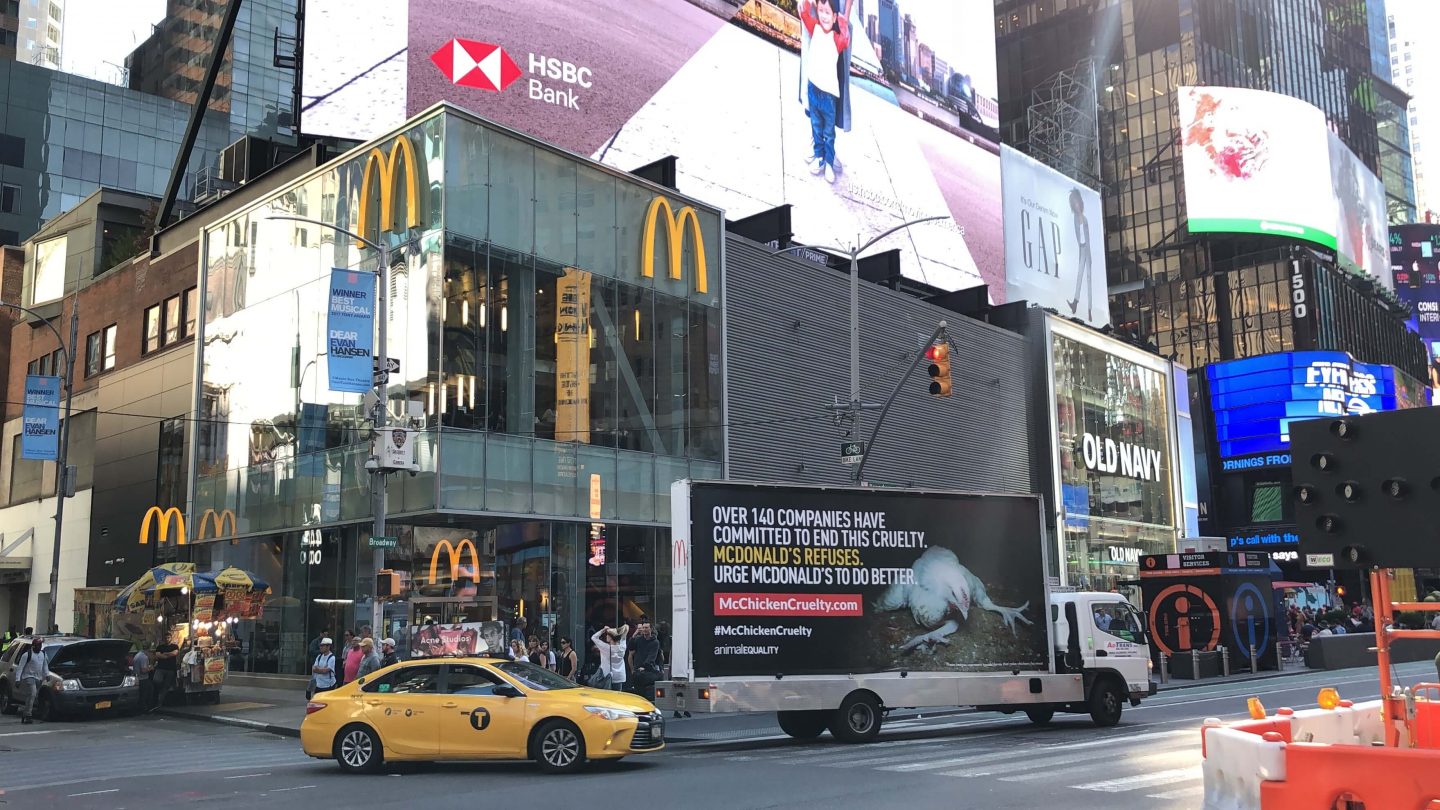 As a part of their McChicken Cruelty campaign, Animal Equality ran a message on the giant video billboard in New York City's famed Time Square, dropped off a petition that garnered more than 200,000 signatures at the McDonald's headquarters in Chicago, and continue to advocate against the company's lack of a comprehensive chicken welfare policy.
The group is also empowering young people, many of whom may have grown up eating at McDonald's, to make decisions about what they eat and which industries they choose to support themselves. Through corporate responsibility programs, media campaigns, and groundbreaking investigations, Animal Equality is making the choice not to eat meat or animal products even more compelling.
"Now, you can decide what world you want to set forward," said Núñez.


Animal Equality's international volunteer network, Animal Protectors, is made up of over 50,000 dedicated animal lovers. Join them today. Please also consider showing your support for Animal Equality's ongoing advocacy work. Donate at animalequality.org/donate.
Matthew Zampa
Matt is an award-winning independent journalist. His reporting has been featured in USA Today, The Washington Post, HuffPost, Vox, PBS, and NPR, among others.