Direct Action Everywhere (DxE) is used to getting a lot of attention.
They don't shy away from controversy when it comes to getting their message across, and the same goes for Priya Sawhney, an organizer and one of DxE's co-founders.
Less than a week after another DxE organizer stirred controversy for disrupting a MoveOn panel with Kamala Harris in San Francisco, Priya made international headlines after being arrested for getting on stage in Las Vegas to confront the world's richest man, Jeff Bezos.
On stage, Priya pleaded to Bezos about ending Amazon's support of animal cruelty and offering him a flower.
She was unable to get close enough for him to accept the flower and he didn't respond to Priya's main plea:
"You are the world's richest man. You're the president of Amazon, and you can help the animals."
Immediately after, Priya was pulled from the stage by a group of security guards and arrested. She spent more than 48 hours in jail and is facing felony charges for simply asking a question.
I spoke with Priya about this incident and the animal rights activism in general.
The main takeaway I had from my conversation with Priya –beyond the fact that she is an absolute pleasure to talk to– is that she is remarkably passionate about the animal rights movement and will not rest as long as animals are being bred into existence just to suffer and die for human use and consumption.
Priya was born and raised in Punjab, India before moving with her family to the Bay Area when she was 12 years old.
The timing of Priya's move to the US would shape her life forever.
They arrived shortly after 9/11. Coming from a Sikh family, Priya faced a lot of discrimination, at one point, even being called a terrorist in the halls of her own high school by classmates.
The fact that no one spoke up for her or stood by her side made her realize from a young age that most people remained quiet in the face of injustice. She knew immediately that staying silent wasn't an option.
Before DxE, Priya worked as a community organizer in the Tenderloin Housing Clinic of San Francisco where she helped low-income families and individuals. She sees a direct correlation between her work there helping those in need with her work as an organizer and animal rights activist.
Once DxE started taking off, she left her work as a community organizer and focused all of her efforts on animal rights activism.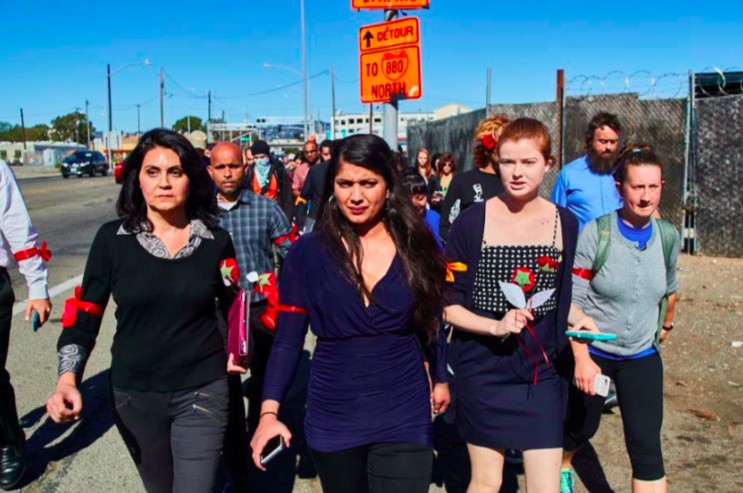 I reached out to Priya because I wanted to know more about her as an activist but also understand a little more about the disruption that took place on the stage with Jeff Bezos.
Shortly after her release, Priya mentioned in a video that the security detail that took her off stage threatened violence against her and DxE, prodding to know whether or not there were other activists planning to take similar actions.
When I asked her about why she thinks a non-violent protester who simply asked a question would be threatened with violence, her answer resonated with an attitude that many activists, regardless of which movement, can relate to.
"I think it comes from a place of not only trying to protect profits but also to threaten people who have the nerve to go against the grain, go against the system, and go against these corporate profits."
Going against the grain is an accurate way to describe the animal rights movement and the mindset of many animal rights activists. We learn from a young age that eating animals is normal. We are inculcated to believe that they are here for us and that killing living animals, in the case of eating them or wearing them, isn't wrong. But we also learn from a young age not to be disruptive, not to talk back, and to never disrespect the authorities. So it's only natural that most people are reluctant to speak up, even if they are faced with something that challenges their moral convictions.
Because eating food, and eating animals in this case, is a personal choice influenced by family, culture, and tradition, claiming the practice is wrong is going against the grain. This will cause major publications to make the peaceful protestor, in this case, Priya, to come off as the wrongdoer and not the multi-billionaire whose company supports animal cruelty while seeking higher profit margins.
And while some people may argue that an action like this is rude or uncalled for (it's called a disruption for a reason), that doesn't deter Priya. She isn't going on stage to promote a business or try to sell something. She is there risking her own freedom in order to deliver a message that is widely ignored in the mainstream media. In fact, it takes actions just like these to get people to talk about the issues at hand.
And that's why she is up there. She is there because of the issue of how animals are treated and the suffering they are subjected to before their imminent slaughter. Priya is willing to put everything on the line for what she believes in, even if it means facing felony charges and going to prison.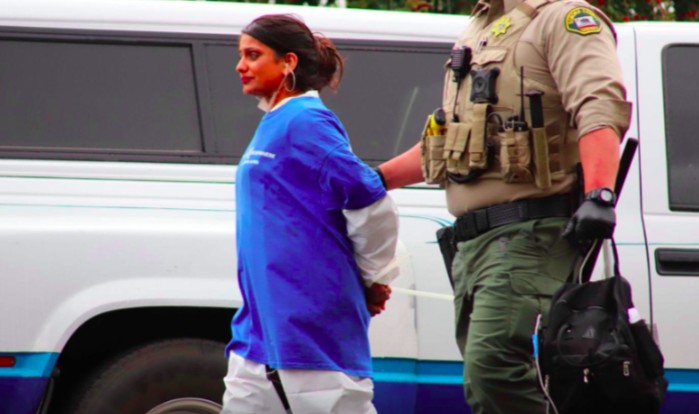 I asked her about what goes through the mind of a person when taking action, knowing that you could be going to jail and turned into the enemy in the media.
"I've done a lot of disruptions now, and I think one thing that sticks out to me is that you get into a zone. You have one mission. All you are thinking about is getting on that stage. What I told myself leading up to rushing the stage was that I was meant to be there."
Grant Lingel
Grant is the co-founder of Sentient Media. He currently lives in Brazil and has traveled across dozens of countries on assignment.