Today in London, hundreds of concerned citizens are not at work. They're in the streets, demanding the United Kingdom transition to a plant-based food system.
On Monday, Animal Rebellion successfully occupied and held Smithfield Meat Market, the UK's oldest and largest meat market, kicking off two full weeks of action around the city to disrupt the global animal agriculture industry and bring awareness to its role at the heart of the climate crisis.
Inside the market's iconic central hall along Grand Avenue, Animal Rebellion opened a Plant-Based Market for 2025, a nod to the movement's vision of a plant-based future.
"Smithfield is now famous for meat. It will be famous for fruit and vegetables," announced Guardian writer and environmental activist George Monbiot to 500 rain-soaked Rebels gathered outside Smithfield for a ribbon-cutting ceremony.
THE FUTURE IS HERE!

CHANGE IS HERE!@GeorgeMonbiot opens the plant-based market of the future at Smithfield!#everybodynow #animalrebellion #extinctionrebellion #climateemergency pic.twitter.com/g7DCgbFOJw

— Animal Rebellion (@RebelsAnimal) October 7, 2019
At Marsham Street, outside the Department for Environment, Food and Rural Affairs (DEFRA), Rebels displaced by authorities at Smithfield on Tuesday set up camp for the night. DEFRA is the chief government body supporting the animal farming industry, making it a key strategic site for the Rebellion.
When police arrived on the scene to break up the protests, activists read their rights from a thin slip of paper passed out by the organizers, ushering in the meat market's plant-based future peacefully, and with posterity.
A beautiful, peaceful, positive start to the Rebellion in London, @RebelsAnimal, @ExtinctionR. Here's to the next two weeks 🧡

📷 London Rebellion, October 2019 | Amy Jones/MovingAnimals.org pic.twitter.com/QLXAv4MEel

— Amy Jones (@moving_animals) October 9, 2019
People young and old from all walks of life are rallying around the Rebellion's cry, making the case that they are, in fact, standing on the right side of history.
In September, Animal Rebellion organizers persuaded officials at Smithfield Meat Market that their vision for a plant-based future to tackle climate change was "so compelling" that the market welcomed the Rebels, who did not take the invitation lightly.
That night, they lined Smithfield Meat Market with tents, where they slept as meat packers in long white coats and white hard hats opened shop. The Rebels held the market peacefully until the morning.
This is what it looked like when we left Smithfield earlier.

Take your litter home #LeaveNoTrace #ClimateEmergency #PlasticBan #EverybodyNow @ExtinctionR (thanks @ahgough for the images) pic.twitter.com/YqZvqTz2I9

— Animal Rebellion (@RebelsAnimal) October 8, 2019
"We're not at Smithfield to disrupt ordinary people from their work," said Alex Lockwood, a spokesperson for Animal Rebellion. They were there to send a message.
The message is clear: We cannot end the climate emergency without first ending the animal emergency.
According to industry leading experts Helen Harwatt from Harvard University and the authors of the UK's Royal Society of Arts Manufactures and Commerce report on Food and Farming, without a switch to locally grown beans, grains, fruits and vegetables, the UK will not meet its climate change targets and avoid climate catastrophe.
"The writing is on the wall for the animal agriculture industry," said Lockwood.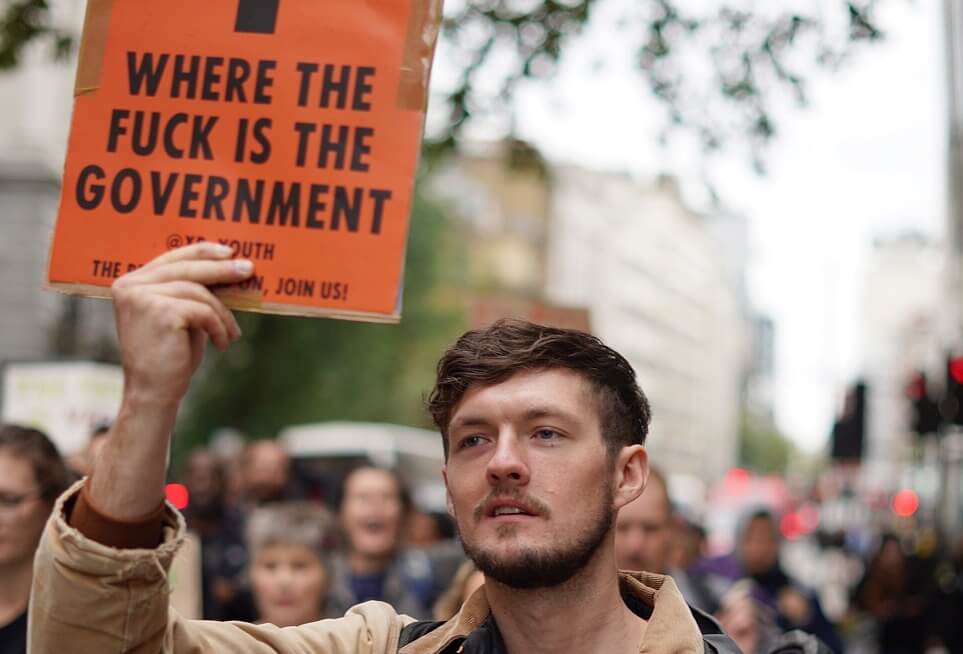 The problem is, greenhouse gas emissions from animal agriculture are chronically underreported and have been for years. Since 2006, researchers and policymakers around the world have relied on inconsistent data and estimates, ranging from 14.5-51 percent of total GHG emissions.
New research suggests that the livestock industry is responsible for at least 37 percent of all greenhouse gas (GHG) emissions. This new number more than doubles the United Nations' latest estimate of 14.5 percent, taking into account more than 94 different studies and key data points left out of other analyses, like the foregone carbon absorption from clearing land for livestock and feed production. As the demand for conventional meat continues to rise, emissions from the animal farming industry will drive global temperatures even higher.
Livestock occupies about 45 percent of the global surface area. At the current rates of deforestation, the Amazon will not be the only ancient forest burned so the world can eat beef. In the years to come, vital habitats will be increasingly exploited to meet the global demand for meat, which the FAO projects will rise by 73 percent between 2010 and 2050.
By then, scientists believe it may be too late. All over the world, we are already seeing the onset of a climate emergency. Roughly 84 of the world's 100 fastest-growing cities face "extreme" risks from rising temperatures and weather brought on by climate change.
The 20 warmest years on record have all been in the past 22 years, with 2015-2018 topping the charts. Studies show that temperatures will rise quicker in developing countries, especially those concentrated around the equator, creating massive food shortages and putting billions of lives on the brink.
As global temperatures continue to rise, taps will run dry, and more than half of all animal species on Earth will become extinct.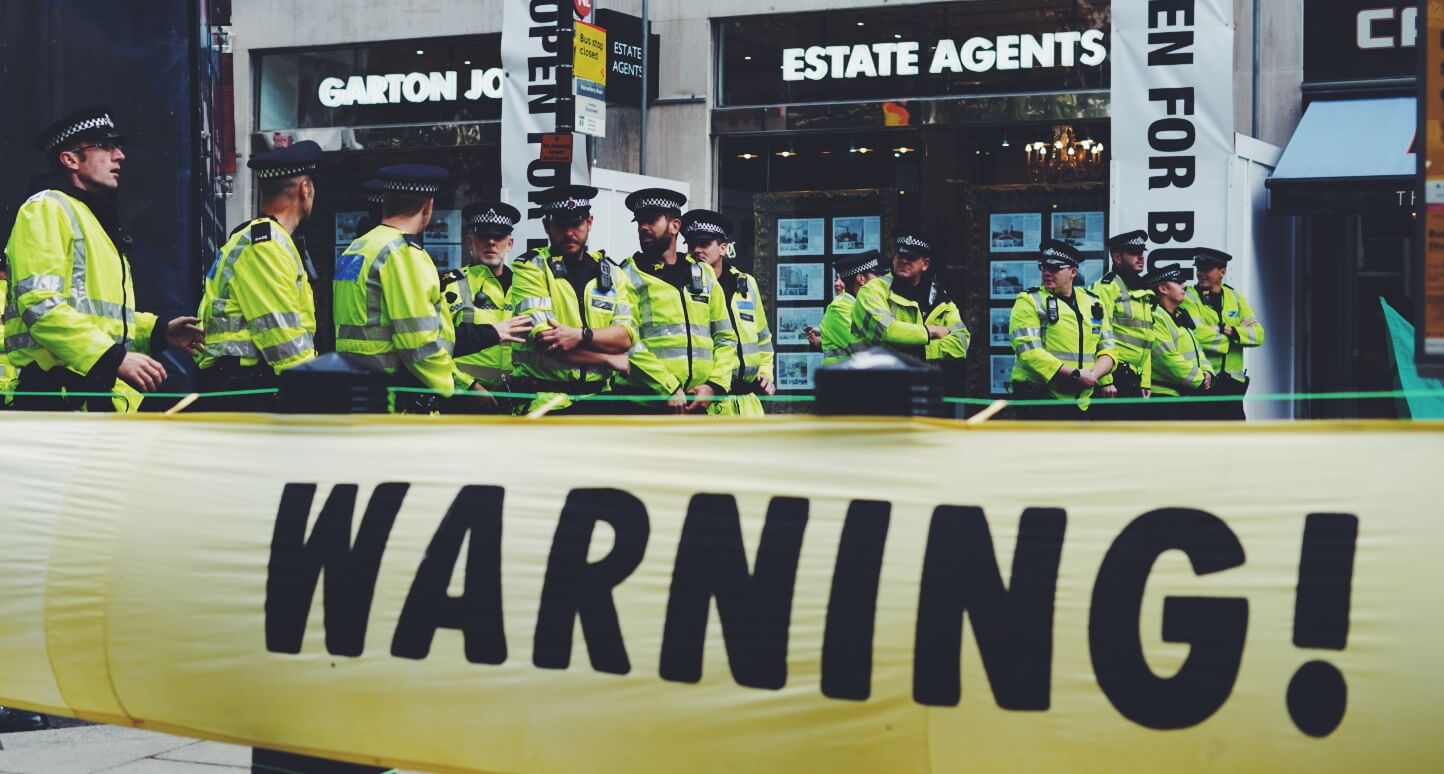 Steven Hall, a meat trader whose father and grandfather worked at Smithfield, said although he was not vegan he agreed with the protest, the Rebels reported.
"To be honest, I think good on [Animal Rebellion]," said Hall. "I've got two kids myself and I want the world to be safe for them in the future."
The Smithfield protest is special. It marks a change of seasons for animal advocates who have long been dismissed as extremist thugs, hippies, loud, angry, left-of-center criminals, terrorists, even "uncooperative crusties."
As trucks full of the bodies of animals arrived at Smithfield, we opened a space for Rebels to grieve for the animals, and proceeded with candles around the market.

We MUST end the animal emergency.#everybodynow #animalrebellion #extinctionrebellion #climateemergency pic.twitter.com/8zznFSknXT

— Animal Rebellion (@RebelsAnimal) October 8, 2019
In August, Animal Rebellion joined famed climate strikers Extinction Rebellion (XR) precisely because fighting climate change presents a profound opportunity to end the animal agriculture and fishing industries and halt mass extinction at the same time.
The global protest movement, broadly referred to as the Rebel Alliance, already has chapters in 50 countries and includes a number of supporting groups – Doctors for XR, Lawyers for XR, XR Faith, and the like – joining in solidarity with Extinction Rebellion.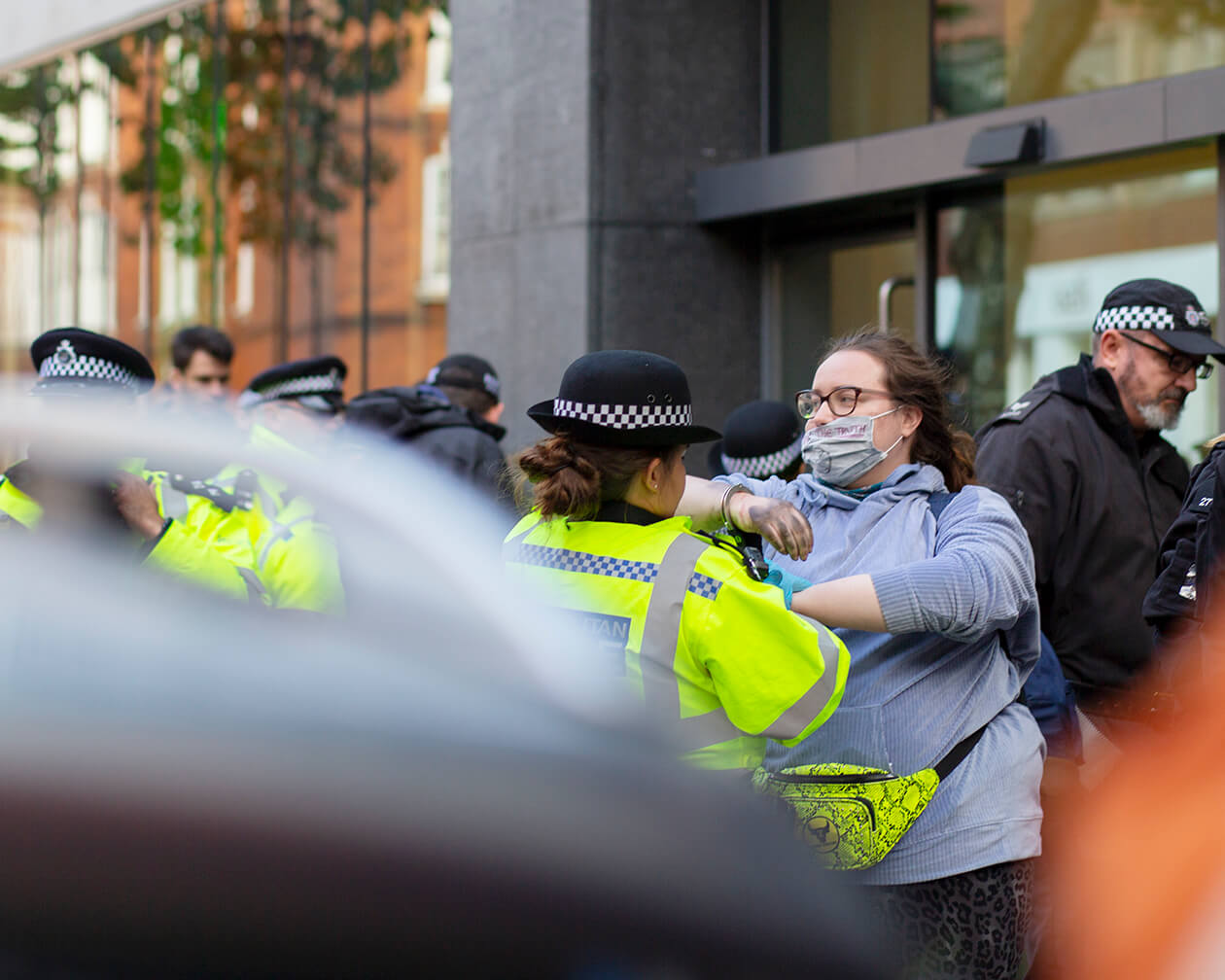 During a two-week long action in London this April, Extinction Rebellion protesters shut down roads and bridges around Parliament and covered the steps of the Treasury building in fake blood.
"[We] saw unprecedented numbers of people willing to be arrested in the name of protecting our planet for future generations," said Tim Crosland, director of climate campaign group Plan B and a legal adviser to Extinction Rebellion.
The April protests, which resulted in more than 1,000 arrests, were mirrored by chapters in Amsterdam, Berlin, Anchorage, Tel Aviv, and New York City, to name a few. Similar arrest numbers are being reported by Rebellion organizers this week.
John is 91 years old and has just been arrested for protesting outside the Cabinet Office.#ExtinctionRebelion @LBC pic.twitter.com/FBQqxAsu13

— Matthew Thompson (@mattuthompson) October 9, 2019
"Since then our movement has grown immeasurably and this time it won't just be us taking to the streets," said Crosland. "This time we will be bringing our friends and our allies: doctors; farmers; academics; international solidarity communities; disability groups; faith communities; those standing up for animal life."
Through repeated, urgent action, following the model for mass civil disobedience put forth by the Civil Rights Movement of the 1960s, Extinction Rebellion is in the process of launching a "movement of movements." Their unique approach to social change means that all parties involved in Extinction Rebellion protests call for the same demands from the government. So far, it's proving to be a winning strategy.
Animal Rebellion has quickly become a centering force for animal and environmental advocates, who have historically been at odds with animal agriculture's contribution to the climate crisis. The Rebellion's organizers believe targeting sites of animal exploitation and meat production is an urgent next step in the fight to tackle the climate crisis – and they expect world governments to do the same.
"The way we change the world is by making ourselves visible," said Monbiot. "By coming out in large numbers and saying, 'We need system change.'"
The Rebels have three demands. First, governments must declare a climate and ecological emergency, then halt biodiversity loss and reduce greenhouse gas emissions to net zero by 2025. Finally, the Rebellion is calling for world governments to create a Citizens' Assembly to lead discussions and decisions on climate and ecological justice.
But overhauling the modern food system is no small task. People are inevitably going to be angry when their way of life is challenged or inconvenienced in any way.
"Every messenger, and every message they bear, is disqualified on the grounds of either impurity or purity," writes Monbiot in an article aptly titled, "Only rebellion will prevent an ecological apocalypse."
Monbiot points out that research suggests for a peaceful mass movement like Animal Rebellion to succeed, only 3.5 percent of the population needs to mobilize.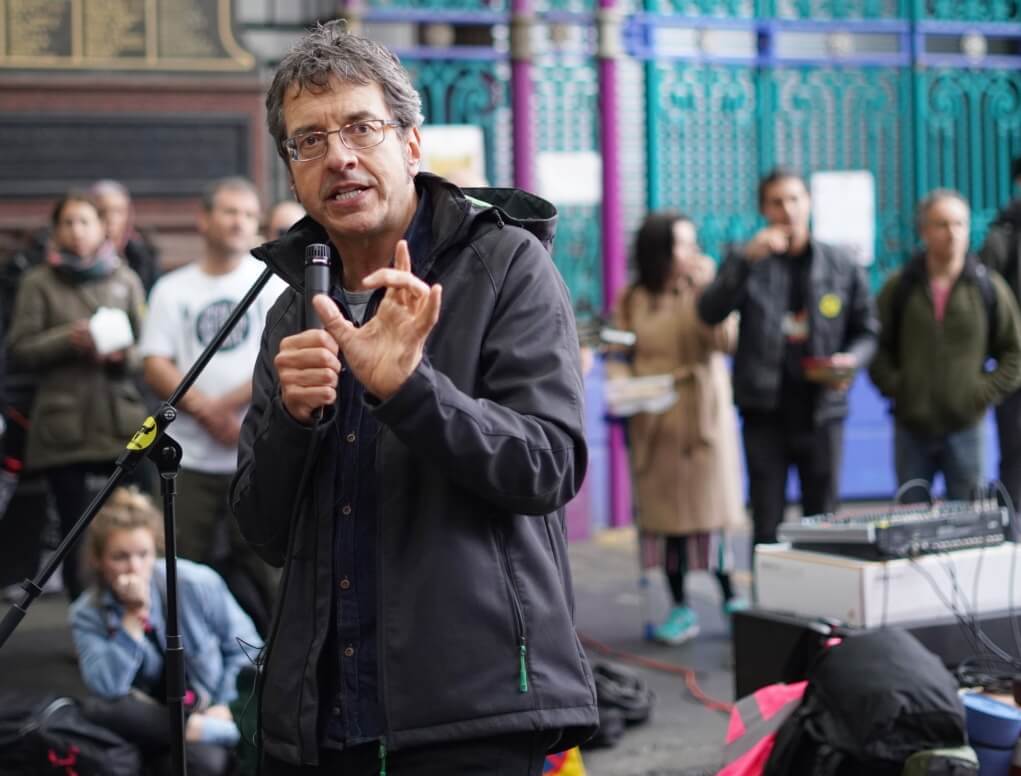 Three-and-a-half percent is more than you'd think. In the UK, 3.5 percent of the population is about 2.3 million people. In the United States, a successful movement would need to mobilize 11.4 million people. In Canada, 1.3 million; California: 1.4 million; Mexico: 4.5 million; Austria: 307,000. But in small countries like Iceland, the number of humans needed to spark a successful transition to a plant-based food system is low – just 12,000.
"Humans are ultra social mammals," he explains. "Once we perceive that the status quo has changed, we flip suddenly from support for one state of being to support for another."
When Rebels took to the streets last month, stopping traffic outside the White House, the Arche de Triomphe, and the Ministry of Housing and Urban Affairs in New Delhi, Monbiot's call to arms started to look a little less daunting.
In one week this September, 6 million people marched for the climate in cities around the world. London offices expect to see thousands more ditch work and join the Rebellion in the weeks to come.
"The more people that join, the more effective we will be," said Monbiot.
Follow our rolling coverage here.
Matthew Zampa
Matt is an award-winning independent journalist. His reporting has been featured in USA Today, The Washington Post, HuffPost, Vox, PBS, and NPR, among others.