From small grassroots organization to effective global animal-rights powerhouse, The Humane League has improved the lives of millions of animals over the past 14 years.
Founded in 2005, The Humane League began as a small team of activists protesting foie gras at local restaurants in Philadelphia. Fast forward to present day, and THL has reached over one million people on Facebook alone, handed out over seven million plant-based eating guides, and earned hundreds of corporate animal welfare commitments with their tenacity and dedication.
Stretching from the United States to the United Kingdom, Mexico to Japan, THL has nearly 100 staff members working tirelessly #ForTheAnimals around the world. Joining them are a league of volunteers, campus organizers, grassroots changemakers, and members of the Open Wing Alliance. The Open Wing Alliance was created in 2016 with one goal in mind: to improve the lives of as many chickens as possible. This coalition consists of over 70 animal protection organizations spread over six continents. From Animal Allies in Asia to Sinergia Animal in South America, the Open Wing Alliance's efforts have exponentially impacted animal welfare policies for egg-laying hens in major global markets. Thanks to these efforts, over 10 million chickens can spread their wings beyond battery cages and 20 percent of chickens in the United States are now cage-free—double that of just three years ago.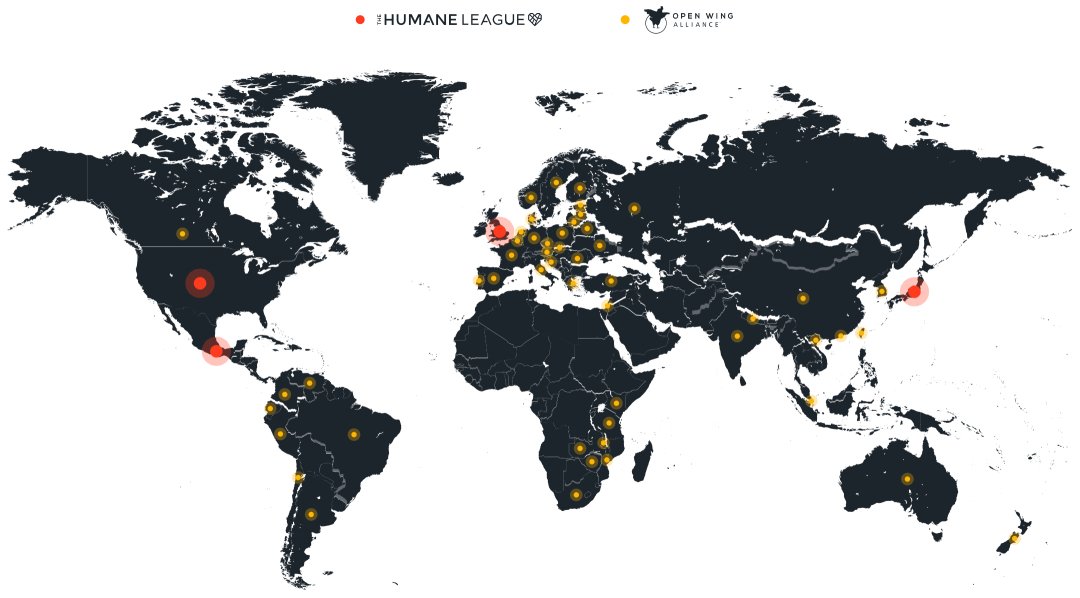 The Humane League's president, David Coman-Hidy, has not always been an animal rights advocate but was first interested in politics and social movements. His journey into activism, much like the overall approach of The Humane League, has been incremental. "Unlike many of my colleagues, I didn't grow up as a huge animal lover. I never wanted to be a vet or a marine biologist. Instead, I was very interested in politics and social movements, so I spent a lot of time volunteering on other causes that I cared about and diving into utilitarian philosophy. Over time, I became convinced that working on factory farming was one of the best ways that I could use my time to reduce suffering, and working at an advocacy organization like The Humane League seemed like a good use of my skills and interests."
According to David, some of the move valuable experiences in his journey within the animal rights movement were the days of doing grassroots organizing and political campaigning. "Many of the most important traits for campaigners—relentlessness, a sense of humor, strategic thinking, communication skills—are all honed during organizing. In doing this work, I also got the opportunity to speak with hundreds, even thousands, of people about animals and other issues, including those who may see the world very differently from you and I. This experience not only honed my argument, it humbled me, and it gave me a more sober sense of what it takes to change society."
The Fight Against Factory Farming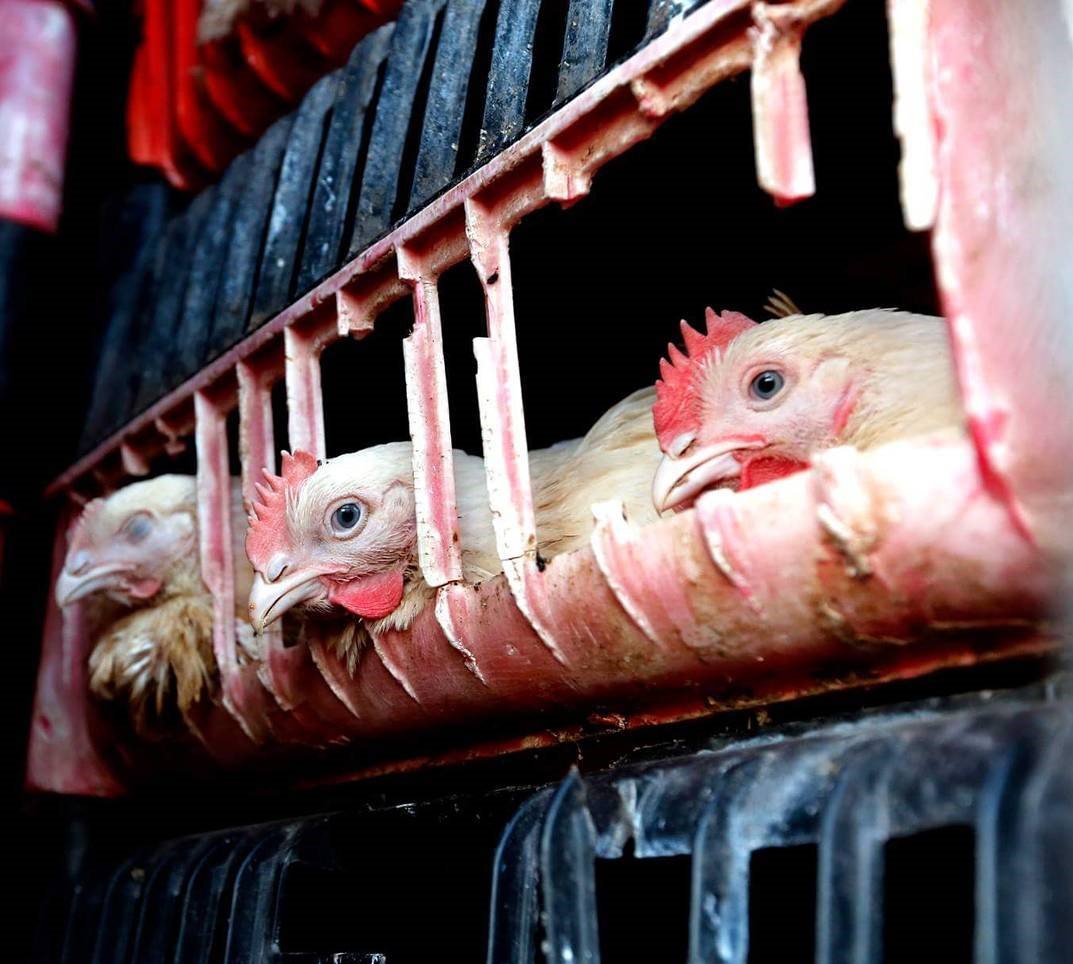 The Humane League's mission is to end the suffering and abuse of animals raised for food. As mentioned above, this work is incremental in that every small step in the right direction is still a success.
"The problem of factory farming is so urgent and massive. It's a true moral crisis. And there are so few people working on solving this problem, with relatively few resources—meaning the scale of the problem is so much larger than the resources we have to solve for it. As a result, each and every one of us who pitches in can make a huge difference for suffering animals. While the work is challenging, it is also very appealing if you're thinking about how you can do a lot of good with your life. I also think we're at a time and place in history in which society is ready for this issue—where major change is possible within our lifetimes. While the abuse and suffering of animals is so vast, so is the opportunity."
"The problem of factory farming is so urgent and massive. It's a true moral crisis."
"My first campaigning work for animals was to get individual campus dining halls, like Emerson (where I attended) and Harvard, to go cage-free by boycotting eggs that had come from hens raised in tiny, torturous battery cages," Coman-Hidy states.
"Back then, virtually all farms used battery cages, and there hadn't been much progress in the U.S. beyond Prop 2 in California and a few minor corporate commitments. In the intervening decade, we've seen a huge leap forward in the U.S., with many new statewide laws, corporate commitments, and now increasing international progress. We've seen a new flourishing of coalition work within the animal protection movement that has sprung from the success of the global campaign against battery cages (including our work with the Open Wing Alliance). We've leveraged this in the U.S. and Europe to end the worst abuses for 'broiler' chickens (chickens raised for meat)—a cause that was just a pipe dream ten years ago."
David has also been pleased with the burgeoning meat and milk alternatives industries over the past decade. "Ten years ago, I would not have believed that a company like Carl's Jr. would be buying advertisements for a cutting-edge vegan burger [the Beyond Meat Beyond Burger] during the Super Bowl. Reducing meat consumption is becoming more mainstream, alongside the growing awareness and concern for the wellbeing of animals."
Driving Change with Corporate Campaigns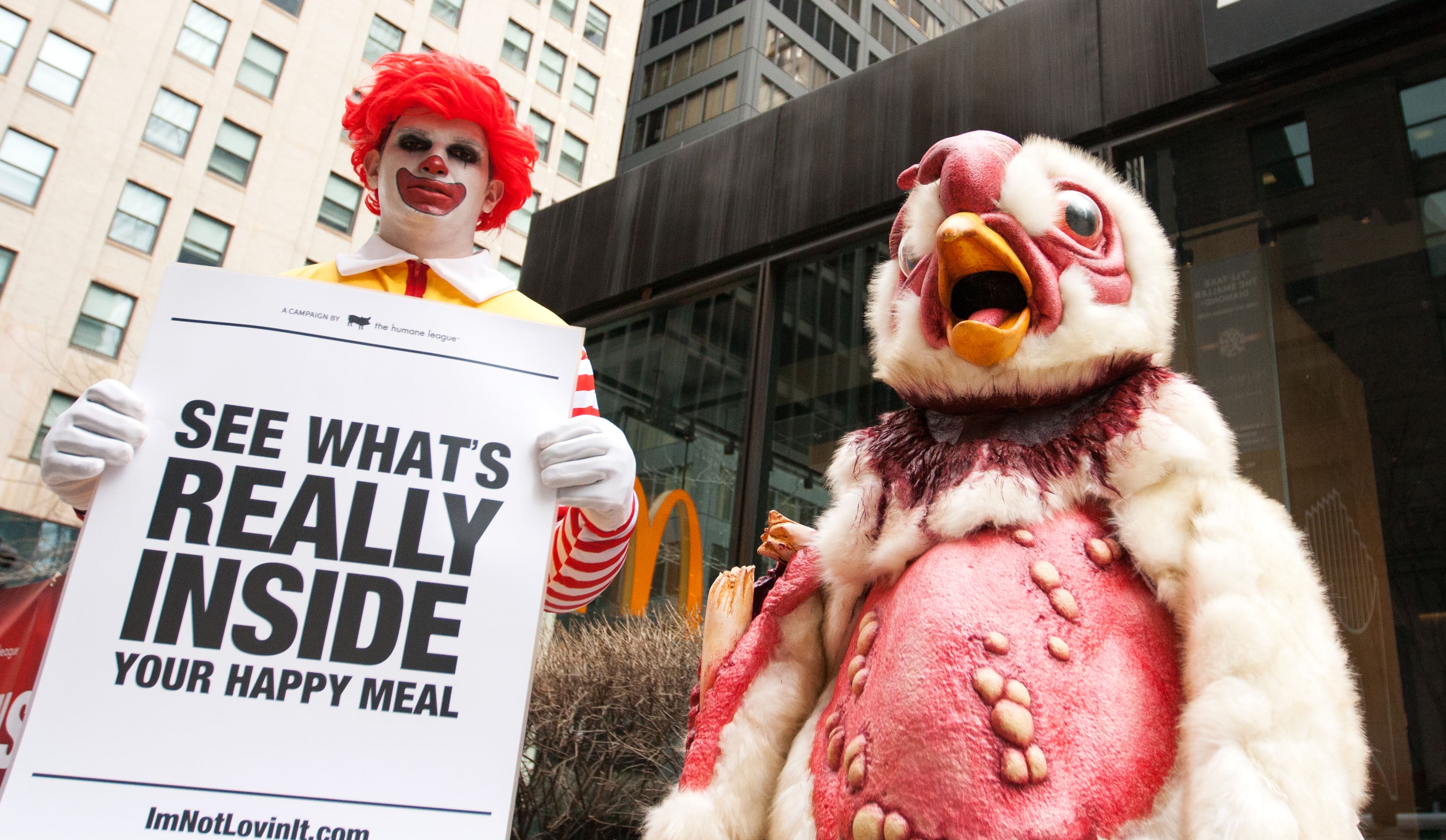 The Humane League and its volunteers have orchestrated dozens of successful campaigns around the world. What started as approaching one restaurant location at a time now involves large global corporations. Due to the tireless work of THL's staff and volunteers, large food corporations such as General Mills, Starbucks, Burger King, Chipotle, and PepsiCo. have enacted stronger animal welfare policies. Global foodservice providers like Aramark and Compass Group have also followed suit, improving the lives of millions of animals.
THL staff and volunteers hold corporations accountable for their actions and drive change by contacting businesses through phone calls, emails, and social media. Some campaigns take years, while others take just months. As stated before, progress is incremental but adds up to monumental victories for the animals.
David Coman-Hidy has been involved in many campaigns with The Humane League, but one of his favorites was the fight to get Aramark to adopt the Better Chicken Commitment in the United States. The 88% campaign was the first of its kind and the precursor to the now over 150 commitments from other companies.
Another groundbreaking campaign that sticks out to David was when THL went up against Noble Foods, a leading egg producer in the UK and parent company of The Happy Egg Co., a popular free-range brand. Corporate campaigns can take years before achieving stronger animal welfare standards, but Noble Foods agreed to source 100 percent cage-free eggs by 2025 in just a six-month campaign.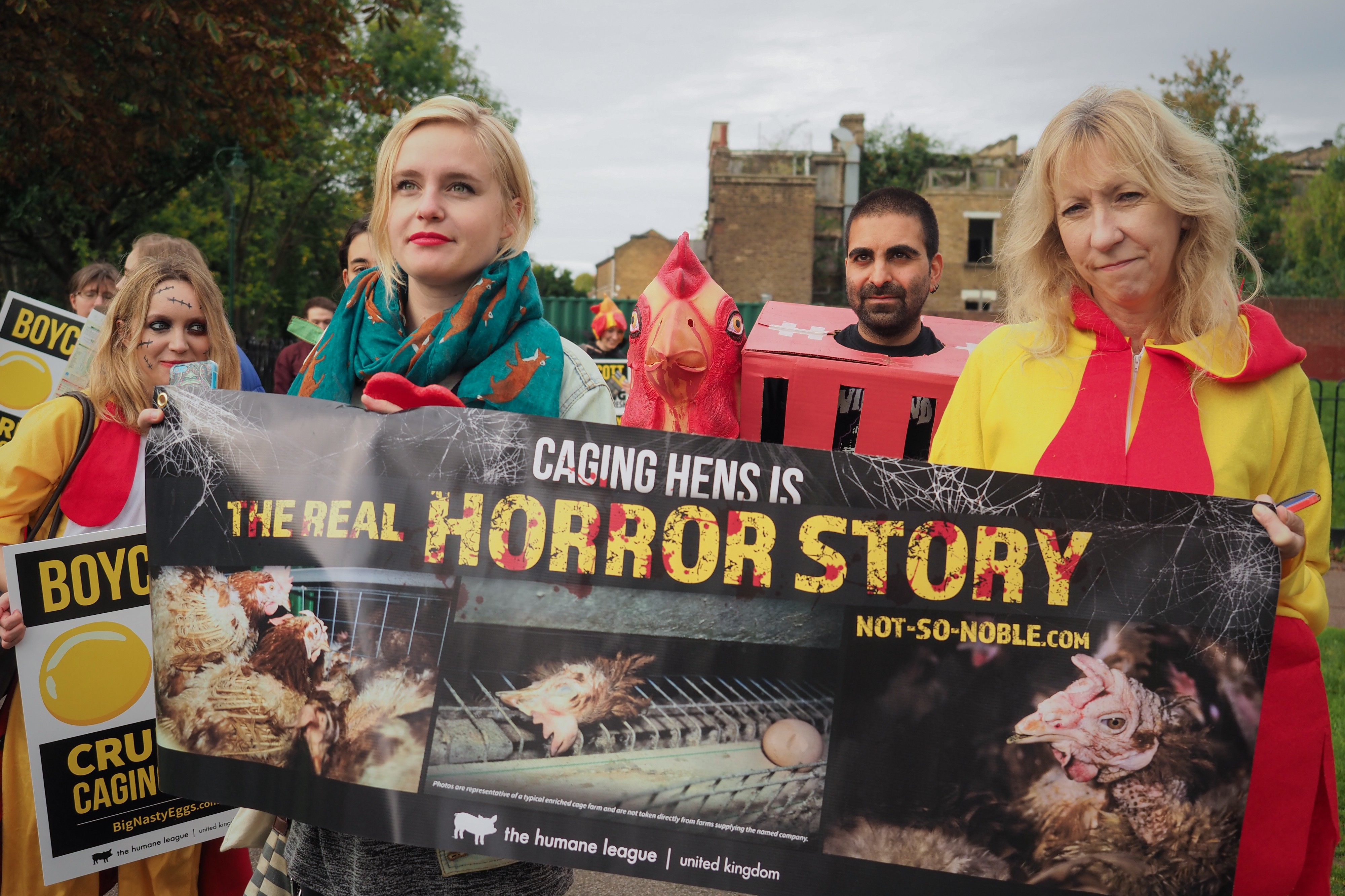 "Through The Humane League's campaign, [we] highlighted the disconnect between Noble Foods' claims of caring about animal welfare, touting its free-range brand, The Happy Egg Co, while simultaneously keeping 4.3 million sentient beings in cramped wire cages," Coman-Hidy says.
"Going into the campaign, we didn't know what to expect. We knew it would be difficult, and ultimately it would take months of protests, letter-writing, phone calls, and utter dedication from The Humane League's team of incredible volunteers to achieve it. Just two days into a week-long 'occupation' of the space outside Noble Foods' London office, we received news that they had released a statement committing to source 100% cage-free eggs by 2025."
Additionally, The Humane League's presence in Japan has brought about tremendous progress within the cage-free movement. "Our staff there has single-handedly influenced the policies of 31 purchasers and producers, including the likes of Nestlé and Four Seasons Hotels & Resorts—These are the first commitments of their kind in the country and a groundbreaking step forward for the region. All of this progress has been won by our small team of two advocates!"
Currently, the #ImNotLovinIt campaign is in full swing asking McDonald's to address the horrific cruelty hidden within their supply chain. This campaign was launched in April of 2018 at McDonald's headquarters in Chicago, IL and has since surged into a national movement. The Humane League also brought the #ImNotLovinIt campaign to the UK and their efforts have been shared on social media globally.
McDonald's UK just launched the first-ever fully vegan happy meal, which is a step in the right direction for the company, but there is much more work to be done. Millions of animals are still suffering, and The Humane League won't stop until meaningful animal welfare commitments are made.
What To Expect in 2020
In 2020 and the years to come, The Humane League plans to focus on cage-free accountability in the United States. "To date, over 400 major food companies and retailers have committed to sourcing 100 percent cage-free eggs by 2026, or as early as 2019. While making strong public commitments to improve the lives of animals in their supply chain is an important first step, the lives of those animals will only improve if companies are held accountable to do what they say they'll do. To set the standard for years to come, we will be putting the pressure on companies to ensure they follow through on and report on their progress as their deadlines approach."
Another main goal is to influence all major food companies to adopt The Better Chicken Commitment in the United States and Canada—as well as the European Chicken Commitment in Europe. "These corporate commitments require chicken suppliers to meet certain welfare requirements that will lead to enriched environments, improved stocking densities, more humane slaughter practices, and a switch to higher welfare breeds to allow chickens to grow at a more natural rate," says Coman-Hidy.
In addition to the aforementioned goals, The Humane League will continue fighting against battery cages with the Open Wing Alliance and persist in urging McDonald's to adopt stricter animal welfare standards.
"As always, we will continue to raise public awareness of the plight of farm animals on factory farms and encourage people to leave animals off their plates by reaching individual hearts and minds and recruiting and training new activists and leaders."
If you would like to make a difference #ForTheAnimals, join The Humane League's Fast Action Network to take simple online actions that make a huge impact. You can also get involved by volunteering or making a donation.
Taylor Meek
Taylor Meek is the community manager and a contributing author at Sentient Media. She oversees all social media content and strategy and manages the social media team and Social Media Fellowship program.