Update: Paddington, the bear whose rescue by Animals Asia is mentioned below, passed away in October 2022 due to swelling of her brain. The organization provides more information here.

Around 300 bile bears remain in captivity in Vietnam. Though the country banned the extraction and sale of the digestive fluid in 2005, many bears still live on farms throughout the country. Bear bile has long been an ingredient used in traditional Eastern medicine, dating back to its first reference in an eighth century Chinese medical text. 
Over the past fifteen years or so, demand has fallen sharply. Farming of bears is no longer as profitable for farmers and, in 2017, the Vietnamese government signed an agreement with Animals Asia, pledging to ensure that the nation's remaining bile bears, then approximately 1,000 animals, will be moved to sanctuaries.
There has been encouraging progress as bears are removed from farms, although there is some concern that the hundreds of remaining animals are now in poor conditions on declining farms or being killed, and that bile is being extracted illegally from farmed or wild-caught bears.
Hanoi, Vietnam's capital city, remains a hotspot for bear farming. But, animal advocates are working with farmers and communities to create change.
Dr. Tuan Bendixsen, Vietnam Director for the Hong Kong-headquartered Animals Asia, says that the city has "a reputation for being slow to act," home to villages with "a long tradition of farming wildlife." Change takes time, but Bendixsen is seeing it happen as support for bears — and interest in alternatives to their bile — continue to grow.

And soon, a new sanctuary may welcome the last of Vietnam's farmed bears.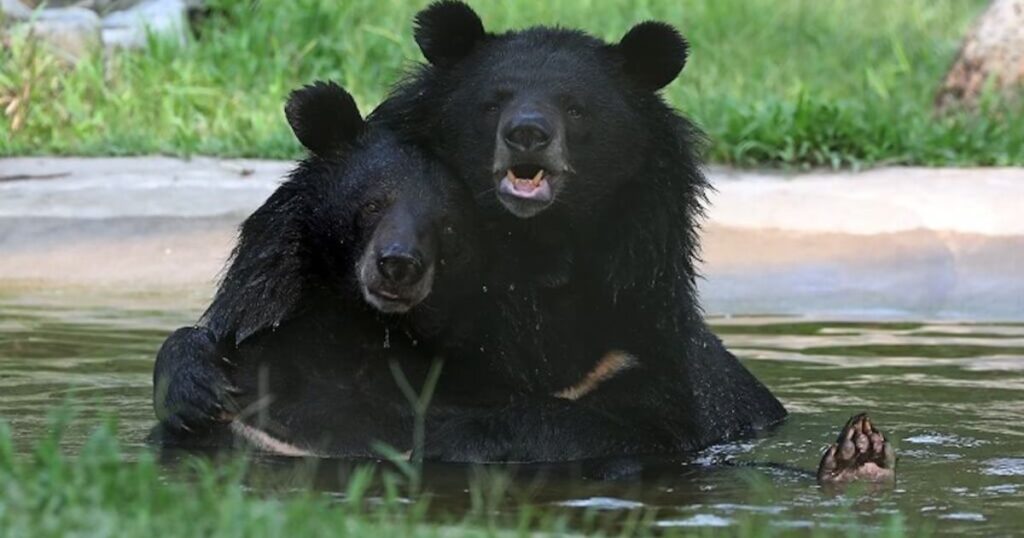 Bears in Captivity
Bears are farmed for their bile largely in parts of southeast Asia, with the largest market, located in China, worth around $1 billion by some estimates. Bile taken from bears is often extracted through a syringe or via a catheter inserted into their gallbladders. The sought-after ingredient in the bile, ursodeoxycholic acid, has been shown in research to be effective in treating some liver disease and gallstones and improving liver function.
In addition to those raised on farms, wild bears are also captured for the bile industry, sparking concerns of pandemic risks related to wildlife trafficking as well as threatening an already at-risk population of bears. While the Malayan sun bear is often farmed for bile, the most highly used species is the Asiatic black bear. Commonly known as a moon bear, the species is listed as Vulnerable to extinction on the IUCN Red List of Threatened Species and faces threats beyond farming, including poaching and deforestation. It is believed that the moon bear population has declined by up to 49 percent globally in the past three decades.
On farms, the animals are typically kept in extremely small cages, and similarly to many chickens farmed for their eggs, they have little room to stand or turn around. Activist Kim Su-jin of the Korean Animal Welfare Association told Min Ji Koo for VICE, "Many bears lose their body parts or even die because they attack each other in those small cages. And injured bears never get adequate care."
South Korea has announced a ban on bear bile farming effective by the end of 2025, and Min Ji Koo writes that, even as interest in bile rose during the pandemic, animal activism has also grown in response. Similar support for an end to bear farming is being seen in Vietnam.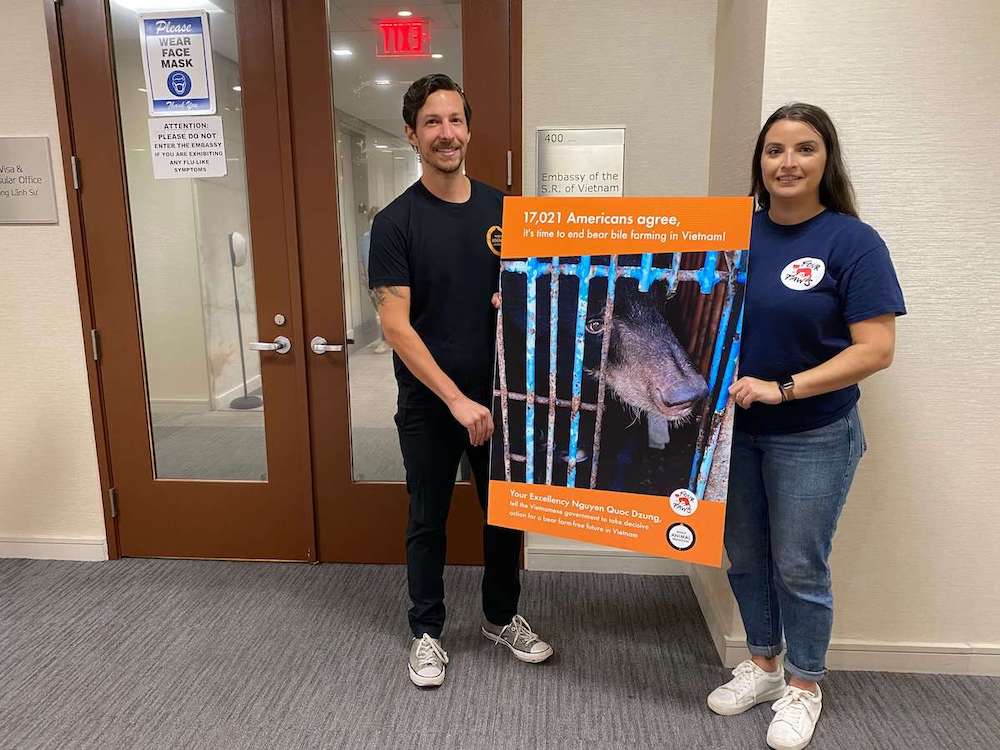 A Shift in Attitude on Bear Farming
Among the reasons for the decline of the bear bile industry is decreased demand for its product, as consumer interest turns to alternatives. Because bear bile has long been a part of traditional medicine and culture for many people, Bendixsen says that by "offering solutions and not criticisms," and working alongside communities and the government, Animals Asia has been able to drive wider support beyond the activist community for its campaigns.
Many U.S.-based organizations have actively campaigned against bear farming for bile and other products. In August, FOUR PAWS and World Animal Protection delivered thousands of petition signatures to the Vietnamese embassy in Washington, D.C. One of the most effective pushes to end the practice may come from within Vietnam itself, though, as city residents speak out and farmers shift away from bear bile production.

With Hanoi-based organization Education for Nature – Vietnam (ENV), residents of the city's Phuc Tho district have urged the federal government to bear bile farming and pledged to encourage farmers to release their bears. "I don't know how they manage to sell bear bile in this area, because very few people are still using it," says one activist.
Sanctuaries Offer Health Boost
As Bendixsen responded to Sentient Media, a rescue had just unfolded. Animals Asia received a call from Vietnam's Forest Protection Department, alerting its team that a farmer in Nam Dinh City wished to release a moon bear. The organization has named the animal Paddington, believing her to be a female who has spent her life of 17 years on bile farms.
In a press release, Animals Asia describes a four-hour trip to the farm at which it found Paddington in a "tiny cage," exhibiting behaviors typical of confined animals, "rocking and weaving," and in need of dental treatment possibly due to biting the bars of her cage.
One of more than 600 bears the organization reports having rescued, Paddington may also be an example of the transformative effects of sanctuaries.

"Because of the suffering and stress" bears experience on bile farms, Bendixsen says, at the time of rescue, these animals "often display aggressive behaviors toward people." Most are suffering from dental, joint, liver or gallbladder problems among other conditions due to "inadequate diet and stress of being confined in a very small space for years." Still, most see some recovery in time, given care and the relative freedom and natural life offered by a sanctuary.
Animals Asia operates bear sanctuaries in Vietnam and China, and reports directly or indirectly employing hundreds of local people in the work done at these facilities. Paddington is now under quarantine and health monitoring at its Tam Dao sanctuary until she can hopefully join other rescued bears. But following her journey there, she quickly began to enjoy a feast of banana leaves, carrots, pumpkins and fruits.
Nearly 15 hours away, in Bach Ma National Park, ground has been broken for a new sanctuary expected to be completed by the end of 2024. It will be, Bendixsen hopes, Vietnam's last bear sanctuary, as cages are emptied of bears.
In an agreement with the organization, the government has committed to ending bile farming by 2026. To meet that goal, Bendixsen feels the government must take further action, implementing a directive forcing farms to release bears before the deadline. "This way, the local rangers have the legal framework to take back bears as soon as space is available to house them," he says.

The hope for the sanctuary, though, is that it will make that effort easier, providing a space for the 300 bears to go when released or confiscated, and closing the door on the illegal trade of wild bears to the bile industry.
Seeds of Change: Looking to Alternatives to Bear Bile
In July 2014, KaiBao Pharmaceutical announced that it would conduct government-funded research into synthetic alternatives. A transition by the company would be an encouraging milestone, as Kaibao is the largest producer of bear bile in China, which according to a 2020 report by World Animal Protection, holds 20,000 bears in legal bile operations alone and "dominates the market with the most bears and the most farms." Animals Asia reports that, like in Vietnam, it is working with the government, farmers, communities and traditional medicine associations in China in efforts to end bile farming.
First made in the 1950s, a synthesized form of ursodeoxycholic acid or ursodiol is used around the world for the dissolution of gallstones and treatment of liver conditions including primary biliary cirrhosis, and its market is expected to continue growing. For animal advocates, while this may help bring about the end of bear farming, concerns remain because this alternative is produced using bile from cattle.
Animals Asia is turning to plants for answers. Bendixsen says there are more than 32 herbal alternatives to bile extracted from bears, and Vietnamese people, especially younger generations, are helping to facilitate their usage. Animals Asia works with schools and communities "in bear farming hot spots" to grow and promote the herbal alternatives, he says, pointing to the example of the Hanoi suburb Phung Thuong Village. Here, over one-third of the remaining bears on Vietnam's farms can be found.
Working with doctors from the Vietnam Traditional Medicine Association, the organization offers free health checks each month in Phung Thuong where they give out free herbal rubbing medicines. "One of the main uses of bear bile in traditional medicine is to reduce joint pains and swellings from bruises," explains Bendixsen.
In schools, students are helped to create herbal gardens in which alternatives are grown, sowing the seeds of generational change. "Many of the students at the school have relatives that own bears," says Bendixsen.
To him, the public support Animals Asia has received in Phung Thuong has been instrumental in efforts to free Vietnam's bears. After being met with "much resistance," when campaigning began there in 2017, the organization is now receiving "overwhelming support," he says – especially in the form of enthusiasm over alternatives. The organization now gives out free herbal alternatives that Bendixsen says members of the community have come to view as working "as well as or better than bear bile."
Because of the community's support, he says, nine bears were rescued from Phung Thuong farms. "These were the first bears that have ever been rescued from this last stronghold of the bear farming community in Vietnam."
Jennifer Mishler
Jennifer is a writer and editor based near Washington, DC. Her background is in communications in the animal protection movement. She is also a contributing writer with Sentient Media.