In our series covering the most interesting animal protection organizations, we were excited to talk to Encompass. In this interview, executive director Aryenish Birdie takes us through the organization's mission, goals, and tactics.
Sentient Media: Why are you doing what you do? For you personally, what is it about your organization's mission that most resonates with you?
Aryenish Birdie: When I joined the animal protection movement over 20 years ago, I couldn't have imagined the progress we'd make. I'm proud to be part of a movement whose victories seem endless.
Over the past couple of years, we've seen vegan advocacy thrive. Similarly, we've seen Big Food embrace the plant-based and cultivated-foods movements rather than fight it because they know it's the future.
Our strategic thinking and capability to quickly innovate have both been vital to our success. It's due to our continually evolving public messaging, our use of data analytics, our nuanced corporate campaigns and public policy efforts, coupled with investigations, that we claim victory so often. And the ever-growing list of plant-based (and soon-to-be cultivated meat) products is a testament to our success as well. But something is missing.
People of color make up 38% of the U.S. population, but less than 11 percent of staff and a mere 8 percent of leaders at the top 20 U.S. farmed animal protection organizations by budget (according to an informal analysis I conducted in January 2017). This has led our movement to earn the label of a "white movement," one that many people of color/people of the global majority find difficult to join. This problem will only intensify, as the U.S. Census Bureau estimates that by 2044 people of color will be the majority of the U.S. population.
What I've done is tried to take lessons from other spaces and apply them to our movement. In the private sector, a diverse and inclusive workforce means more revenue. Why? Because these groups are more creative, insightful, and productive than homogenous ones. They enjoy lower rates of burnout and stronger feelings of belonging and engagement. And diverse groups better reflect our evolving world––which means they are more adaptable, resilient, and successful.
But simply filling diversity quotas is not enough. Organizations only looking to diversify teams often come up short, feeding frustration and a sense of "tokenism." Rather, a culture of equity and justice must be integrated into the foundation of our movement.
Now is the time for our movement to make racial representation and equity cornerstone principles. This is how we will grow, adapt, and win. It's how we will realize our fullest potential to make the world a better place for animals. So let's follow our own advice and put our ethics into action—to make our movement better from the inside out.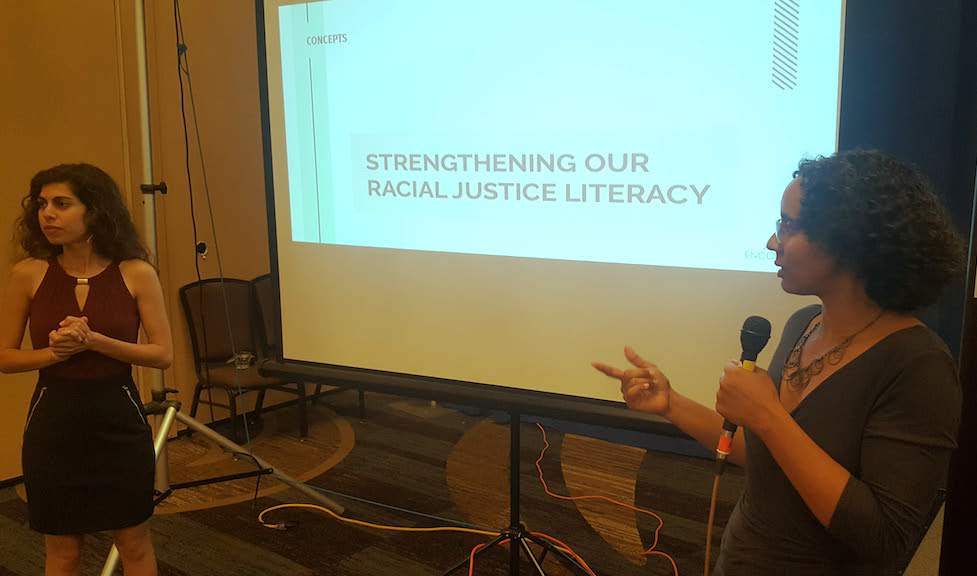 Sentient Media: Is there a specific moment in your past that was pivotal to your interest in your cause? What experiences have shaped your advocacy the most?
Aryenish Birdie: This is one of the most common questions I'm asked. I've written about why Encompass was founded and how my racial awakening led to Encompass, but not much about the path itself.
As a light-skinned queer woman of color born from immigrant parents, I've struggled with identity and place my whole life. I never feel totally at home anywhere, so I'm always searching to belong. I've always been one of the only people of color in the room when animals were being discussed and not only did that make me feel alone, intuitively I knew we were missing really important perspectives.
As I've worked to develop the core tenets of Encompass, I've realized that, like me, most advocates—indeed, most people—also need a sense of belonging to thrive in this movement.
As I've worked to build Encompass my path has taken me in directions I couldn't have anticipated. I've engaged in extensive conversations with Encompass advisors, experts on racial equity from the academic, business, and nonprofit communities, I've worked intensely with a diversity, equity, and inclusion coach, and held four focus groups with animal advocates of color.
All of these conversations made it clear that while yes, we need more representation at all levels in our movement, we also need organizations to understand our desire for community and we need to be intentional about building it ourselves.
Community building and belonging feed into movement building—a key concept if we want to see the best and biggest movement possible. My path over the last two-plus years has shown me that the power of belonging must be central to our work as animal advocates, for without that we risk losing out on valuable talent which means we risk our success as a movement.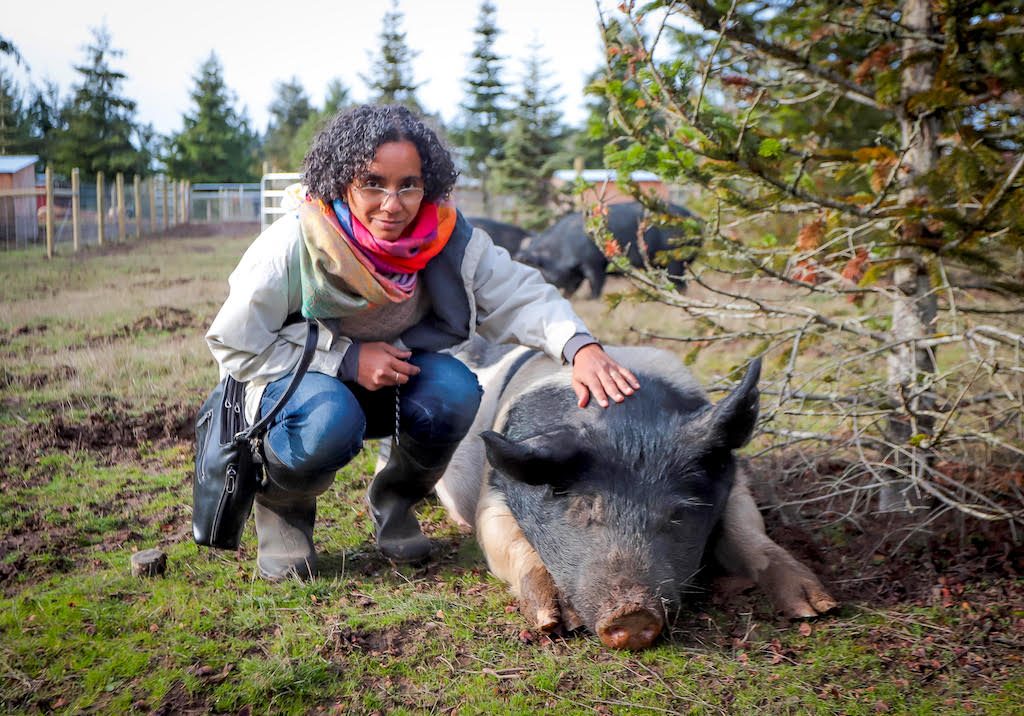 Sentient Media: How has the world changed for the better for animals in the time you have been working with the cause?
Aryenish Birdie: Oh my goodness, where to begin? I started working on animal protection issues in 1997. Back then dehydrated textured vegetable protein you bought from a mail-order catalog was all the craze (in fact, our local newspaper wrote a story about it and us back in 2003), it was impossible to find vegan ice cream beyond two flavors of Tofutti, and vegan hotdogs came packaged in water in a tin can. A lot has changed.
I became aware of animal protection issues through my 7th-grade biology frog dissection project when my mom was adamant I boycott it based on an intuition she had that children should not be cutting up once living and sentient creatures. We were the kind of family who would do anything for our dogs, bought non-animal tested household products, and never ate veal or foie gras (because of the tremendous cruelty involved), but we ate chickens every day. I now know this behavior as cognitive dissonance. Curious by my mother's objection, I reached out to all the big animal groups that still exist today and learned about how animals are used, abused, tortured, and killed in laboratories. From there it was a slippery slope to learning about puppy mills, circuses, zoos, fur farms, factory farms, and more. I still have the vivid memory of being a 12-year-old girl and making a vow while sitting on my bed, crying over a photo of a laboratory that tests on animals, that I would spend the rest of my life fighting for animals—and I'm proud today to have kept my promise.
To see the amount of organizations sprout up, the money that's coming into the movement, the number of advocates who are joining our cause, how much space non-dairy items take up in the dairy aisle, the commercials on TV for the ever-evolving plant-based products, Dean Foods filing for bankruptcy—it's never what I thought I'd see by 2019.
While we do have a ways to go (especially as it relates to who is in our movement and how homogenous we are) I am inspired by the people who are excited by Encompass and our collective belief that animal advocates are our most precious resource and we must do everything possible to do right by them.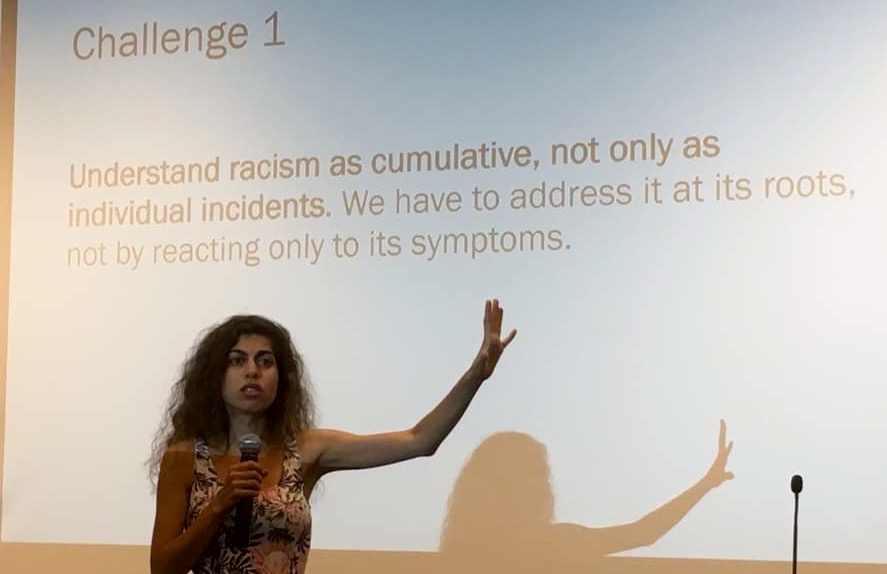 Sentient Media: What are the most important ways your organization seeks to make a positive impact in the world?
Aryenish Birdie: Based on our two-pronged approach, we have a few things we do to make a positive impact in our movement.
First, Encompass works with farmed animal protection groups to strategize and implement diversity, equity, and inclusion (DEI) principles throughout their organizations. We begin by aligning the executive/senior leadership team with key principles for DEI leadership. Then we work collaboratively to develop an organization-wide strategic imperative document, facilitating buy-in from staff, and then we integrate this DEI culture vision (as well as expected behaviors and actions) into the organization's processes, systems, and roles.
We are also working on creating comprehensive, publicly available, data-driven reports on the state of racial diversity and inclusion at large farmed animal protection organizations. Our reports illuminate our movement's current strengths and challenges and identify barriers organizations can overcome in order to move forward.
Second, Encompass cultivates the innate potential of advocates of the global majority by offering in-person and web-based training opportunities to provide space for individuals to advance their interpersonal and professional skills while simultaneously increasing their inner strength and power. Examples include: "How to overcome imposter syndrome," "Strengthening your networking practice," and "Writing effectively for animals."
Encompass also offers a mentorship program that connects younger or newer advocates of the global majority with older or more established mentors, allowing advocates to build relationships and receive personalized advice on navigating professional challenges and opportunities.
Through all this work, we work to foster a stronger sense of belonging and camaraderie amongst advocates of the global majority by hosting in-person and web-based events aimed at strengthening bonds and representation.
If you identify as a person of the global majority (including Black, Brown, Indigenous, Asian and Pacific Islander folks) and are able to attend programming in English please sign up today—we'd love to have you join the Caucus!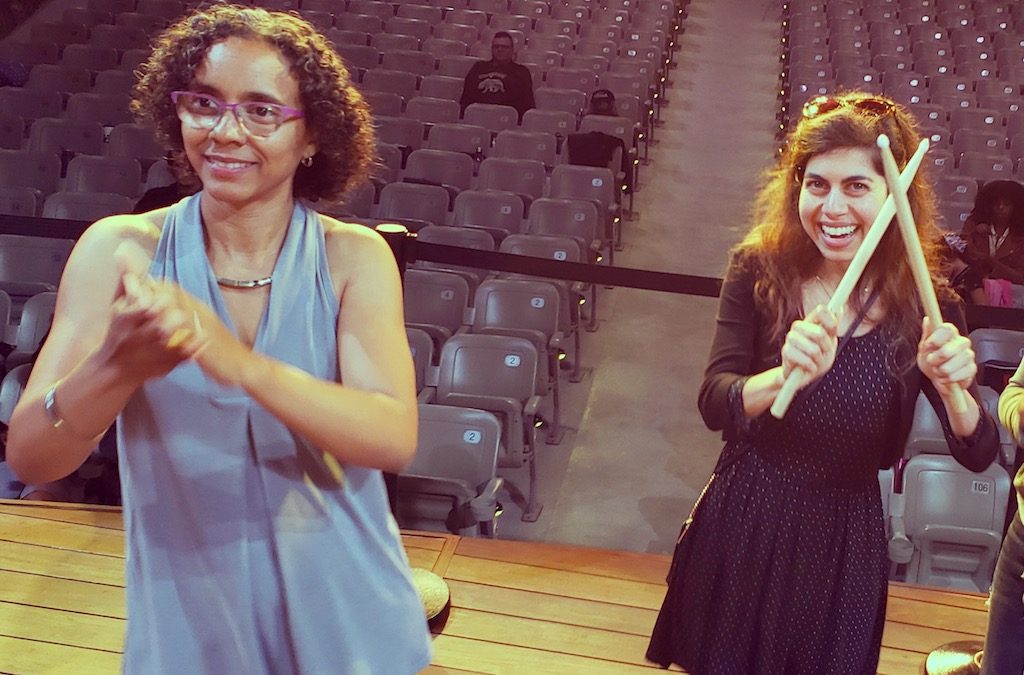 Sentient Media: What are your big plans for the future; or what change are you excited to be driving next, and how? How are you maximizing the impact for the animals?
Aryenish Birdie: We have a lot of big plans for 2020! We have four different offerings for organizations to interact with us and we will be unveiling them in January, but in short, we'll offer a DEI Assessment, Transformational DEI Consulting (which is our longer-term, more substantive culture change work), ad-hoc/retainer services, and our DEI Institute.
I'm super excited about the Institute. It will be a 2-day, in-person, beginners DEI training for farmed animal advocates and will be held in Los Angeles, CA, March 16-17, 2020. It will be an opportunity to:
Explore the ways racism operates in our society and in the farmed animal protection movement while learning a practical framework for DEI analysis
Learn how fostering racial equity in organizations leads to increased innovation, collaboration, and stronger impact; learn why opting out of racial equity leads to underperformance
Learn concrete strategies and methods for how to operationalize racial equity throughout an organization, including strategy, leadership, human resources, communications, programs/campaigns, program evaluation, and partnerships
Our target audience includes leadership from farmed animal protection organizations, DEI supporters and champions within organizations, and advocates of the global majority at any organizational level.
We're offering a sliding scale fee to registrants based on their organization's latest 990. And we're offering no-cost registration scholarships to up to 6 animal advocates of the global majority. In addition, we are seeking organizational and corporate sponsorship to offset the Institute's costs. Check out our website to learn more.
For the month of December 2019, Encompass is trying to raise $50K and a portion of those proceeds will be matched dollar-for-dollar. Anything you are able to give would go a long way in helping reach that goal.
Site Admin
Jasmin Singer is the author of The VegNews Guide to Being a Fabulous Vegan (Hachette, December 2020) and the memoir Always Too Much and Never Enough; the co-host of the Our Hen House podcast; and a longtime animal activist and public speaker.