On March 9, 2021, Berkeley, California, became the first city in the United States to adopt Vision 2025 for Sustainable Food Policies, a progressive new food purchasing program that addresses the harms that industrial food production has on the environment, social equality, community health, and animal rights. By signing on to the new policy, Berkeley has committed to replacing 50 percent of the city's animal-based food purchasing with plant-based alternatives. The city has also agreed to designate an advisory body that will propose sustainable food policies to the Berkeley City Council. 
"I think this will send a very strong statement around our commitment to not only addressing climate impacts of agriculture but also addressing broader moral issue of factory farming and the negative impact it has on animals in our society," said Berkeley Mayor, Jesse Arreguin.
Berkeley is not alone. In response to initiatives such as Vision 2025, Green Monday, and the Good Food Purchasing Program, multiple cities have increased their plant-based food purchases and are planning toward a more sustainable food structure. In 2019, New York City declared that it would phase out the purchasing of processed meat and specifically reduce beef purchasing by 50 percent in its Green New Deal.
More recently, Los Angeles committed to achieving the Planetary Health Diet by cutting their dairy and meat consumption to around 250 grams and 50 grams per day per person, respectively, while the San Francisco Board of Supervisors voted to reduce animal product consumption by 15 percent and 50 percent in hospitals and jails. These responses reflect the urgency of reforms needed in the animal agriculture sector alone, especially if the cities are to achieve the Paris Climate Accord goal of lowering greenhouse gas (GHG) emissions by 2050.
Cities, animal farming, and GHG emissions
According to the FAIRR Initiative, a collaborative investor network that "raises awareness of the environmental, social and governance risks and opportunities brought about by intensive livestock production," the agriculture sector will contribute 70 percent of the total allowable GHG emissions by 2050. Animal farming is currently responsible for at least 37 percent of total GHG emissions, although estimates vary. Therefore, it is extremely important to address animal agriculture in these cities that aim to keep the global surface temperature rise below 2°C for the next 30 years.
The University of California, Berkeley's CoolClimate Network, for example, reports that the city's food sector generates nearly seven metric tons of CO2 equivalent per household. Most of these emissions are associated with meat and dairy.
Land conservation and GHG emissions
The WRI also reports that a 50 percent plant-based shift in the average U.S. diet could reduce more than 40 percent of the nation's agriculture GHG emissions and land use (Figure 1). Because land conservation is widely known to be one of the most effective tools in sequestering atmospheric carbon, it represents a huge opportunity to cut our carbon footprint.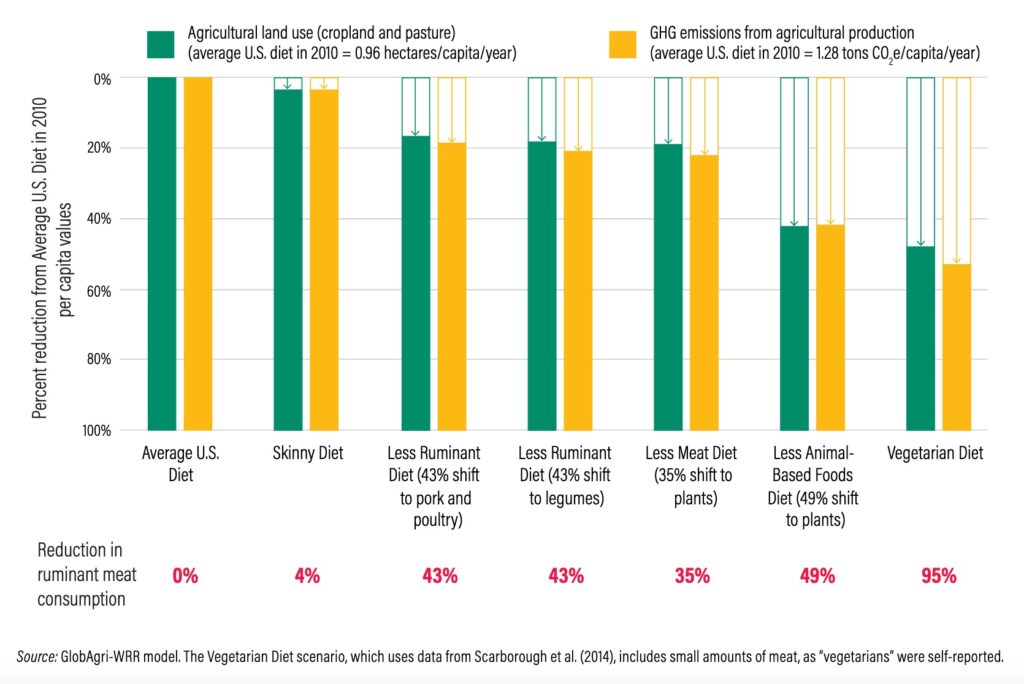 Earlier this year, President Joe Biden made his stance on conservation known, signing an executive order to conserve 30 percent of federal land by 2030. But as it stands, nearly 41 percent of U.S. land is currently used for livestock feed, including pastureland. Therefore, a plant-based shift is the most important factor in meeting President Biden's ambitious goal.
With 77 percent of farmland being used by the livestock industry to produce only 18 percent of the world's calories, a shift towards plant-based foods can also aid in the fight against world hunger and overcome food insecurity for the growing global population.
Environmental, health, and social impacts
Factory farms are predominantly located in Black and Brown communities, where they are notorious for contaminating the air, water, and soil with subsequent health impacts on local residents. In the U.S., jobs in the meatpacking industry are among the nation's most dangerous occupations, averaging two amputations per week. Now is the time for us to recognize the physical and psychological abuse of these workers, who are predominately people of color: Hispanic (44%) and African Americans (25%). By extending their efforts to increase plant-based options, U.S. cities can address the social, racial, and health disparities of the meat industry.
The resource-intensive livestock industry also does not provide us with healthy food. The International Agency for Research on Cancer (IARC) has reviewed more than 800 cancer research studies and has classified processed meat and red meat as carcinogenic and probable carcinogens, respectively.
Towards a kinder, more sustainable future
As humans our well-being is dependent on the health and well-being of the world around us. We live in a global community where hundreds of thousands of different species interact to form an intimately connected ecosystem. Eating plant-based will further our goal to make life more sustainable for everyone on this planet, including non-human animals. And as nearly 80 percent of the U.S. population lives in urban areas, urban populations have an opportunity to lead the way as we build more sustainable food systems.
Nilang Gor
Nilang Gor is a molecular biologist and founder of Cultivate Empathy for All, a nonprofit based in Berkeley, Calif.