Joaquin Phoenix joined international animal protection organization Animal Equality on Tower Bridge in London this morning, February 2nd, before the 73rd British Film and Television Arts (BAFTA) Awards, in a daring action to draw attention to animal agriculture's role in the climate crisis.
The group hung a massive 390-square-foot banner that read, "Factory farming is destroying our planet. Go vegan," from the iconic bridge as a plea to the public to break its dependence on animal products. Phoenix carried the banner onto the bridge alongside Animal Equality co-founders Sharon Núñez and Jose Valle.
This is not Phoenix's first act of protest this awards season. At the Screen Actors Guild awards last month, Phoenix made international headlines after he left the celebration early to attend a vigil for factory-farmed pigs on their way to slaughter.
At the Golden Globe Awards in January, Phoenix won the award for Best Actor in a Drama. He started his acceptance speech, "First, I'd like to thank the Hollywood Foreign Press for recognizing and acknowledging the link between animal agriculture and climate change."
Two weeks prior, the HFPA announced a historic menu change. Animal products would be left off the Golden Globes dinner menu entirely. "It's a very bold move making tonight plant-based, and it really sends a powerful message," Phoenix said in his acceptance speech. He will be on stage tonight at the BAFTA Awards and again at the Oscars, where he is nominated for Best Actor Academy Award. Both ceremonies will also be offering plant-based meals.
"I think we have a personal responsibility to take action right now and one way that we can mitigate climate change is by adjusting our consumption and by going plant-based," said Phoenix.
According to the latest research, going plant-based is the single best way to reduce your climate impact. More than half of all food emissions come from animal products, and half of all farmed animal emissions come from lamb and beef.
"I feel sometimes like it's not being talked about enough," he said. "So I'm just encouraging people to learn more about eating plant-based and to make a difference to make whatever personal impact they can on the climate emergency."
Throughout the action, Phoenix and other Animal Equality activists held placards showing the suffering of animals in factory farms, as well as the devastating impacts of animal agriculture on the environment and climate.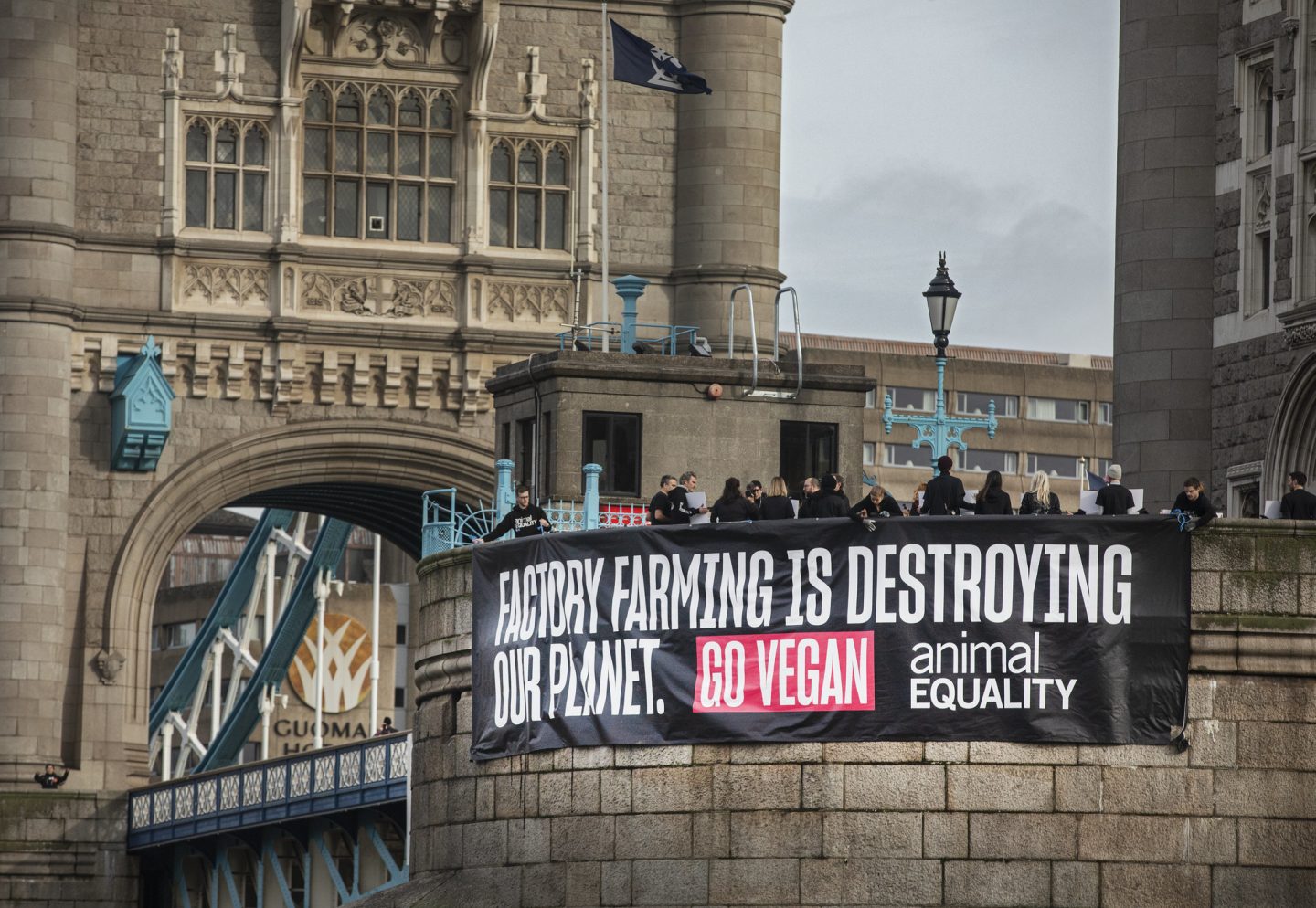 "When you witness the horror that really happens behind closed doors and slaughterhouses to farmed animals all over the world, it's impossible not to be affected by it and to realize that we have to do something drastic to stop it.
"I'm just doing my part and trying to amplify the voice of these activists that are out every day, doing something, taking action, and the least I can do is take some time off today and come here to talk about this issue," he said.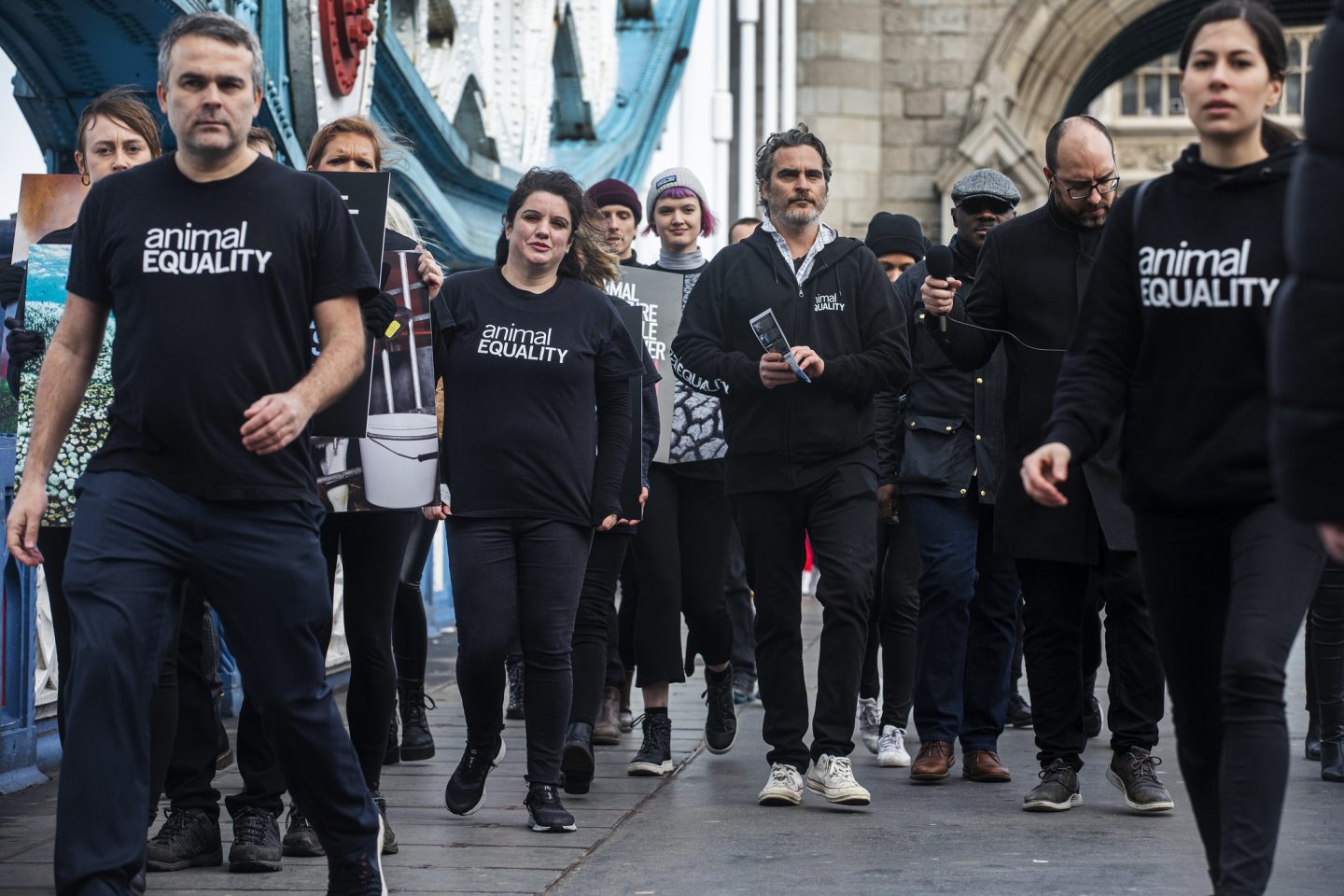 "Joaquin's dedication to animals and the environmental cause is extraordinary, he sees the absolute need for us to have serious conversations around the devastation that factory farming is having on animals, our planet, and our health," said Sharon Núñez, President of Animal Equality.
Phoenix also handed out leaflets and talked with people passing by about the power of a plant-based diet. He has been vegan since age 3.
"A vegan diet is one of the best ways to reduce our impact on the planet—by changing what we eat, we can change the course of our future," said Núñez.
The fight continues. Join Animal Equality today.
Matthew Zampa
Matt is an award-winning independent journalist. His reporting has been featured in USA Today, The Washington Post, HuffPost, Vox, PBS, and NPR, among others.