Early Monday morning, a group of activists locked themselves to the two front entrances of Interior Savings Credit Union on Bernard Avenue in downtown Kelowna, Canada, to protest the bank's support for RibFest Kelowna, a local festival that plays host to some of the nation's largest and cruelest pork producers.
At around 11 a.m., after hours of peaceful protest, Canadian Mounties arrived and arrested seven activists. The rest of the protesters moved to the police station to await their release. The activists were released late Monday evening. Police have yet to comment on whether or not charges will be filed.
This is not the first time RibFest is hearing from protesters. This summer, as festivities kicked off at RibFests across the country, nearly 100 activists with Kelowna Climate Save marched through the city's downtown center, blocking traffic and disrupting business-as-usual to bring attention to the outsized impact events like RibFest have on the environment. When traffic cleared, two things remained abundantly clear.
First, there are many ways of giving back to the community without the unnecessary torture and slaughter of pigs, and without contributing to the destruction of our planet. Second, not everyone agrees. This year's RibFest in Kelowna drew a record number of attendees.
The activists said they're escalating their tactics because they've "exhausted all forms of reasoning" with RibFest and its primary sponsor, Interior Savings. "We have protested, written e-mails, held demonstrations, and so much more," said Amy Soranno, one of the activists arrested on Monday. "This has been ongoing for many years now, yet our concerns have been laughed off, by not only the organizers of RibFest but also the sponsors of the event, such as Interior Savings."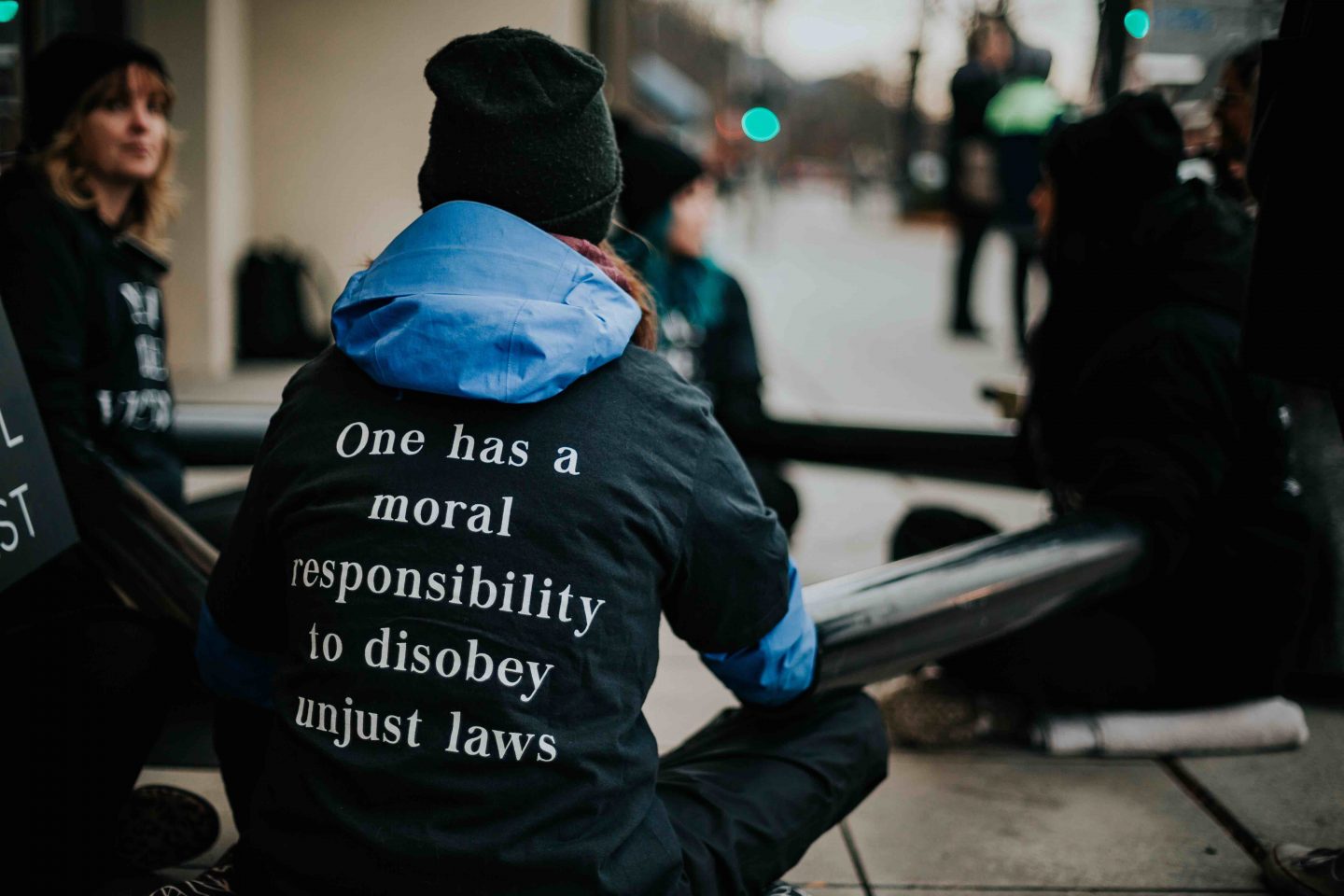 In a statement, Interior Savings said it met with the activists to hear their concerns but did not say they have any plans of pulling their support for RibFest. The bank also said it respects that "everyone has a right to their opinion and to choose a diet that makes sense for them." Although it's worth noting, Interior Savings does not extend that same right to choose or express a preference to the animals who spend their entire lives suffering only to be slaughtered and sold at RibFest by the truckload.
According to RibFest's website, Interior Savings is a major financial sponsor of Kelowna's RibFest, as well as many other RibFest's across Canada. The family-friendly events take place every summer and are a staple of local communities, who turn a blind eye to much of the animal suffering required to make RibFest happen.
Pork for RibFest is sourced from some of Canada's largest pig farmers. Excelsior Hog Farm – located in Abbotsford, British Columbia, a community that earns a higher dollar per acre of agricultural land than any other city in Canada – supplies pig ribs to many of RibFest's vendors. Sound familiar? The farm has been under scrutiny following multiple undercover investigations this year, including a video released by PETA. Excelsior was also the site of April's historic Meat The Victims action, where hundreds of animal rights activists gathered to draw attention to the cruel mistreatment of pigs inside the facility. Most recently, activists released a video containing hidden camera footage of the farmers and workers at Excelsior allegedly participating in criminal animal cruelty. Despite the seemingly damning evidence, more than 1,000 pigs are still being held at the facility and the farm continues to operate without penalty.
In response to the Excelsior Hog farm's investigative footage, Anna Pippus, who is the director of farmed animal advocacy at Animal Justice, Canada's leading animal law organization, stated that she saw "several clear Code of Practice violations." She went on to say, "these numerous documented code violations, and potential code violations, are concerning and warrant further investigation by appropriate authorities."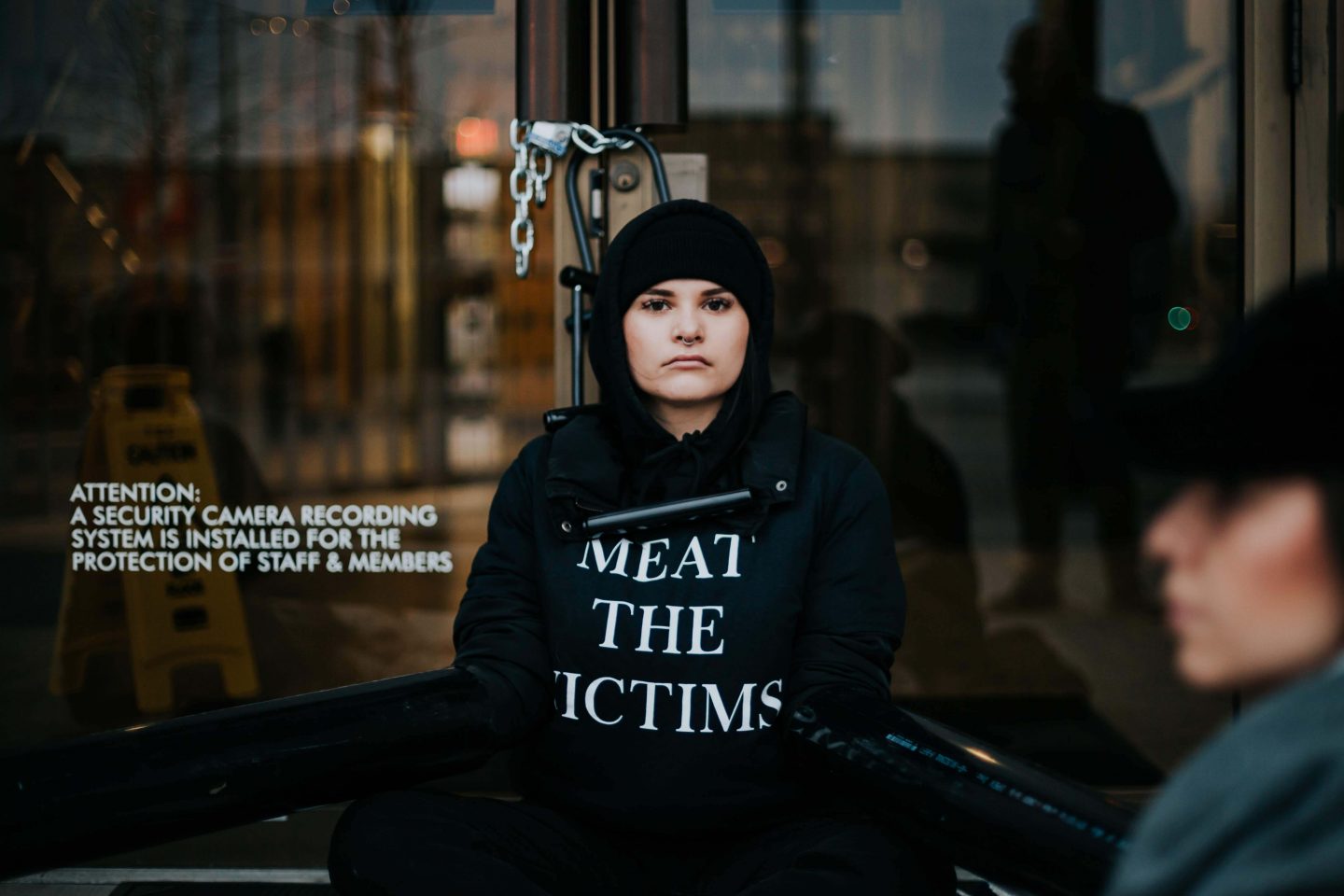 "Festivals like these cannot happen without sponsors donating money, therefore we are calling on Interior Savings to stop supporting a festival that destroys our environment and supports farms that have been proven to conduct criminal animal cruelty," said Soranno.
Outside of Interior Savings, activists displayed the undercover footage from Abbotsford on a TV screen along the sidewalk where seven other activists, all women, locked arms, blocking the entrance to the bank.
But Monday's lockdown wasn't just a protest over Interior Saving's involvement in animal abuse. Activists were also concerned about how Interior Saving's support for RibFest is contributing to the climate crisis. In June, Canada declared a national climate emergency, stating that we are facing a real and urgent crisis driven by human activity – most notably animal agriculture. They're not alone. Policymakers around the world are finally beginning to acknowledge the indisputable consequences of animal agriculture on the climate. According to the latest research, livestock is responsible for at least 37 percent of all greenhouse gases.
In almost every corner of the developed world, the effects of animal agriculture on the climate are overwhelmingly obvious. Animal farming causes an exorbitant amount of waste production, water pollution, greenhouse gas emissions, deforestation, and land degradation. None of these consequences are required to feed Canada's 37.5 million people, and almost all of them are avoidable.
So, how do we avoid climate catastrophe? According to 400 of the world's leading scientists, mass civil disobedience, like the protest outside Interior Savings yesterday, is an important part of effective climate action. The other half of the climate question is more straightforward: We have to change the way we eat. According to the latest research, that means cutting out animal products – and RibFest, entirely.
Matthew Zampa
Matt is an award-winning independent journalist. His reporting has been featured in USA Today, The Washington Post, HuffPost, Vox, PBS, and NPR, among others.