Earlier this year, Staffordshire Bull Terriers were officially named as Britain's favourite dog, in spite of years of controversy around their apparently innate, aggressive behaviour. Despite being bred to fight, the Staffie's unsquashable spirit and love of people has seen this pooch used as a companion dog since the 1800s. Yet this has not stopped them from becoming the breed that is most likely to end up abused, abandoned, and spending far too long in kennels.
In the UK's leading rehoming shelter, Battersea Dogs Home, 80 percent of the dogs up for adoption are Staffordshire Bull Terriers or Staffie mixes, and sadly this statistic can be applied across the country. In the kennel environment they are often labelled dog-reactive, stressed, hyper and 'a handful,' and are rarely in a condition to flutter those 'adopt me' eyes to passersby.
As was the case when my mum went to Dog's Trust Leeds in 2014 and came across Pixel (then named Jasmine), an 18-month-old Staffie mix who had been in kennels for six months of her short life, complete with a crinkled, worried forehead and a wide, incessant pant. She arrived as a stray with a nasty leg injury, a severe cough and signs of being a recent mum.
My mum was heading to the shelter to find a companion after her last rescue dog, Banjo (also a Staffie mix), passed away unexpectedly. The house had been too quiet for six months and my mum knew she needed to be with another dog, but she wanted someone who would not remind her of Banjo, so Staffie mixes were a no go. But as soon as she stepped foot in the kennels, and spotted that classic Staffie smile and energy (often misread as aggression), she knew she had found her companion.
A couple of weeks later Pixel leapt into the house, jumped on everything, thoroughly tested the beds, sofas and even tables. She was pretty manic. She could not eat and she had a pink, stressed face, visible through her white fur.
But my mum thrives on routine, and so does Pixel. After a few weeks of a calm and steady life, she began to trust that walks, food, and love were all coming her way and was happily off lead in the local parks chasing the ball and rolling in the grass. The lessons my mum learnt with Banjo really helped her rehabilitate Pixel and whilst the pain of his loss will always be with us, it was through his loss that Pixel found her forever home.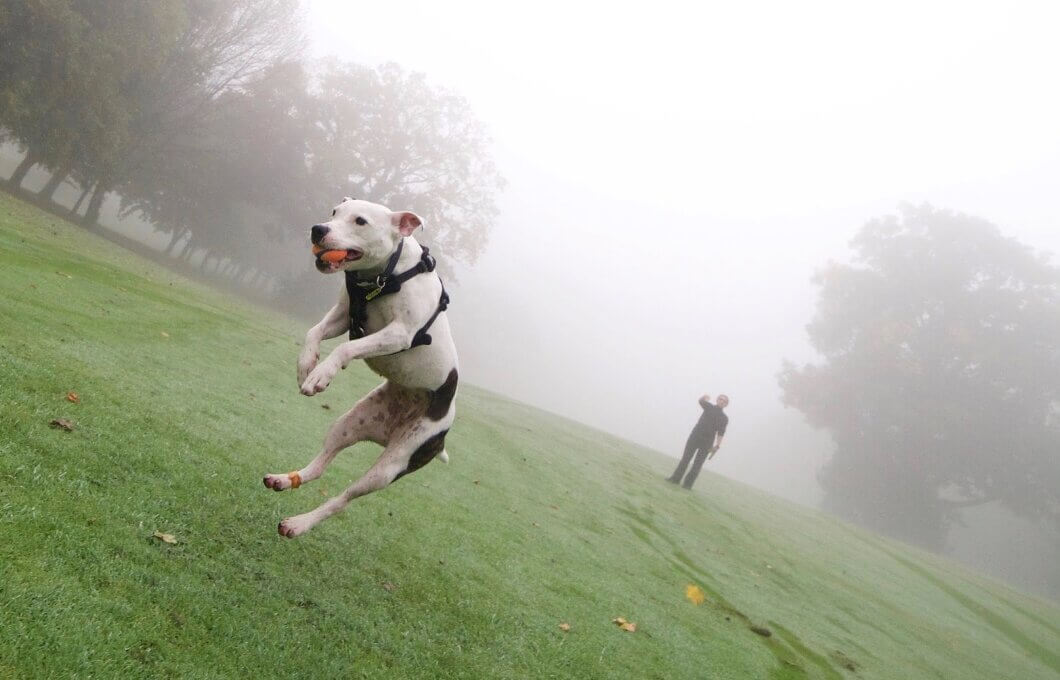 Pixel has had an incredible impact on my mum's life, but also on my partner's and mine too. We move around a lot and have not been able to adopt a dog as, frustratingly, landlords in the UK rarely allow pets. Whilst I have not lived at home for 14 years, my partner and I return often, mainly so we can enjoy Pixel. Sorry mum. While we are home, my mum does not see much of Pixel, she is up on our bed or out on a long walk with us. Her greeting when we arrive wipes away even the worst of journeys; once it took us over 10 hours for what should have been a five hour drive, but as soon as you see her face, any stress evaporates (perhaps with the help of a little wine too).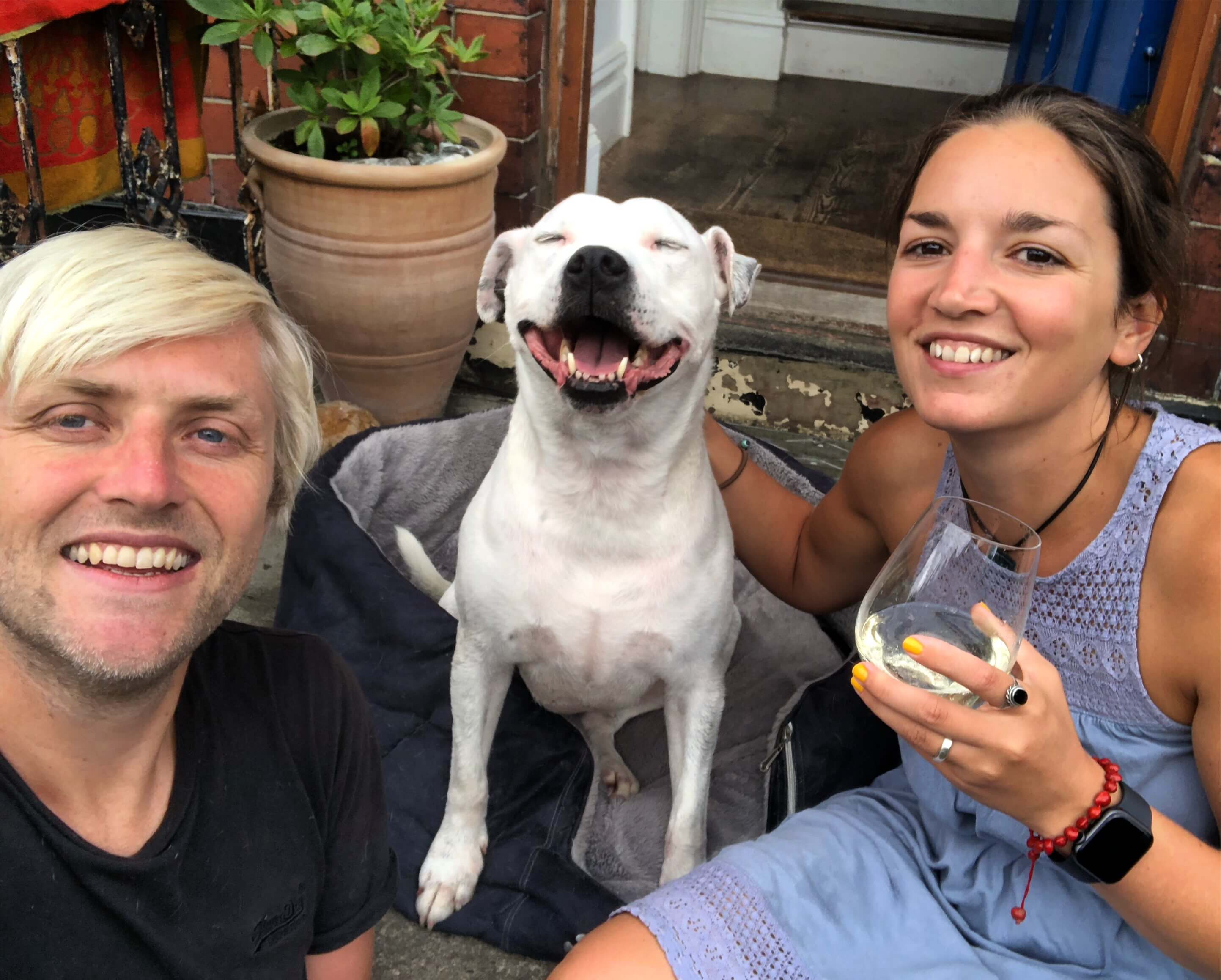 Pixel has learnt that when we pack our suitcases it means we are leaving, and she will leap onto them as if she wants to be packed up and come with us. Either that or it is like a comfy pillow; Princess Pixel does not do floor sitting.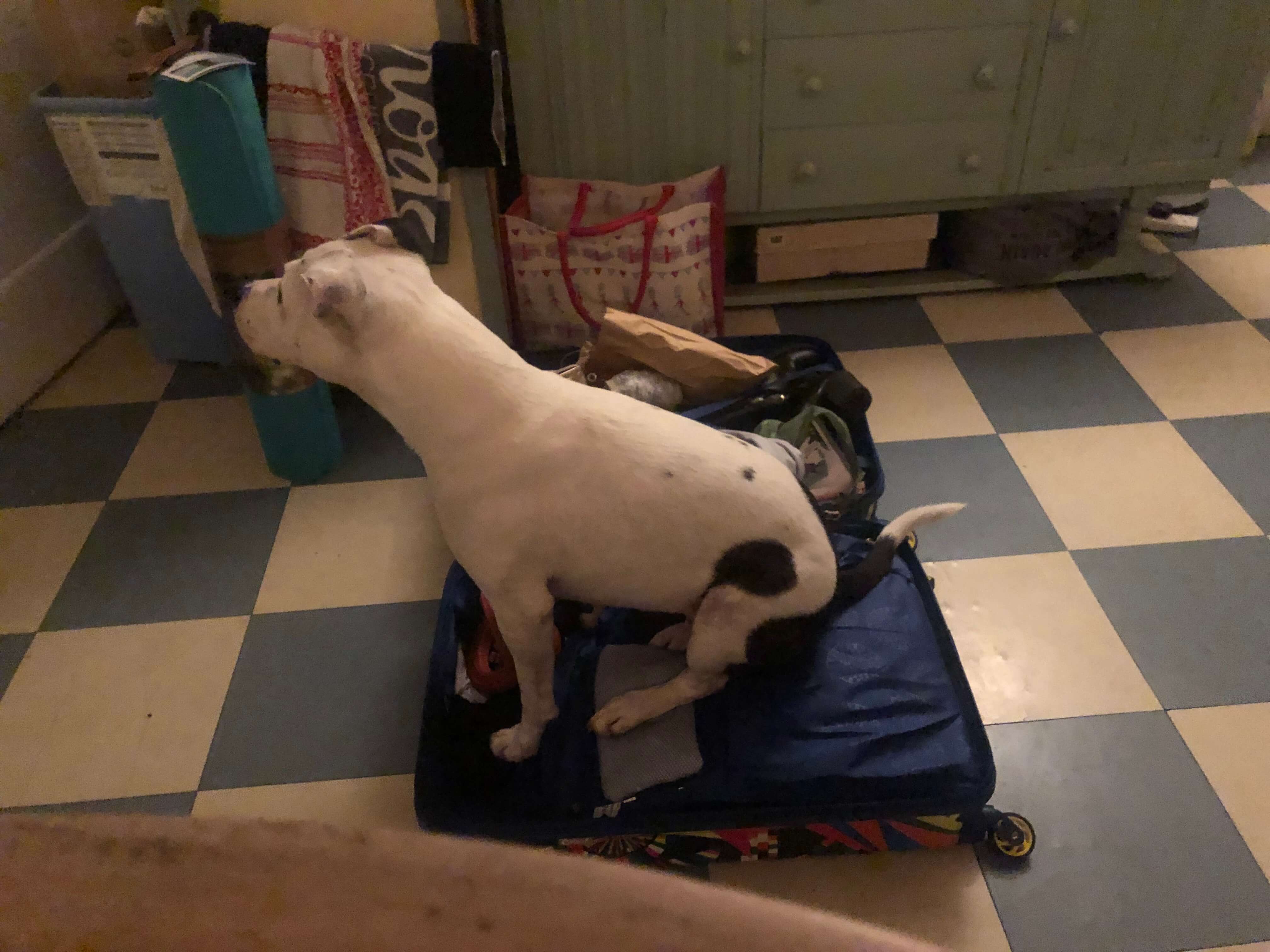 She actually thinks she is a lap dog, but last time I checked, lap dogs do not weigh 20 kilograms…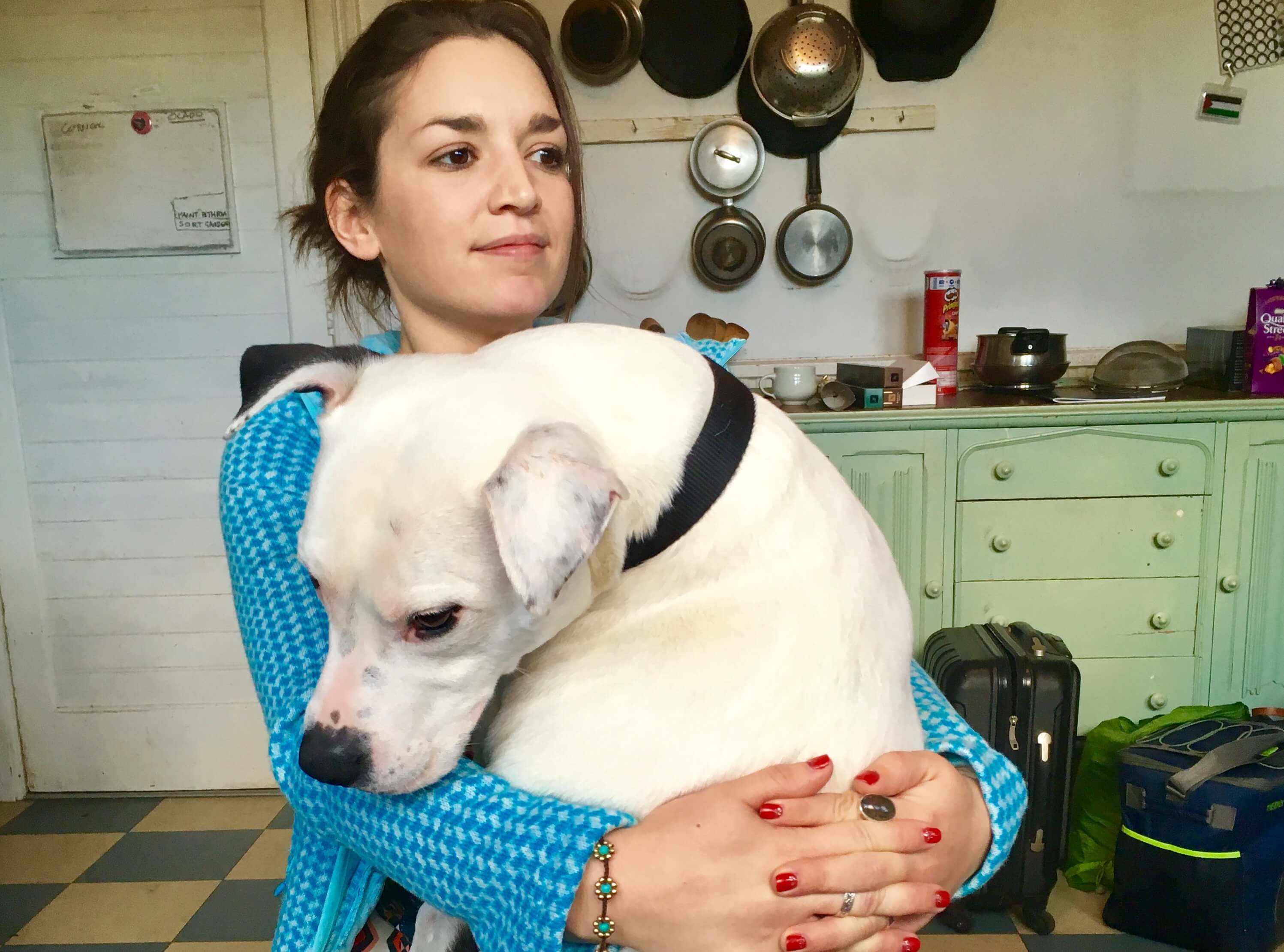 Princesses do not do kennels either, so on my annual holiday with mum, my partner foregoes the sun and stays at home to look after Pixel. Sometimes I wonder if he is actually part dog…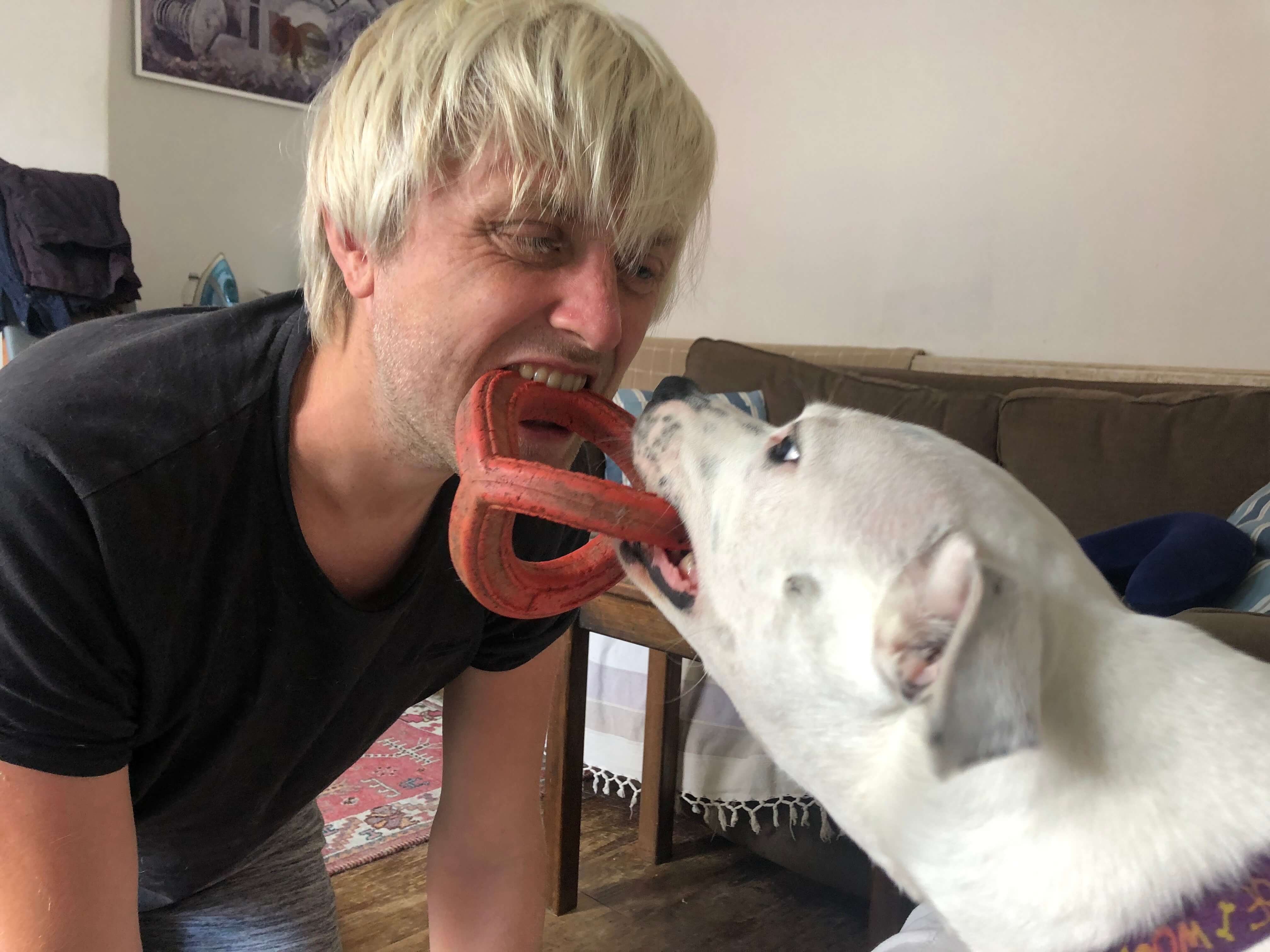 This previously discarded creature brings so much love, joy, and relaxation to our family, and to other people around her. Like the dog-less local children who rush out to pamper her and throw the ball when they see her at the park. They even argue about whose turn it is to hold her lead, learning valuable skills for when they rescue their own dog one day. All the while Pixel oozes love, patience, affection, and maybe a bit of mud…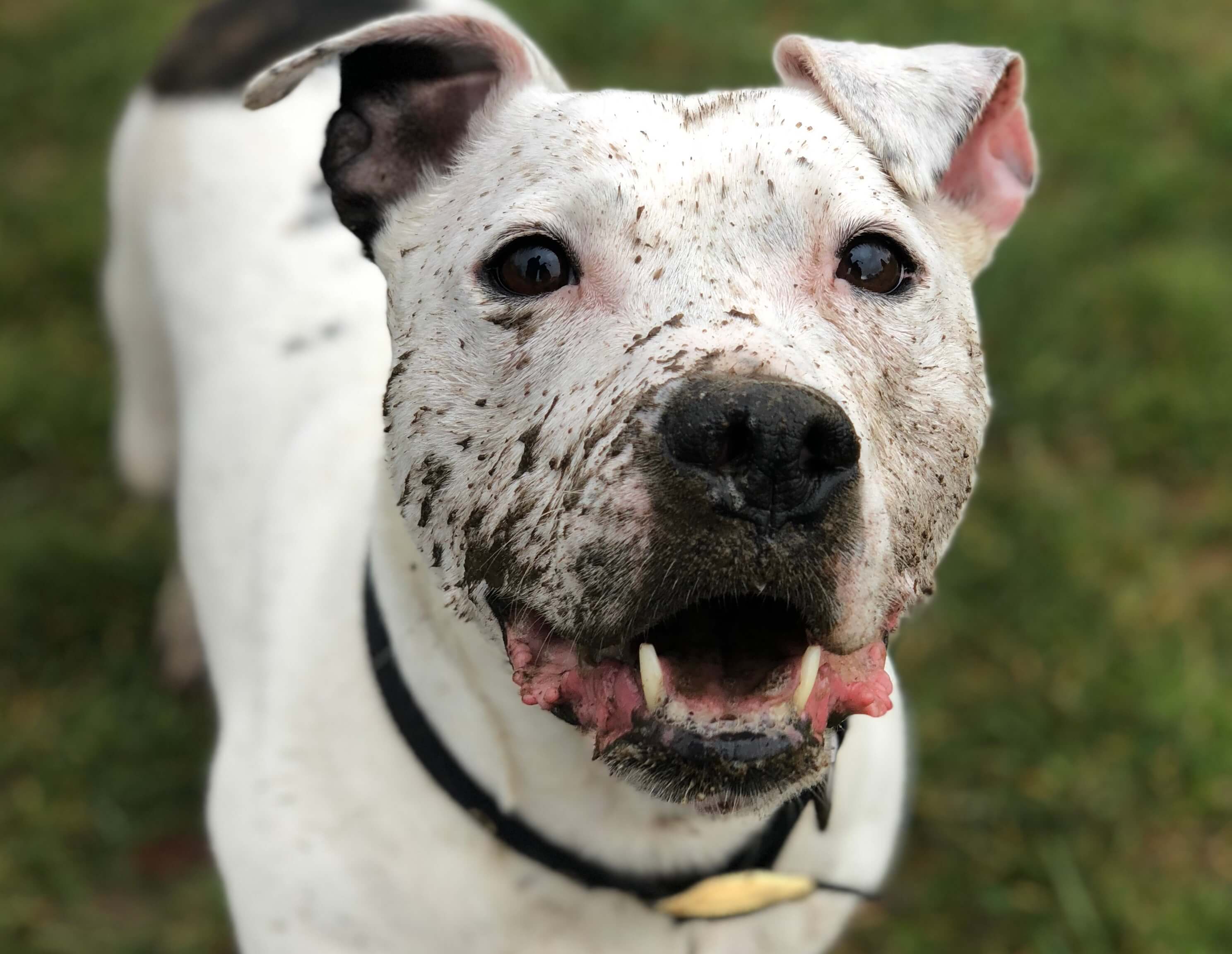 As with most rescue dogs, we do not know her history, we never will. But her inability to play with other dogs tells us she was taken from her litter too young, her scars and severe cough show how she was neglected, the fact that she never tries to run away shows how she was dumped, the condition she arrived in showed how she had recently had pups. Whatever she experienced, is long forgotten now, all that is left for us and the Princess is endless cuddles, walks, and fun.
Whatever country you are in, whatever dog you think you want, take a trip to your local shelter, you might walk away with the companion you did not realise you needed and it will be the best thing that ever happened to you.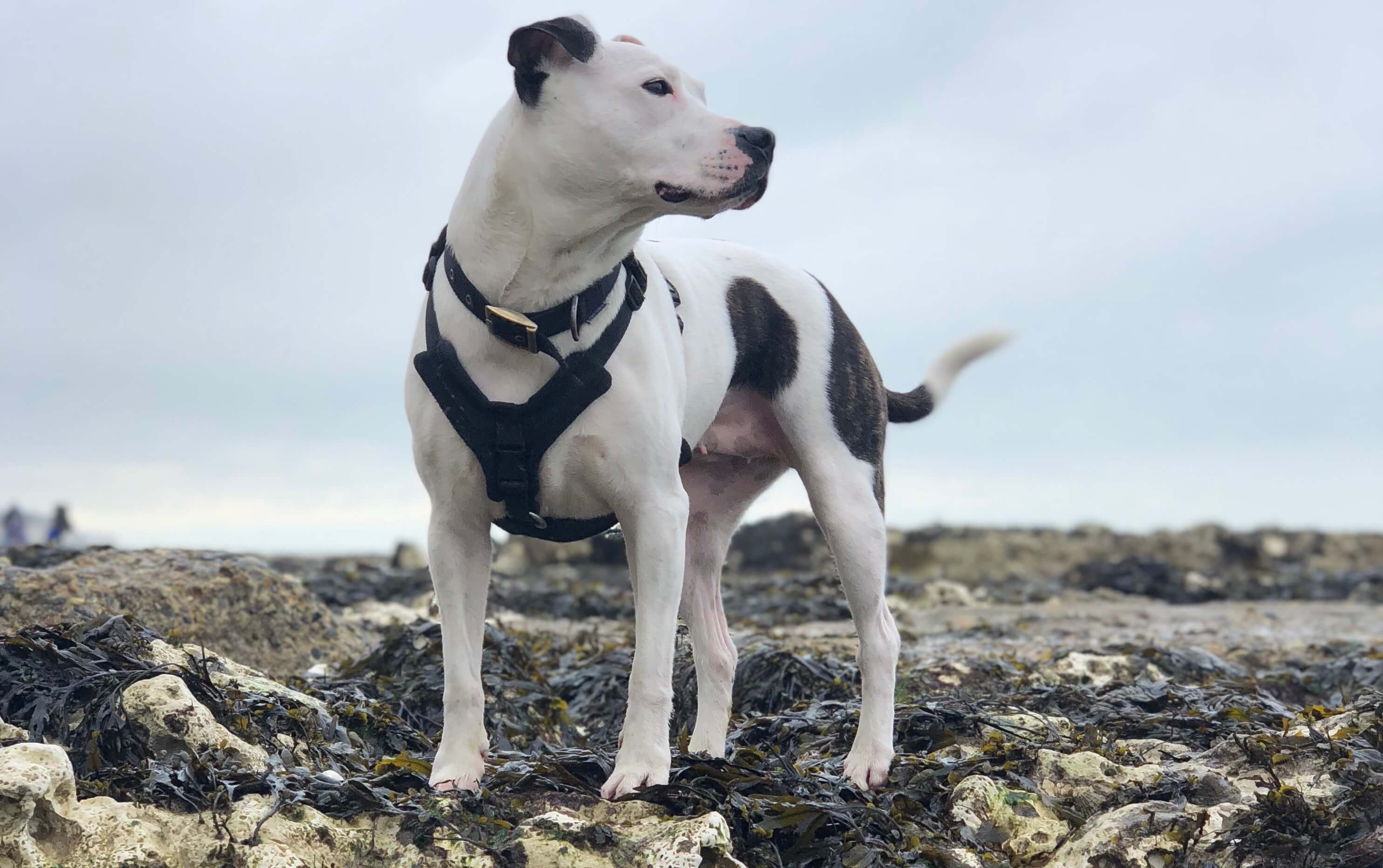 Our Companions is a series focusing on the companion animals that add life and love to Sentient Media's editorial team.
Ana Bradley
Ana is the Executive Director at Sentient Media. Her background is in content production and startup consultancy.