Sentient Media is a nonprofit media organization that produces independent reporting on farmed animal lives and our broken food system. Our mission is to increase public awareness of key issues that matter to all of us: the treatment and well-being of all sentient beings and the health of our planet.
We believe exposure is the first step toward behavioral change. That's why we bring together journalists, digital marketing, and tech expertise to reach a diverse audience. So far in 2020, our animal-related content has reached over half a million readers, with over 8.8 million first page impressions on Google and 43 articles placed in outside media including The Guardian, USA Today, WIRED, NY Daily News, Citizen Truth, The Times, and more.
About Sentient Sessions
The fourth Thursday of every month*, we will run 60-minute exploratory sessions bringing together independent journalists, editors, undercover investigators, and other experts from across the industry to share their experiences and offer insight into their successes, failures, and work. Expect to hear from diverse voices, from within and outside the animal rights movement.
Originally designed for our extensive Writers' Fellowship Program where we work with 90+ established and emerging writers to get placement in mainstream media, we're thrilled to be able to open this series out to anyone interested in the content. All donations we receive will go towards the running and growth of this series.
*November's session will take place on Tuesday, November 17th to allow for Thanksgiving celebrations.
Past Sessions – 2020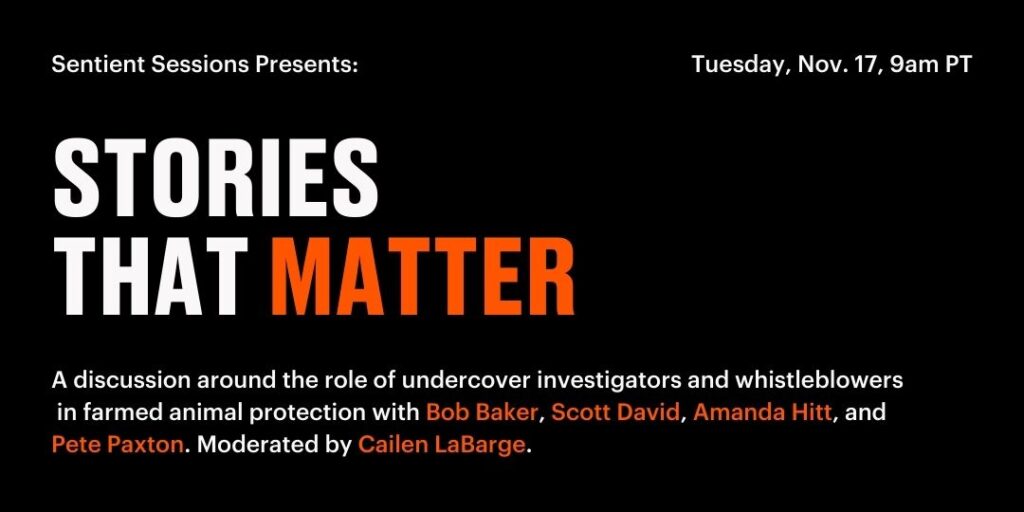 Tuesday, November 17th, 9am-10:30am PT
Stories that Matter: The Role of Undercover Investigators and Whistleblowers In this session, you will meet undercover investigators Bob Baker, Scott David, and Pete Paxton, whistleblowers, and Amanda Hitt, the Director of Government Accountability Project's Food Integrity Campaign as they take part in a discussion about their role in the protection of farmed animals. Moderated by Cailen LaBarge, co-founder of Strategies for Ethical and Environmental Development (SEED). Hear about the law, the people, and the techniques to get to the truth and build stories that matter. Additional speakers announced soon.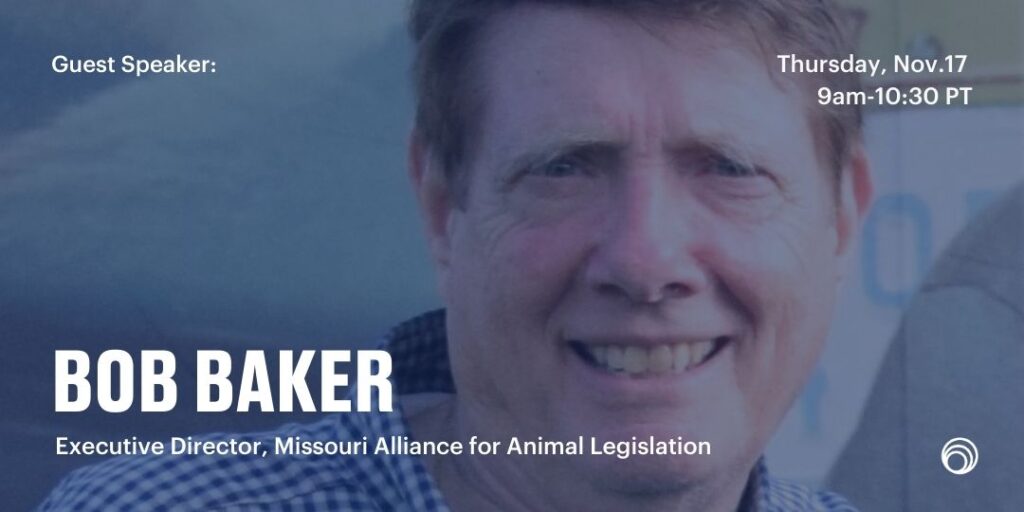 Bob Baker, Executive Director at Missouri Alliance for Animal Legislation
Bob Baker has been active in animal welfare since 1977 and is a nationally recognized authority on animal cruelty. His work on investigations, legislative initiatives, and his advocacy efforts on behalf of animals, has been widely acclaimed. Bob brings extensive experience to the Alliance, having worked for both national and local humane organizations during his career. While with the ASPCA, he played a key role in efforts to combat the cruelties of puppy mills and to effect the passage of precedent-setting legislation in Pennsylvania regulating large-scale commercial dog breeding operations. In addition, Bob served as Chief Investigator for the Humane Society of the United States for several years.
His investigations into animal fighting ventures led to the arrests of hundreds of individuals. He also spearheaded an extensive investigation into the commercial dog breeding industry, inspecting more than 1000 puppy mills during the past thirty years. These efforts generated a tremendous amount of national publicity, the closing of numerous puppy mills, a probe by the federal government's General Accounting Office, and the closing of the nation's largest pet store chain, Docktor Pet Center.
Bob's investigations into farm animal cruelty on behalf of the Humane Farming Association have uncovered wide-scale abuses at the largest hog and dairy operations in the country. In addition, Bob has investigated horse racing and dog racing abuses, dog theft rings, cults that sacrifice animals, as well as numerous other forms of animal abuse. Bob conceived and aided in the production of several national news exposés on animal abuse including pieces on 60 Minutes, 20/20, Dateline, HBO and Animal Planet. He has been a tireless spokesperson over the years on a host of animal issues.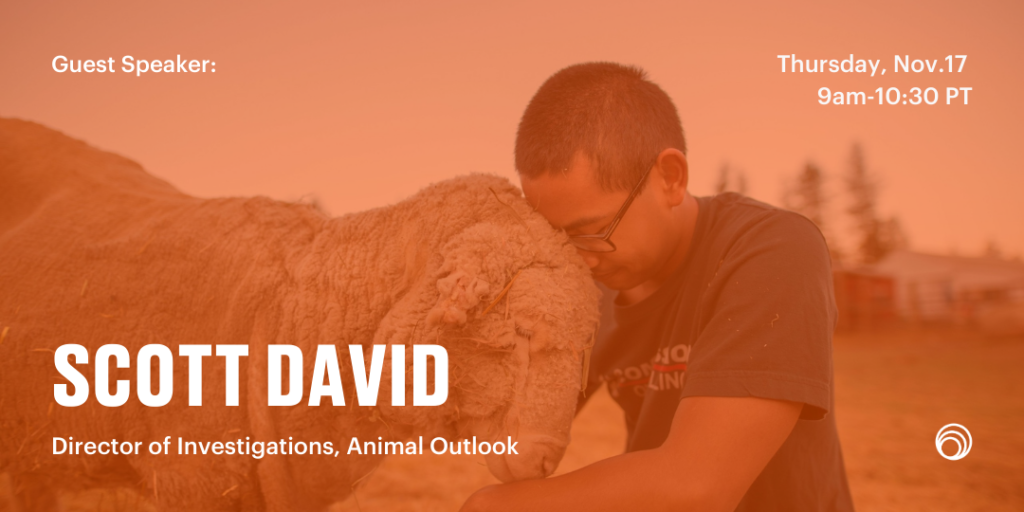 Scott David, Director of Investigations, Animal Outlook
Scott David is the Director of Investigations at Animal Outlook. He also speaks at events nationwide about his firsthand experiences as a former investigator.
Scott was an undercover investigator for Animal Outlook (formerly Compassion Over Killing) for two years. His investigative work has offered the first hidden-camera look inside a U.S. lamb slaughterhouse, and at a Hormel supplier slaughter plant, exposed the horrors of a cruel USDA high-speed slaughter pilot program that could be expanded to facilities nationwide. Scott's investigative video from inside a Mountaire Farms chicken slaughterhouse in North Carolina, exposing shocking animal abuse, was filmed as a dangerous ag-gag law made its way through the state legislature — revealing the dangers of this type of legislation aimed at preventing investigations and whistleblowing.
His footage has shed light on the plight of animals in slaughterhouses across the country, resulting in media headlines from The New York Times, The Washington Post, Associated Press, CNN, and more in the U.S. and internationally. Scott earned his Master's Degree in Applied Ecology and has worked at an afterschool program, teaching children about animals and the environment.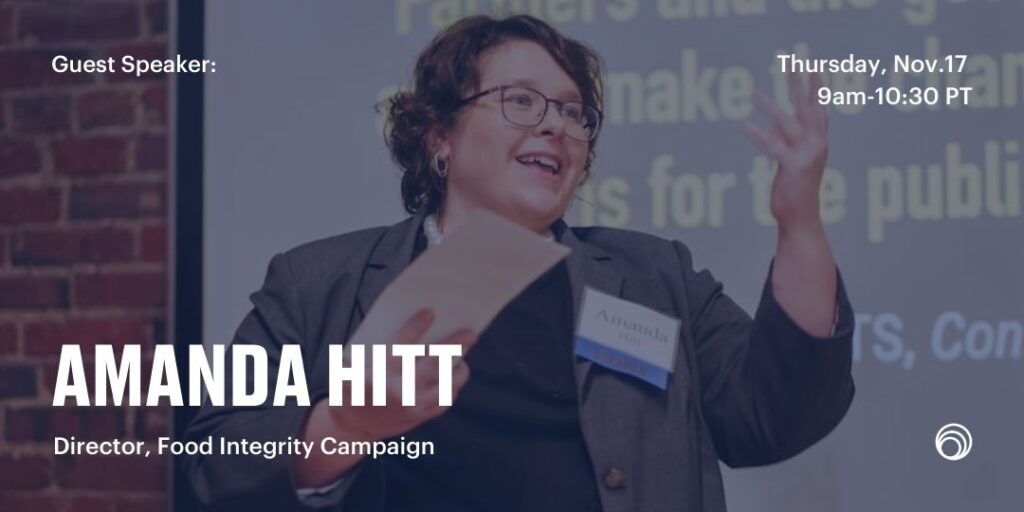 Amanda Hitt, Director at Food Integrity Campaign
Amanda is the Director of Government Accountability Project's Food Integrity Campaign (FIC). Amanda oversees FIC operations and is responsible for ensuring that FIC fulfills its mission of enhancing food integrity by facilitating truth-telling. To do this, Amanda works closely with partner organizations, clients, legislators, and the media to alter the balance of power between the food industry and consumers. She acts to protect the rights of those who speak out against the practices that compromise food integrity, and empower whistleblowers and food activists.
Amanda has a background in both law and public health. She graduated cum laude from the University of Baltimore School of Law and received her Master of Public Health from Johns Hopkins. She has clerked for the Equal Employment Opportunity Commission, worked in private practice, and taught as an Adjunct Professor of Law. In addition to her work as a lawyer, Amanda has worked on Alzheimer's clinical trial studies at the National Institutes of Health, HIV risk communications for the University of Maryland, and served as a domestic violence research interviewer for the Johns Hopkins Bloomberg School of Public Health. Before joining Government Accountability Project in 2008, Amanda worked as a fellow for the Family Violence Prevention Fund (now Futures Without Violence) and authored a peer-reviewed law journal article that advocated for the use of public health tools for legal decision making.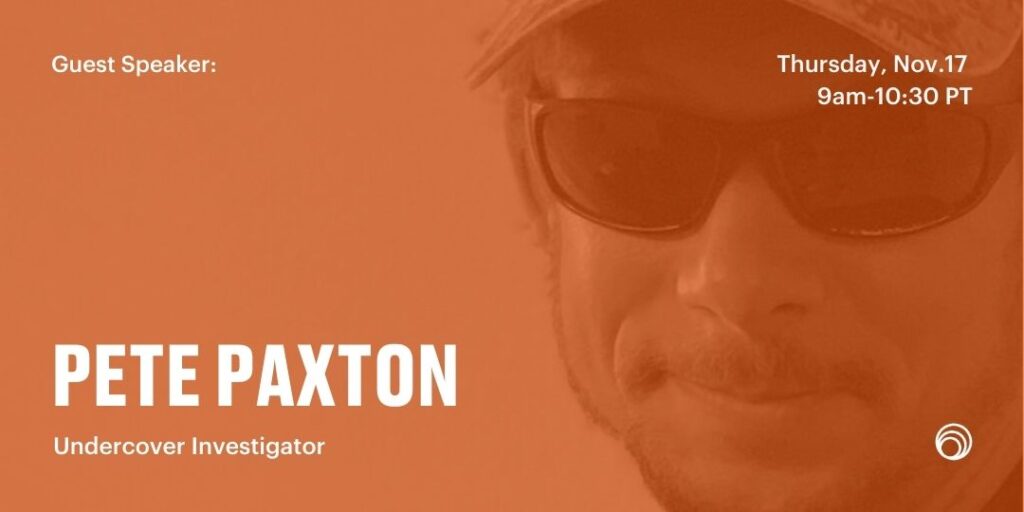 Pete Paxton, Undercover Investigator
Pete Paxton has been doing animal cruelty investigations since 2001, uncovering abuse at puppy mills, factory farms, slaughterhouses, commercial fishing boats, and pet stores. He has worked in the U.S., Canada, Mexico, Brazil, India, and the Philippines, finding and training investigators in several countries.
His work has been covered in the HBO documentaries "Dealing Dogs" and "Death on a Factory Farm," and the National Geographic documentary "Animal Undercover." He is the author of Rescue Dogs and has been awarded a Coin of Excellence from the U.S. Attorney's Office of Arkansas for his role as an undercover investigator to help shut down a seller of dogs and cats to research labs.
Much of Pete's work has involved working undercover for weeks or months as facilities, enabling Pete to understand the plight of undocumented immigrants exploited in agriculture, and the factors amongst all commercial animal operations that lead to predictable criminal behavior.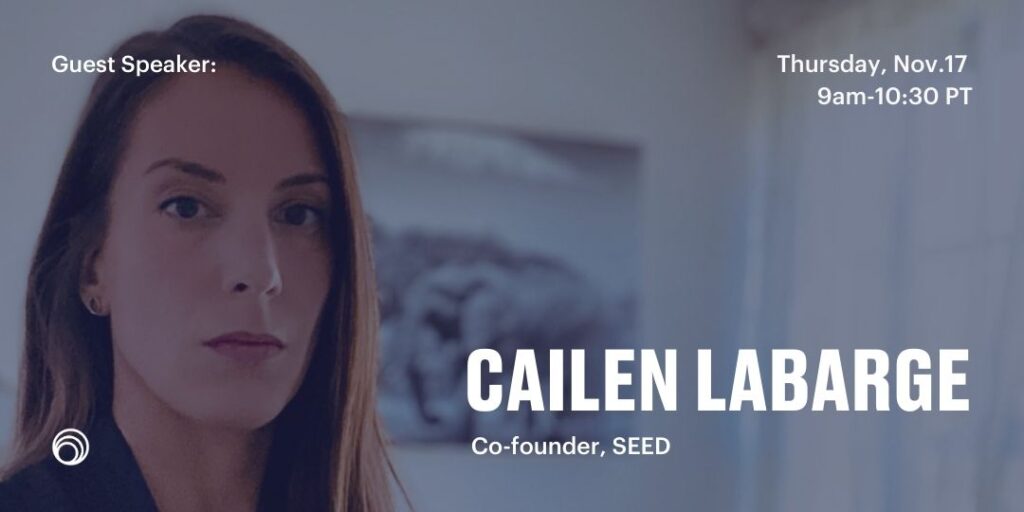 Cailen LaBarge, co-founder of Strategies for Ethical and Environmental Development
Cailen is an animal advocate and highly accomplished U.S.-based non-profit attorney. Since going vegan in law school, she has worked with a number of animal protection organizations. Recently, Cailen served as General Counsel for the international farmed animal protection organization, Animal Equality, where, among many achievements, she implemented consumer protection litigation and a program that aims to address ineffective regulatory oversight of animal agriculture industries.
To sign up for any of our sessions, view our EventBrite page.
View our full Sentient Sessions playlist here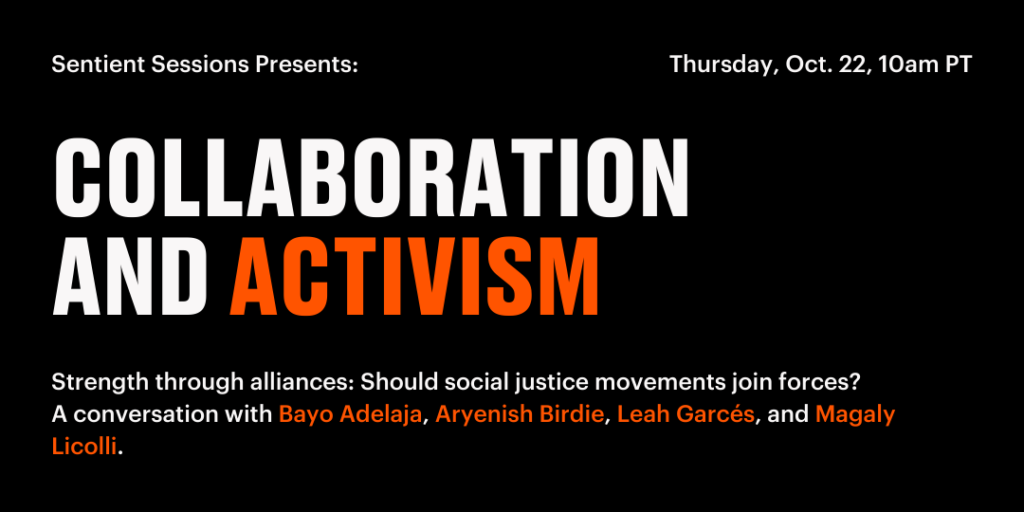 Thursday, October 22nd, 10am-11:30am PT
Collaboration and Activism: Building Strength Through Alliances In this session, Encompass' Executive Director, Aryenish Birdie, will navigate thought-leaders and journalists of different perspectives through a discussion about the history of the animal rights movement and look to the future, shining a spotlight on communities of color, immigrants, farmworkers, and more—followed by an audience Q&A. Featuring Bayo Adelaja of Do It Now Now, Leah Garcés of Mercy for Animals, and Magaly Licolli of Venceremos.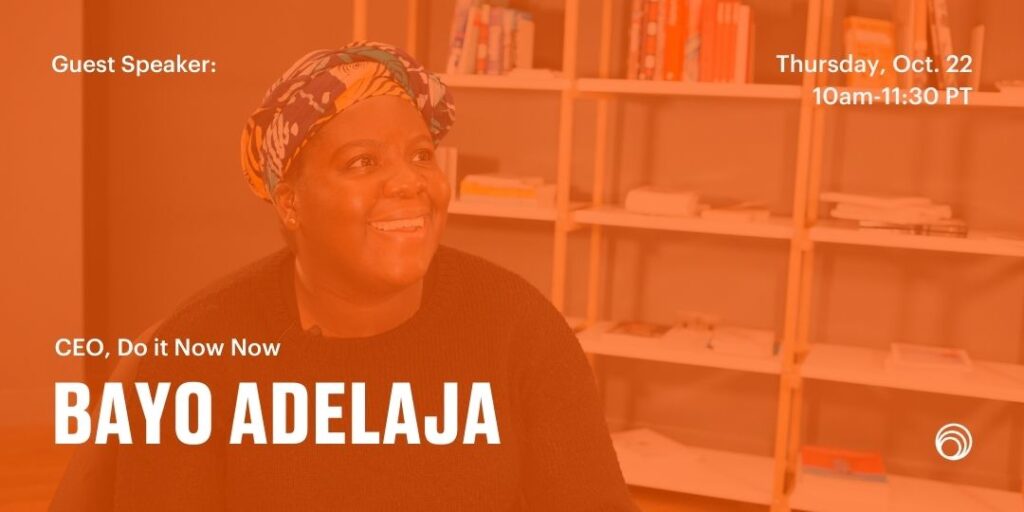 Bayo Adelaja, CEO, Do It Now Now
Bayo Adelaja is the founder and CEO of Do it Now Now; which she founded in 2016 in response to gaps in the support available to Black innovators building tech companies and social enterprises in the UK and across Africa. The initiatives Bayo developed for Do it Now Now have led to awards by both Harvard University and Oxford University's Business Schools for her work to create and foster opportunities for under-served communities through technology. 3 communities/initiatives she designed to support underrepresented people in tech, were named "Top in Europe" by FT-backed digital news platform, Sifted.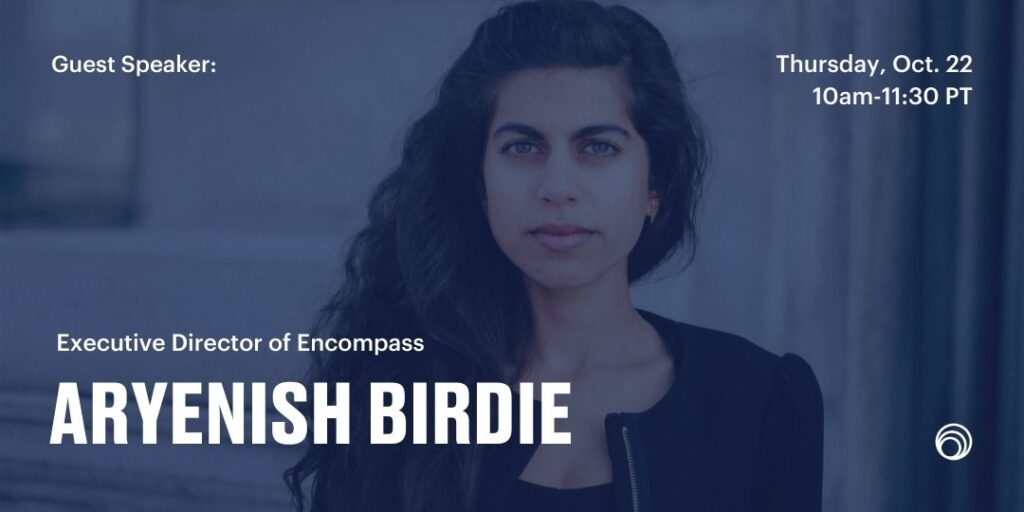 Aryenish Birdie, M.A., Executive Director of Encompass
Aryenish is the founder and executive director of Encompass, a nonprofit working to make the animal protection movement more racially diverse, equitable, and inclusive. Prior to Encompass, Aryenish spent seven years at the Physicians Committee for Responsible Medicine promoting alternatives to animal tests. Aryenish received a degree from Hampshire College in critical social thought/race and feminist theory and her Master's in Public Management from Johns Hopkins University.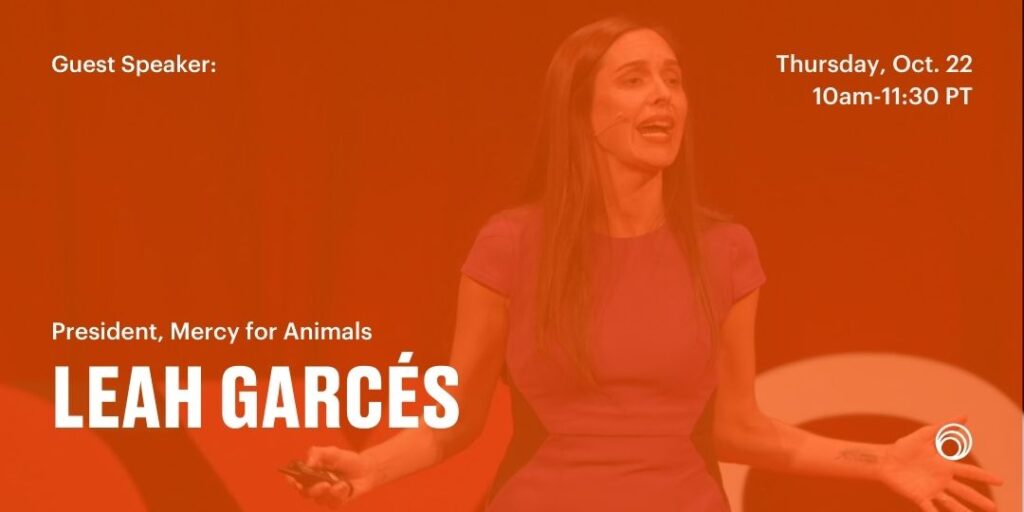 Leah Garcés, president of Mercy For Animals
Leah Garcés is the president of Mercy For Animals and author of Grilled: Turning Adversaries into Allies to Change the Chicken Industry. She has nearly 20 years of leadership experience in the animal protection movement and has partnered with some of the world's largest food companies on her mission to build a better food system.
Leah oversaw international campaigns in 14 countries at the World Society for the Protection of Animals and launched Compassion in World Farming in the United States. Her work has been featured in many national and international media outlets, including the New York Times, the Washington Post, BuzzFeed, VICE, and the Chicago Tribune. Leah has an M.S. in Environment and Development from King's College London and has presented at global forums including RIO+10 and the World Health Organization conference on the detrimental impact of industrial animal agriculture on health, food sovereignty, and sustainability.
Half Colombian and half American, Leah has lived in Spain, the United States, and the United Kingdom. She is fluent in English and Spanish.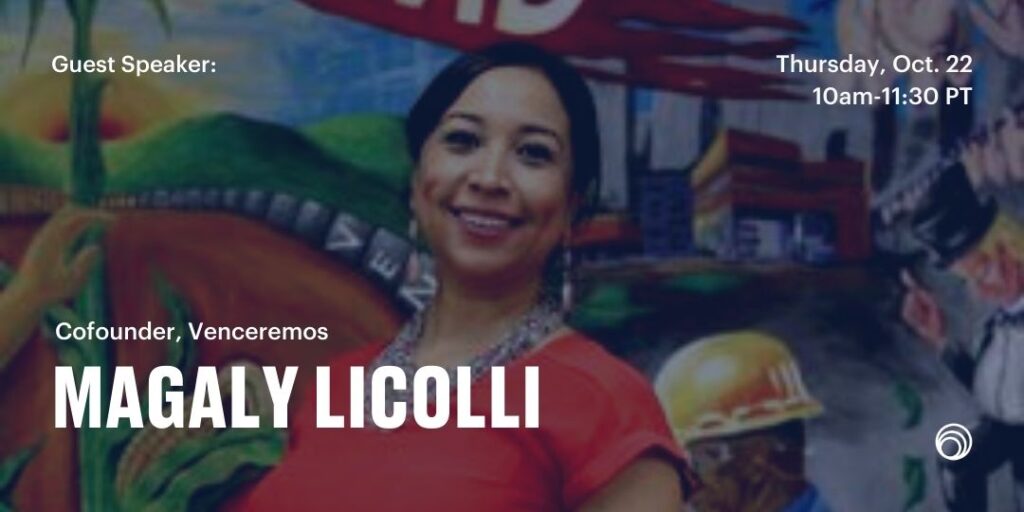 Magaly Licolli, cofounder of Venceremos:
Magaly Licolli was born in Leon, Guanajuato, Mexico. She moved to Arkansas in 2004. Her interest in labor led her to become involved with poultry processing workers. Throughout her work, Licolli has participated as Steering Council Member of HEAL Food Alliance, and Co-Chair at the National Steering Council of Interfaith Worker Justice.
Her vision to ensure fundamental human rights of poultry workers led her to collaborate with the Coalition of Immokalee Workers to expand the Worker-driven Social Responsibility model to the poultry industry. In 2019, Licolli co-founded Venceremos, a worker-based organization in Arkansas whose mission is to ensure the human rights of poultry workers.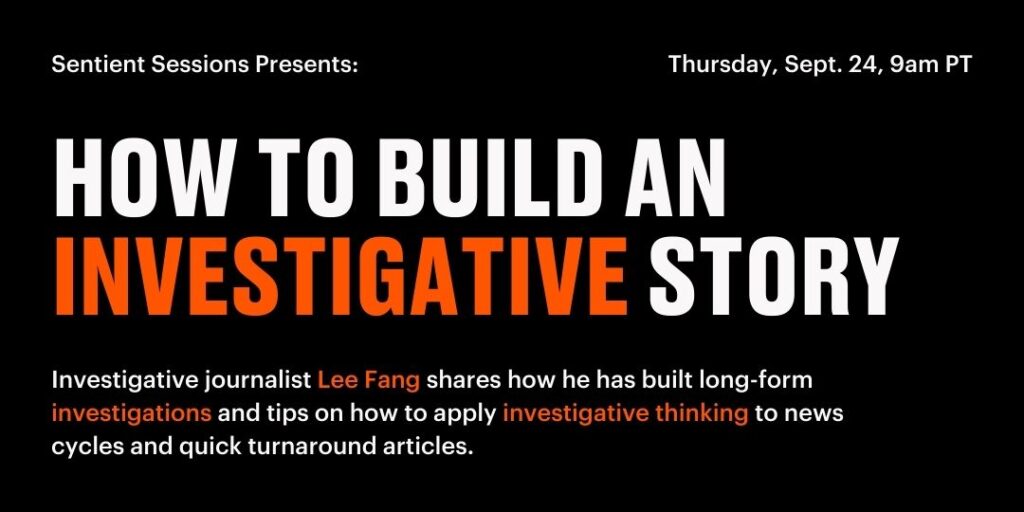 How to Build an Investigative Story with Lee Fang—investigative reporter for The Intercept. In this session, investigative journalist Lee Fang will share how he built a couple of long-form investigations and share tips on how to apply investigative thinking to news cycles and quick turnaround articles, followed by an audience Q&A.
Lee Fang, investigative journalist for The Intercept
Lee Fang is a journalist with a longstanding interest in how public policy is influenced by organized interest groups and money. He was the first to uncover and detail the role of the billionaire Koch brothers in financing the tea party movement. His interviews and research on the Koch brothers have been featured on HBO's The Newsroom, the documentaries "Merchants of Doubt" and "Citizen Koch," as well as in multiple media outlets. He was an investigative blogger for ThinkProgress from 2009 to 2011, and then a fellow at the Investigative Fund of the Nation Institute and contributing writer for The Nation.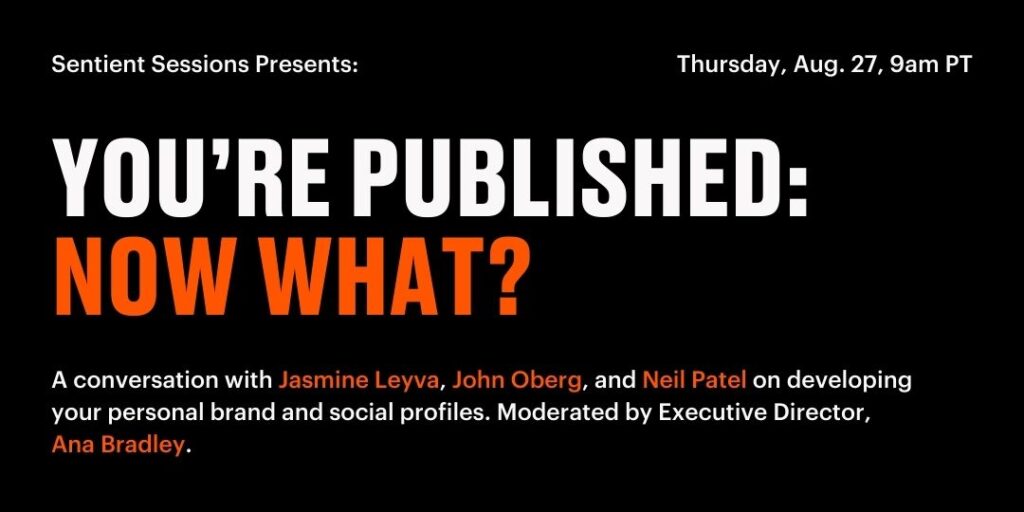 You're Published: Now What? This session will leave you with the tools you need to develop your personal brand and develop your social profile. Featuring vegan influencer and producer of The Invisible Vegan Jasmine Leyva, New York Times bestselling author and top web influencer Neil Patel, and social media influencer John Oberg, moderated by Executive Director of Sentient Media, Ana Bradley.
Jasmine Leyva, actress, social media influencer, and the producer of The Invisible Vegan:
Jasmine Leyva is a filmmaker and actress based in Los Angeles. She holds a Bachelor of Arts in TV, Film, and Media and a Masters of Fine Arts in Screenwriting. Leyva worked as an Associate Producer on the NAACP Award-winning docuseries, Unsung, and was subsequently a writer and producer for Being, a docuseries highlighting dynamic entertainers in film and music.
In 2019, Jasmine and Kenny Leyva released their own feature-length documentary, The Invisible Vegan, a film that chronicles Jasmine's personal experience with plant-based eating. The film also explains how plant-based eating is directly linked to African roots and how African-American eating habits have been debased by a chain of oppression stemming from slavery, economic inequality, and modern agribusiness. The film has received a wealth of acclaim, including recognition for US Senator, Cory Booker. She currently teaches media writing at California State University, Northridge and she is in pre-production for two new self-produced projects.

Neil Patel, founder of NP Digital, Ubersuggest, Crazy Egg, and Subscribers
The Wall Street Journal calls Neil Patel a top influencer on the web, Forbes says he is one of the top 10 marketers, and Entrepreneur Magazine says he created one of the 100 most brilliant companies. Neil is a New York Times bestselling author and was recognized as a top 100 entrepreneur under the age of 30 by President Obama and a top 100 entrepreneur under the age of 35 by the United Nations
John Oberg, social media influencer
John is dedicated to making the world a kinder place for animals by utilizing the power of social media. In 2019, he launched his own independent, patron-funded project for animals to maximize his impact for animals. Previously, he served as Director of New Media for the international animal protection organization, The Humane League, and as Director of Communications for Vegan Outreach. In 2019, he had over 200 million impressions of his content on social media.
Ana Bradley, Executive Director at Sentient Media
Before joining Sentient Media, Ana had over ​ten years of experience​ in designing, producing, and distributing large scale digital campaigns and content strategies for a wide range of clients from charities to tech startups to global corporations with her digital media company PYPR.
Nothing but the Facts: Fact-Checking and Verification for Animal Rights with Christopher Sebastian: In this session, Christopher Sebastian offers insight, tools for fact-checking, and explains why we must be consistent and thorough with the truth when it comes to reporting.
Christopher Sebastian, author, researcher, and lecturer
Sebastian is the director of social media for Peace Advocacy Network. He sits on the Advisory Council for Encompass; he is senior editor at Vine Sanctuary Press; he is co-founder of VGN; and he lectures at Columbia University in the Department of Social Work for the graduate course POP: Power, Oppression, and Privilege. He primarily focuses on animal violence and how it influences anti-black racism, queer antagonism, and class discrimination throughout the global west.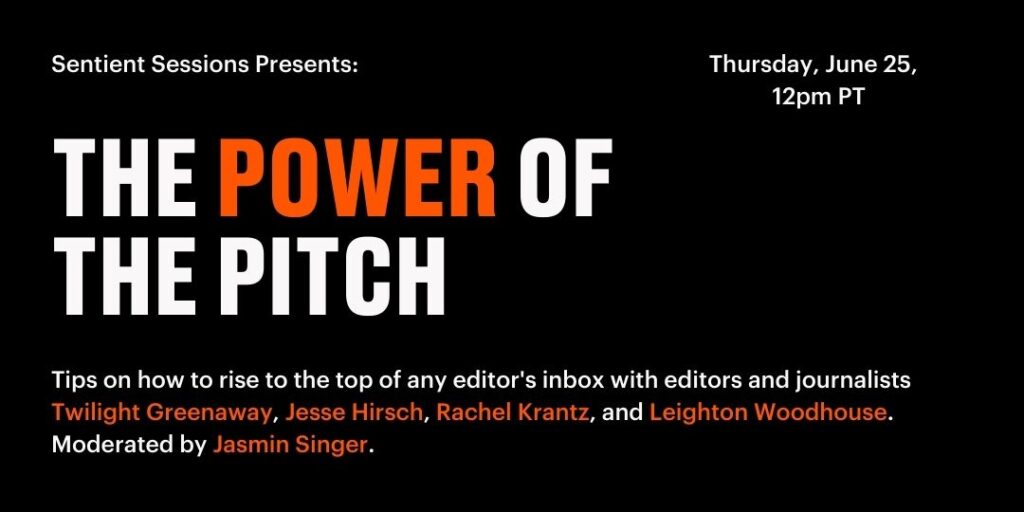 The Power of the Pitch: Rising to the Top of the Inbox: This session will leave you with insights from managing editors and journalists to empower your pitches. Featuring: Twilight Greenaway, contributing editor of Civil Eats, published in The New York Times, Grist, and The Guardian; Jesse Hirsch, managing editor at The Counter; Rachel Krantz, founding editor at Bustle; and Leighton Woodhouse, journalist published in The Intercept and twice Emmy-nominated documentary filmmaker. Moderated by co-host and co-founder of the Our Hen House podcast, Jasmin Singer.
Twilight Greenaway, journalist and contributing editor at Civil Eats
Twilight is currently a Contributing Editor of Civil Eats, where she has worked since 2014. Her writing has appeared in The New York Times, NBC News, the Guardian, Mother Jones, Food & Wine, and Grist, where she also served as food editor.
Jesse Hirsch, managing editor at The Counter
Before he joined the team at The Counter, Jesse was an investigative food editor at Consumer Reports. His stories have appeared in The New York Times, The Wall Street Journal, VICE, Eater, and The Guardian.
Rachel Krantz, journalist and founding editor at Bustle
At Bustle, Rachel served as Senior Features Editor for three years, and Senior News Editor before that. She also worked at The Daily Beast as Homepage Editor. Her work has been featured on Vox.com, The Guardian, The Huffington Post, NPR, The Daily Beast, Newsweek, High Times, AFAR, VICE, USA Today, Salon, Marie Claire, VegNews Magazine, and many other outlets. She's the recipient of the Peabody Award amongst others.
Leighton Woodhouse, journalist and filmmaker
Leighton is a journalist and Emmy-nominated documentary filmmaker. His print stories have appeared in The Intercept, Gawker, The New Republic, Newsweek, VICE News, The Nation, and The Awl. He has directed documentary videos for The Intercept, The Nation, KQED, the Fusion Network, and Participant Media. Leighton has a Master's Degree in Sociology from UC Berkeley.
Jasmin Singer, co-host and co-founder of Our Hen House
Jasmin is the author of the memoir Always Too Much and Never Enough, as well as the forthcoming The VegNews Guide to Being a Fabulous Vegan (Dec. 2020, Hachette). She is the Senior Online Features Editor for VegNews, and the co-host and co-founder of Our Hen House, a Webby-recognized weekly podcast and nonprofit that works to change the world for animals.