https://www.instagram.com/p/BuoUq7rgcUy/
https://www.instagram.com/p/BusuUmzlS16/
Today, Kellogg's-owned vegetarian brand MorningStar Farms launched a vegan quarter-pound cheeseburger and committed to going completely vegan by 2021.
MorningStar Farms isn't the only big name food company taking the pledge this year. Household names like Quaker, Unilever, and Danone are all shifting more and more of their product lines towards plant-based foods. They're betting that animal-friendly foods are catching on, and they're not wrong.
Nearly 4 in 10 people say they want to eat more plant-based foods and less meat, according to Nielsen data published last year.
Even former Tyson Foods CEO Tom Hayes admits, "Vegan meat is the future."
From the mouth of one of the largest meat companies in the world, that's saying something. Veganism is not a fad. It's here to stay.
MorningStar Farms commits to go 100% vegan by 2021
MorningStar Farms currently sells burgers, bacon, sausage patties, and corn dogs, all of which are currently vegetarian. By going vegan, the company will remove more than 300 million eggs from its product line every year.
Removing 300 million eggs every year is the equivalent of over 1 million Americans giving up eggs all-together—starting today.
MorningStar Farms' Cheezeburger just hit stores like Target, Walmart, and Amazon. It only costs $3.99 for a 2-pack of burgers, much less expensive than Beyond Meat's $10.06 2-pack of veggie burgers. And with 23 grams of protein each, MorningStar's vegan quarter-pounder will not leave you hungry.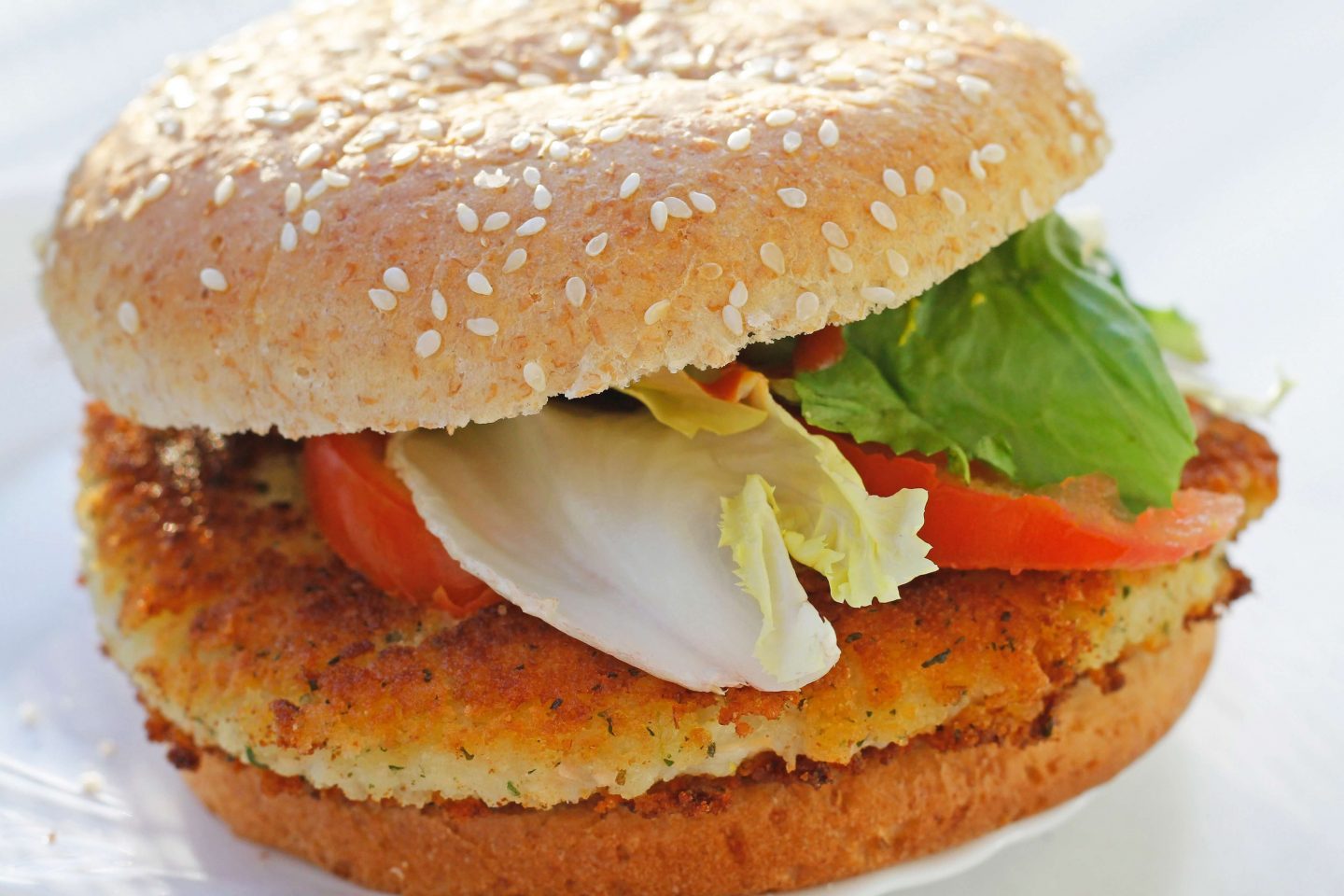 Plant-based burger makes saw impressive growth in 2018, according to a report from the Good Food Institute and Nielsen. Pea-protein pioneer Beyond Meat sale increased by 70%. Grain-based meat producer Field Roast grew 68%, followed by more good news from Gardein (+51%), Dr. Praeger's (+44%), and Quorn (+31%).
With MorningStar's commitment to go full-vegan in the next two years, Kellogg hopes to increase its share of the growing vegan meat market, which is showing no signs of slowing down.
In 2018, more than 1 in 10 U.S. household (12%) regularly purchased plant-based meat.
And they're well on their way. Half of MorningStar's products are already vegan, with another handful of mostly plant-based products set to go 100% vegan later this year.
MorningStar Farms is taking the leap so many long-time vegetarians struggle with—leaving eggs behind for good.
The plant-based food sales grew 17% this past year, while overall retail food sales grew just 2%
Plant-based foods are undoubtedly having a moment. Sales across the industry are growing across every sector in 2018–plant-based milk (+9%), plant-based meat (+23%), and other plant-based dairy products (+50%), which include non-dairy cheese, ice cream, yogurt, creamers, and butter.
Plant-based meat is poised to have another impressive year, as new funding from venture capital firms continues to accelerate the research and development phase of young companies like JUST and Memphis Meats.
"As consumers look to decrease their meat consumption, more and more people are choosing plant-based meat," said Alison Rabschnuk, Director of Corporate Engagement at the Good Food Institute.
If plant-based meat goes the way of plant-based milk did 10 years ago (and it looks like it will) there's a lot more to come.
Plant-based milk now represents 13% of total retail milk sales, now valued at $1.8 billion, while plant-based meat retains just 1% of the total meat market.
But room for growth is by no means a bad thing. It's an opportunity.
Unilever capitalized on that opportunity, purchasing the plant-based brainchild of a 9th generation farmer The Vegetarian Butcher late last year. The company's flagship product, a vegetarian meatball made special for Unox, a Dutch brand from Unilever, sold 100,000 packages in two months.
And don't let the name fool you. The Vegetarian Butcher went 100% vegan. Here are a few more name brands making the switch this year.
Quaker oat milk
It's only fitting that the PepsiCo-owned Quaker Oats Company join the plant-based movement by making its namesake into plant-based milk.
In January, Quaker introduced a new line oat milk that now sits in the dairy aisle alongside 2019's impressive lineup of plant-based milk replacements. Although, the position of non-dairy milk producers among dairy producers is still a bit precarious, to say the least.
As more and more plant-based milk joins the scene, dairy producers will be forced into a fight—over what can be called milk and what can't—that they cannot win as long as household names like Quaker and Danone (and coffee shops everywhere) continue to validate plant-based milk.
Danone introduced its popular Silk brand of soy milk in 1978. Today, the company is the top producer of plant-based products around the world. But that comes with a hitch. It's also the number one producer of dairy products.
Quaker Old Fashioned Oats have been a kitchen staple for as long as most early risers can remember. They're vegan, and so is more than half of the company's wide array of breakfast items.
Tyson's very own vegan meat
Surprise! Big meat companies are shifting away from animal proteins, too. Tyson Foods was an early investor in plant-based meat producers Impossible Foods and Beyond Meat.
That's right, the same Tyson that made its name off of chicken nuggets and drumsticks is supporting the move away from animal protein in a big way.
Now, the largest meat producer in the U.S. and one of the largest meat producers in the world is developing its own, "great tasting" vegan meat, according to Tyson CEO Noel White. They're even using in-house resources to make their very own vegan meat happen.
"It's an area that we are investing in sizably and will be in market this calendar year—maybe sooner than you'd think," White told VegNews.
One of the UK's leading meat suppliers, ABP, is one step ahead. Last week, they introduced a vegan quarter-pound burger patty made from a mixture of pea and soy proteins. The plant-based burger brand, called Equals, is already available in stores. It represents the company's first venture into the plant-based meat space that directly targets meat eaters.
Equals' quarterpounder looks like beef, promises to taste like beef, and even has the fire-grilled packaging to match the real beef burgers in the aisles of supermarkets like Asda, where it's currently on sale.
With a quarter-million-dollar marketing campaign behind it, this new plant-based quarterpounder and others like it will show up at plenty of barbecues this summer.
So, who's bringing the vegan mayo?