Five cutting-edge food companies – BlueNalu, Finless Foods, Forke & Goode, JUST, and Memphis Meats – announced yesterday the formation of the Alliance for Meat, Poultry & Seafood Innovation (AMPS Innovation), a coalition focused on educating consumers and stakeholders about the new cell-based meat industry and advocating for a clear path to market for their products.
The companies want to bring cell-based meat, poultry and seafood to market – without killing any animals. This means the companies are able to grow the muscle, fat, skin, and connective tissue that is typically eaten from a single cell, without farming animals or producing other parts of the animal that are not traditionally consumed. This revolutionary new method of meat production is more sustainable than animal farming, and AMPS Innovation has the science to prove it.
Educating the public about the benefits of slaughter-free food will be a vital first step to finding a place for their products in restaurants and on retail shelves across the U.S.
There are currently no commercially available cell-based meat products being sold in the U.S., but the market forecasts are remarkably encouraging. Together, the plant- and cell-based meat market will be worth $10 billion when it gets to 13 percent of the market, a market share equivalent to that of the plant-based milk market today.
In a recent Faunalytics survey, 2 out of 3 people said they would try cell-based meat and more than half of them said they would replace conventional meat with cell-based meat. Almost half said they would buy it regularly.
Despite rumors that JUST would make its first commercial sale of cell-based chicken nuggets last year, all five member companies, and other companies in this new and dynamic industry, report they are still in the research and development phase. They expect to make products available in the next several years, through appropriate regulatory pathways.
"It's a matter of when not if," said Memphis Meats Director of Brand Maria Macedo.
For cell-based meat producers like JUST, the technology required to produce enough meat to bring its products to market has slowed growth. The chicken nuggets are no different. But the company wants to plant its flag in the global meat market – forecasted to produce 1.2 trillion pounds of meat by 2050 – and the company is stopping at nothing to make this happen.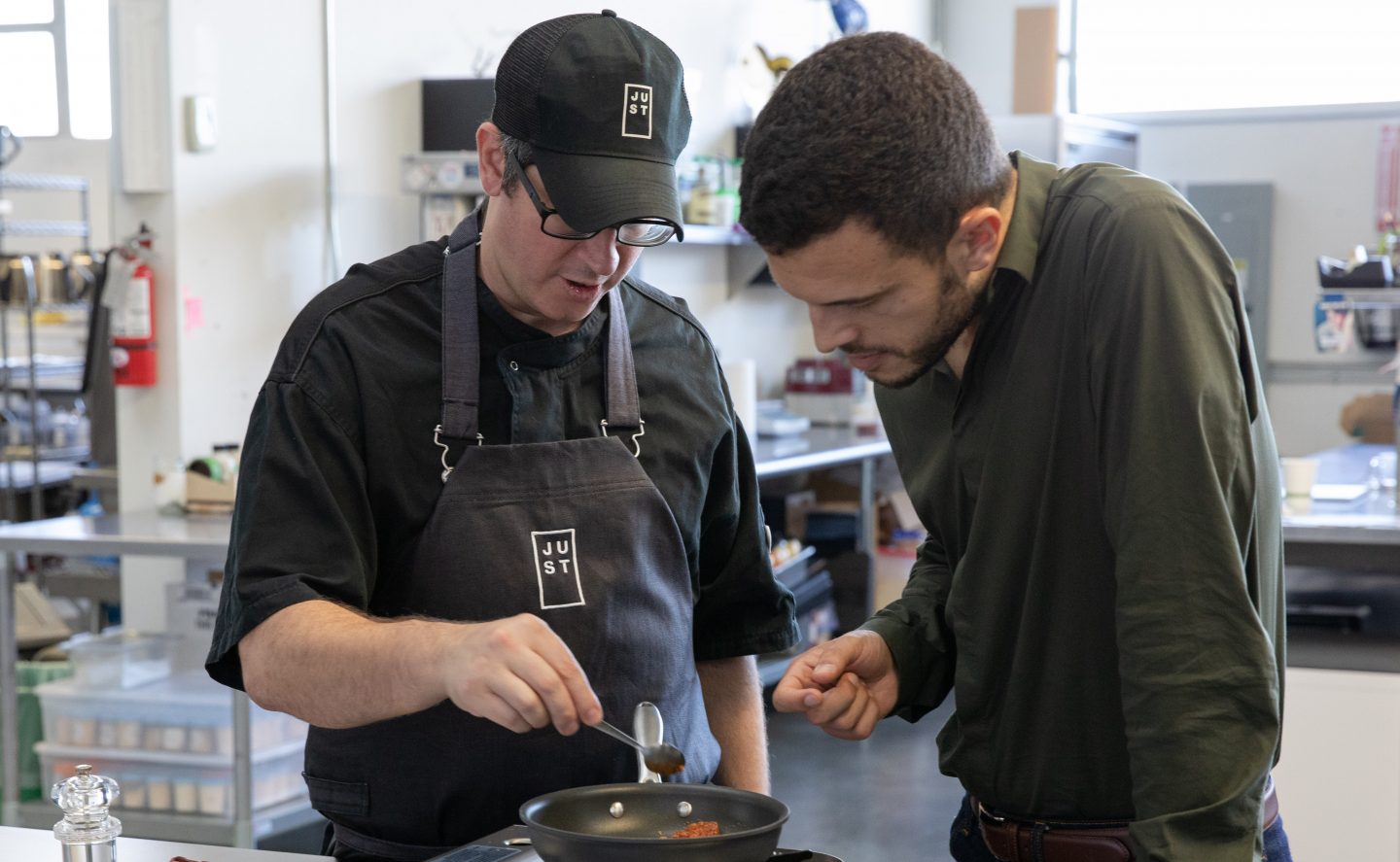 Josh Tetrick, CEO of JUST, believes his company can produce meat and seafood that is over 10x more efficient than the world's highest-volume slaughterhouse, a 1,000,000-square-foot facility in Tar Heel, NC.
The cell-based meat market is poised to make a run as historic as that of plant-based milk a decade ago. The products emit fewer greenhouse gases, use less water, and confine and kill zero animals. With plant-based-milk level sales, which now occupy 13 percent of the total retail milk market, the cell-based meat industry could offset 156 billion pounds of meat by 2050.
Let's be clear: Cell-based is real meat, not a vegan or vegetarian meat alternative like Impossible Foods or Beyond Meat products.
Global demand for meat is projected to rise by 73 percent between 2010 and 2050, according to the Food and Agriculture Organization of the United Nations. If we want a chance at a sustainable food system, a large portion of that demand must be met not only by plant-based meat but by cell-based meat as well.
Cell-based meat, poultry, and seafood is part of the solution that will help offset the increased demand for conventional meat as the global population grows to 10 billion people by 2050.
AMPS Innovation aims to provide a central, unified resource for consumers, stakeholders, and policymakers as its industry advances. Member companies also expect the production process for cell-based meat to provide significant benefits for the environment. That's a must. The world's population will demand 50 percent more food in the next 30 years. If that demand is met by conventional meat production, the environmental stress of human food production will rise by 90 percent, too.
In a joint statement, Lou Cooperhouse, co-founder and CEO of BluNalu; Michael Selden, co-founder and CEO of Finless Foods; Niya Gupta, co-founder and CEO of Fork and Goode; Josh Tetrick, co-founder and CEO of JUST; and Dr. Uma Valeti, co-founder and CEO of Memphis Meats, said:
"The Alliance for Meat, Poultry & Seafood Innovation was founded on a desire for members of our industry to come together and speak with a unified voice as we emerge as a viable, impactful partner in the overall food and agriculture sector.
Over the past few years, each member company has made significant strides in the development of our products, and we are excited at the prospect that they will soon be options in the everyday diets of individuals. We are committed to an open and science-based dialogue with all stakeholders, including industry partners, policymakers, advocates and consumers.
As we look ahead to the imminent challenges of feeding a growing population, AMPS Innovation is dedicated to working together, in partnership with the broader agricultural community, to advance solutions to address these needs."
In the coming months, AMPS Innovation intends to engage policymakers and stakeholders to educate them on its products in addition to working with Congress, the U.S. Department of Agriculture and the Food and Drug Administration as they continue to build out a regulatory framework for meat, poultry, and seafood that is grown directly from animal cells, rather than taken from slaughtered animals themselves.
Could the future of meat be slaughter-free?
Matthew Zampa
Matt is an award-winning independent journalist. His reporting has been featured in USA Today, The Washington Post, HuffPost, Vox, PBS, and NPR, among others.