The UK's food and farming systems are in crisis. For years, climate groups and scientists around the world have called for a plant-based food system to avert climate breakdown. When will the government act?
On Thursday, October 24, Animal Rebellion members arrived at the doors of the Department for Environment, Food, and Rural Affair (DEFRA) headquarters in London to hand over the group's official reply to a government survey asking citizens what they want from their food system.
DEFRA is the UK's chief government body supporting the animal farming industry. Last week, the Department announced that it will be conducting an independent review of the future of the country's food system as part of a National Food Strategy – a strategy that has not been updated in 75 years.
To bring attention to the failings of the current food system, Animal Rebellion began occupying animal exploitation sites around the city earlier this month. This strong-willed band of Rebels found itself at the center of the media's growing attention for plant-based and alternative food systems. Since Animal Rebellion's founding back in July, the press has written 290 stories about the group. The bottom line of each story is clear: The government urgently needs to address animal agriculture's role in the climate emergency.
With the country on track to miss its 2050 climate change targets, according to the UK's Climate Change Committee, the agricultural sector, which contributes to 11 percent of the UK's greenhouse gas (GHG) emissions, must play a vital role in reaching carbon zero. Combined with other factors, such as the public health crisis and increasing levels of obesity and diabetes putting a strain on the already underfunded National Health Service, as well as food insecurity and poverty, the nation's food system is increasingly coming under the spotlight.
"A transformation of our farming and fishing sectors is essential if we are to address the climate, ecological, and societal challenges ahead."
The call for evidence comes just one week after Animal Rebellion protesters locked themselves to the doors of DEFRA's London offices, calling attention to the government lack of readiness to transition to a plant-based food system. Leading the independent review is Henry Dimbleby, a London restaurateur who founded the Sustainable Restaurant Association in 2009.
"Populations are growing, diet-related conditions are harming the lives of millions, and climate change is altering what our land will yield. But we can change that," Dimbleby told the BBC.
The survey represents a major victory for Animal Rebellion. From the beginning, the group's efforts were specifically directed at policymakers and other major stakeholders in the animal agriculture industry. Now, officials are asking the public for ideas to create a new food system fit to combat the social and climate challenges ahead.
"We want to hear from anyone who has a good idea: producers, processors, retailers, consumers, academics, policy specialists, inventors, farm labourers, factory workers, health care practitioners, charity workers, or simply interested citizens," writes DEFRA on the survey website.
Finally, someone is listening.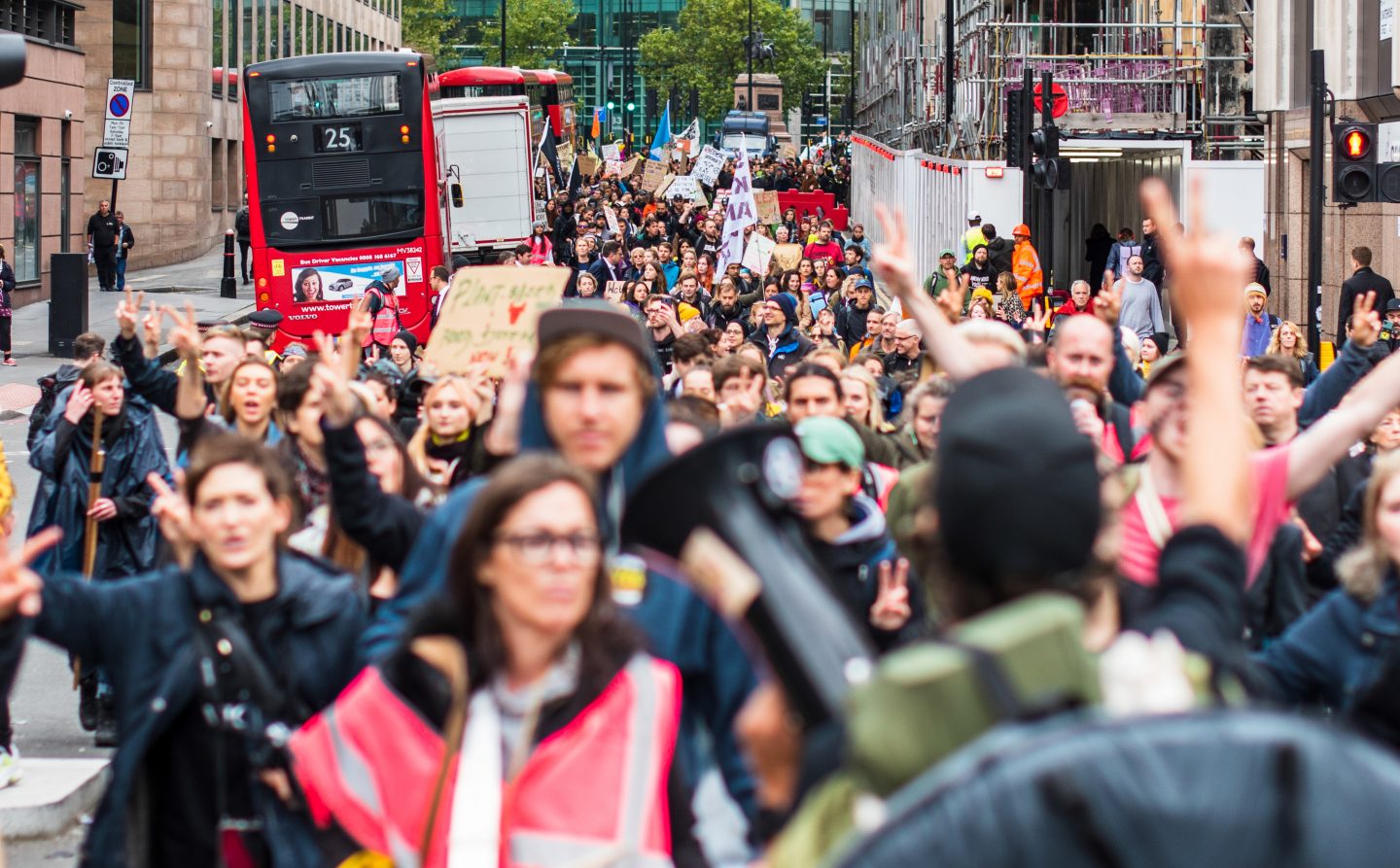 During the October Rebellion, the group successfully occupied Smithfield Meat Market, to set up the "Plant-Based Market of 2025," including fruit, vegetables, and vendors of plant-based alternative. The two-week action also saw a group of Animal Rebellion activists locking themselves to DEFRA's headquarters in central Westminster, an occupation of Billingsgate Fish Market, and a protest at Newman's Abattoir in Farnborough. It culminated in a Veggie Dance Party to draw the public's attention to the need for a plant-based food system.
Since day one, Animal Rebellion has demanded system-level change. The animal justice group, in alliance with Extinction Rebellion, aims to bring attention to the animal emergency caused by the worldwide animal agriculture and fishing industries that are a leading cause of species extinction and global greenhouse gas emissions.
"The UK's food and farming systems are in crisis," wrote the group in response to DEFRA's call for evidence. "A transformation of our farming and fishing sectors is essential if we are to address the climate, ecological, and societal challenges ahead."
Animal Rebellion's full response can be found here. The evidence to support its claims can be found here.
"Animal agriculture is a leading cause of climate breakdown, ecosystem collapse, biodiversity loss, soil, air, and water degradation, eutrophication, flooding, deforestation, nitrogen and phosphorus pollution, species extinction and animal rights abuses," said Suzy Bond, a spokesperson for Animal Rebellion. "It is of the utmost importance that we urgently transition away from animal agriculture and fishing if we are going to build a resilient, sustainable and humane agriculture sector."
The response continues to detail how the current system is failing citizens, farmers and animals alike, before proposing ten solutions to combat the crisis, including ending subsidies for animal agriculture, incentivizing protein-crops and providing plant-based menus in schools and hospitals.
"We aren't just in a climate emergency, said Kerri Waters, who delivered the group's finding to DEFRA earlier today. "The UK is also suffering from a public health crisis and crippling levels of poverty and food insecurity among our most vulnerable groups."
Central to Animal Rebellion's demands is that the government wakes up to the fact that that the world is already in a state of climate and ecological emergency wreaking havoc and afflicting millions, and that without urgent and radical action the conditions on which human civilization and other life on earth depend will be lost within the near future.
"The farming sector is also on the verge of collapse," said Waters. "A plant-based food system is the only logical, scientifically-backed choice that addresses all of these problems at once."
Matthew Zampa
Matt is an award-winning independent journalist. His reporting has been featured in USA Today, The Washington Post, HuffPost, Vox, PBS, and NPR, among others.