The daily news cycle is rarely uplifting. But there's an expectation that information worth knowing will find its way into the headlines.
War, famine, disease, hurricane paths, populism, immigration, Brexit, Trump, opioids and, more recently, climate change. It's all there. One item, however, regularly escapes scrutiny: the role our animal-centric food production plays in global warming and environmental pollution.
Estimates vary, but animals reared for beef, milk, cheese, eggs and other consumer products create between 14.5% and 51% of global greenhouse gas (GHG) emissions. According to a recent study published by Sentient Media, a more realistic figure could be as high as 37%. The media coverage of this? Less than 5%, according to one estimate.
Global Meat Denial in Climate Coverage
"There are several studies from the US, Brazil, Spain and Italy showing that, by volume, the media historically paid very little attention to animal agriculture's GHG emissions in their climate change coverage," said Dr. James Painter. He should know.
Painter is a UK-based research associate with the Reuters Institute for the Study of Journalism at the University of Oxford. As part of the Livestock, Environment and People (LEAP) project he is researching media coverage of livestock's GHG emissions in the UK and US.
"By volume, mentions of animal agriculture's role in climate change is probably less than 5% of all articles covering climate change. Much more attention was paid to transport and energy," he said.
Referring to a study published in January 2019 by Catherine Happer and Laura Wellesley, Painter said one result of the minimal coverage is "very low public awareness" of the climate impact of animal agriculture.
Professor Tim Benton had a similar comment. Research director at UK think tank, Chatham House, and a specialist in energy, environment and resources, Benton believes the under-reporting of animal agriculture's role in climate change is only part of the problem, however. Other under-reported agricultural issues are water, air and soil degradation and biodiversity loss. All of which, he said, needs to be better understood by the public.
To put that need for public awareness in context, a 2016 Carbon Brief post by Benton and Dr. Bojana Bajželj predicted that in a business as usual scenario, agriculture will lock in 4°C to 5°C degrees of global warming by the end of the century. That's triple the Paris Agreement goal of staying closer to 1.5°C.
[infogram id="15b9a8eb-956d-4f21-bd27-920e71f2bea6″ prefix="CI4″ format="interactive" title="Carbon Brief impact comparison"]
Comments from US-based experts are not vastly different. "The majority of articles about climate change ignore current meat production, which globally contributes as much or a bit more than the emissions from every plane, train, and automobile," said public policy engineer, Matt Ball.
Ball, who has a Master of Science in Forestry Ecology, now handles media relations for the Good Food Institute which promotes plant- and cell-based alternatives to animal and fish proteins.
Pulitzer Center on Crisis Reporting communications director, Jeff Barrus, has seem the same issue. "The effects of animal agriculture on the environment and climate change" have definitely been under-reported, he said. At least until recently.
In the last two years Barrus, Ball, Benton and Painter have all seen a change, driven mainly by NGOs, fires in the Amazon and new research. Some of the most high-profile research was the Intergovernmental Panel on Climate Change (IPCC) Special Report on Global Warming of 1.5 °C (October 2018), the EAT-Lancet Commission, Food in the Anthropocene (January 2019) and the IPCC's Climate Change and Land (August 2019).
Painter's preliminary figures suggest 2018 was a peak volume year for coverage in the UK, helped by The Guardian newspaper. "For example, the front page headline on May 31st was: Avoiding meat and dairy is 'single biggest way' to reduce your impact on Earth. That article has more than 1.1 million shares. That's huge."
Although Painter has not crunched the numbers yet, he feels the 2019 volumes will be even higher. In terms of attention grabbers, he singled out the EAT-Lancet Commission's 'universal healthy reference diet' which filled the media with graphic examples of meat-poor, plant-forward plates. Cue consternation in many quarters.
Roots of Neglect
Painter has a few ideas about why animal agriculture's role in climate change has been so under-reported. One possibility is that, until recently, NGOs did not campaign around it. Another is the close ties between US agri-business interests and politics, which might make it harder for the issue to surface.
One of the most vocal lobbies for animal agriculture in the US is the Cattlemen's Association, which did not respond to comment requests. Asked the same question, a spokesperson for America's National Farmers Union was equally reticent, saying their climate expert did not "have a good sense of how this issue is covered by the media."
So-called 'ag-gag' laws designed to silence animal abuse whistleblowers on US intensive farms have not helped either, Painter said. "It's surprising how little scrutiny there is of the GHG emissions of Big Ag companies like Tyson or JBS, compared to Big Oil and Energy companies like BP," he said.
Then there's the billion-dollar industries that depend on intensive farming models. Grain suppliers for example. "In the EU about 30 million tons of soy are needed a year to feed farm animals," said chief policy advisor for the UK-founded charity Compassion in World Farming, Peter Stevenson.
Using data from a European Commission plant protein development report, Stevenson calculates that of the soybean protein used in the EU in 2016/2017, 87% to 97% was fed to livestock. In grain terms, he said, 40% of the world's grain is fed to animals. In the EU that figure its 57%.
Other vested interests include the pharmaceutical companies that provide the animal antibiotics, the companies that genetically select and produce chickens, the agro-chemical fertilizer suppliers (of which America's Koch brothers are an example), and the equipment manufacturers who make cages, sow stalls and more.
Potential newsroom bias should not be ignored either. Animal proteins remain at the heart of most people's daily food routine and journalists are no exception. And eating habits are hard to change. Livestock emissions, and what that means in terms of breakfast, lunch and dinner, might be an inconvenient truth that's easily sidelined.
But would more coverage of intensive farming mean greener plates? Only maybe, said Painter. "There is a non-linear link between information and behaviour change. You might have lots of coverage, and that will help people understand it is more important. But that does not necessarily mean they change their behaviour."
That being said, making it any less important clearly has some downsides, too.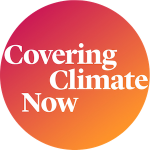 This story is part of Covering Climate Now, a global collaboration of more than 250 news outlets to strengthen coverage of the climate story.
Sophie Kevany
Sophie Kevany has a Masters in Journalism from Dublin City University and an undergraduate degree in History of Art and Classical Civilisation from Trinity College Dublin. A freelance journalist she writes regularly for The Guardian, The Irish Times and other publications. Previous experience includes stints with Dow Jones and Agence France Presse (AFP).