For the past two decades, the Albert Schweitzer Foundation (ASF) has been working with—and, when necessary, challenging—large food corporations to adopt substantial animal welfare policies within their supply chains. Founded by Wolfgang Schindler in 2000, ASF has been instrumental in encouraging lawmakers to implement stronger animal welfare laws, especially for caged chickens, throughout Germany.
The organization's namesake, Nobel Prize winner and philosopher Albert Schweitzer, adhered to the adage, "Ehrfurcht vor dem Leben," which translates to "reverence for life." This maxim is at the core of the Albert Schweitzer Foundation's mission to end factory farming and reduce animal suffering.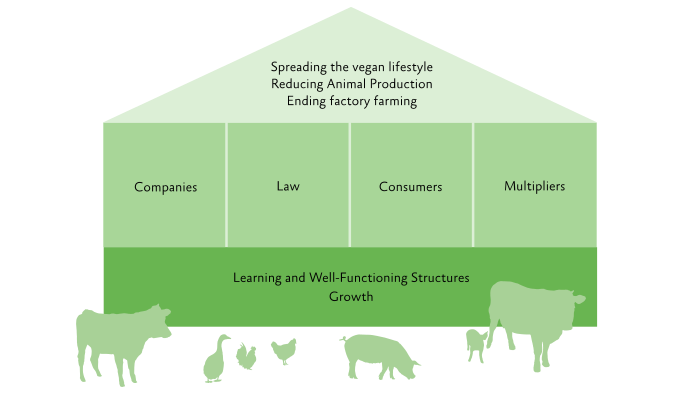 Before founding ASF, Schindler was a lawyer who wrote criminal complaints for animal cruelty cases; he also provided legal support to individuals and social movements seeking to improve animal welfare. Around the turn of the century, he stood before the highest court in Germany to fight for a ban on battery cages for egg-laying hens; Schindler eventually convinced the court that such cages were unconstitutional. This decision was a momentous occasion for chickens and animal rights activists. In 2003, Schindler convinced one of Germany's largest supermarket chains, Aldi Nord, to stop selling eggs from caged birds. This victory laid the groundwork for a successful campaign later led by ASF known as Germany Goes Cage-Free. This campaign convinced virtually all German supermarkets to eliminate battery cages within their egg supply chains.
Before his passing in 2013, Schindler made early arrangements to ensure that the Albert Schweitzer Foundation would continue to significantly impact the lives of animals long after he was gone. The foundation has continued to follow in Schindler's footsteps by using legal advocacy to create a more just world for animals. ASF is not yet able to sue on behalf of animals—since the first non-human court case in Germany occurred just recently in November of 2019—but works closely with other organizations, like Animal Rights Watch, that do have this ability. The foundation also partners with animal rights organizations throughout Poland and Europe to improve animal welfare within food supply chains. These partnerships, including legal assistance from ASF Board Member Hans-Georg Kluge, a distinguished expert on German animal welfare law, are influencing businesses and consumers throughout Germany to choose more sustainable and ethical food sources.
ASF supplies information regarding plant-based eating and its benefits to consumers and corporations, in addition to conducting corporate campaigns and legal advocacy. ASF reaches consumers through its Vegan Taste Week newsletter and businesses through its Food Progress website. The organization helps corporations strengthen their corporate social responsibility strategies by educating them on current plant-based trends and developments; discussing the environmental and ethical benefits of adding plant-based products to their repertoire; and providing suggestions on how to switch to a more plant-based portfolio. As part of this plant-based project, ASF has influenced German Starbucks locations to include more meatless options, has developed ongoing relationships with student dining halls throughout Germany, and has convinced meatless food companies like Vegafit to substitute eggs in their recipes with plant-based alternatives.
The Albert Schweitzer Foundation team consists of 42 staff members in Germany and Poland, including the foundation's Polish sister-organization Fundacja Alberta Schweitzera, and volunteers located in 30 cities throughout Germany. ASF is part of the Open Wing Alliance, a coalition of nearly 70 animal protection organizations spread over six continents that focuses on banning battery cages for egg-laying chickens. As part of the Open Wing Alliance, ASF is currently asking Subway in Europe to commit to higher animal welfare standards for the chickens in its supply chain.
ASF was recently awarded Top Charity status for the second consecutive year by Animal Charity Evaluators, based on its effectiveness, scientific research, and goal-setting abilities. The organization also topped Vox's list of the most effective animal charities.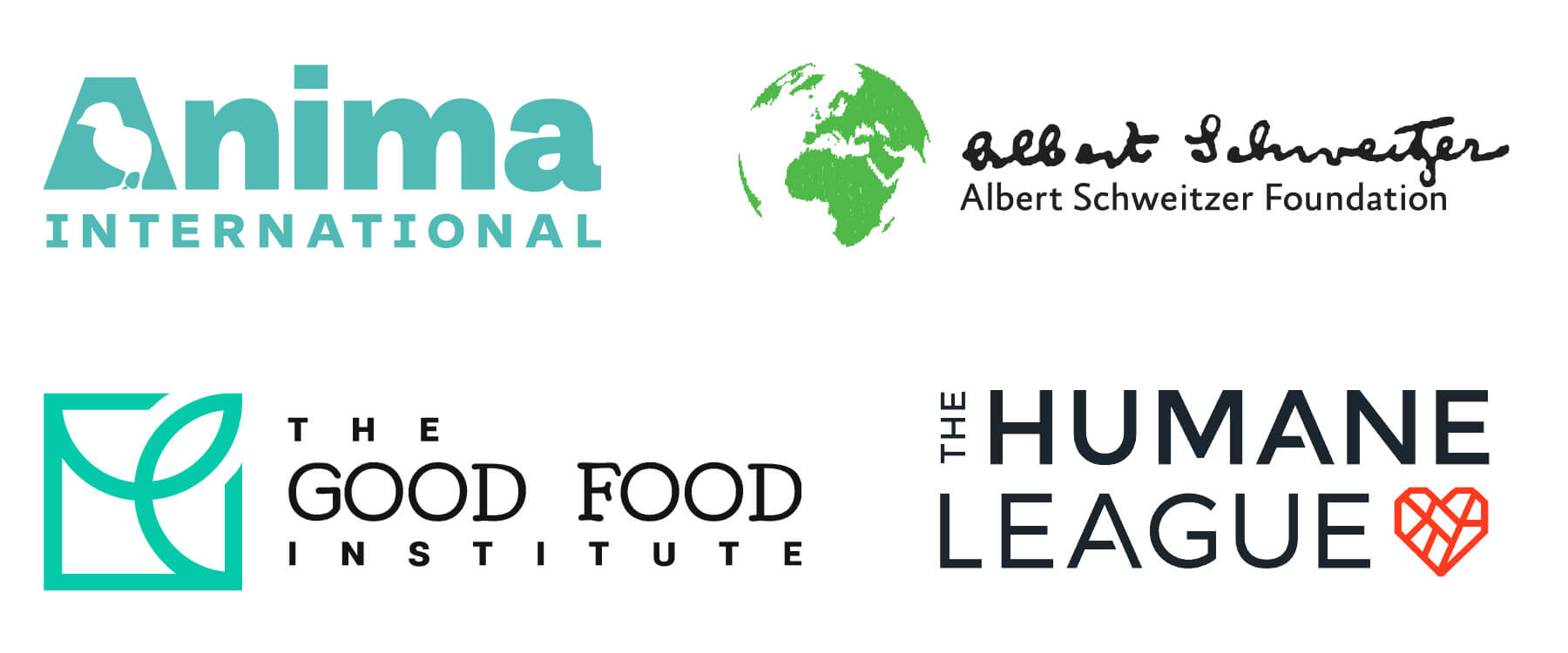 Sentient Media recently spoke with Mahi Klosterhalfen, CEO of the Albert Schweitzer Foundation, about ASF's mission, previous successes, and future goals.
Sentient Media: What are the Albert Schweitzer Foundation's main goals?
Mahi Klosterhalfen: Albert Schweitzer's fundamental maxim—reverence for life—is one of the guiding philosophies behind the work of the Albert Schweitzer Foundation. Our commitment to this maxim means that we are focusing on the single greatest human-made source of suffering and death for animals: the use of animals and animal products as a food source. Our long-term goal is to end factory farming and to promote vegan/veganish lifestyles. We are taking intermediate steps by improving animal welfare standards and by reducing the amount of animal products in supply chains.
Sentient Media: How did you personally get involved in animal advocacy?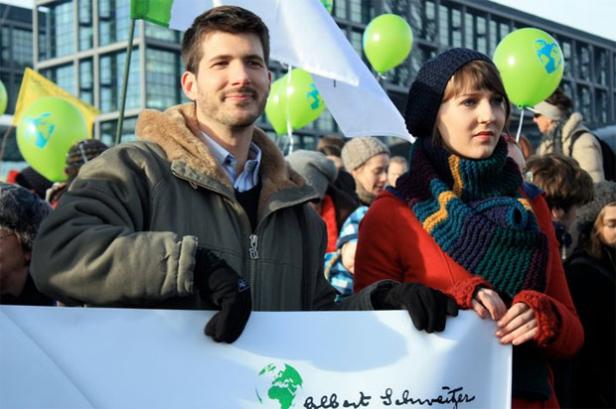 Mahi Klosterhalfen: In the first 25 years of my life, I was pretty much the average meat consumer. I was against factory farming and against long animal transports, but at the same time, I was supporting animal abuse with my buying behavior. Reading Gandhi's autobiography changed that for me, as one scene that Gandhi described had quite an impact on me: Gandhi was severely sick and his doctors told him that he needed to eat chicken soup in order to survive. He refused and said that he'd rather die than to be responsible for the death of an animal—a chicken. That got me thinking: Why am I eating meat? Certainly not in order to survive; rather because I like the taste and because I'm too lazy to try alternatives. So I decided to give vegetarianism a chance. Two months into it, I was wondering why vegans refuse to eat organic eggs or drink organic cow's milk. A little bit of research on the internet showed me what's happening to male chicks and calves as well as spent hens and cows. I decided to become a vegan on the spot and I never looked back.

After about a year or two later, I wanted to do more than not giving money to people and companies who are responsible for the suffering of animals. So I became an activist. My main project was to convince all university dining operations in Germany to stop using cage eggs [eggs from chickens raised in battery cages]. With the help of many students across the country, I achieved just that. Seeing that change is possible was crucial for my activism. I think it's somewhat safe to say that I became addicted to winning for the animals. That's what keeps me going to this day.
Sentient Media: How has the Albert Schweitzer Foundation changed the world for the better?
Mahi Klosterhalfen: [The Albert Schweitzer Foundation] has convinced dozens and dozens of companies in Germany to stop selling and using cage eggs—including all supermarket chains. That later led to a legislative ban of cages for hens. The former Minister of Agriculture explicitly said that one of the main reasons for the ban was the fact that cages had become economically negligible, so our corporate work ended up having a legislative effect.
Now, we are aiming for similar results for chickens raised for meat and fish in the aquaculture industry. We are already seeing many companies committing to improvements in one or both areas. [In 2017] ASF helped create the European Chicken Commitment to improve husbandry and slaughter conditions for chickens raised for meat. To date, we and our partner organizations have convinced more than 250 companies to join this Commitment. Recently, Frisch-Geflügel Claus became the first poultry producer in Germany to implement the criteria of the Commitment in its own facilities and with all its suppliers by 2026.
We are also seeing a shift toward more plant-based diets—both on the consumer and on the corporate side of things, so it is a great time to be an activist.
Sentient Media: ASF's advocacy approach often uses unconventional methods, like your traveling pig tour and colorful demonstrations. What other ways is ASF's advocacy approach unique?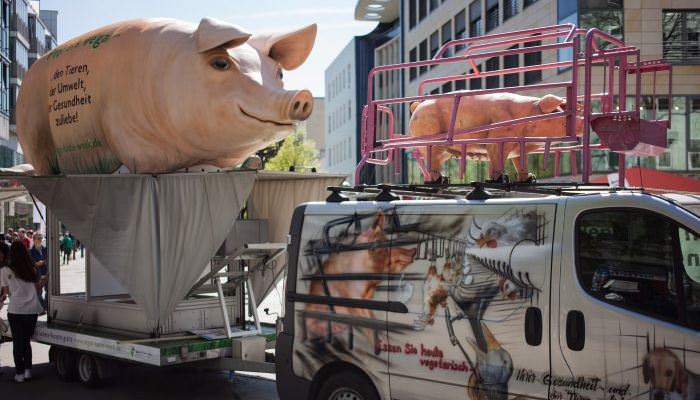 Mahi Klosterhalfen: As I mentioned, we work a lot with—and also against—companies in order to make an impact. Another focus of our work is using legal leverage. It is a relatively recent development that some German animal protection groups have received the right to file lawsuits on behalf of animals. This is a very powerful tool, seeing as many standard practices in factory farming are not actually legal. Thus, filing lawsuits is another way for us to dismantle factory farming.
Sentient Media: What is one of ASF's greatest successes, in your opinion?
Mahi Klosterhalfen: Probably our greatest success is that, together with other animal protection groups, we have managed to almost completely abolish the farming of laying hens in cages. When the Albert Schweitzer Foundation started working on this topic, 87 percent of all hens in Germany were in cages. We are now down to 10 percent and will reach zero percent by 2028. (The full legal ban will come into place in 2025 and may be prolonged by three years in individual cases.)
I am absolutely sure that we can repeat victories like this one—and I think we can become faster in abolishing cruel practices as we go and learn.
Sentient Media: What are ASF's plans for the future? How will the organization maximize its impact for the animals?

Mahi Klosterhalfen: We are going to intensify our work for broiler chickens and fishes in aquaculture. You will also see more lawsuits from us. Plus, we will decide on which country to expand to next, and then do so.
If you would like to support the Albert Schweitzer Foundation's work, donate here. To check out their current campaigns, click here.
Taylor Meek
Taylor Meek is the community manager and a contributing author at Sentient Media. She oversees all social media content and strategy and manages the social media team and Social Media Fellowship program.