Update: According to a statement from Harvard Law School's Animal Law & Policy Clinic, researchers there have confirmed that "Kanaloa Octopus Farm (KOF) is no longer operating at HOST Park, and the Natural Energy Laboratory of Hawaii Authority (NELHA) has chosen not to renew its rental agreement." A comment from Rachel Mathews, Acting Clinical Director, reads in part: "We're relieved that KOF's days of capturing and confining octopuses to barren touch tanks are through, and hope this sends a clear message that cephalopod farms have no place in a society that respects animals."

Laura Cascada never thought her first brush with an octopus would be at a glorified petting zoo. But the longtime animal advocate was visiting her family in Hawaii in the spring of last year when she first learned of a facility called Kanaloa Octopus Farm, and had to see the creatures for herself.
The single visit turned into hours upon hours of research, as Cascada began to uncover details suggesting all was not as it seemed. Though the Hawaii octopus farm billed itself as a conservation research facility, curiously, its owner, Jacob Conroy, never published any research.
Internal documents from Hawaii's national resources agency obtained by Sentient Media through a public records request suggest that Conroy may have lied to the authorities about how it obtained octopuses and what it wanted to use them for.
Before the farm closed in January — Conroy hadn't filed the right permits — Kanaloa was hosting an average of 70 visitors daily at $50 per tour plus fees. There were plans to expand the facility to accommodate four times as many visitors, giving Kanaloa the potential to rake in millions, all while mistreating its octopuses behind the scenes.
On July 11, a group of native Hawaiian and marine wildlife advocates — among them Harvard Law School's Animal Law & Policy Clinic, Hawaii-based For the Fishes and Moku o Keawe cultural practitioner Mike Nakachi — have filed a request with Hawaii's Department of Land and Natural Resources asking the agency to investigate what could be ongoing legal violations at Kanaloa. The coalition has also written to the Natural Energy Laboratory of Hawaii Authority to ask the agency to terminate Kanaloa's lease.
How Kanaloa Got Into the Conservation Business
The global octopus trade is worth over $2.7 billion, yet octopus farms remain a rarity with just three facilities in existence. One operation in the Canary Islands owned by the Spanish conglomerate Nueva Pescanova still amounts to little more than a plot of land and building plans. Another in Mexico is run by an academic researcher and has yet to sell to the public.
The third is Kanaloa, which for now remains shuttered. But back in 2015 when the farm first opened, it was part of a buzzy "ocean science innovation hub" at the state-run Hawaii Ocean Science and Technology Park along with several other aquaculture startups, including a company working on seaweed for dairy cows and another developing an open-pen farm for finfish.
When Cascada visited the facility, she was told by the guide, repeatedly, that Kanaloa Farm "did not raise octopuses for consumption." Yet the constant denials just didn't square with Cascada, so she soon found herself spending her vacation time digging up government records, including minutes from a meeting held by the the Natural Energy Laboratory of Hawaii Authority or NELHA, the agency that oversees the innovation hub and technology park where Kanaloa is located.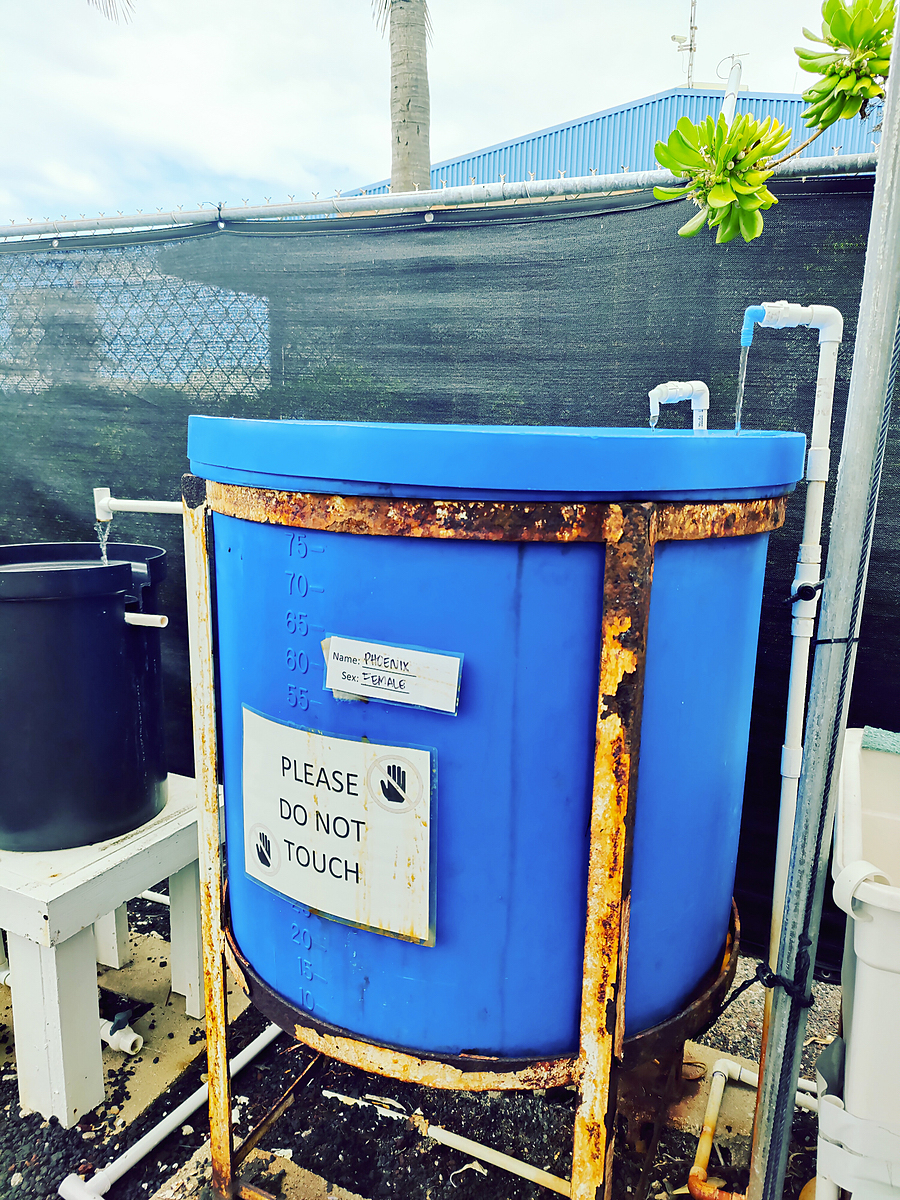 Back in 2017, Kanaloa's owner, Conroy, said his goal was for the farm "to become a production facility that can provide restaurants with a sustainable option for locally sourced octopus."
In 2019, Conroy was cagier. The meeting minutes reflected that Conroy was there to seek approval to expand the facility, primarily to breed and sell cephalopods to other research facilities, but also for "products such as squid ink." Conroy also mentioned expanding to both the "food and aquarium" markets.
The agency's staff recommended the board approve the plans and, according to the meeting minutes, Kanaloa secured around $660,000 for the expansion from a bank line of credit and also from investors, including from Marissa Mayer, former CEO of Yahoo. Yet the immediate plans were put on hold due to the pandemic.
Accusations of Illegal and Cruel Treatment
It turns out that there was more going on to suggest that Kanaloa was routinely violating Hawaii's conservation rules, and mistreating the animals in its care. Early in 2023, a former employee wrote to state representative Nicole Lowen and NELHA to call Conroy's claim that the farm hadn't taken octopuses from West Hawaii a "blatant lie."
The farm definitely did have day octopuses weighing under one pound there in violation of state law, wrote the employee, and they were not "rescued" from fishermen as they claimed, but "purposely caught for the farm and paid for by the manager," Dan Jackson.
When undersized animals came in, Jackson would allegedly tell employees to keep octopuses weighing under a pound out of public view until they were bigger. In fact, Jackson admitted to the way the farm sourced its animals in an interview with Hawaii Public Radio in January 2023, but Conroy later claimed the manager was talking about a different species of octopus — the crescent or Hawaii octopus — which are not subject to the same requirements.
But an internal email from the former employee suggests it was in fact day octopuses for which Jackson would pay $200 each, and a video recorded by Cascada captures a Kanaloa tour guide confirming that the octopuses on display for the public — so-called day octopuses — were caught specifically for the farm.
This isn't the only time Conroy showed an interest in bucking authority. According to Inga Gibson, a marine policy consultant based in Hawaii, when state lawmakers proposed a bill to require that companies in the innovation park be "environmentally responsible and culturally appropriate," Kanaloa hired a lobby firm to push back.
Octopuses Kept in Near-Empty Tanks
The same former employee also detailed poor management of the farm in its email correspondence, including the routine use of old and faulty equipment. Water would allegedly leak to such a degree that staff would sometimes come to work to find octopuses sitting at the bottom of near-empty tanks. Management even allegedly allowed one staffer to prematurely kill octopuses to make room for others.
The octopuses also apparently escaped their tanks frequently (as the highly intelligent animals are known to do) only to be discovered by staff later — dead or injured on the ground. According to the former employee, Kanaloa allegedly refused to upgrade the tanks, considering it a waste of money, but would fire staff who raised concerns about the mistreatment.
On top of all that mistreatment and mismanagement, Kanaloa doesn't appear to actually be doing any research. According to Gibson, "There was no kind of research ever published. Not only that, the facility had no affiliations with any academic institutions. They had, to my knowledge, never received any grants," adds Gibson. "So any of the most basic standards for a legitimate research institution were not being met."
Gibson thinks the "lucrative" public tours were the focus all along. When the facility was open, the hour-long tours ran three times a day, seven days a week. And according to the NELHA meeting minutes, Kanaloa couldn't meet demand for its tours because they were only able to house a small number of octopuses in the 4000 square foot facility. As part of his expansion plans, Conroy wanted to increase visitor capacity from 2,000 to 8,000 per month, which would earn the facility roughly $4.8 million annually.
Uncertain Fate for Farmed Cephalopods
"Kanaloa has subjected wild-caught octopuses to cruel confinement while misleading the public about its purpose," says Cascada. "I hope that the State of Hawaii will continue to protect these complex animals by keeping Kanaloa from reopening."
Cascada isn't the only animal advocate tracking the Hawaii operation. The group Compassion in World Farming wrote to the state governor in 2021 to express its concerns over Kanaloa's expansion plans and the practice of octopus farming. Once in the lab or bred on a farm, no cephalopod in the U.S. has any legal welfare protection.
The governor did not reply however, and it would be more than a year before the state would take any action on the farm. But the advocacy group has kept an eye on Kanaloa and its activities.
Kanaloa calls itself a conservation group yet octopuses "only reproduce once, and die shortly after," says Allison Molinaro, CIWF US Campaigns Manager. "Kanaloa was removing octopuses from the wild and forcing them to breed in captivity," she says, adding — "none of the octopuses born on the farm survived past 13 days."
For his part, Conroy denies keeping octopuses in violation of state law. He maintains that the farm is primarily a research facility, breeding only for conservation purposes. Yet according to reporting by the Honolulu Star Advertiser, Conroy has now put the breeding program for day octopus on hold.
Still, that doesn't mean Conroy is done profiting from cephalopods. Meeting records from last year suggest he may now turn his focus to the bobtail squid, a creature that isn't protected by Hawaii conservation rules like the day octopus, and which Conroy claims to have found success breeding. Today, Kanaloa is no longer open. But its fate — and the fate of all farmed octopuses — remain uncertain.
This piece was updated August 22.
Claire Hamlett
Claire is an Associate Editor at Sentient Media and a freelance writer focused on animals, climate and the environment.