Compassion in World Farming (CIWF) is an animal rights organization whose mission is to improve animal welfare and end factory farming. CIWF was founded in the United Kingdom in 1967 by Peter Roberts—a British dairy farmer who was mortified by the increasing popularity of intensive animal farming practices. He insisted that existing animal rights organizations focus their efforts on farmed animal welfare, but his efforts in this regard were unsuccessful. Instead, Roberts created CIWF—the first organization dedicated solely to the welfare of farmed animals.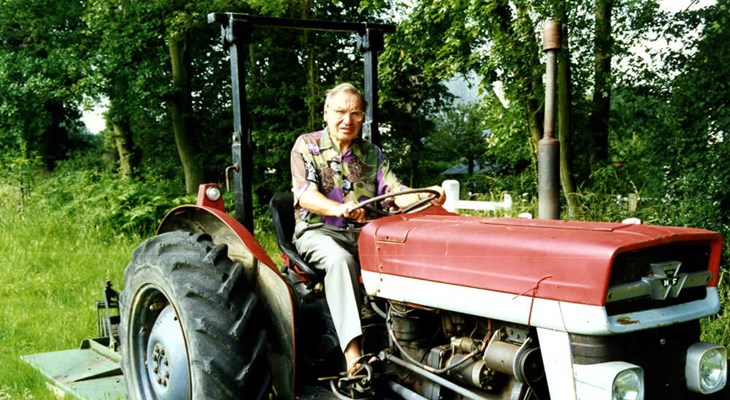 Compassion in World Farming opened its American office in 2011; Leah Garces, who is now President of Mercy For Animals, led the effort. Rachel Dreskin took over as Executive Director in 2018. The initial focus of the U.S. branch was chicken welfare since broilers—chickens raised for meat—were mostly being ignored by other advocacy groups, despite the fact that approximately 95 percent of all factory-farmed animals in the U.S. are broiler chickens. The Sentience Institute estimates that up to 99.9 percent of broiler chickens born in the United States live within the confines of factory farms. In 2014, Compassion in World Farming USA created The Better Chicken Initiative to improve the lives of broiler chickens both in the U.S. and around the world. With this program, CIWF tackles chicken welfare issues through corporate engagements and public outreach.
Compassion in World Farming USA promotes change for farmed animals in America, but with support from the global CIWF organization. The organization maintains a presence in 10 countries and employs 14 staff members in America along with around 130 international staff members, all of whom are on a mission to improve animal welfare and abolish factory farming.
Sentient Media recently conducted an interview with Rachel Dreskin, Compassion in World Farming USA's Executive Director, about the organization's dedication to improving animal welfare and the steps they are taking to make a lasting impact on the food industry.
Creating a Brighter Future
Sentient Media: Compassion in World Farming's mission is clear: to end factory farming and improve animal welfare. How does this mission resonate with you? How did you get involved with the animal rights movement?
Rachel Dreskin: For me, personally, I got into this work after having studied business and embarking on a career in marketing within a massive global media company. While I was working at News Corporation, I became more aware of the realities of our food system and the mass suffering that it is built upon. Once I knew this, I could not continue to be a bystander to the suffering. I made a pledge to myself that I wouldn't push that painful reality out of my mind, and that I would not allow myself to become desensitized or accept practices as acceptable just because they are commonplace. I decided that I wanted to help create systemic change within our food system so that these practices are no longer acceptable, nor are they commonplace.
Now, my motivations for doing this work are even broader. I have two young children, and the science is clear that their future, and all future generation's futures, is in peril. We need to address and end factory farming in order to save our planet and protect the people and other animals that live on it. So many issues intersect with factory farming, such as climate change, food security, global public health, and antibiotic resistance. These are all urgent issues that threaten global security and will lead to the demise of the world as we know it. It is clear to me that we need to think beyond what is comfortable and familiar, recognize the changes that need to be made, and then we need to act. We won't stop until the world is a place in which my children, all of the world's children, can have a future in.
Promoting Systemic Change in the Food Industry
Compassion in World Farming believes that in order to incite the most change for animals, it is imperative to work with corporations and farmers to find better solutions to systemic issues rather than fight against them. Since 2007, Compassion in World Farming USA's Food Business team has worked directly with large food corporations to ensure animal welfare is a top priority in their daily operations.
Sentient Media: What makes CIWF's approach to animal advocacy different? What accomplishments have you witnessed firsthand while using this approach?
Rachel Dreskin: Working within the food industry, rather than against it, is a critical piece of the farmed animal protection movement. I've seen firsthand the importance of Compassion being in the room with companies to ensure that the supply chain changes they enact in response to consumer demand will meaningfully and measurably reduce animal suffering. Our supporters expect us to be the organization forging relationships with companies to make as big of an impact as possible for farmed animals.
As an example, back in 2015, McDonald's in the U.S. had not yet stated their position on [egg-]laying hen welfare, and whether they would move to a cage-free supply. A study came out earlier that year insinuating that enriched cages may actually better laying hens' welfare. The study, however, had serious flaws. But if it was not challenged, then we ran the risk of food companies adopting policies based on [the flawed study]. Because of our working relationship with McDonald's, we were able to engage on this with them and demonstrate the higher welfare potential for cage-free hens, along with the overwhelming sentiment that consumers will never find any type of cages acceptable.
McDonald's then became one of the first major fast-food companies in the U.S. to commit to going cage-free. It created a tidal wave of cage-free commitments from nearly every food company in the country. It was an honor to be a part of, and an amazing example of the power of reaching across the table to make progress for farmed animals.
We're fortunate to be in the movement at a time when advocates are driving meaningful, sweeping change for farmed animals. Virtually every major food company in the U.S. has committed to going cage-free in just the past few years. State-wide legislation outlawing cages is being passed at a faster pace than ever before.
In 2016, when the USDA first started tracking [cage-free commitments], less than 10 percent of hens were cage-free; [now] over 20 percent of laying hens are cage-free. That's a rapid increase, and while there is still work to be done, we are well on our way to ensuring that over 300 million hens will be able to flap their wings outside the cruel confinement of a cage.
We're also seeing major names in food step up and commit to better chicken [policies]. Companies like Burger King, Chipotle, and Panera Bread are requiring healthier genetics, more room to roam, and access to critical enrichments that let birds be birds. These commitments are hugely meaningful since chickens make up over 95 percent of all factory-farmed animals in the US. The modern chicken grows so big so fast that her legs, heart, and other organs can struggle to support her unnaturally large size. She lives in a crowded shed without even a perch to rest on, and can face severe—and sometimes life-threatening—health and mobility problems. Consumers do not want to be forced to support that kind of suffering.
Fortunately, our work with food companies is making meaningful impacts to reduce the suffering of chickens. Food companies can't ignore that consumers are now recognizing farmed animals as sentient beings deserving of our compassion. [In a 2018 Ketchum study, animal welfare was the number-one cause 41 percent of Americans polled cared about, and has resided in one of the top three spots in many previous years.] Major meat and dairy companies are investing in plant-based proteins—a clear sign that consumer demand is moving away from animal products and towards more sustainable, cruelty-free, plant-based products. Even Tyson and JBS, the two largest meat producers in the world, started their own plant-based meat product lines this year.
Tracking Progress and Promoting Transparency
Compassion in World Farming works with corporations to create policy changes that improve animal welfare within the companies' supply chains. CIWF USA also ensures that companies can and do adhere to these commitments on or ahead of schedule. To monitor companies' progress, the organization created EggTrack, a first-of-its-kind tool to track annual progress toward becoming cage-free.

Sentient Media: Can you tell us about EggTrack and any other tools that CIWF uses to ensure transparency and cooperation from food industry leaders?
Rachel Dreskin: Compassion USA launched EggTrack, our cage-free progress tracking tool, in 2017. We weren't sure if companies would respond well to us wanting to publicly highlight what percentage of their supply chains were cage-free on an annual basis. It started fairly small, but in such a short time major players like McDonald's and Walmart are voluntarily taking part by disclosing their progress against their cage-free egg commitments. The food industry knows that consumers today expect transparency and want animals to be treated better.
Committing to animal welfare is only step one. Compassion USA built EggTrack, ChickenTrack, and other compliance tools to make sure companies can and will stick to those commitments, on or ahead of schedule. We've gone from 27 of 100 companies—27 percent—reporting their progress in 2018 to 51 of 128—40 percent—reporting in 2019. Compassion USA believes that this type of reporting from such industry giants is setting the stage for transparent progress reporting to become the norm across industries.
Sentient Media: Just because companies reach their goals through EggTrack does not mean that CIWF's work is over, though. How does your organization ensure that companies will keep their promises?
Rachel Dreskin: [In 2018,] EggTrack showed that Ruby Tuesday achieved a 100 percent cage-free shell egg supply. But [in 2019] Ruby Tuesday removed any cage-free information from their website, and they are ignoring our calls and emails asking whether they're still cage-free. We can't allow companies to go back on promises to animals, particularly if they have already been recognized publicly for their progress. We're asking supporters to contact Ruby Tuesday leadership directly.
Addressing Animal Welfare and Sustainability
Sentient Media: Besides EggTrack, what other ways is your organization creating meaningful change within the current food system?
Rachel Dreskin: Throughout the year, we host gatherings like the Better Chicken Leadership Forum, bringing together every aspect of the industry from producers to retailers to restaurants in order to find solutions to improve the lives of chickens. We discuss challenges and opportunities that affect all [involved] within the supply chain, and roadmap solutions. We also have animal welfare scientists and experts on staff to field any technical questions or problems. This unique method of forging unlikely partnerships for progress for animals is an essential approach to get us to a future without factory farming.
Compassion USA is also addressing the sustainability, or lack thereof, of companies' overall protein portfolios. Not only is factory farming causing horrific suffering for animals, but our planet cannot sustain today's levels of meat, egg, and dairy consumption—particularly as the global population is expected to swell to 10 billion [people] in the next thirty years. It's extremely exciting to see things like the Impossible Burger and Beyond Burger on menus all over the country. But we need to make sure that companies not only offer a vegan alternative, but also reduce the quantity of animal products in their supply chains.
Current Campaigns
Sentient Media: What current campaigns is Compassion in World Farming USA working on, and what can we expect to see from your organization in the future?
Rachel Dreskin: Compassion USA is increasingly focused on the importance of creating a sustainable food system. Within our Sustainable Food Program, we are working to catalyze companies to set commitments and capture case studies on strategies for meat reduction while developing a methodology for capturing impact. Through our relationships with major multinational food companies, we are also demonstrating the linkages between the food they're selling and its environmental effects.
Simultaneously, we launched a consumer-facing campaign called "Eat Plants. For a Change." Our campaigns to secure animal welfare commitments from companies are important, but more and more animals are entering the factory farm system. Factory farming is the biggest cause of animal cruelty on the planet, and the environmental impact is devastating. It's crucial that we reduce the overall production and consumption of animal products. We're encouraging and helping consumers to simply eat plants, for a change!
Sentient Media: In addition to promoting plant-based eating, how is Compassion in World Farming taking a stand against harmful food industry decisions, like the USDA's decision to increase pig slaughter speeds and allow inspections to be self-regulated?
Rachel Dreskin: The USDA recently announced a new rule to increase the already-too-fast slaughter line speeds for pigs, and allow the slaughter workers to sort diseased animals rather than trained federal inspectors. The pig industry is essentially policing itself. It's extremely dangerous for animal welfare, worker safety, and public health. The USDA is not budging, despite our outreach, so we're now asking supporters to contact their representatives to block the rule. Contact your state representative here.
To support Compassion in World Farming's work, consider making a donation here. If you would like to include more plant-based foods in your diet, sign up for CIWF's Eat Plants For A Change program and gain access to free resources, recipes, and other useful tools.
Taylor Meek
Taylor Meek is the community manager and a contributing author at Sentient Media. She oversees all social media content and strategy and manages the social media team and Social Media Fellowship program.