Farmed animal rights and welfare issues are severely neglected in the media, especially when compared to the disproportionate amount of animal suffering, environmental destruction, and human health crises caused by animal agriculture.
At Sentient Media, our core focus is and will always be increasing the visibility on farmed animal rights issues in the public sphere. Today, we're working with farmed animal rights organizations around the world to develop media-friendly content and generating our own articles to drive transparency in the space.
Now, we'd like to share some of our most memorable moments from 2019 and a bit of love, gratitude, and excitement for the year ahead.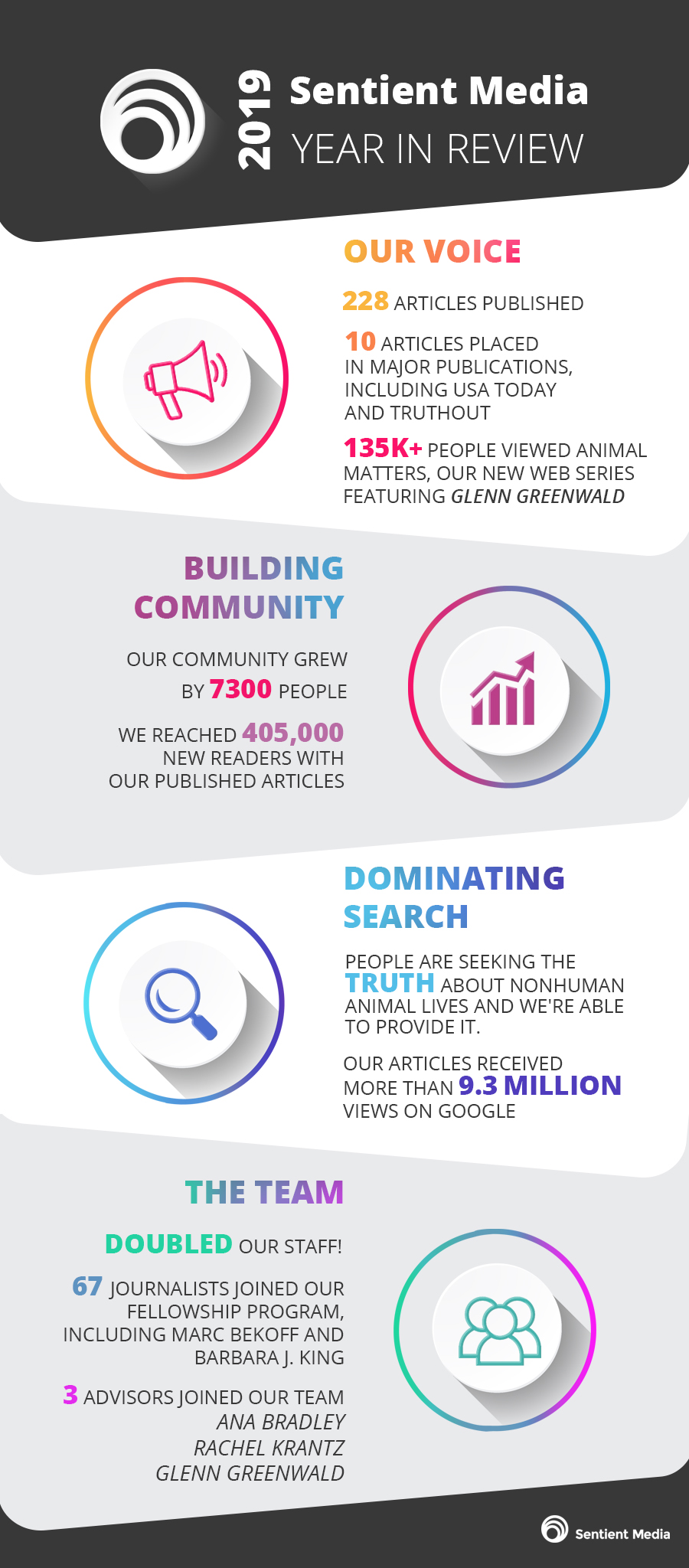 Our Voice
This past year, we reached a total of 405,000 new readers with our content. We published original reporting on the foie gras ban in New York City, the USDA's new pig slaughter speeds, how the undercover investigation of America's largest lamb slaughterhouse led to federal prosecution, and the unexpected story of a bunny named Snow. We even followed Animal Rebellion in London for a month of protests, with front-line coverage of the city's annual animal rights march provided by Sentient Media's Ana Bradley.
Our video series Animal Matters with Glenn Greenwald debuted on The Intercept, receiving more than 135,000 views. The series examines how and why animal rights—a previously marginal idea—is growing in awareness and popularity, and how it forms a natural extension of the social justice movements seeking to eliminate exploitation, suffering, and cruelty.
Watch the first episode here.
Building Community
Our dedicated online community grew by 7,300 people, and we appreciate every single one of you. So, we'd like to shine the spotlight on the readers who have shown us so much love and support over the past year. We could not have done it without you.
In an age where news outlets care more about clicks than truth. Thank you @Sentient_Media for taking the time to properly research #foiegras and report on fact, not propaganda spewed by @HudsonValleyFG!

Learn the truth about @HudsonValleyFG here: https://t.co/J4ZnL0P6Mb

— Matthew Dominguez (@Matt_Dominguez) September 3, 2019
Sometimes, even the smallest reply stands out.
Why pork is now out of my life. And lamb, veal, etc.

— Linda Dennison (@LTDennison) December 7, 2019
Mercy For Animals' President Leah Garces shared her kind words.
Thank you @Sentient_Media for being such a powerful platform for spreading the word about animal issues! https://t.co/6oGnT29IjO

— Leah Garces (@leah_garces) December 19, 2019
Dominating Search
In 2019, we started our journey to increase transparency around farm animal welfare by dominating search results relating to key issues central to the animal protection movement.
For example, there are roughly 87,300,000 Google search results for "factory farming." Sentient Media's article now appears first for most users. This is no small feat. Through extensive research and strategic planning, many of our articles have climbed onto the first page. Although these rankings are constantly changing, the majority of people now find our content on Google's first page. All told, our articles received more than 9.3 million views on Google last year.
The Writers' Fellowship Program
With the help of our new Managing Editor Allie Grace Garnett, we built a successful Writers' Fellowship Program, adding 67 journalists to the program. The Writers' Fellowship Program recruits animal lovers from all walks of life to write and publish high-quality original content advancing the interests of animals.

We placed 10 articles in major publications, including USA Today and Truthout. Sentient Media fellow Cristian Salazar called for New York City to pass a fur ban, Vanessa Sol spoke out against the mass sacrifice of chickens during the Jewish tradition Kaporos, and Ed Boks wrote about pet-friendly housing policy for Real Clear Policy. We also added a number of Senior Fellows to the program, including Lori Gruen, Marc Bekoff, and Barbara J. King. Their mentorship and guidance are helping our new crop of fellows push their pieces over the line and get published.
The Team
In the past year, we built a core team of staff and advisors. We're proud to say that we are now joined by three new advisors, who we rely on for expert advice and guidance. Digital content strategist Ana Bradley, writer and editor Rachel Krantz, and Pulitzer Prize-winning journalist Glenn Greenwald all joined our team as advisors in 2019.
Looking Forward
Our mission is to increase public awareness around the key issues that matter to everyone: the welfare of all sentient beings, the health of our planet, and the health and longevity of our species.
The opacity of the meat and dairy industry is preventing us from making positive progress in these areas. Behind closed doors, farmed animals are turned into resource-intensive commodities that generate massive profit for a small number of organizations. Big Dairy and Big Meat have vested interests in keeping the reality of animal agriculture, the impact of animal farming on the environment and the negative health effects of eating a high-fat, high-protein diet out of the media.
In 2020, we will focus on farmed animal lives, drive transparency and strive to generate proportional news coverage for the 72 billion nonhuman land animals who lose their lives each year on the conveyor belt of the growing animal agriculture industry.
This year, with your help, we will continue to represent the underrepresented and bring their stories to light.
From everyone at Sentient Media, thank you for making our work possible, without you we wouldn't be able to do what we do.